This is hands-down the best carrot cake ever! Simple, with no secret or special ingredients, this delicious carrot cake with whipped cream cheese frosting is soft, tender and unbelievably moist.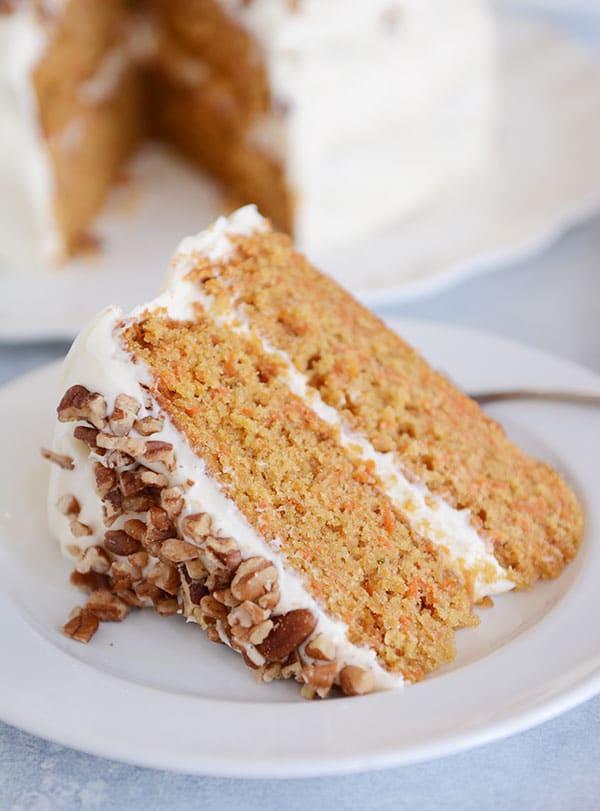 Since I've successfully been making this carrot cake recipe for almost ten years now (!!), I'm taking it from its "unbelievable" status straight up to "best ever."
I have tried so many variations of carrot cake over the years, it isn't even funny, and every time, I come back to this tried-and-true favorite when I want a wonderful, classic, no-fuss carrot cake.
With Easter quickly approaching and carrot cake season in full force around my house, this amazing and simple carrot cake needed a little moment in the spotlight again.
I'm a little particular about how I like my carrot cake (shocker, I know – me? having opinions? who knew).
And actually, carrot cake itself can be quite polarizing. I've received some very, shall I say, animated emails and comments over the years about how carrot cake SHOULD and SHOULD NOT be made.
For instance, if I offered this short 3-survey questionnaire to the public, I know for certain the responses would be passionate and varied:
1) Does pineapple belong in carrot cake?
2) What about nuts? Should they be in carrot cake batter or not?
3) Sorry to even bring this up, but I have to ask: how do you feel about raisins in your carrot cake?
Some of you long-term readers could undoubtedly tell everyone how I feel about #'s 1-3 up there. In short: no, No, NO! to all three of those options.
I'm a carrot cake purist, I guess. Leave out all the frilly, lumpy, distracting ingredients and give me straight up, classic, moist carrot cake all the livelong day.
And don't forget the cream cheese frosting, of course.
That combo: carrot cake + cream cheese frosting. Is there anything more heavenly?
The delectable cream cheese frosting that adorns this carrot cake is an equal partner in terms of best-ever qualities.
It's a pretty basic cream cheese frosting, as far as cream cheese frostings go, but I learned a decade ago when I first started making it, that the hint of sour cream in the frosting is what sets it apart from all of its cream cheese frosting competitors.
Ultra-creamy, it has that very slightly hint of tanginess that offsets the sweetness and makes you want to dive headfirst into the bowl of frosting.
Now, even though I shared some rather aggressive thoughts about keeping nuts out of my carrot cake above, I do have to retract a little.
Even though I normally try to find ways to keep nuts out of all my desserts, there's something a little magical about the toasty crunch of pecans garnishing the outside of cream cheese frosted carrot cake.
See? I can be open minded. Sometimes.
Just don't go take a mile where I gave an inch, and throw those pecans farther than they need to go. As long as they stay on the outside of the cake, we're good.
I suppose the great news in all of this is that because this carrot cake is so amazing, it will do well with whatever add-in you choose to toss in the cake batter (within reason, of course).
If you are more open minded than I am, go crazy and make this your own! I'm actually quite interested to hear what you consider to be the perfect carrot cake.
Thankfully there's enough carrot cake variations to go around for all the carrot cake opinions and lovers in the world (even you pineapple people).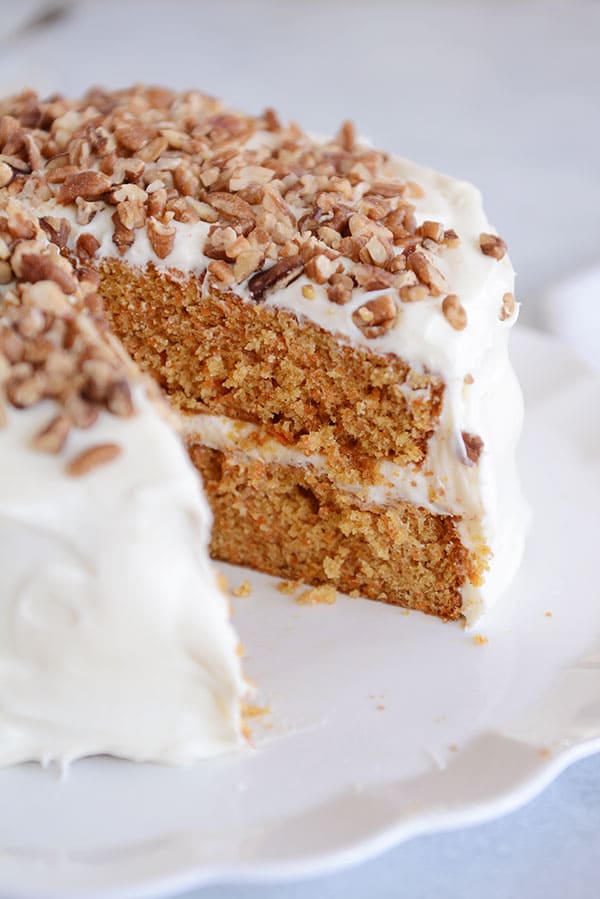 For me, though, this is hands-down the best carrot cake ever! You can see from the comments that I'm not the only one who feels that way, either.
I've added notes to the recipe to answer many commonly answered questions about this cake, but overall, the recipe hasn't changed over the years (although I have made notes to make the method simpler).
Also, if you are looking for a few other fabulous carrot cake desserts, here are four of my other favorites: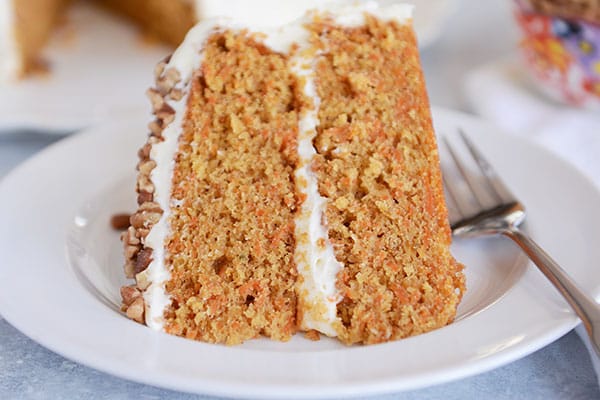 The Best Carrot Cake with Cream Cheese Frosting
This cake can be made in two 9-inch round cake pans or a 9X13-inch cake pan (other commenters in the thread below have made it into cupcakes and other pan sizes, too). I almost always make it in two 9-inch round cake pans and double the frosting recipe to accommodate the layering. If making a 9X13-inch cake, the frosting doesn't need to be doubled.
Also, many, many people have reported that using half applesauce/half oil (that would be 3/4 cup of each) works great if you don't want to use the full amount of oil.
I often make this cake a day ahead of time. I refrigerate it fully frosted and take it out a few hours before serving to take the chill off.
Ingredients
Cake:

2 1/2 cups (12.5 ounces) unbleached all-purpose flour
1 1/4 teaspoons baking powder
1 teaspoon baking soda
1 1/4 teaspoon ground cinnamon
1/2 teaspoon ground nutmeg
1/8 teaspoon ground cloves
1/2 teaspoon table salt
1 pound medium carrots (6 to 7 large carrots), ends trimmed and peeled or unpeeled (I never peel them)
1 1/2 cups (10.5 ounces) granulated sugar
1/2 cup (3.5 ounces) packed light brown sugar
4 large eggs
1 1/2 cups vegetable, canola or other neutral-flavored oil (see note above)

Cream Cheese Frosting:

8 ounces cream cheese, softened to room temperature
5 tablespoons butter, softened to room temperature
1 tablespoon sour cream, light or regular
1/2 teaspoon vanilla extract
1 1/4 cups (4.25 ounces) powdered sugar
Toasted, chopped pecans, for garnish (optional)
Directions
Preheat the oven to 350 degrees F. Adjust an oven rack to the middle position.
Lightly grease a 9X13-inch baking pan with cooking spray or lightly grease and flour two 9-inch round baking pans. Set aside.
In a medium bowl, whisk together the flour, baking powder, baking soda, cinnamon, nutmeg, cloves, and salt; set aside.
In a food processor fitted with large or fine shredding disk (or using a box grater and shredding by hand), shred the carrots for about 3 cups total.
In the bowl of a stand mixer fitted with the paddle attachment (or in large bowl using a hand-held mixer OR by hand with a whisk), beat the granulated sugar, brown sugar, and eggs on medium-high speed until thoroughly combined, about 45 seconds.
Reduce the speed to medium and with the mixer running, add oil in a slow, steady stream, being careful to pour oil against the inside of the bowl.
Increase the speed to high (or just whisk like crazy) and mix until the batter is light in color and well emulsified, about 45 seconds to 1 minute longer.
Stir in carrots the carrots and dry ingredients by hand until incorporated and no streaks of flour remain (don't overmix).
Pour the batter into the prepared pan(s) and bake until a toothpick or skewer inserted into the center of the cake comes out clean, about 32 minutes for 9-inch round pans and 40 minutes for a 9X13-inch pan.
Let the cakes cool for about 10 minutes in the pan and then invert them onto a cooling rack to cool completely (the 9X13-inch cake can be cooled completely in the pan if you don't plan to invert and ice all the sides).
At this point, once the cakes are cooled, they can be wrapped in plastic wrap and put in a ziploc bag and placed in the freezer for up to 2 months. Thaw at room temperature prior to frosting.
For the frosting, mix the cream cheese, butter, sour cream, and vanilla at medium high speed in the bowl of a stand mixer fitted with the paddle attachment (or in a large bowl using handheld mixer) until well combined, about 30 seconds, scraping down the bowl with rubber spatula as needed.
Add the powdered sugar and mix until very fluffy, about 1-2 minutes.
Frost the cake and garnish with toasted, chopped pecans, if desired.
3.1
Printed from Mel's Kitchen Cafe (www.melskitchencafe.com)
Recipe Source: Cooks Illustrated (with my notes included)
Recipe originally posted March 2008; updated with new photos, recipe notes and commentary.