This easy sweet and savory Corn Casserole uses just 7 ingredients and is the perfect side dish with just about anything! I like to call it a spoon bread, because it's a cross between corn bread and a casserole!
Love corn bread? Try my Crock Pot Corn Bread and my Cheesy Cornbread too!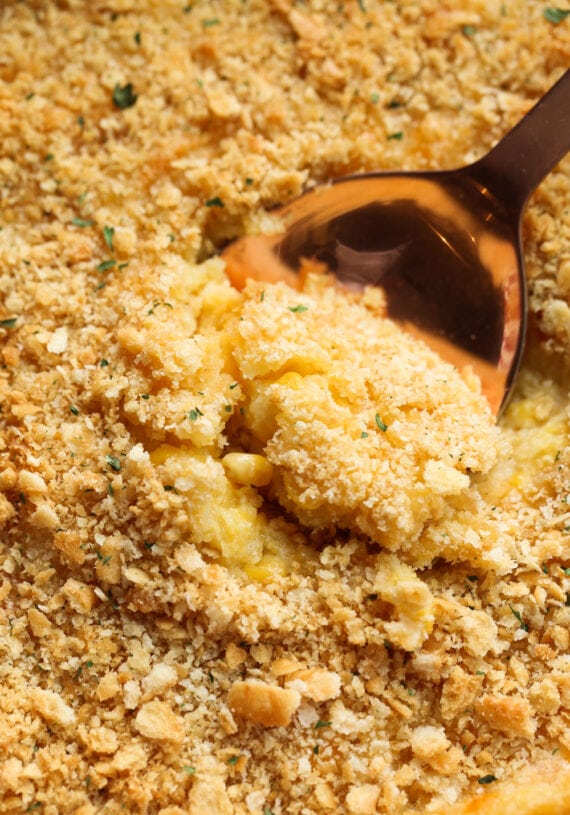 My Favorite Corn Casserole Recipe
I love having a comforting family dinner on a Sunday night. Sometimes I think of it as a little mini holiday celebration, andwhat goes best with a big holiday dinner? Super comforting casserole style side dishes: like stuffing, mac and cheese, and THIS creamed corn casserole. 
But what I love best about THIS corn casserole recipe, is that it's easy enough to serve with BBQ or any weeknight meal as well as it being the perfect holiday side dish.
What is Corn Casserole?
Corn casserole is a dream casserole side dish! It's a creamy corn mixture that's baked in a casserole dish and topped with – wait for it – crumbled Ritz crackers! It's also got a bit of a kick, too, with some green chilies (which you could absolutely leave out if that's not your vibe).
You may have seen it called corn pudding or spoon bread elsewhere. It is a bit like a pudding. I think of it as a hybrid between creamed corn and cornbread. It's moist and creamy on the inside but buttery and crispy on the outside.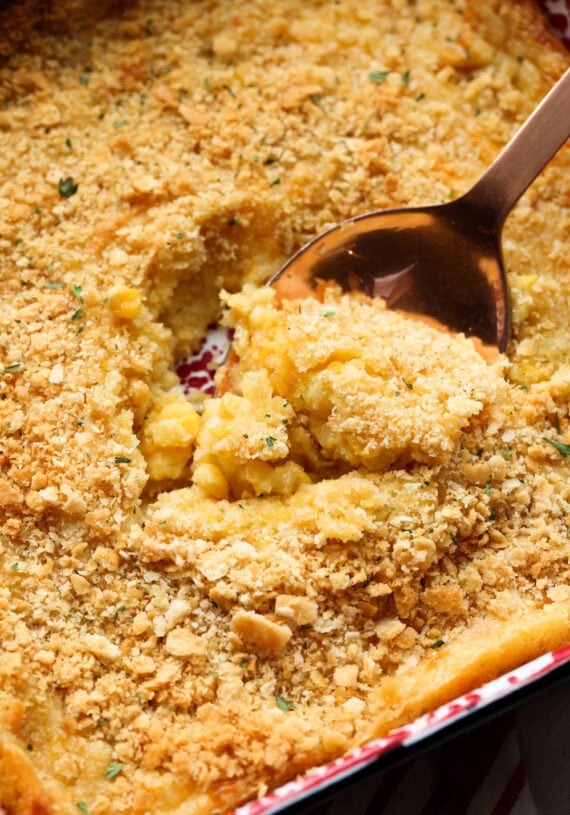 You Only Need 7 Ingredients!
That's right, only 7 ingredients. So easy!
Here's what you'll need:
sour cream
butter
creamed corn
canned Mexicorn
Jiffy cornbread mix 
grated cheddar cheese
crushed Ritz crackers
This Is How Easy It Is To Make!
Prep: Preheat the oven to 350F. Pat a 9×9 baking dish with nonstick spray and set aside.
Combine: In a large bowl combine sour cream, half the melted butter, creamed corn, Mexicorn, dry cornbread mix, and grated cheddar cheese.
Top: Pour the mixture into the prepared pan. Sprinkle crushed crackers on top and drizzle the remaining butter onto the crackers.
Bake: Bake for 40-45 minutes until the center is set and the edges are lightly golden.
Serve: Serve warm or at room temperature.
Tips for the Best Corn Casserole
You're going to love this easy, creamy corn casserole. Follow these simple tips and tricks for the best corn casserole yet!
If you can't find Mexicorn, just use whole kernel corn instead and a small can of drained, diced green chilies. That combo will create a similar substitution for Mexicorn.
If you don't prefer the pepper/chili flavor of Mexicorn, just use plain whole kernel corn. It will still taste great, just a bit less spicy.
If you're having trouble finding Jiffy, you can use a generic brand or order it from Amazon.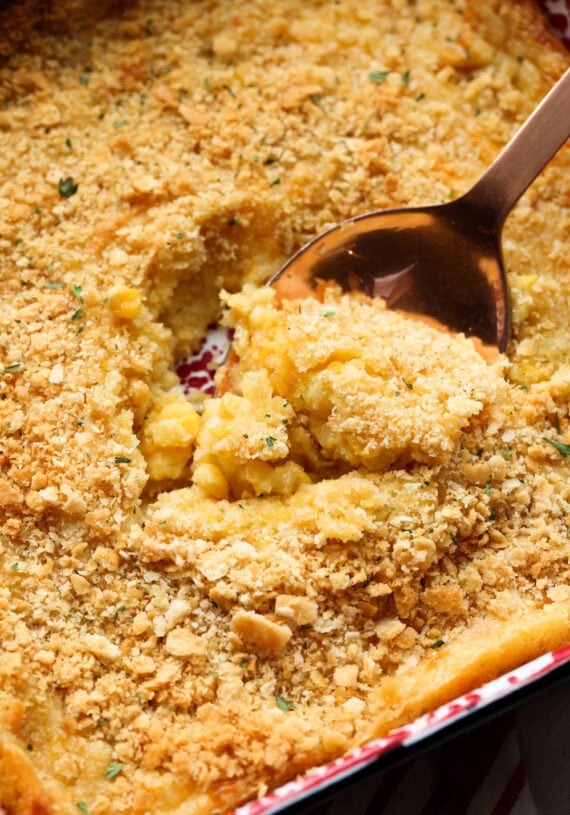 Variation Ideas
If you're looking for something just a little bit different, follow these simple variations:
Sweeter: Add ¼ to ½ cup of sugar. This will make your corn casserole taste a little more like a sweet cornbread.
Lighter: Add 2 eggs. This will create an airy, light corn casserole. 
Cheesier: Add ½ to 1 cup of shredded cheddar. This will make your corn casserole super cheesy. 
Savory: Throw in some crispy chopped bacon for a more salty and savory bite. 
Serving Suggestions
This side dish is perfect with any comfort food! I love to have it with a nice piece of meat, like roasted chicken, pork chops, or steak. 
Because of the Mexican flavor, it really is so good as a side with enchiladas, chimichangas, or tacos. 
This side is a total holiday favorite, too, Add it to your Thanksgiving, Christmas or Easter dinner menu!
How to Store and Reheat Leftovers
If you have leftovers of this corn casserole, you can put them in an airtight storage container or cover the casserole dish with plastic wrap and refrigerate for 3-5 days. You can also freeze your leftovers in an airtight, freezer safe container. 
I actually really like this casserole served at room temperature, so there's no need to reheat it, if you don't want to. If you do want to reheat, simply pop the casserole dish into the oven at 350F until it's warm. 
Looking For More Side Dish Ideas? Try These: