If you're looking for something sweet to enjoy with your coffee, Biscotti is the cookie for the job! This Italian cookie recipe is delightfully crunchy, and can be customized with your favorite add-ins.
I also have a fun Cake Mix Biscotti Recipe on my site too if you love a short cut!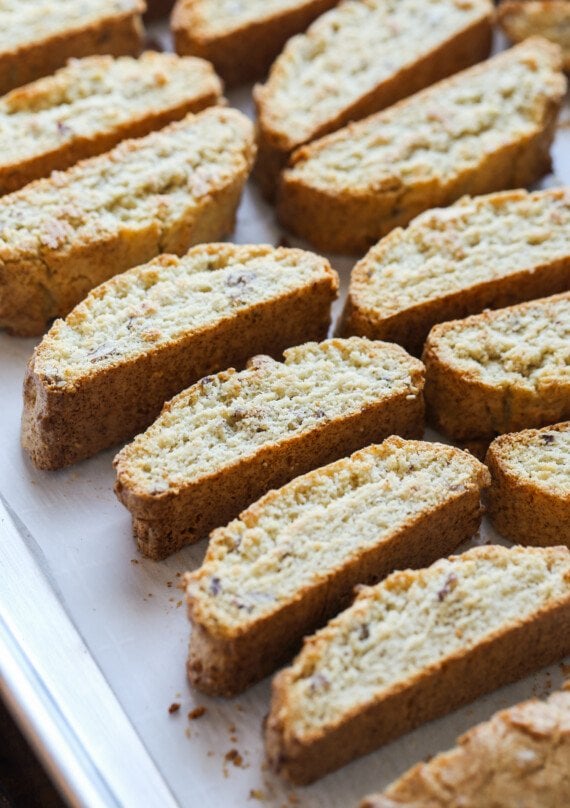 This Is A Classic Biscotti Recipe That's Customizable!
Biscotti aren't my usual soft, melt-in-your-mouth cookie, but I'm a huge fan anyway. These crunchy, crispy Italian cookies are a must when you've got a cup of coffee brewing in the morning. After all, though I love my coffee cake as much as the next gal, sometimes I don't want a dessert breakfast that is overly sweet so early in the morning. Also, you can't dunk cake in coffee, so there's that. Jokes aside, these cookies are not only a breakfast treat, but they can also be a quick snack or a light dessert – let's get started so you can enjoy them too!
What is Biscotti?
Biscotti are classic Italian cookies that are super crunchy, and thus good for dunking in coffee if you're an adult, and milk if you have kiddos. These cookies are also twice-baked; once in the form of a log, and again after they are sliced into individual cookies, which is why they are harder than most cookies.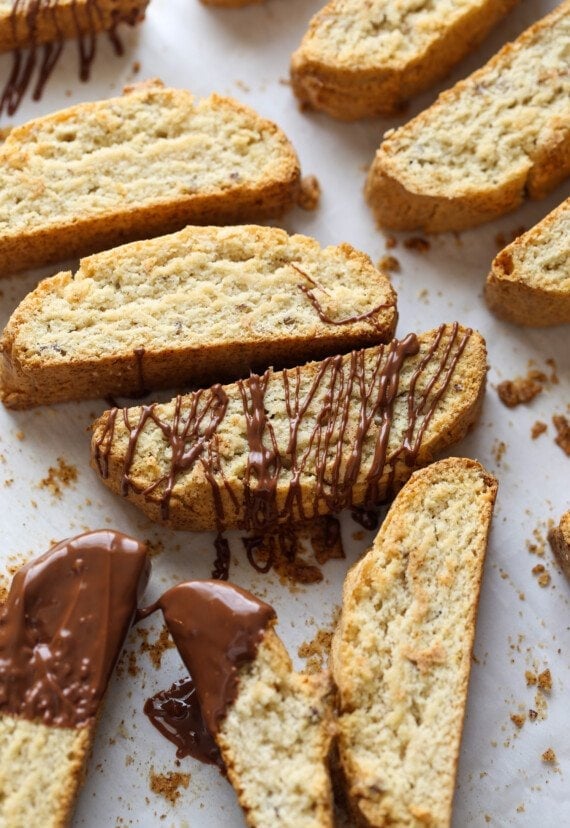 Recipe Ingredients
Time to go over cookie ingredients. Everything you need is most likely in your pantry already, but here's a list to check over:
Sugar: I used granulated sugar in these cookies.
Vegetable Oil: Butter could be substituted for vegetable oil, but keep in mind the quantities will not be the same.
Eggs: These act as a binding agent for the cookie mixture.
Extract: I used both almond and vanilla, which provided the flavor.
Salt: To balance out some of the sweetness and enhance the flavor.
Baking Powder: Helps the cookie log rise.
Flour: All purpose flour will thicken up your cookie mixture so that the log holds its form.
Nuts: I used chopped pecans as my add-in.
How to Make Biscotti
Making and baking these cookies won't take you long at all. Once you have the cookie dough mixed and the logs formed, all that's left to do is bake them, slice them, and then bake them again!
Preheat Oven to 375°F: Line a large baking sheet with parchment paper. Set aside.
Combine Ingredients: In the bowl of your stand mixer fitted with the paddle attachment mix together the sugar, oil, eggs, almond extract, and vanilla extract. Add in the salt and baking powder and mix to incorporate, scraping the sides of the bowl as needed.
Add in Flour: Turn the mixer to low and add in the flour, mixing until just combined. Dough will be very sticky.
Divide the Dough in Half: Form the dough into 2 (15- inch) logs on your baking sheet allowing at least 3- inches in between the two logs to allow for spreading.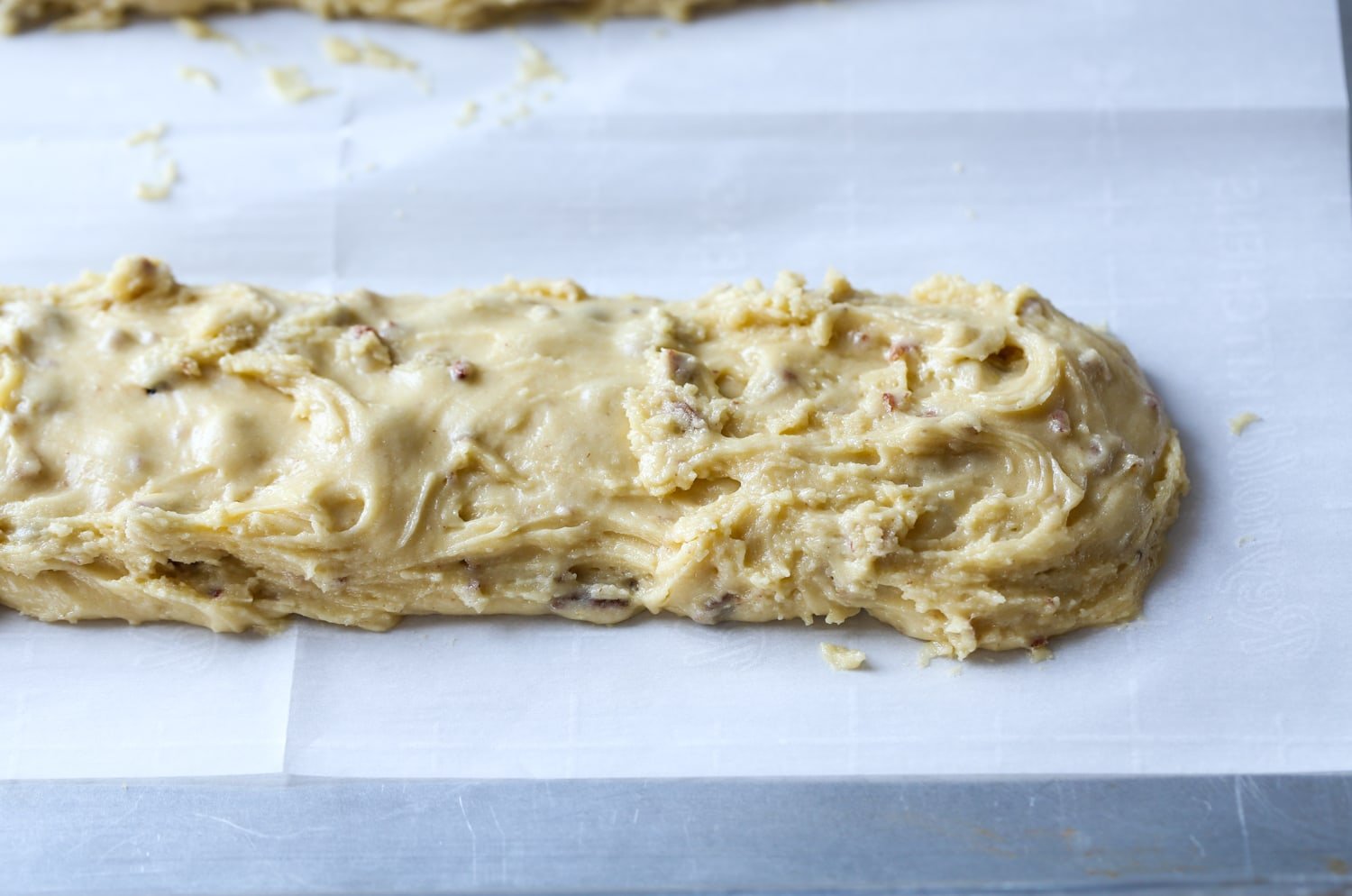 Bake the Biscotti (Twice): Bake for 25 – 30 minutes until golden brown. Remove from the oven and allow to cool for 5 minutes on the baking sheet. Using a knife or a bench scraper, cut into slices 1- inch thick. Lay the sliced biscotti flat on the baking sheet and place back in the oven for 5 minutes. Remove from the oven, flip the biscotti over and bake for an additional 3 – 4 minutes until lightly toasted. Transfer to a wire rack to cool completely.