Easy25 minsGluten-Free
Seriously the most amazing Salted Dark Chocolate Tart recipe that I've ever tried.  It's incredibly quick and easy to prep, made with healthier ingredients, and tastes ultra-decadent and delicious.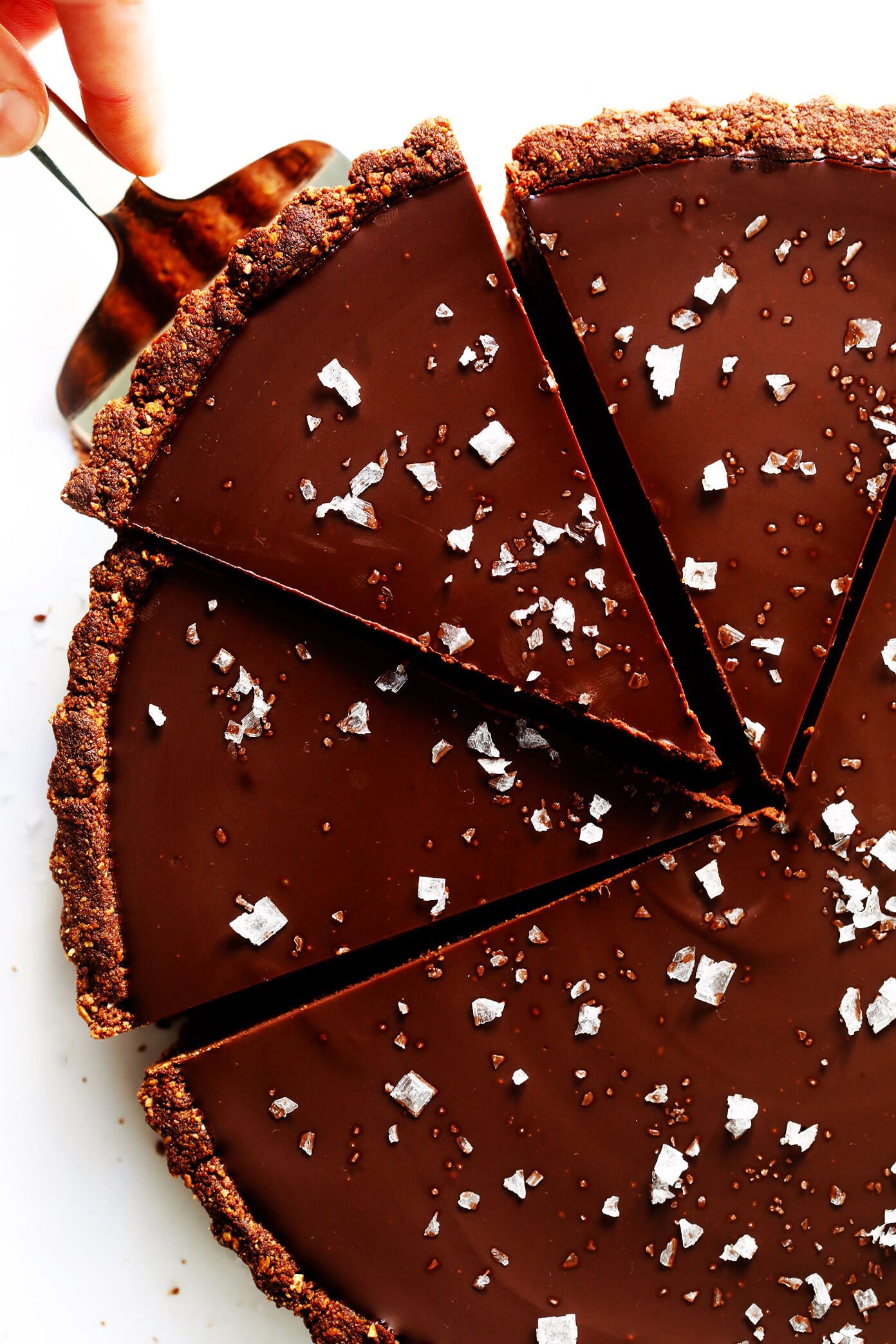 Meet…the salted dark chocolate tart of your dreams.  ? ? ?
I'm not kidding.  I've made countless rich, decadent, creamy, dreamy chocolately desserts over the years.  And I've gotta say that this recipe has recently swooped in to win the award for the easiest-to-make chocolate dessert in my little recipe box.  And also, arguably the most delicious.  (My distinguished panel of taste-testing friends here in Barcelona all agree.)
Bonus?  It also happens to be naturally gluten-free, thanks to a simple chocolate-maple-almond crust.  It's also heavy-cream-free, made instead with a simple can of coconut milk.  It calls for just 10 easy minutes of baking time in the oven, followed by an hour or two to chill in the fridge.  And oh my heavens…is it decadently delicious.  And pretty much guaranteed to make you swoon this Valentine's Day. Or, you know, any day that you need your chocolate fix.
So gather up a bunch of your favorite dark chocolate bars, and let's get to baking.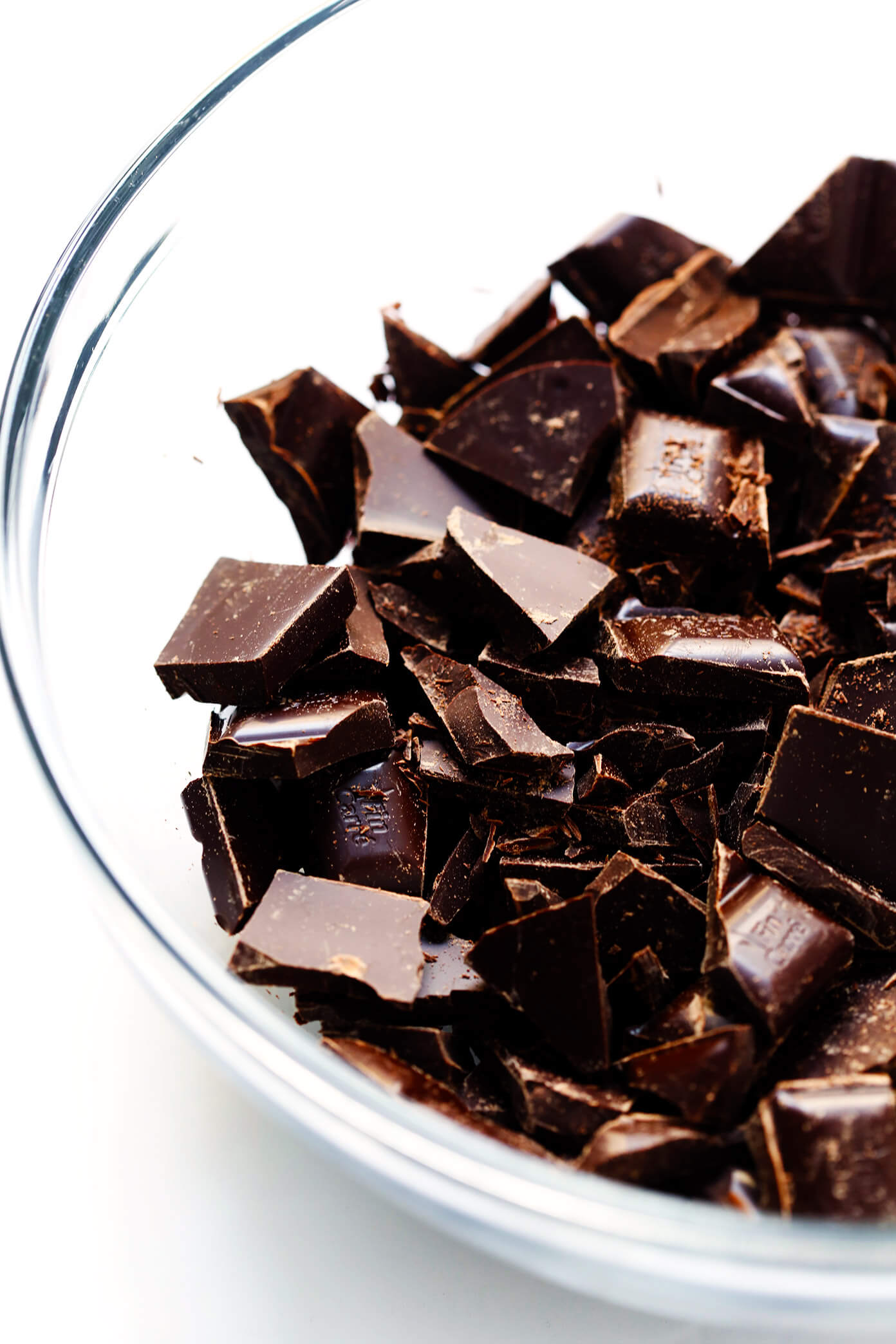 To begin, prepare your cocoa-almond crust as directed below.  Then while that's baking, chop up a bunch of dark chocolate bars (or you can sub in chocolate chips) and place them in a large bowl.  Then bring your coconut milk to a simmer, pour it over the chocolate, wait for half a minute or so, then slowly stir the mixture until the chocolate is completely melted and smooth.
I like to add in a touch of vanilla and salt to my chocolate filling.  But feel free to have fun with it and add in whatever you'd like!  Some other fun combos could include (1) a few tablespoons of bourbon, (2) a pinch of cinnamon and cayenne, (3) the zest of an orange, or whatever else you like in your chocolate.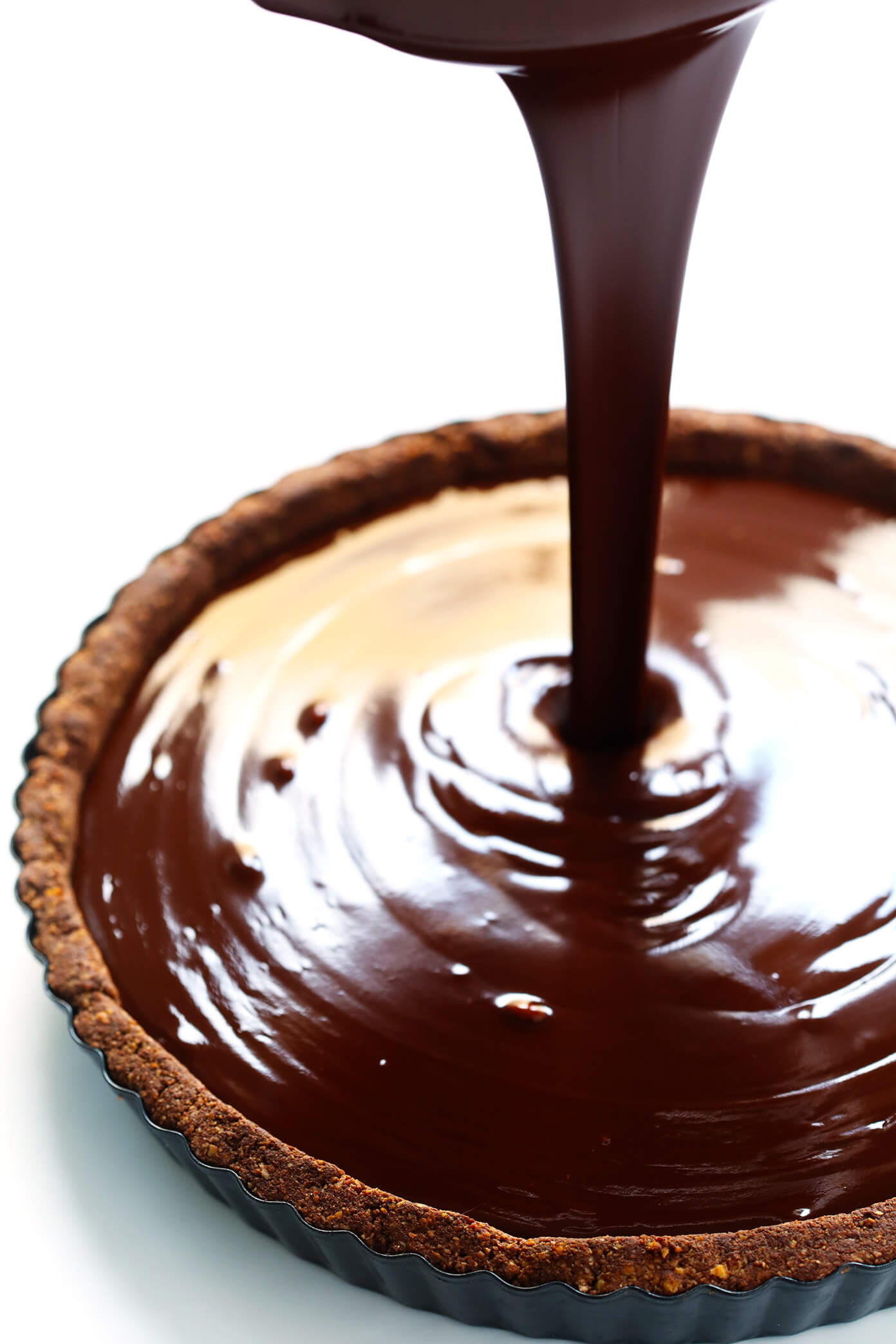 Once the filling is ready to go, pour it into the baked tart crust.  Smooth out the top with a spoon.  And then — voila! — that's really all there is to it!
Pop the tart in the fridge for a few hours until it is nice and firm.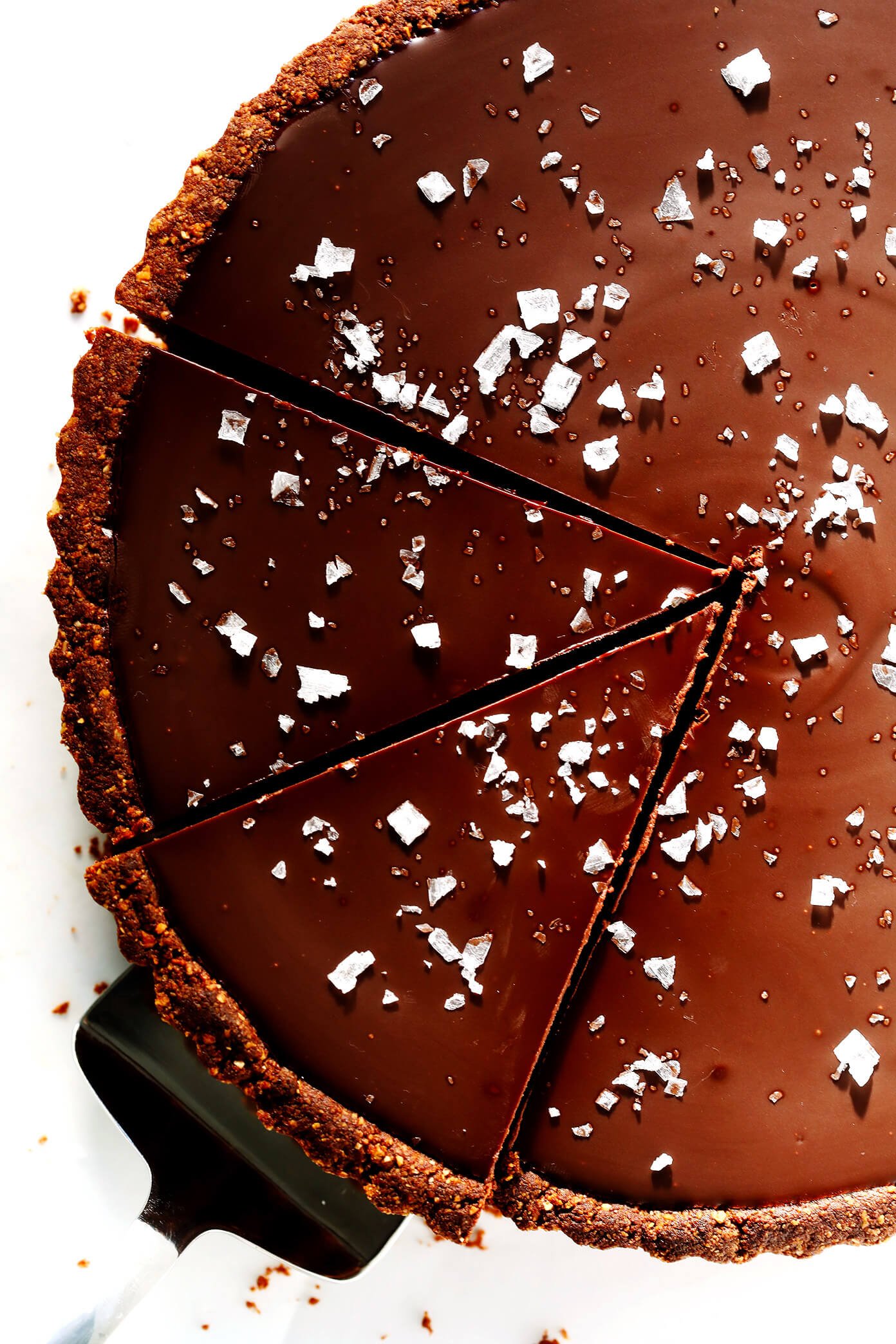 Then sprinkle the top with lots of flaky sea salt…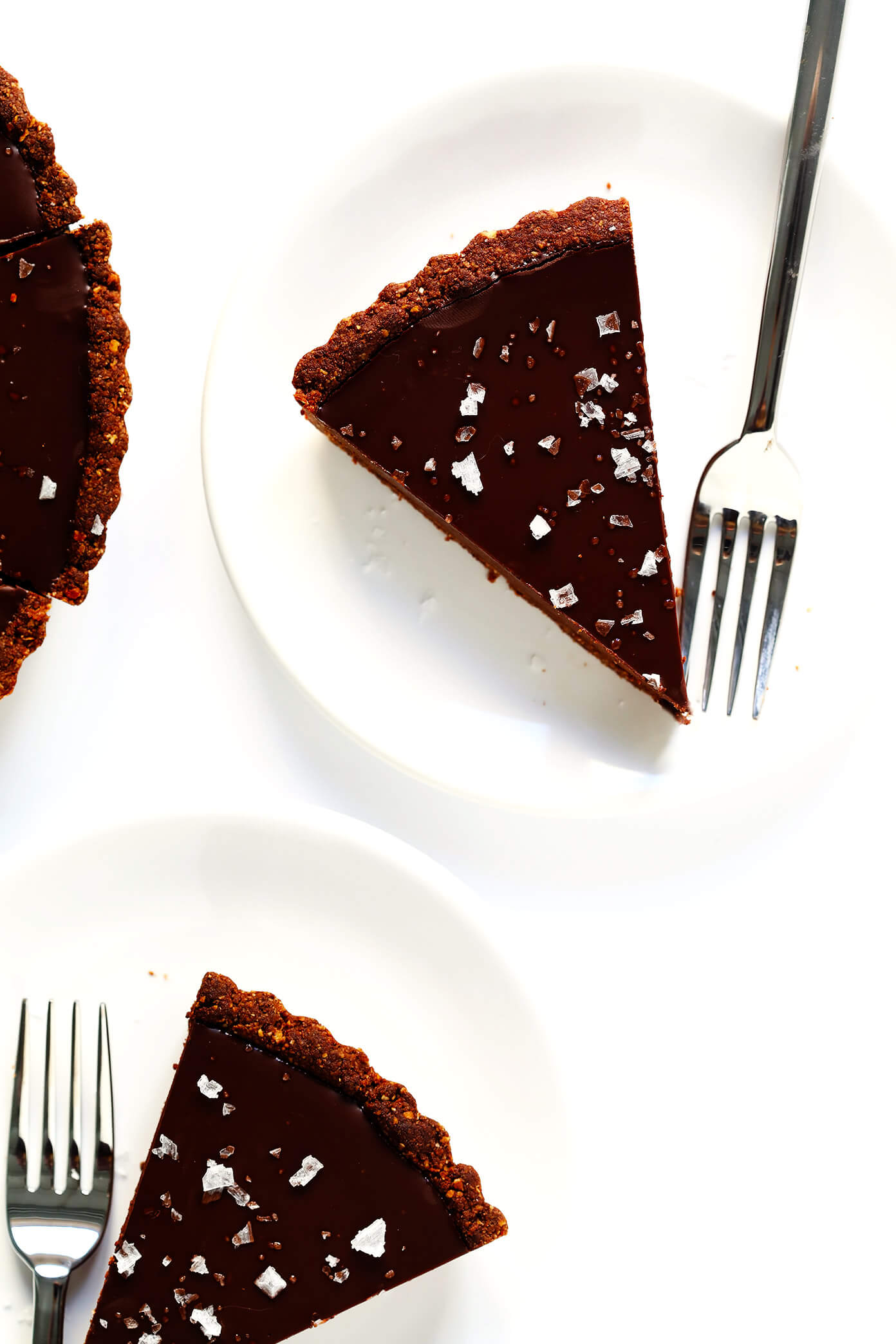 …slice…serve…

…and enjoy every last bite.
This recipe contains affiliate links.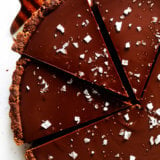 Yield: 8-12 servings
The Most Amazing Salted Dark Chocolate Tart
This Salted Dark Chocolate Tart is incredibly quick and easy to prep, made with healthier gluten-free ingredients, and tastes ultra-decadent and delicious.  Feel free to customize the filling with your favorite add-ins (see ideas above).
Ingredients:
Crust Ingredients:
2 cups almond meal*
1/4 cup unsweetened cocoa powder
1/4 cup melted coconut oil
3 tablespoons maple syrup
1/2 teaspoon kosher  salt
Chocolate Filling Ingredients:
1 1/2 cups coconut milk*
1 pound (16 ounces) dark chocolate*, roughly-chopped
1 teaspoon vanilla extract
1/4 teaspoon kosher salt
topping: flaky sea salt
Directions:
To Make The Crust: Preheat oven to 350°F.  Stir together crust ingredients in a bowl until evenly combined.  Press the crust mixture evenly into the bottom of a 9-inch tart pan (or pie dish).  Bake for 12 minutes, or until it begins to feel dry and firm.  Remove from the oven and transfer to a wire rack to cool.
To Make The Chocolate Filling: Meanwhile, as the crust is baking, heat the coconut milk on the stovetop or in the microwave until simmering.  Place the dark chocolate in a bowl, and pour the coconut milk evenly over the top of it.  Wait 30 seconds, then slowly stir together until the chocolate is completely melted and smooth.  Stir in the vanilla extract and salt until combined.
Pour the chocolate filling into the baked crust, and smooth the top with a spoon until it is even.  Refrigerate for at least 2 hours, or until firm.
Serve chilled, sprinkled with flaky sea salt.
*If you don't have almond meal, you can ground up a bunch of almonds in the food processor until they form a coarse powder.  (Be careful not to over-process them, or they will turn into almond butter!)
*Slightly less than one (13.5-ounce) can full-fat coconut milk.  (Low-fat milk will not work as well in this recipe.)  Be sure that the coconut milk is evenly whisked, too, before measuring it out.
**I chopped up a bunch of chocolate bars for this recipe.  But you can also sub in dark or semisweet chocolate chips, if you'd like.
Difficulty: EasyCategory: Gluten-Free


All images and text ©Gimme Some Oven
If you make this recipe, be sure to snap a photo and hashtag it #gimmesomeoven. I'd love to see what you cook!