Chocolate cake donuts covered in a rich chocolate glaze with chocolate sprinkles. A triple chocolate donut dream that's baked and so easy to make!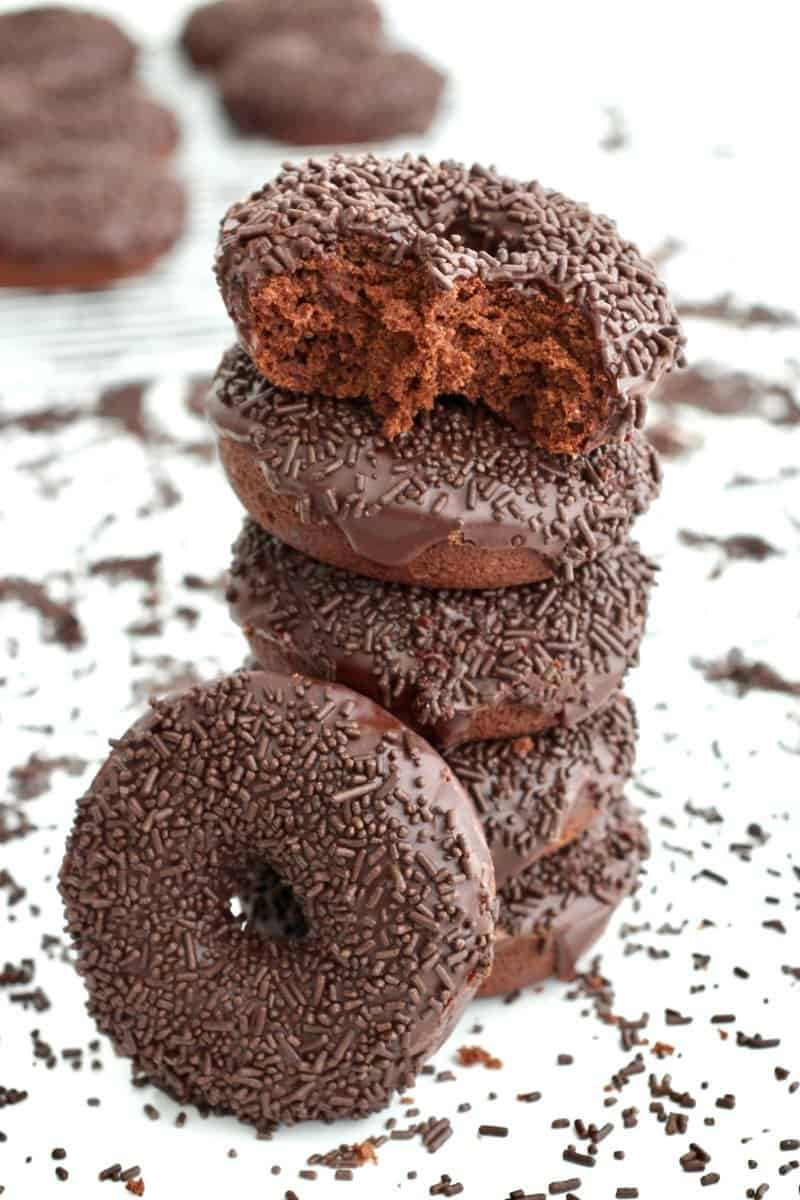 Happy National Donut Day! There's no denying my love for donuts. I plan to eat ALL the donuts today, both from my favorite donut shops and here at home with these amazing TRIPLE chocolate donuts! What more could you ask for when it comes to donuts than one that has chocolate on chocolate on chocolate?!?!?!
These donuts are baked not fried, and although I love my fried donuts, when it comes to cake donuts, I think the baked versions are just as tasty. Using a donut pan is key to the shape but also to the texture. The donut pan bakes the donuts in just 8 minutes at 425°F so they get this crisp crust with a soft cake-y center, just like a great cake donut should have.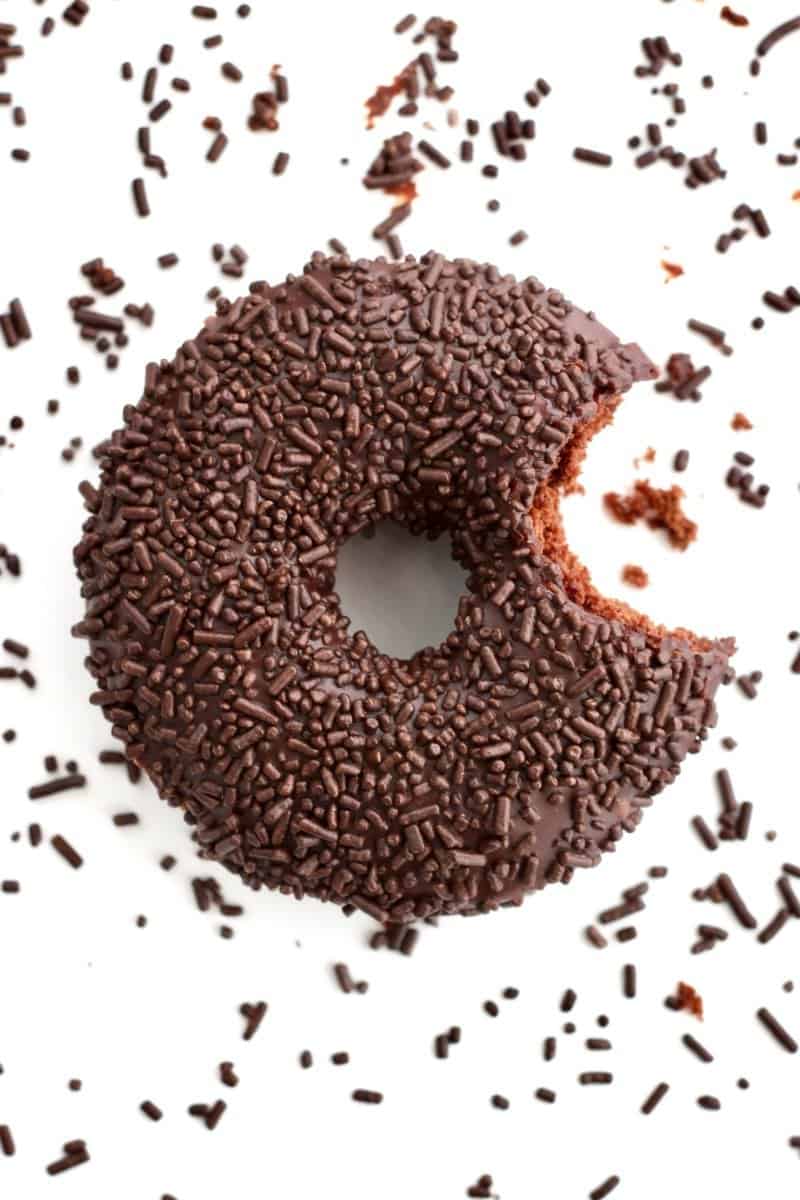 The glaze is super simple and oh so chocolate-y. And what's a donut without sprinkles?! ?
Seriously, these are some dang delicious donuts that come together in less than 30 minutes. That's less time than it would take me to actually drive to the closest donut shop, order the donuts and get back home with them. Sure, I love our trips to the donut shop, but baking, glazing and sprinkling them fresh to enjoy in the comfort of home (without having to change out of my pjs, put on a bra and put in my contacts…sorry, tmi!) is something special…

So easy! They look and taste like the gourmet donuts you drool over as you wait in line at the gourmet donut shop, but hey, you get to say you made them. And you get 18 of them for about the same price you'd pay for 1 or 2 at that gourmet donut shop. Just sayin'! ;);)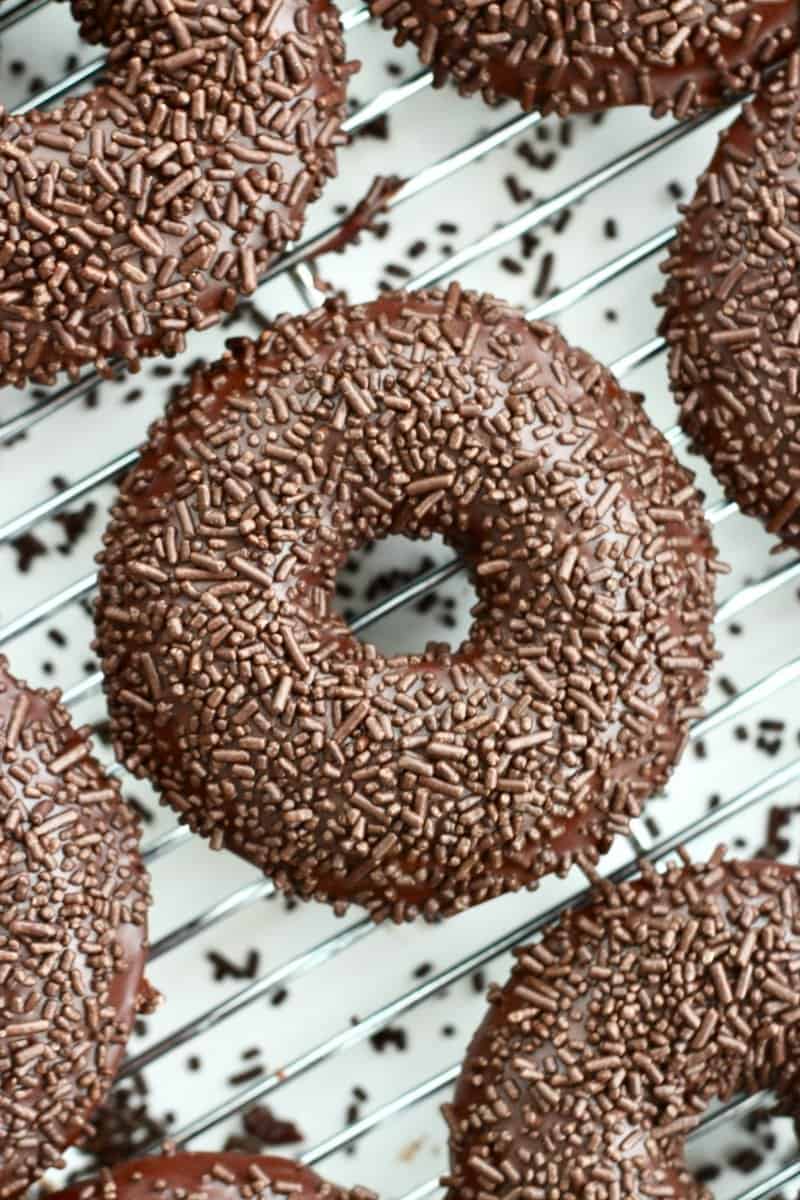 I hope today (and any day you so desire) is filled with delicious donuts like these. They're a chocolate donut lovers dream come true. Enjoy!
xoxo,

Triple Chocolate Donuts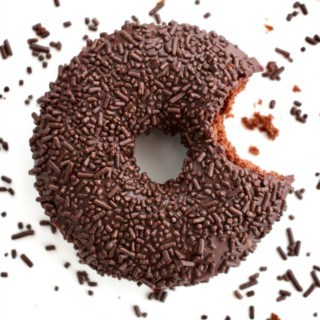 Chocolate cake donuts covered in a rich chocolate glaze with chocolate sprinkles. A triple chocolate donut dream that's baked and so easy to make!
Author: Maegan – The BakerMama
Recipe type: Breakfast
Serves: 18
Ingredients
2 cups cake flour
1 cup unsweetened cocoa powder
2 teaspoons baking powder
1 teaspoon kosher salt
3 large eggs
1 cup granulated sugar
1 cup milk
¼ cup canola oil
1 teaspoon vanilla
Chocolate Glaze:
2 cups confectioner's sugar
½ cup unsweetened cocoa powder
5 tablespoons milk
1 teaspoon vanilla
1 (6.25 ounce) container chocolate sprinkles
Instructions
Preheat oven to 425°F. Spray one (or up to three) 6 cavity donut pans with non-stick cooking spray and set aside.
In a medium bowl, whisk together the flour, cocoa powder, baking powder and salt.
In a large bowl, whisk together the eggs, sugar, milk, oil and vanilla. Whisk the dry ingredients into the wet ingredients, one cup at a time, until well combined and smooth.
Transfer the batter to a gallon-size resealable baggie and seal shut. Cut a small piece off one corner off the bottom of the baggie and fill each donut ring ⅔ full with batter. (Should make 18 donuts)
Bake for 7-8 minutes or until donuts are set and crisp when touched. Let donuts cool in pan for 5 minutes before removing to a wire rack set over a baking sheet to collect glaze drippings. Repeat process with remaining batter if you don't have three donut pans.
Make the Chocolate Glaze: in a medium bowl, whisk together the confectioner's sugar, cocoa powder, milk and vanilla until glaze is thick and smooth. (If glaze is too thick, stir in an additional teaspoon or two of milk. If glaze is too thin, let set for 5-10 minutes or whisk in a few tablespoons of confectioner's sugar.)
Dip the top of one donut at a time into the glaze and place upright back on the wire rack. Immediately sprinkle each glazed donut generously with chocolate sprinkles. Repeat with remaining donuts. Allow glaze to set for 5-10 minutes. Enjoy!
3.5.3226