What do you get when you mix pasta, Italian sausage, roasted bell peppers, spinach, cream, and more? A yummy Tuscan sausage pasta dish that's delicious and quick — ready in 30 minutes!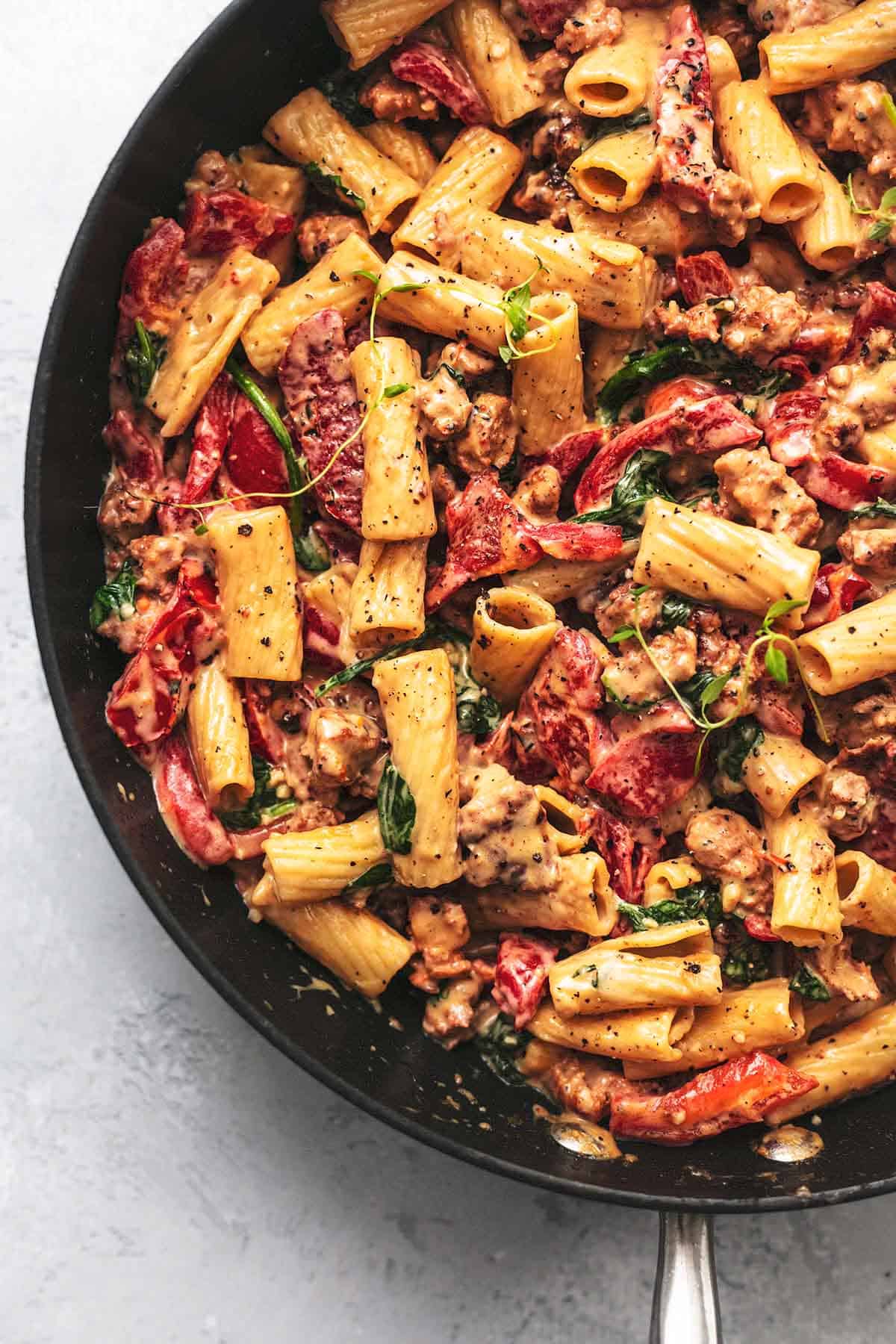 Remember travel? Yeahhhhhh, me too.
I've enjoyed out Summer of Road Trips, but I am especially longing for international travel, like when my mom and I were lucky enough to go to Italy a few years back. If I close my eyes I can remember the smell and feel of the pasta dough as we rolled and cut our own ravioli in an Italian kitchen. 
I'd love to pack my bags and hop on the next flight across the Atlantic but seeing as how that is not a real possibility right now,  I'm going to have to do the next best thing, which is to bring some of those delicious food memories back by making a wonderful Tuscan sausage pasta dish in my own kitchen.
And that's not so bad, right? It's definitely cheaper, though the view of my couch is slightly less exciting than my view of the Mediterranean!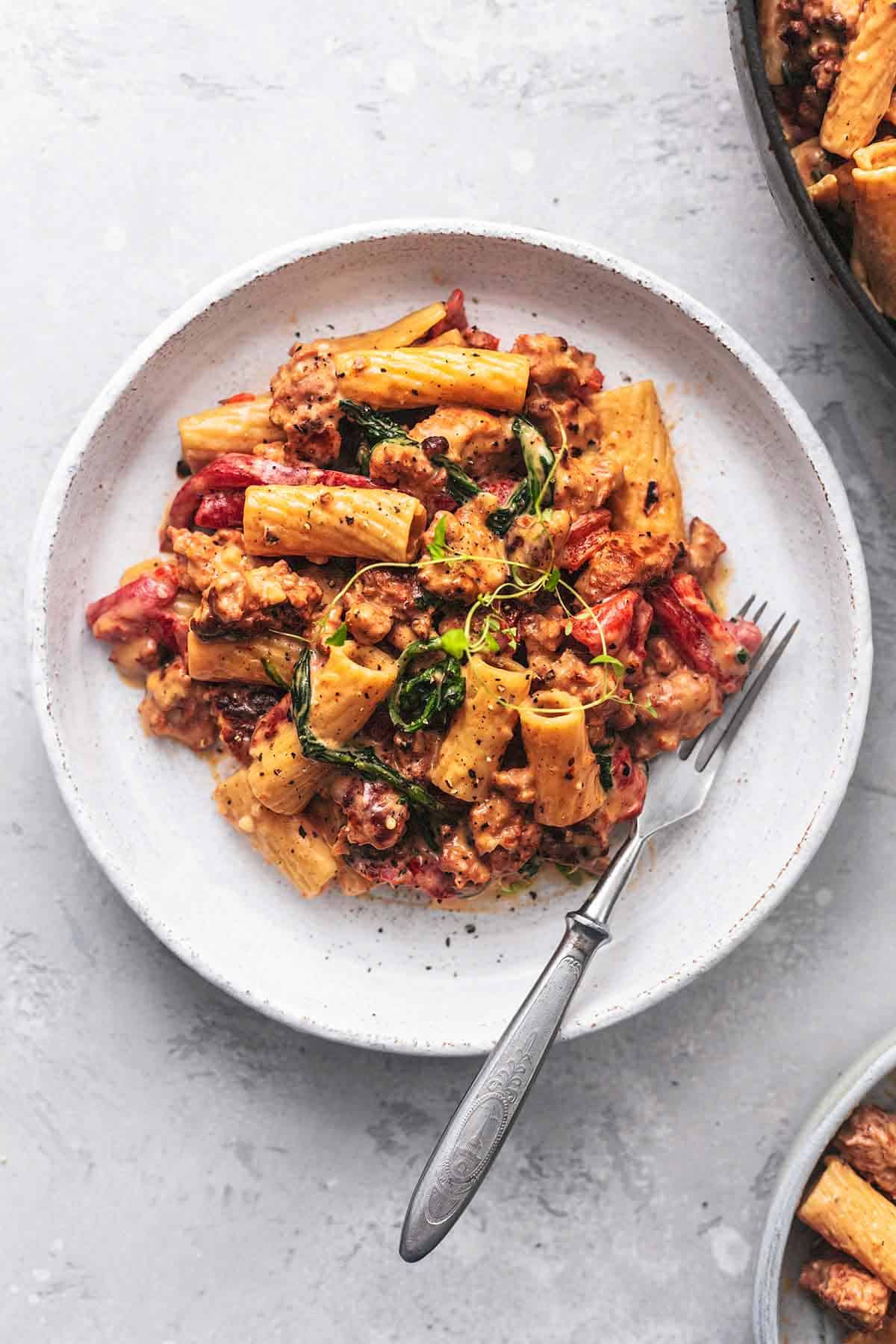 Why this Recipe Works
Just a few reasons why this quick, creamy Tuscan Sausage Pasta dish is one of my favs! 
Pantry ingredients — From boxed pasta to pre-made Italian sausage and from chicken broth to jarred, roasted bell peppers, making this Italian pasta dish is just about as easy as reaching into your pantry and opening jars.

One skillet — Other than cooking the pasta (which you could totally do several hours or even a day ahead of time), you'll only need to dirty up one big skillet for this dish. The best kind of dishes are the ones you don't have to wash, amiright? 
Leftovers — Have you ever had cold pasta? Don't knock it till you try it. Of course, this dish makes excellent leftovers warmed up in the microwave, but it's also just as delicious when eaten right out of the container in front of the fridge. The bites you sneak in throughout the day don't count right? 
Heavy cream — The heavy cream is part of the flour roux I like to make to thicken the sauce up in this dish. Plus, the cream makes the dish creamer, more vibrant, and more savory than if you were to skip it.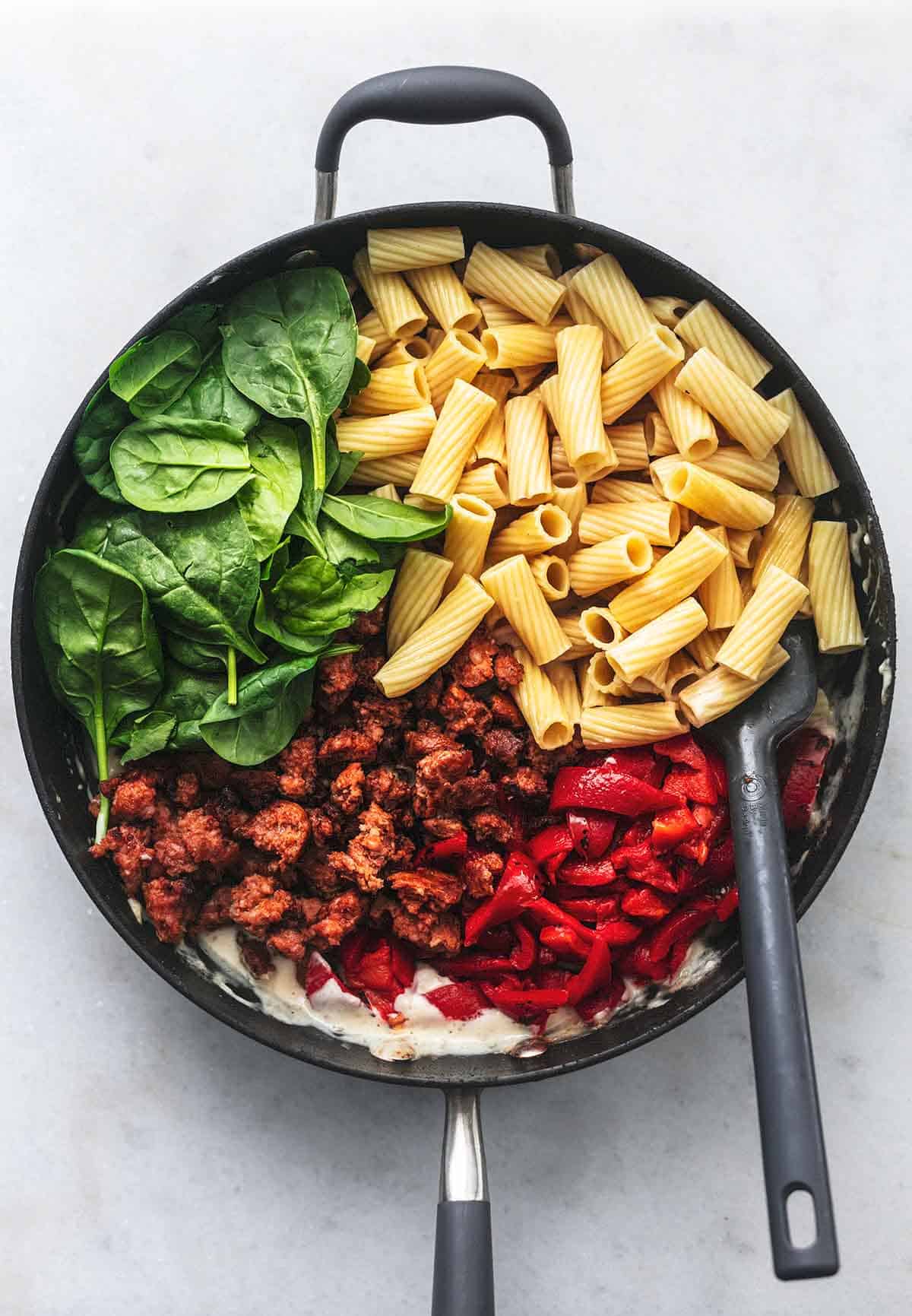 Here's How you Make it
Boil the pasta for 8-9 minutes or until it's tender, then drain it and toss it with 1 teaspoon of olive oil. Set it aside.
In a large skillet, brown the sausage for 5-7 minutes. Break the sausage as it browns into small chunks with a wooden spoon or spatula until the sausage is fully cooked. Transfer the sausage with a slotted spoon to a dish and cover it to keep it warm.
In the same skillet, melt the butter, then stir in the garlic, cooking for 1 minute till it's nice and fragrant.
Stir in the flour into the butter and garlic mixture, then whisk in the chicken broth, followed by the heavy cream, parmesan, red pepper flakes, salt, and pepper.
Next, add to the skillet the cooked pasta, the roasted red peppers, the sausage, and the baby spinach.
Simmer all of this for 5 minutes longer, then garnish with fresh herbs and freshly cracked black pepper if you like. 

Serve and enjoy!

 
What's the Difference Between Italian Sausage and Regular Sausage?
Italian sausage is regular sausage with Italian spices added to it for an Italian flavor. You can find it in mild or spicy varieties. Both tend to be flavored with Italian spices, fennel, and garlic, but the spicy version will also have chili pepper in it. 
Regular sausage is just pork sausage without the Italian spices.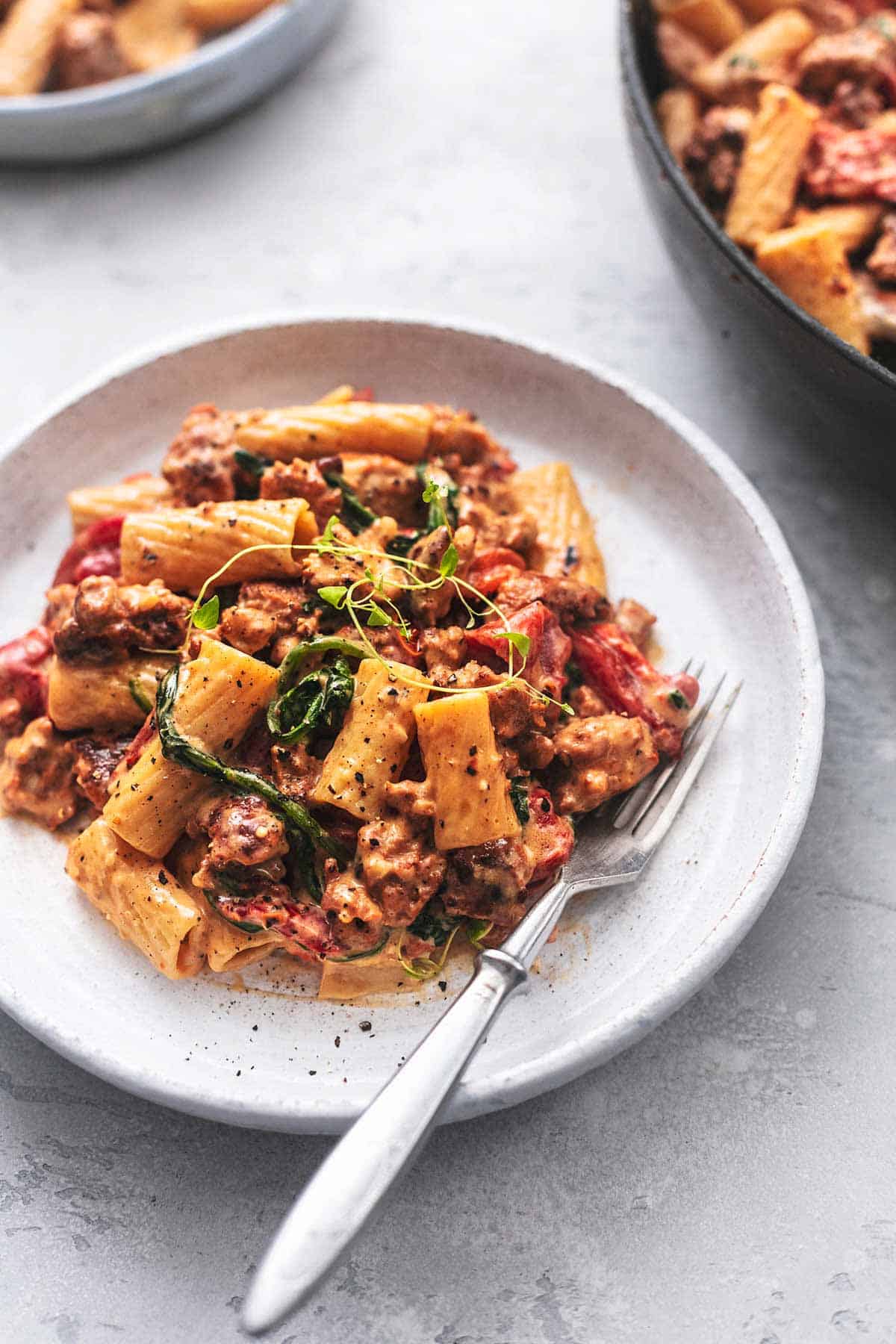 Should you Remove Sausage Casing Before Cooking?
If you are using Italian sausage links, then I would remove the casing before browning, unless you want to cook your sausage all the way through, then slice it up into rounds before adding to the Tuscan sausage pasta dish. 
Is it Okay to Eat Sausage Casing?
Yep! You can totally eat the sausage casing right along with the sausage, there is no harm there. A lot of sausage casings are natural (you probably don't want to know the details) and can be eaten no problem. If they taste kind of chewy to you, then take them off. Total personal preference.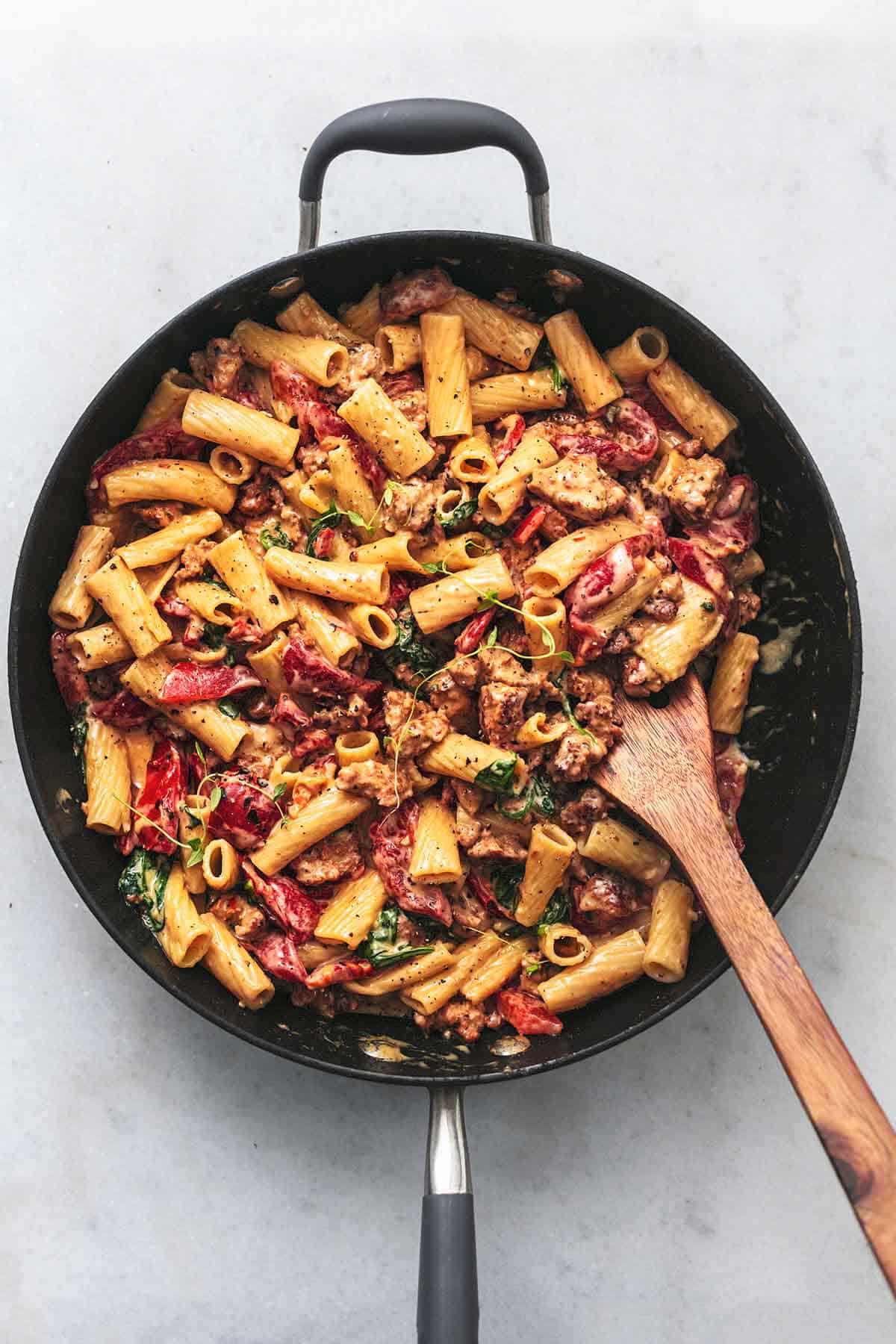 Expert Tips
Only have regular ground sausage? No problem, just add to the sausage 1 teaspoon of Italian blend herb seasoning, and some red pepper flakes if you prefer your sausage a little spicy. 

No fresh spinach? You can also use frozen spinach (be sure to squeeze out alllll that excess water first), or substitute kale, Swiss chard, or another hardy green you like. 

I like to use rigatoni in this dish because the little tubes trap a lot of that yummy sauce but other short pastas that will work well include baby shells, ditalini, cut ziti, rotini, and penne. 

Tuscan sausage pasta will keep in the fridge for up to 3 days or can be frozen for up to 3 months.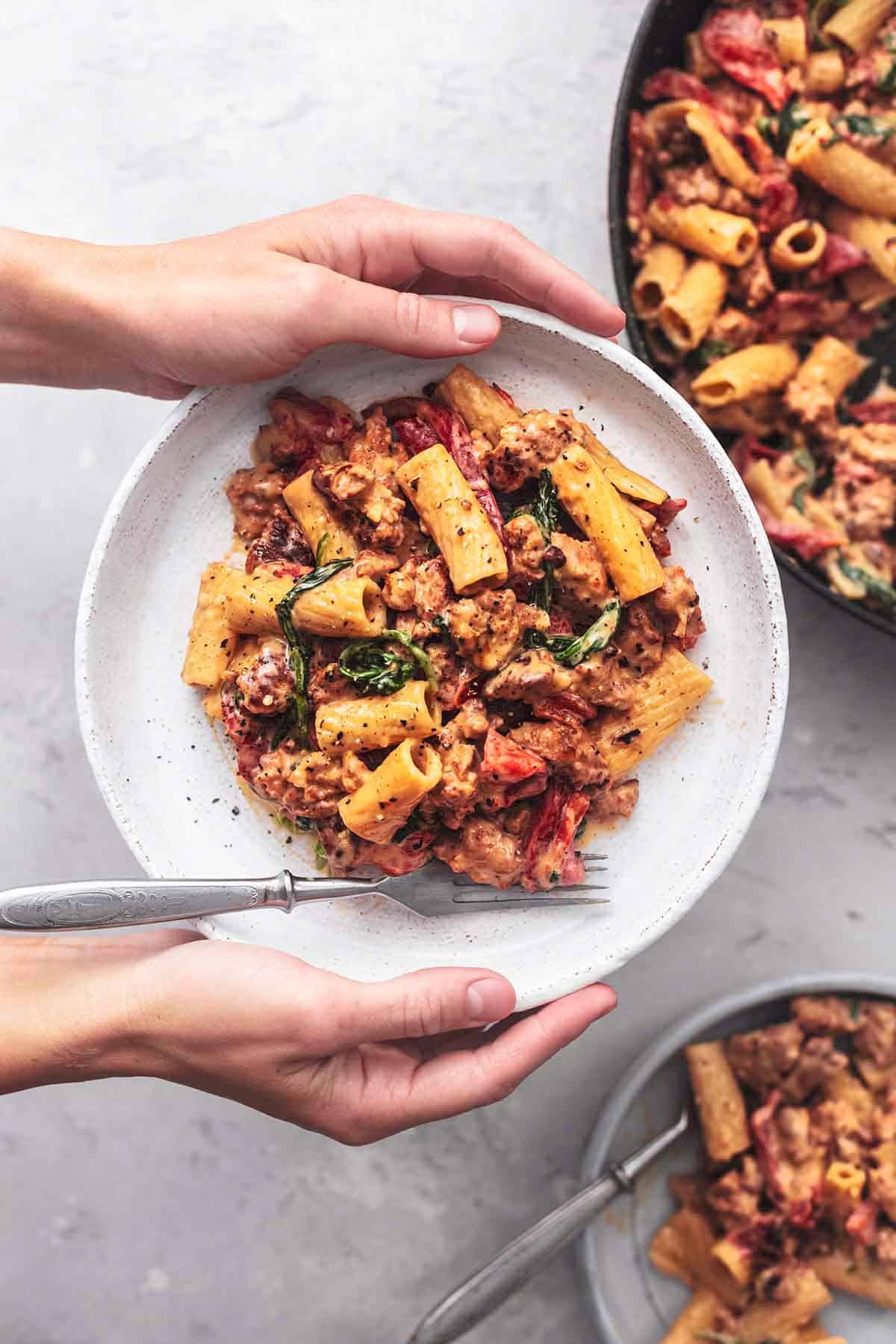 More Popular Pasta Recipes
Did you make this dish? Please rate the recipe below!
Boil pasta for 8-9 minutes til tender, drain and toss with 1 teaspoon olive oil. Set aside.

In a large skillet, brown sausage for 5-7 minutes – breaking into small chunks with a wooden spoon or spatula – until sausage is fully cooked. Transfer to a dish and cover to keep warm.

In the same dish, melt butter. Stir in garlic for 1 minute til fragrant.

Stir in flour, then whisk in chicken broth. Whisk in heavy cream, parmesan cheese, crushed red pepper flakes, salt, and pepper.

Stir in pasta, roasted red peppers, noodles, and baby spinach.

Simmer for five minutes before garnishing with fresh herbs and freshly cracked black pepper. Serve and enjoy!
The sausage: if you only have regular ground sausage, stir in 1 teaspoon Italian blend herb seasoning. Spicy Italian sausage also works! 
Calories: 601kcal | Carbohydrates: 46g | Protein: 20g | Fat: 37g | Saturated Fat: 16g | Cholesterol: 109mg | Sodium: 1114mg | Potassium: 425mg | Fiber: 2g | Sugar: 2g | Vitamin A: 1109IU | Vitamin C: 7mg | Calcium: 61mg | Iron: 2mg