Updated January 26, 2017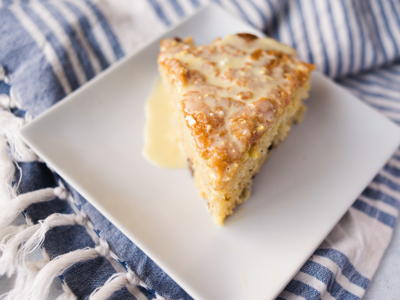 This cake sounds rich and a bit complicated, but don't be deceived. It is light and somewhat chewy under a brittle crust–perfect with afternoon tea or morning coffee. The orange flavor combines well with the white chocolate and the hint of nuttiness contributed by the pecans. It is simple to make, with all the ingredients mixed in one bowl.
Thick, slightly tart buttermilk gives the cake a smooth, fine texture and also interacts with the baking soda to make the cake rise. Don't substitute all-purpose flour for cake flour; it will give a less tender cake. Crème anglaise dessert sauce here is flavored with orange juice and zest to echo the cake's subtle orange flavor.
Makes1 cake

OccasionBuffet, Casual Dinner Party, Cooking for a date, Family Get-together
Dietary ConsiderationHalal, Kosher, Peanut Free, Soy Free, Vegetarian
MealBreakfast, Brunch, Dinner, Tea
Taste and TextureButtery, Chewy, Creamy, Crisp, Fruity, Nutty, Sweet
Ingredients
1 stick (4 ounces)

butter

, at room temperature, plus a little for greasing the pan
4 ounces

white chocolate

1 cup

sugar

2

eggs

1¼ cups

cake flour

½ teaspoon

baking soda

½ cup

buttermilk

1 teaspoon

vanilla extract

½ cup (about 2 ounces) finely ground

pecans

1 teaspoon grated

orange zest

2 large

egg yolks

1½ tablespoons

sugar

1½ cups

orange juice

, fresh or good-quality purchased
¾ teaspoon grated

orange zest

½ cup

heavy cream

½ cup

whole milk

1

vanilla bean

, split
Confectioners'

sugar

(optional)
Instructions
Preheat the oven to 325°F. Lightly butter a 9-inch nonstick baking pan. Place a baking sheet on the lowest oven rack.

In the top of a double boiler, melt the chocolate over just-simmering water. It should be warm, but not hot. Allow it to cool slightly at room temperature.

In the bowl of an electric mixer, cream together the butter and sugar, using the paddle attachment at medium speed (or use a hand-held mixer). Add the eggs one at a time, making sure each is incorporated before adding the next. In 2 separate bowls, combine the flour and baking soda, and the buttermilk and vanilla. Add the 2 mixtures to the creamed mixture alternately. Add the melted chocolate, pecans, and zest and blend thoroughly.

Pour the batter into the prepared pan, place it on the rack above the baking sheet, and bake until the cake is light golden brown and a toothpick inserted comes out dry, about 40 minutes. Cool it in the pan for 5 minutes; then invert onto a cake rack to finish cooling.

For the orange crème anglaise: In a small bowl, whisk together the egg yolks and sugar, and set aside.

In a small saucepan over high heat, reduce the juice and zest until thick, bubbly, and syrupy, about 10 to 12 minutes.

Meanwhile, in a small, heavy saucepan, scald the cream and milk with the vanilla been over high heat. Add them to the reduced juice and stir to combine. Whisk a little of the cream-juice mixture into the reserved egg mixture and then pour back into the pan of cream. Cook over low heat, stirring with a wooden spoon until the mixture coats the back of the spoon, about 1 minute. Do not allow the mixture to boil. Strain through a fine sieve into a bowl set into a larger bowl of ice cubes and cool completely; then refrigerate.

To serve: Sprinkle confectioners' sugar over the top of the cake, if desired, and slice. Spoon about 2 tablespoons of crème anglaise over each slice of cake.
Variations
Instead of crème anglaise, serve with ice cream or fresh fruit.

For pecans, substitute almonds.
Order of Preparation
Prepare and cool the orange crème anglaise.

Sprinkle the cake with optional confectioners' sugar, slice, and top with the orange crème anglaise.
Notes
When you prepare the crème anglaise, whisk a little of the cream-juice mixture into the egg mixture first, to warm the eggs so they don't scramble.

Orange crème anglaise can be refrigerated up to 4 days.

The cake can be refrigerated up to 3 days.
1996 Debra Ponzek and Joan Schwartz
YOUR RECENTLY VIEWED RECIPES
We are adding your Comments.

Thank you! Your comment has been added.
We are sorry. There was an error tyring to post your rating and review.
Your comment will appear after out editors have had a chance to review it.