These Spring Salads are fresh, flavorful, easy, and delicious! As the weather gets warmer, amazing Spring Salad Recipes are a must for lunch or dinner, especially spent outside with friends or family.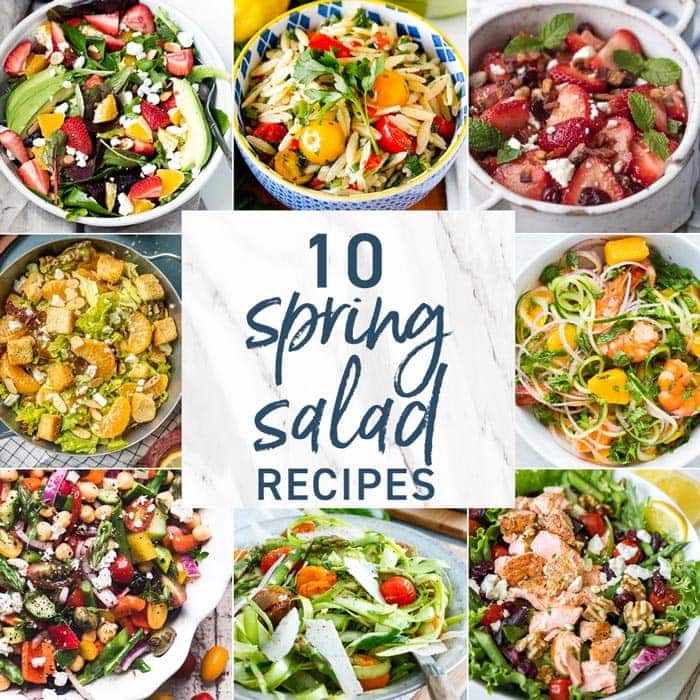 Spring Salad Recipes are some of our favorite things to make! Hi there! It's Maryanne from The Little Epicurean. The changing of the seasons means new produce at the farmers' markets. Today we're exploring ten quick and easy salads featuring spring vegetables. Enjoy!
Strawberry Bacon Salad with Lime Honey Balsamic Vinaigrette | The Cookie Rookie This bright flavorful salad combines sweet strawberries, crispy bacon, roasted pecans, crumbled feta cheese, and fresh mint for the ultimate spring salad. Tossed in an easy to make balsamic honey lime vinaigrette, you'll want to make this salad again and again!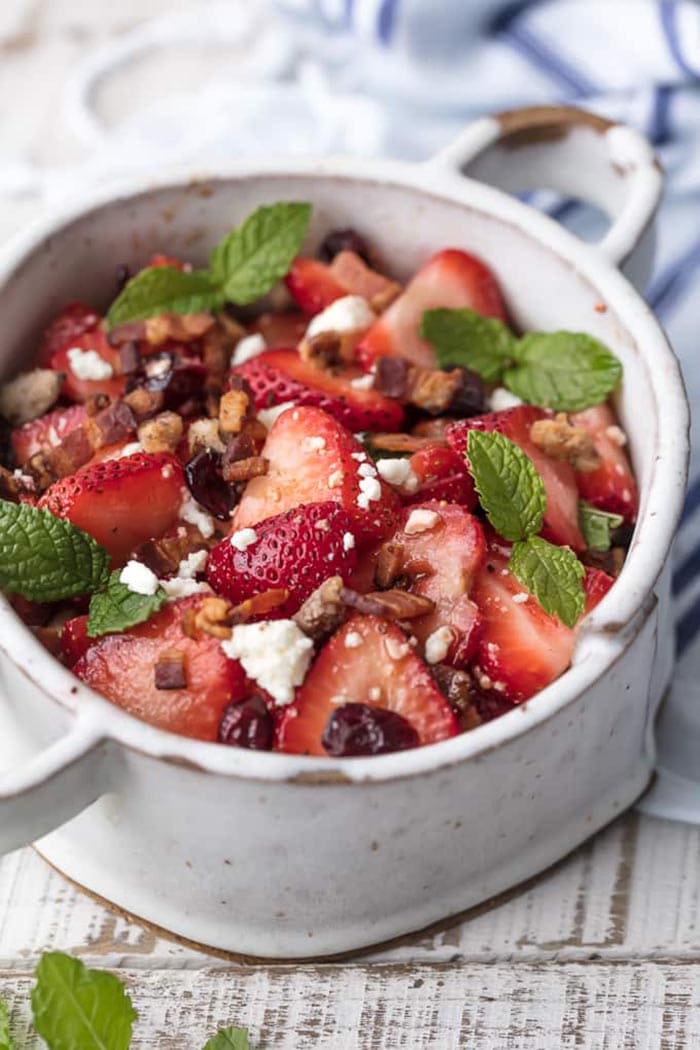 Roasted Potato Salad with Cucumber, Bacon, and Ranch | The Little Epicurean Roasted potatoes, sliced cucumbers, and bacon crumbles are coated in a rich and creamy ranch sauce. This is perfect with grilled proteins and ideal for picnics and barbecues.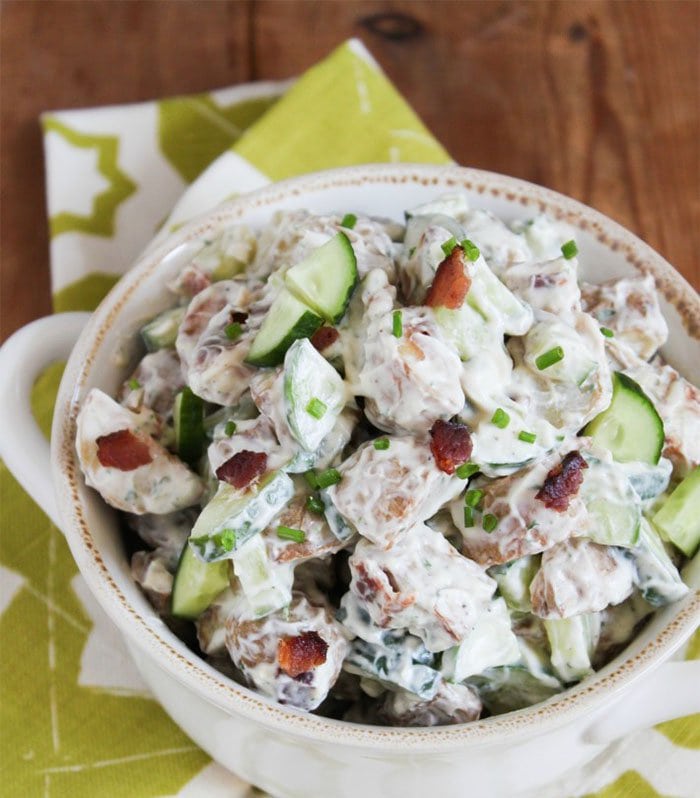 Cucumber Noodle Prawn and Mango Salad | My Food Story Inspired by Thai flavors, this cucumber noodle prawn and mango salad is also gluten-free. Use a spiralizer to get those fun and healthy "noodles!"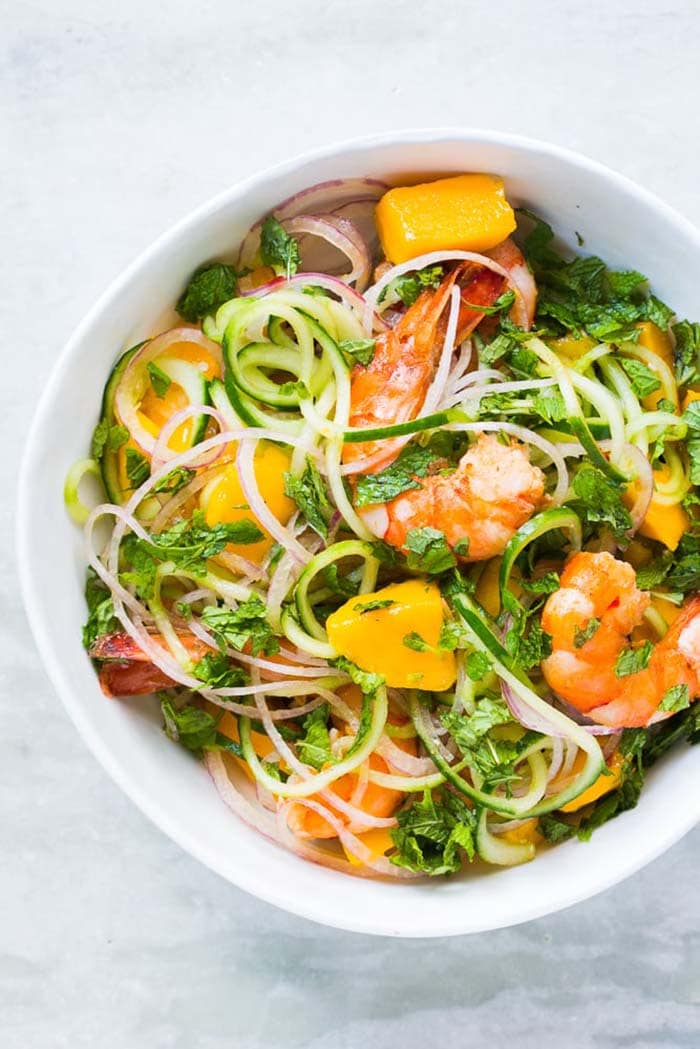 Mandarin Orange Salad with Almond and Cider Vinaigrette | The Cookie Rookie Crunchy, sweet, and savory, this Mandarin orange salad is a medley of textures and flavors. It's a great side dish for a just about any entree.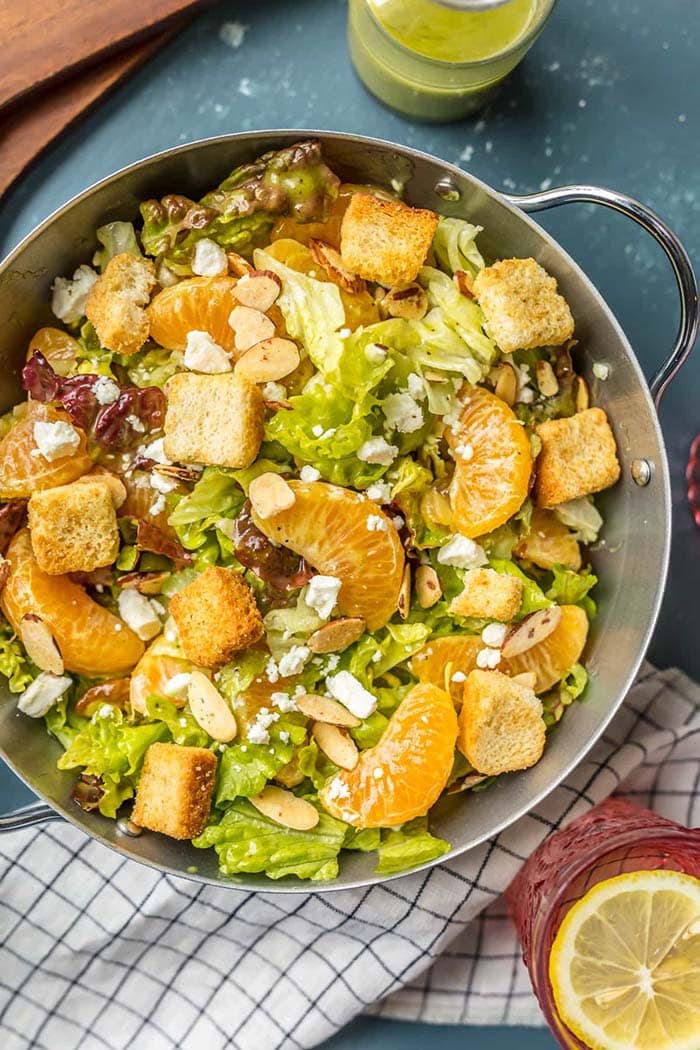 Lemony Shaved Asparagus Tomato Salad | Running to the Kitchen Welcome springtime with this lemony shaved asparagus tomato salad. Topped with parmesan cheese and fresh basil leaves, it's a party of flavors.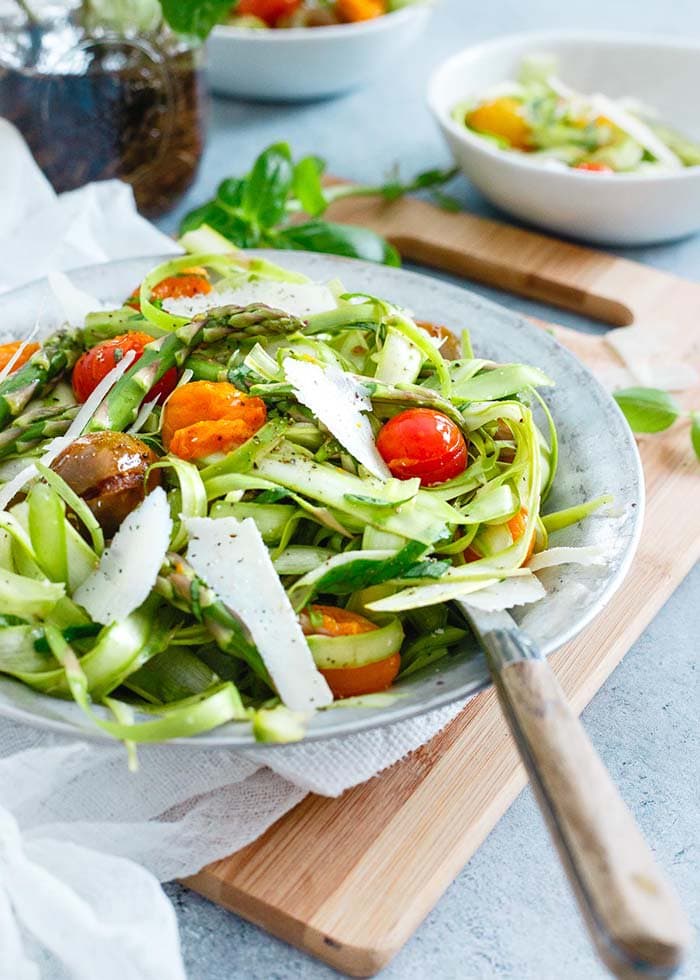 Greek Spiralized Cucumber Salad | Peas and Crayons Sprialize some cucumbers to make this Greek cucumber salad. It's a fun and modern spin on a classic favorite.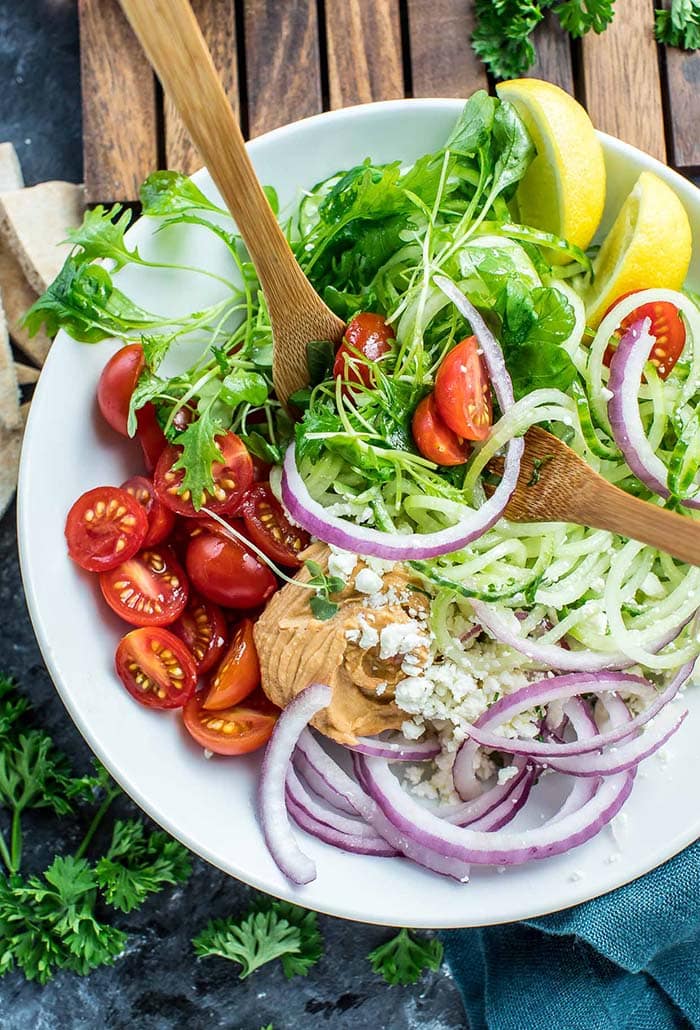 Salmon Asparagus Salad | Saving Room for Dessert This salad is an all-in-one meal in a bowl! Season broiled salmon tops assorted greens, steamed asparagus, dried cranberries, tomatoes, and walnuts.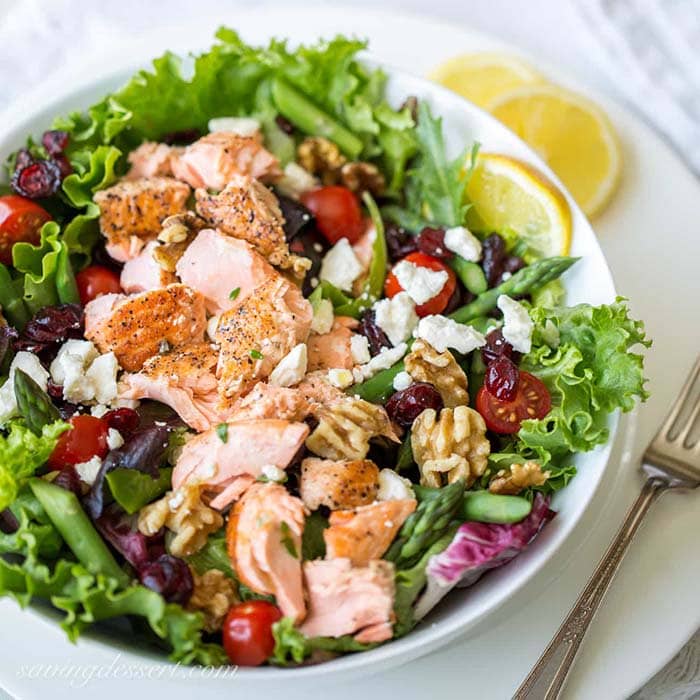 Orange Strawberry Avocado Salad | Ambitious Kitchen Tossed in a light citrus poppyseed dressing, this orange strawberry salad is loaded with good for you, heart-healthy fats. Finish the salad with some toasted almonds and a serving of creamy goat cheese.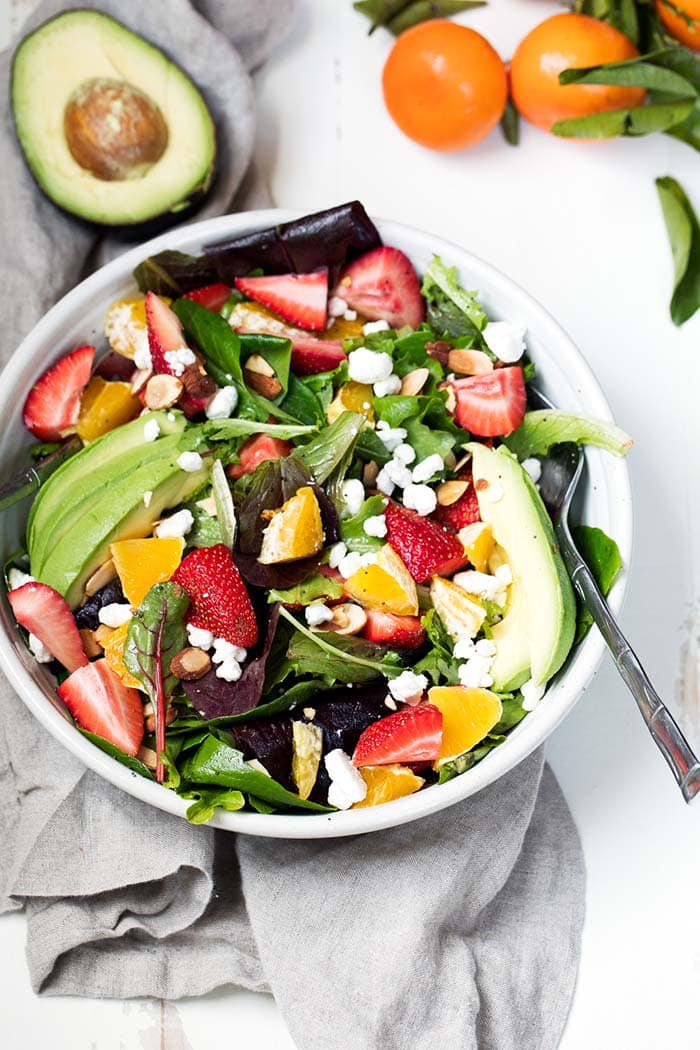 Chopped Asparagus Salad | The View From Great Island Springtime is synonymous with asparagus! This chopped salad is loaded with asparagus, chickpeas, radish, cucumbers, onion, tomatoes, bell peppers, and olives. It's all tied together with a tasty vinaigrette made with champagne vinegar.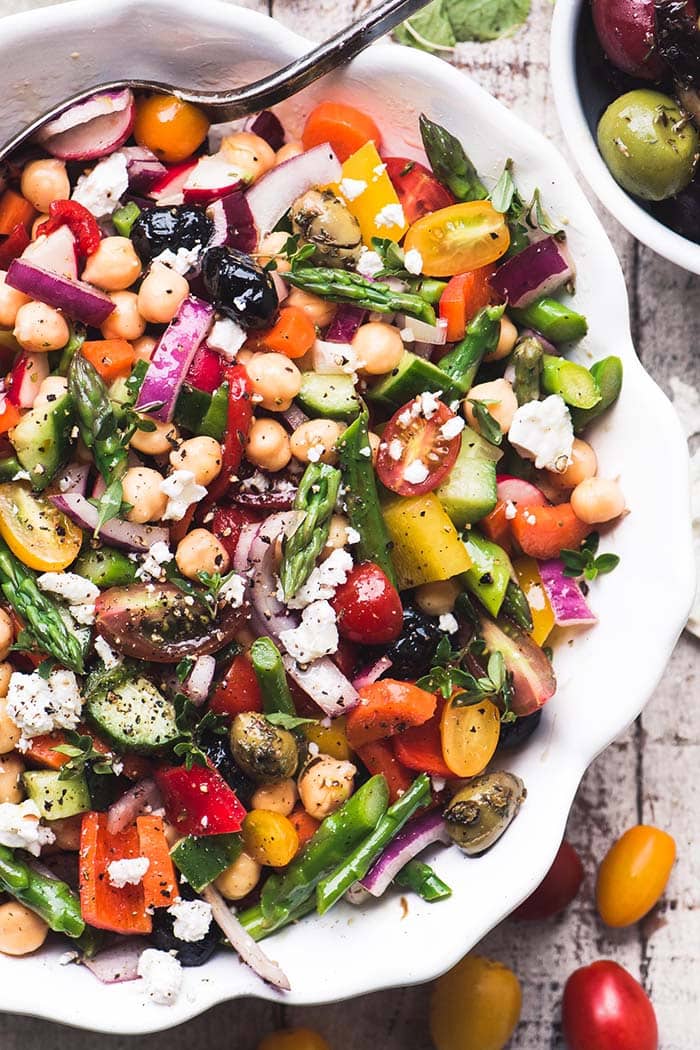 Lemony Basil Orzo Salad | Unsophisticook Fresh flavors and pops of vibrant color, this lemon basil orzo salad is a quintessential side dish for spring and spring. To make it a complete meal, serve it alongside grilled meats or seafood.