This post may contain affiliate links. Please read my disclosure policy.
This mango lime sorbet is super refreshing and delicious and easy to whip up in 5 minutes using a food processor or blender.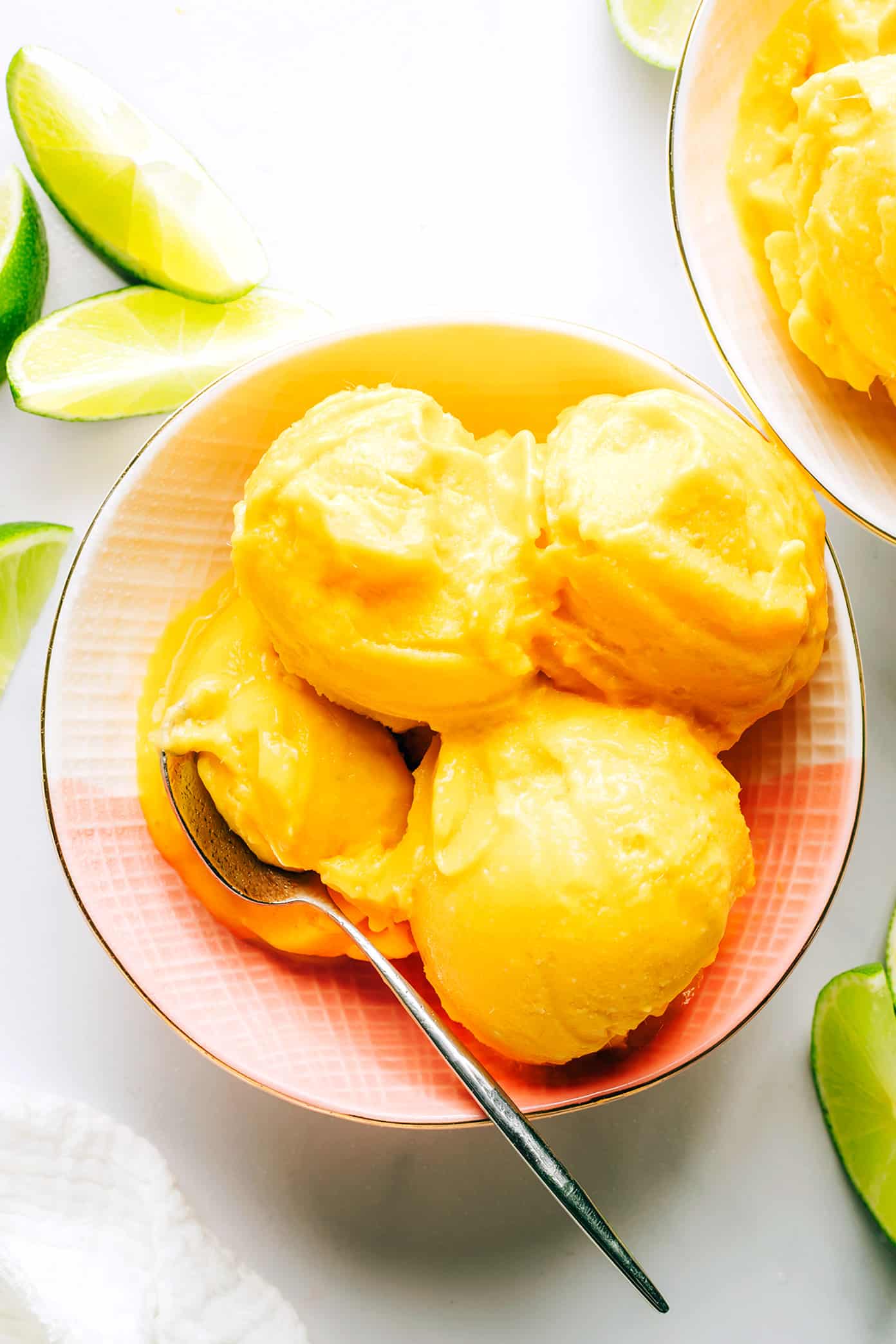 Summer's just around the corner, so I say we blend up a quick batch of this mango lime sorbet! ♡
It's one of my favorite back-pocket dessert recipes this time of year because it's easy to whip up in just 5 minutes from start to finish. And all you need to make it are 4 simple ingredients — frozen fruit (mango, in this case), fresh lime (we'll use both the juice and zest), coconut milk (or your preferred type of milk or water), and fresh ginger (or ground ginger, in a pinch). Everything purées together magically in a high-speed food processor or blender to create a perfectly silky smooth sorbet. And while you're welcome to pop a batch in the freezer to save for later, the brilliance of these food processor or blender sorbets is that they are ready to serve immediately if you'd like. Dessert craving = solved!
As you can see, this mango sorbet recipe is already naturally gluten-free and vegan as-is. But I've also included some fun ideas for how to customize it below with different fruits and add-ins, so please feel free to have fun with the recipe and make it your own!
It's seriously the perfect dessert for last-minute summer entertaining or anytime you find yourself craving a sweet treat. So grab a bag of frozen mango, and let's make some sorbet!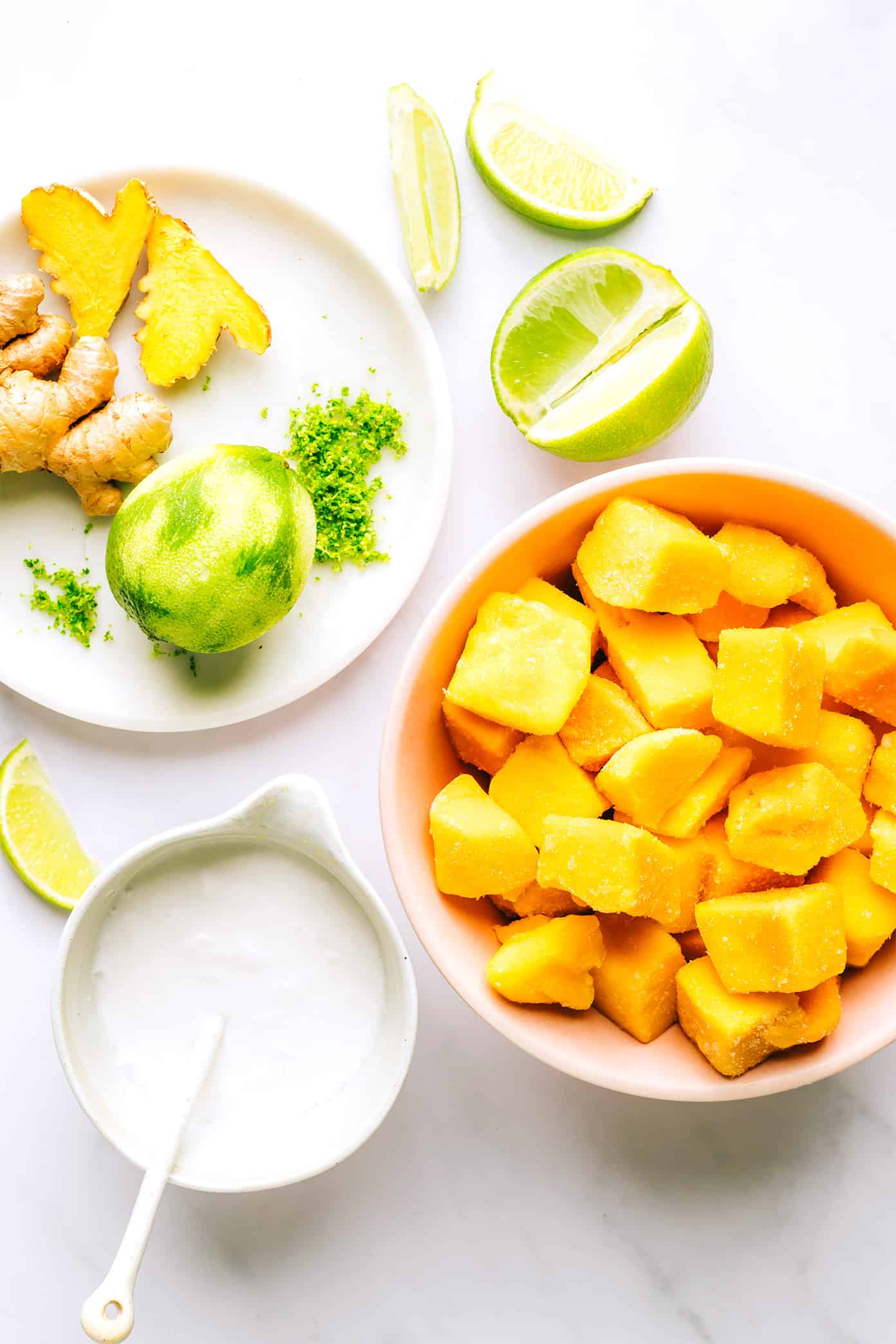 Mango Lime Sorbet Ingredients
Before we get to the mango sorbet recipe detailed below, here are a few notes about the ingredients you will need:
Frozen mango: You can either purchase store-bought diced frozen mango

or

purchase fresh mangoes and dice and freeze them yourself (see tips on the latter below). There's no need to thaw the frozen fruit beforehand if using a high-powered food processor or blender.
Fresh ginger: I also love adding in an inch or so of fresh ginger, peeled and thinly sliced into coins. Its flavor pairs so well with the other ingredients and also adds a light kick.
Lime: We will use both the zest and juice of a large fresh lime to brighten up the sorbet and balance out the sweetness of the mango.
Coconut milk: I really love the mild flavor of coconut milk paired with these other ingredients, but feel free to use any variety of dairy or plant-based plain milk that you prefer. (Or for a less creamy option, you could just use water.)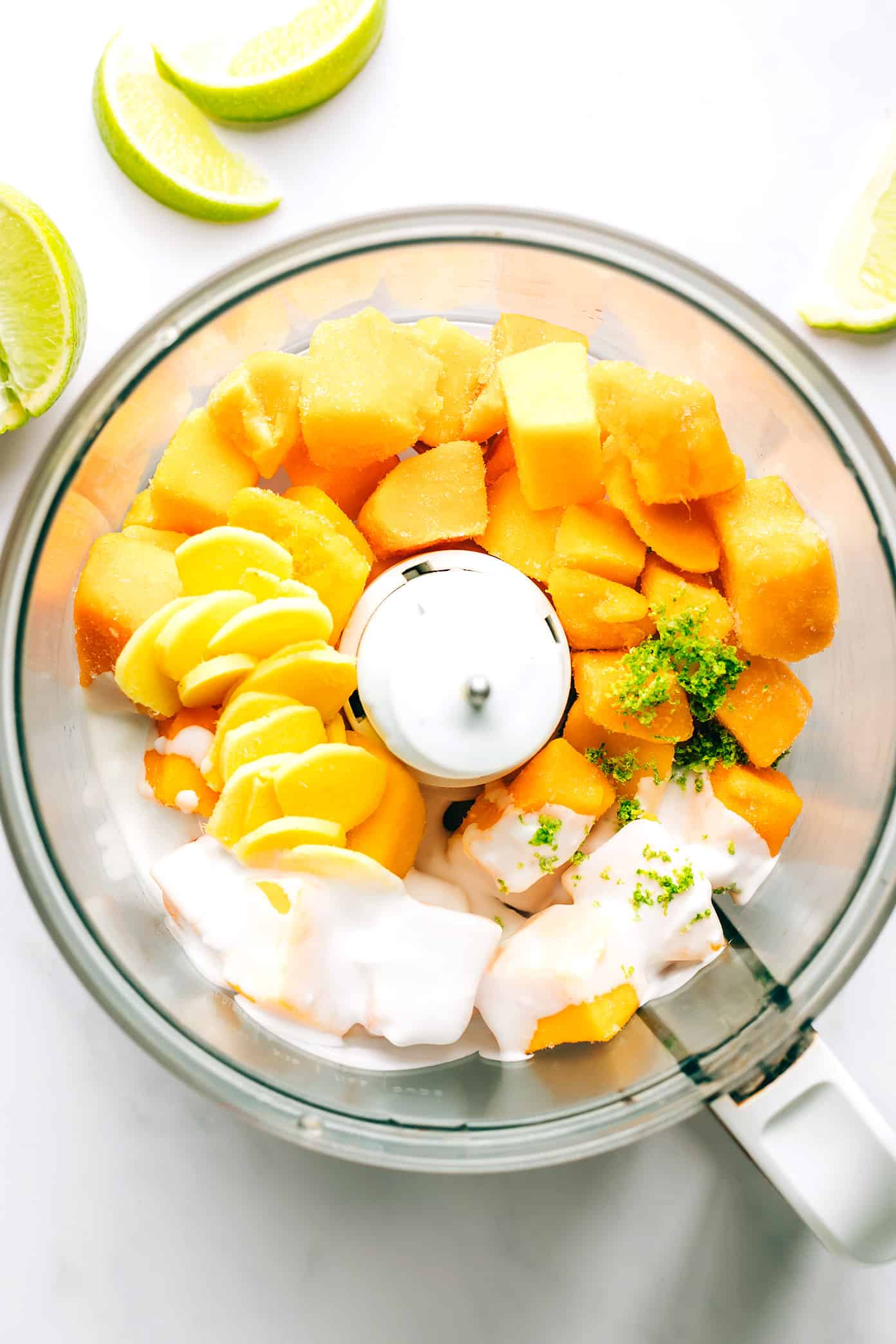 Recipe Variations
Here are a few other fun variations that you're welcome to try with this easy sorbet recipe:
Use a different fruit: Use any sorbet-friendly frozen fruits (strawberry, watermelon, pineapple, cantaloupe, peach, blueberry, and/or banana are some of my favorites) either in place of or mixed with the mango. Just be sure that the total amount of fruit measures around 20 ounces, more or less.
Use a different milk: Use any other variety of plain milk (plant-based or dairy) in place of the coconut milk.
Add sweetener: Add honey, maple syrup, or your preferred type of sweetener as needed if you would like a sweeter sorbet.
Add heat: Add a pinch of cayenne, crushed red chili flakes, your favorite fresh chiles or hot sauce to make a spicy mango sorbet.
Add vanilla extract: Add 1 teaspoon vanilla extract if you would like a hint of vanilla in the sorbet.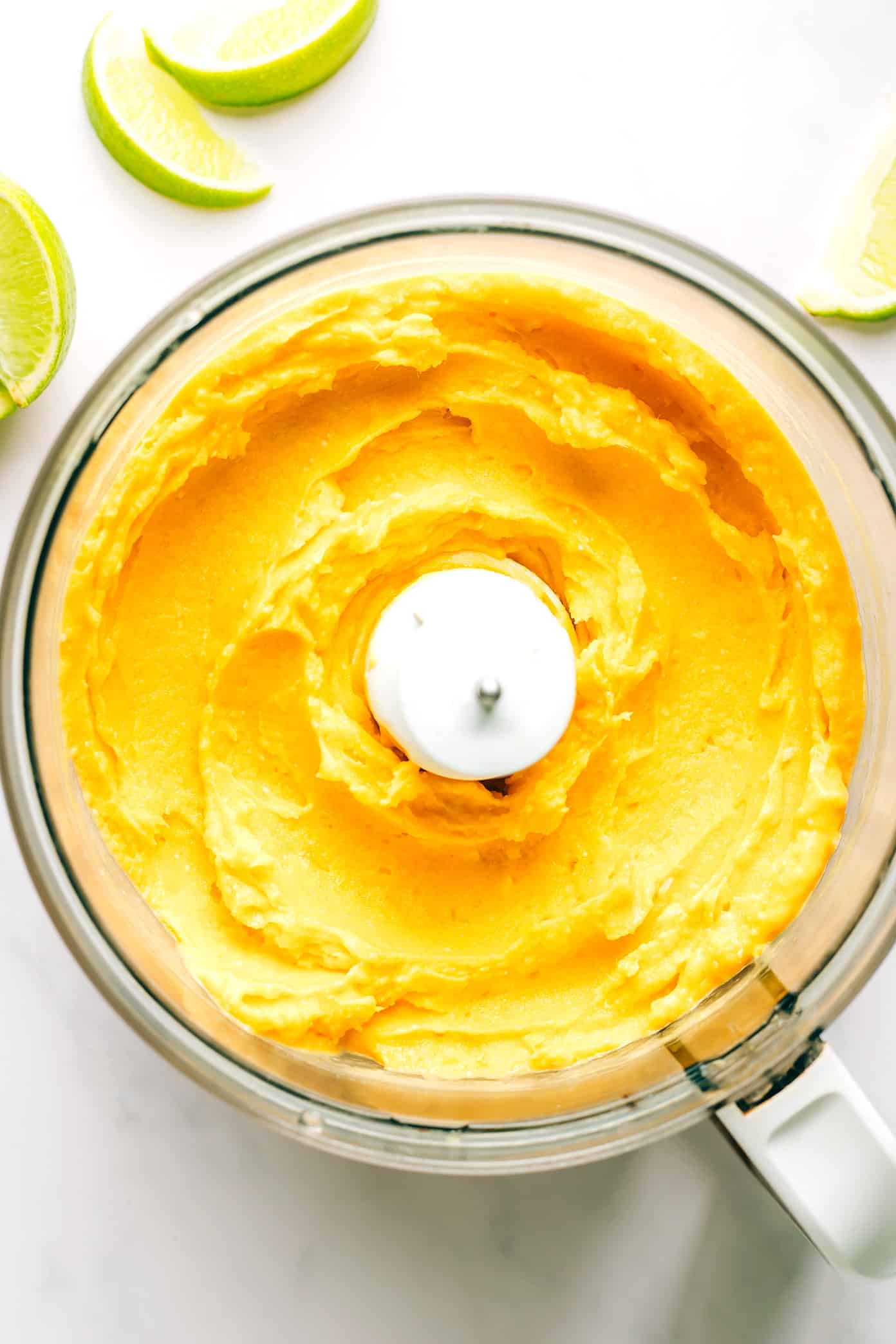 Recipe Tips
Here are a few tips to keep in mind when making this homemade sorbet recipe:
Use a high-speed blender or food processor: You'll need the power of a high-speed blender (such as a Vitamix or Blendtec) or a good-quality food processor to be able to purée the frozen mango chunks. That said, if your equipment is not quite strong enough to process the frozen chunks, you can thaw the fruit partially to blend the sorbet. Then just place it in the freezer until it reaches your desired consistency.
If freezing your own mango, be sure to do so properly: Dice the mango into more or less equally-sized pieces, space them apart in an even layer on a parchment-covered baking sheet, and freeze until frozen. Then use the frozen mango in this recipe or transfer the frozen mango chunks to a freezer-safe storage bag or container and freeze for up to 6 months.
Avoid large chunks of frozen fruit: If your frozen mango happens to have accidentally frozen together into large chunks, be sure to break those up before blending so that your food processor or blender does not jam.
Add liquid as needed: Just a heads up that the frozen mango will go through a crumbly stage before it smoothes out into a creamy purée. So I recommend waiting to add extra liquid unless you find it's absolutely necessary.
Use a sturdy storage container: I recommend a sturdy airtight container with minimal headspace to prevent ice crystals forming on top, such as this ice cream container. Or this traditional-style ice cream container works great for stacking.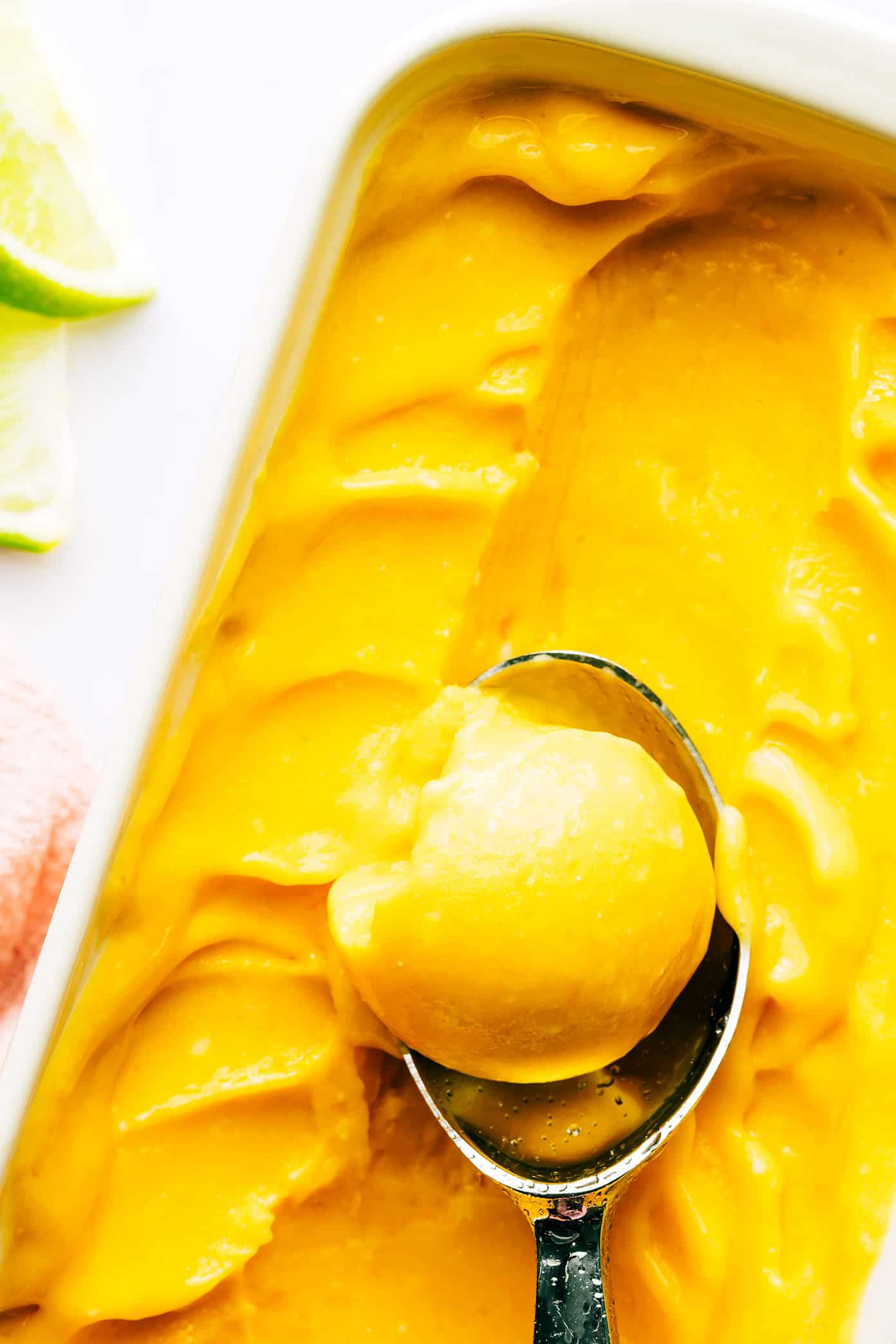 ---
Description
This mango lime sorbet is super refreshing and delicious and easy to whip up in 5 minutes using a food processor or blender.
---
4 cups

(about

20 ounces

) frozen diced mango

1

inch fresh ginger, peeled and thinly sliced

1

lime, zested and juiced

1/4

to

1/2

cup coconut milk
---
Purée.

Combine the mango, ginger, lime and 1/4 cup coconut milk in a food processor or high-speed blender. Purée until smooth, pausing as needed to scrape down the sides. The mixture will go from chunks to a crumbly texture to smooth. If needed, add in extra coconut milk to help the mixture blend.

Serve.

Scoop and serve immediately. Or transfer the sorbet to a food storage container,* cover and freeze for up to 3 months.
---
---
Notes
Food storage container: This ice cream container is my favorite, but any sturdy freezer-safe sealed container will do. If using a container that is glass or metal, I recommend chilling it before adding the sorbet.