This post is all about putting your waffle iron to use. We have a really great waffle maker, and I use it regularly, but pretty much only for my favorite waffles. It's the most egregious example of a single use appliance. So! I was chatting with a friend the other morning about the clever menu at The Riddler. It's a chic, little Champagne bar on a sunny corner in the Hayes Valley neighborhood of San Francisco. They don't have a traditional kitchen, but they do work wonders with a waffle iron and hot plate (w/ a glass of bubbles in hand). They make a now-famous Tater Tot Waffle, which got me thinking about all the other ways to use a waffle maker. Apparently I'm quite late to this party, because there are already tons of brilliant ideas out there. I've included a few that caught my attention here. Lastly, it seems like the trend is a lot of junk food meets waffle maker, so I tried to focus on more healthful (and savory) ideas! Let me know (in the comments) if you make anything clever in yours 🙂 -h
1. Waffle Frittata with Tzatziki – (supergoldenbakes)
Making frittatas in your waffle maker is a thing. And, there are a lot of examples out there. That said, this is the one that caught my attention. Lots of herbs, cooked potatoes, chopped spinach – look at the color! Get the recipe here.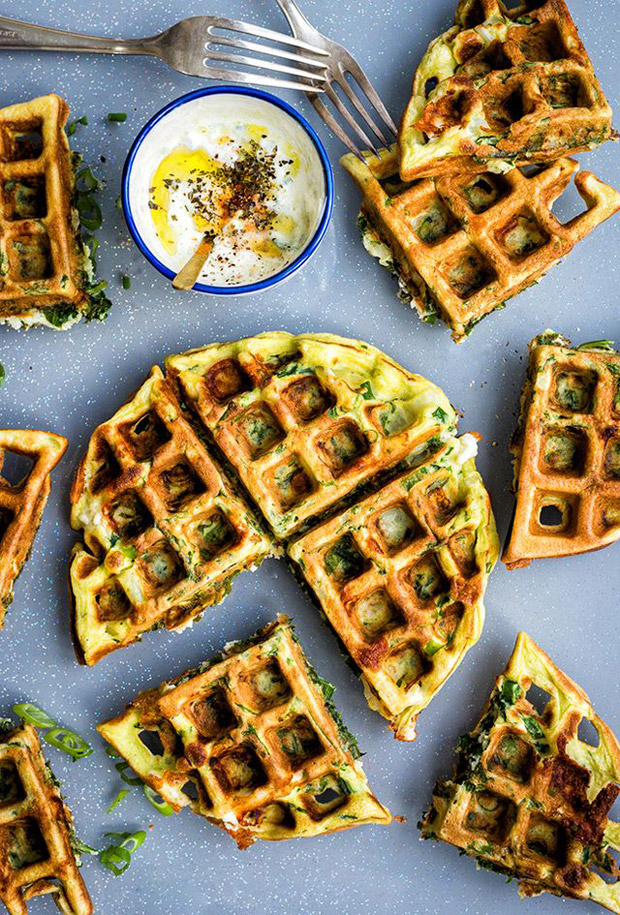 2. Pizza Waffles – (Jeff Garroway / Bijoux & Bits)
I came across this incredible photo (below) by Jeff Garroway. It's a decadent tower of crispy crusted, herb-flecked, cheesy pizza waffles. In the comments Jeff notes that he used the recipe from Bijou & Bites. I appreciate the idea that, like regular pizza, you can incorporate all sorts of seasonal sauces and ingredients, and keep the technique consistent. Get the recipe here.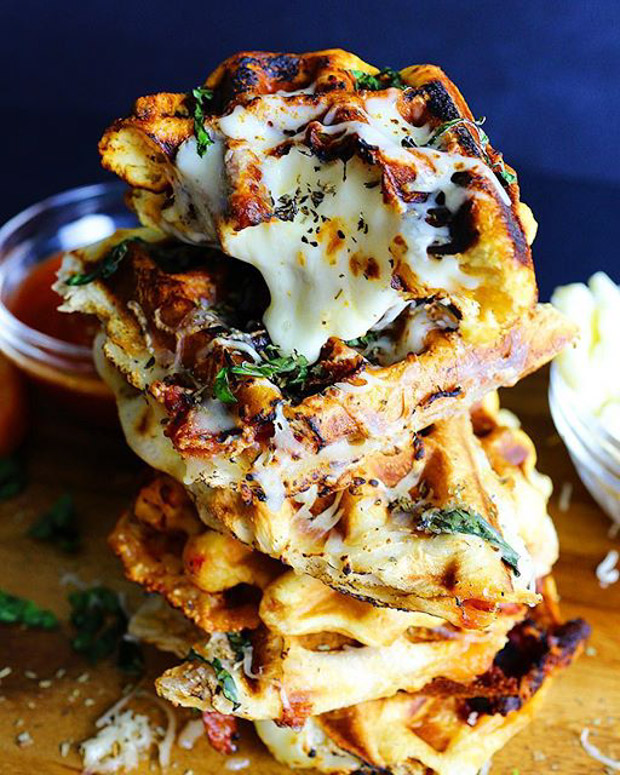 3. Leftover Stuffing Waffles – (Just a Taste)
So, Thanksgiving is right around the corner, and everyone ends up with extra stuffing. Here's what happens when you put stuffing in your waffle maker. Use veg-broth / stuffing to keep them vegetarian. I'm thinking you also might be able to get away with a vegan version using flax eggs & vegan stuffing? Worth a try! Get the recipe here.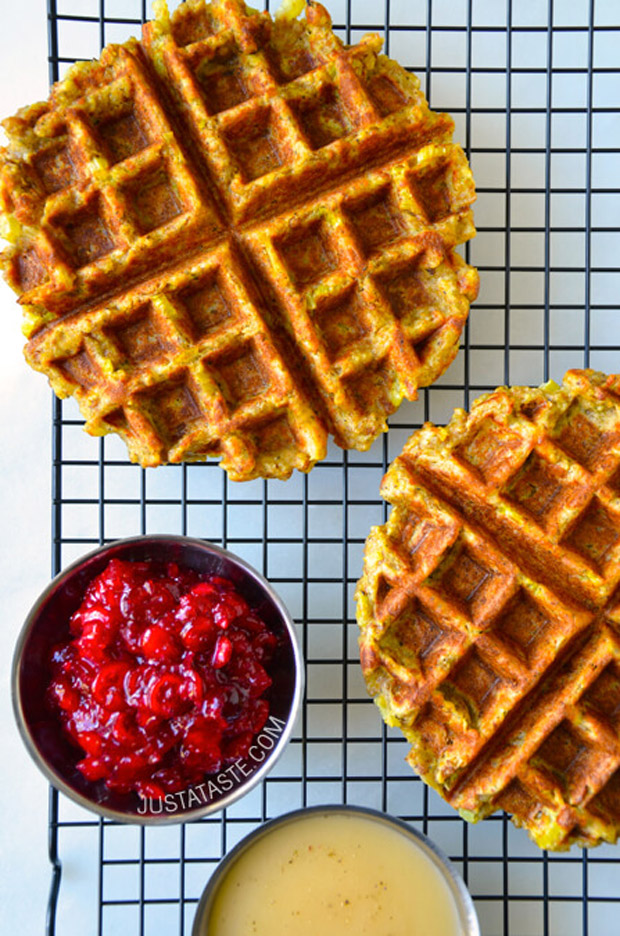 4. Crispy Sesame Waffled Kale – (KCRW Good Food)
Featured on the KCRW Good Food site, kale chips. But the twist here is, guess what? They're made in your waffle iron. Faster than doing an entire batch in the oven. Get the recipe here.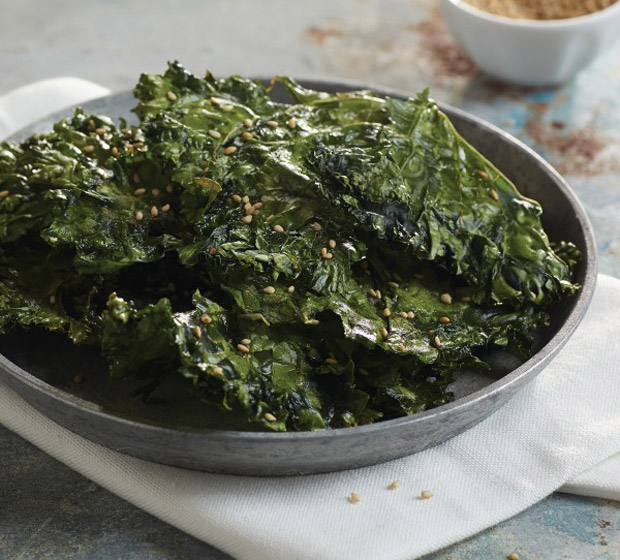 5. Waffled Polenta – (Julie's Jazz)
We've talked before about what to do with those tubes of polenta nearly everyone has in their pantry. I came up with this Lentil Polenta Casserole, but these Waffled Polentas blow that idea out of the water! Imagine all the different toppings you can deploy. Get the recipe here.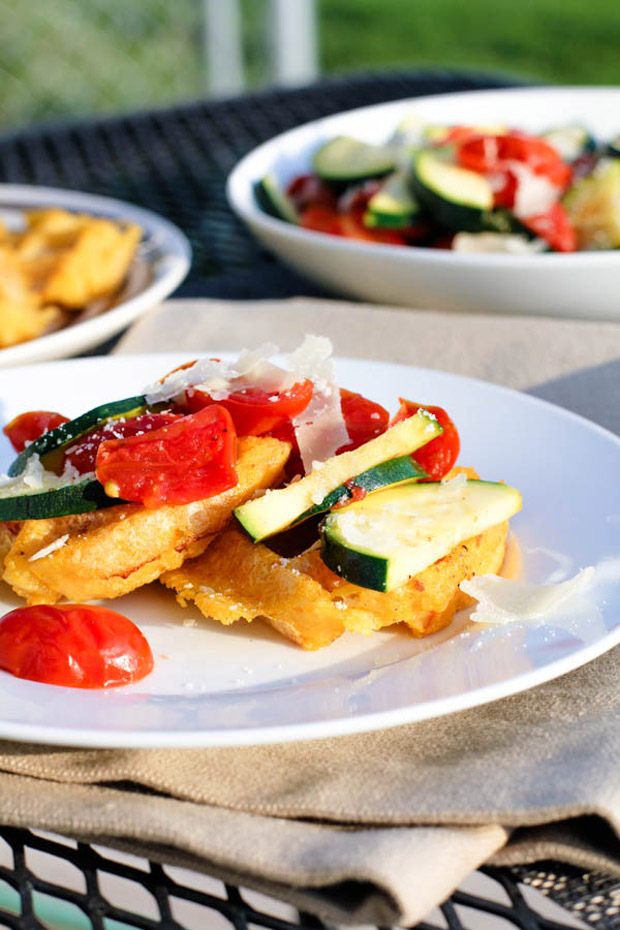 6. Leftover Mashed Potato Waffles – (Just a Taste)
Love this idea! I'd likely scale way back on the cheese, and use leftover mashed sweet potatoes for the added nutrition boost. Of course there are a thousand ways you could play around with the seasonings, and stir-ins as well! Get the recipe here.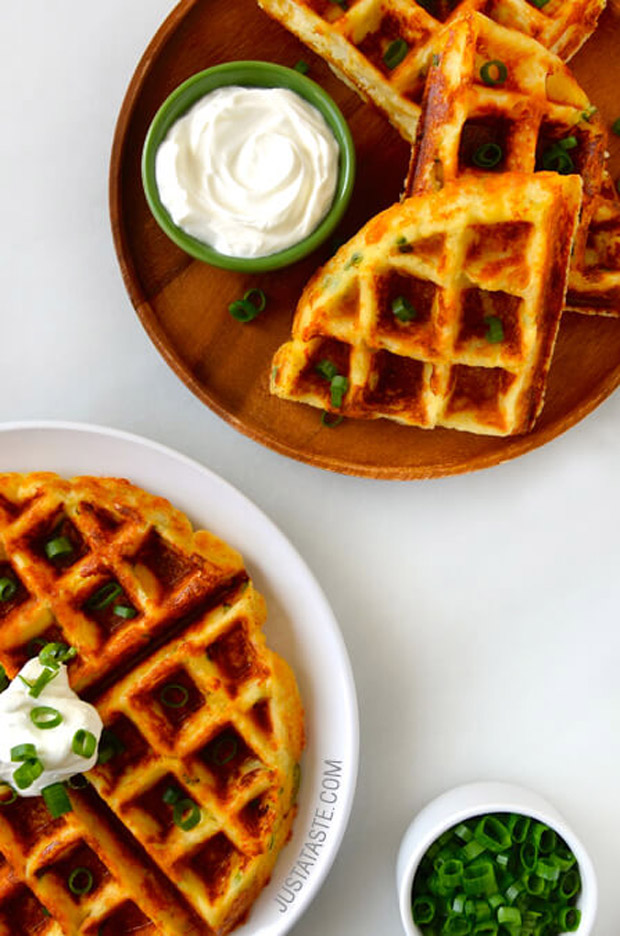 7. Kimchi Fried Rice Waffles – (Miss Hangry Pants)
I often have left-over cooked rice & grains on hand. Check out this kimchi fried rice waffle. Such a smart idea, and would make a great component in a quick lunch. Get the recipe here.
8. Sarah Fit Healthy Waffle Iron Recipes (video)
Sarah talks through all the different ways she uses her $10 lil waffle iron. Some super fun ideas here – apple chips!?!