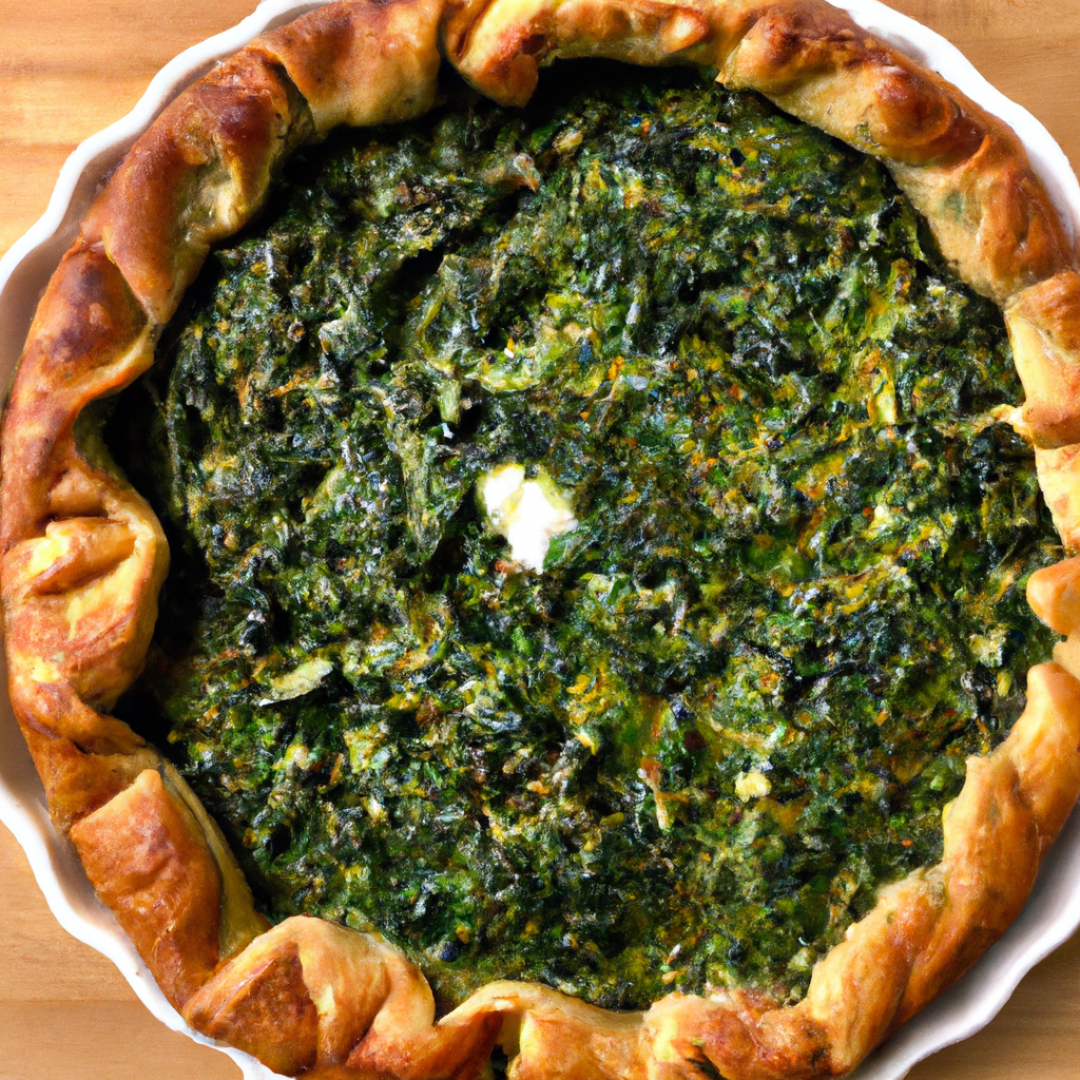 What are the main ingredients in the perfect vegan spinach pie recipe with a Greek influence?
Who says vegan food has to be boring? This vegan spinach pie recipe will make your taste buds dance with joy! With a perfect balance of tangy, salty and savoury flavours, it's a perfect dish for any occasion, from a picnic to a family dinner.
Ingredients
1 package of phyllo pastry (about 12-16 sheets)
1/4 cup olive oil
1 onion, chopped
4 garlic cloves, minced
6 cups chopped fresh spinach
1/2 cup chopped fresh parsley
1/2 cup chopped fresh dill
1/2 cup vegan feta cheese, crumbled
1/4 cup nutritional yeast
1/4 cup pine nuts, toasted
1 tablespoon lemon zest
1 tablespoon lemon juice
1/2 teaspoon salt
1/4 teaspoon black pepper
Instructions
Preheat the oven to 375°F (190°C).
In a large skillet, heat the olive oil over medium heat. Add the onion and garlic and sauté until fragrant, about 3-4 minutes.
Add the spinach and cook until wilted, stirring occasionally, about 5 minutes.
Remove the skillet from the heat and add the parsley, dill, vegan feta cheese, nutritional yeast, pine nuts, lemon zest, lemon juice, salt and pepper. Mix well.
Brush a 9×13 inch baking dish with olive oil.
Carefully unroll the phyllo pastry and cut it in half lengthwise. Place one half of the phyllo sheets in the bottom of the baking dish, brushing each sheet with olive oil as you go.
Add the spinach filling on top of the phyllo sheets.
Cover the spinach filling with the remaining half of the phyllo sheets, brushing each sheet with olive oil as you go.
Tuck in the edges of the phyllo sheets to seal the pie.
Bake the spinach pie for 30-35 minutes or until golden brown and crispy on top.
Remove from the oven and let cool for a few minutes before slicing and serving.
Notes
If you can't find vegan feta cheese at your local grocery store, you can make your own by crumbling tofu and marinating it in 3 tablespoons of olive oil, 1 tablespoon of lemon juice, 1 teaspoon of dried oregano, 1 minced garlic clove, and a pinch of salt for at least an hour.
Enjoy!
This vegan spinach pie is best served warm, but you can also enjoy it cold as a delicious snack or lunch. It pairs perfectly with a crisp Greek salad or a fruity white wine. Bon appétit!
"This spinach pie is so delicious and flavourful that you won't even miss the cheese. It's the perfect vegan alternative to a Greek classic!" – Yiannis
Please note that some types of phyllo pastry may contain animal products such as butter, eggs or honey. Be sure to check the ingredients list before buying.