Aguadito De Pollo (Peruvian Chicken Soup)
Easy50 minsGluten-Free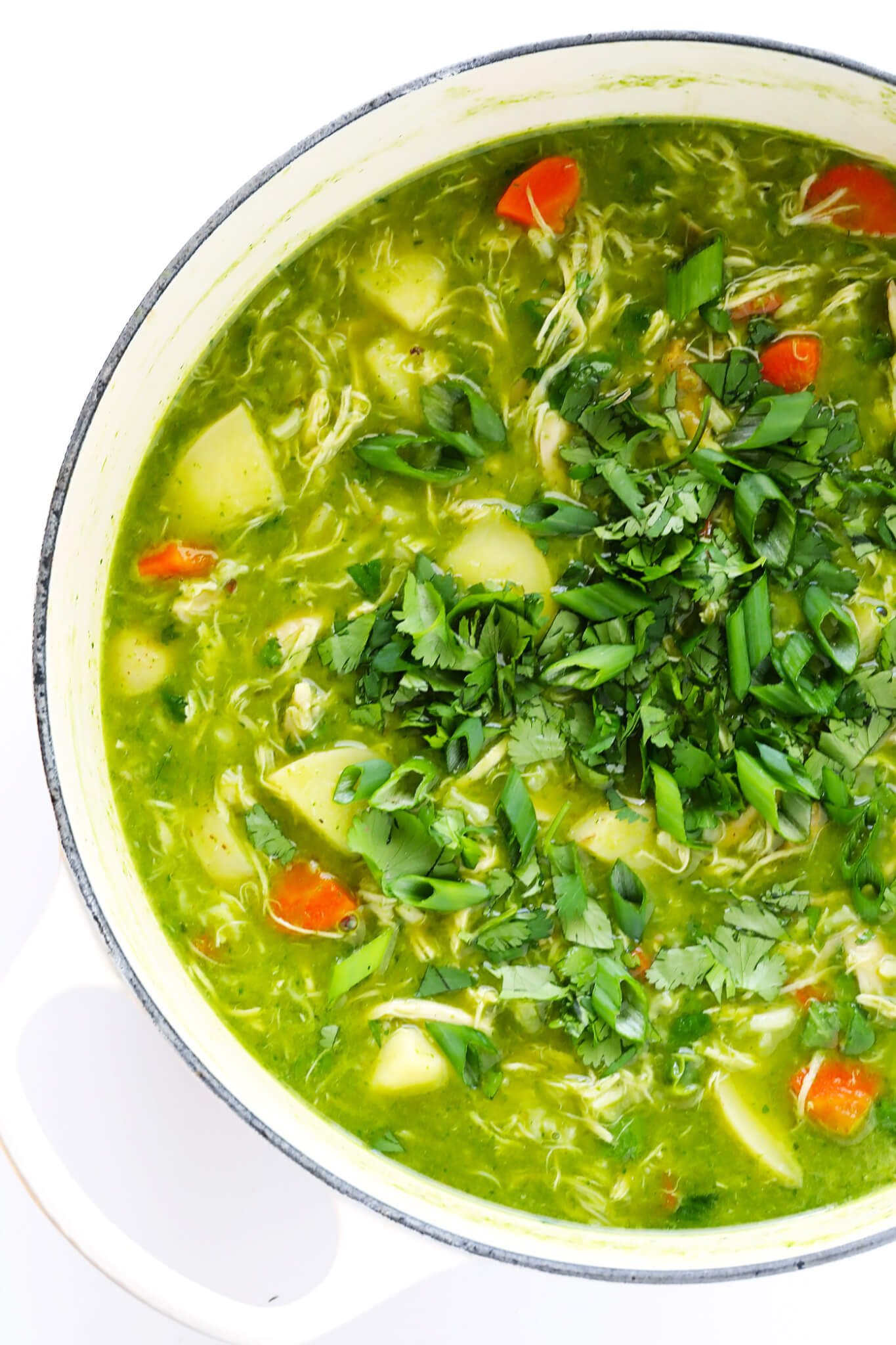 Hey hey! It's new soup day!
Well, this one is at least a new favorite of mine. Have you ever tried aguadito before? It's basically the Peruvian version of chicken and rice soup, and it is muy delicioso. The base of the soup is the basic chicken, rice and veggies that we all know and love. But the Peruvian version adds an extra fresh and fun kick by having you puree a ton of cilantro, chile peppers, onions, garlic and lime juice in a blender. Then just before serving, you stir in the cilantro mixture in with the chicken and rice, and — poof — it instantly turns this classic into a show-stopping vibrant, fresh, and flavorful green soup! (And yes, it really is that green. It practically glows!) ?
So if you happen to be feeling all the spring vibes lately — but mayyyy not be quite ready to transition out of winter "soup season" just yet (I'm a 365-soup girl myself ) — I feel like this recipe is the perfect bridge between seasons. It's definitely been the delicious bridge between mine this year.
Let's make some.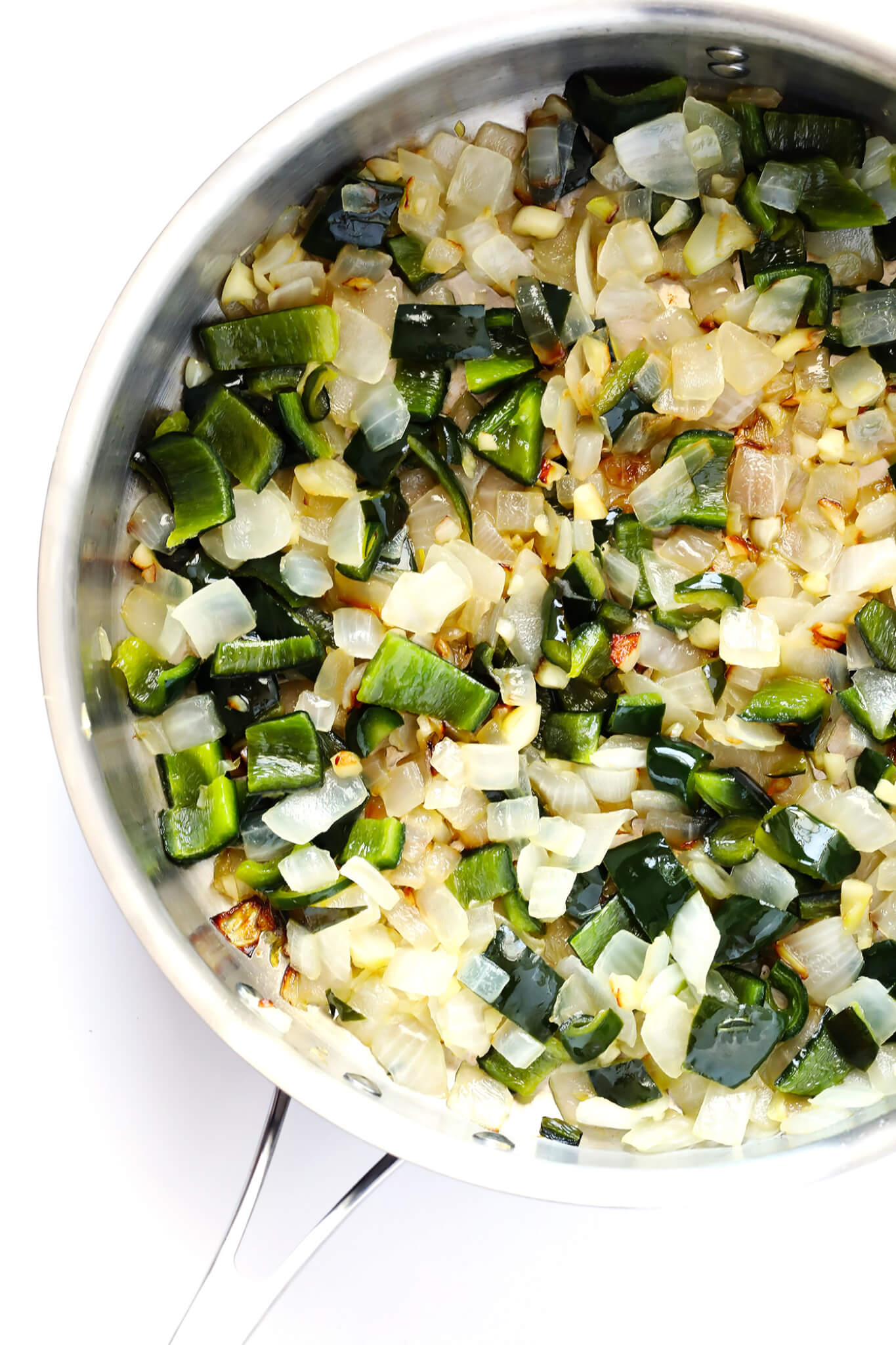 Alright, so let's talk about this magical cilantro sauce that takes this simple chicken and rice soup from classic…to fantastic. ? ?
Before you start making your soup base, begin by sauteeing some poblano pepper and onions and garlic and aji amarillo paste (or a serrano or jalapeño pepper) in your stock pot until they're soft and cooked.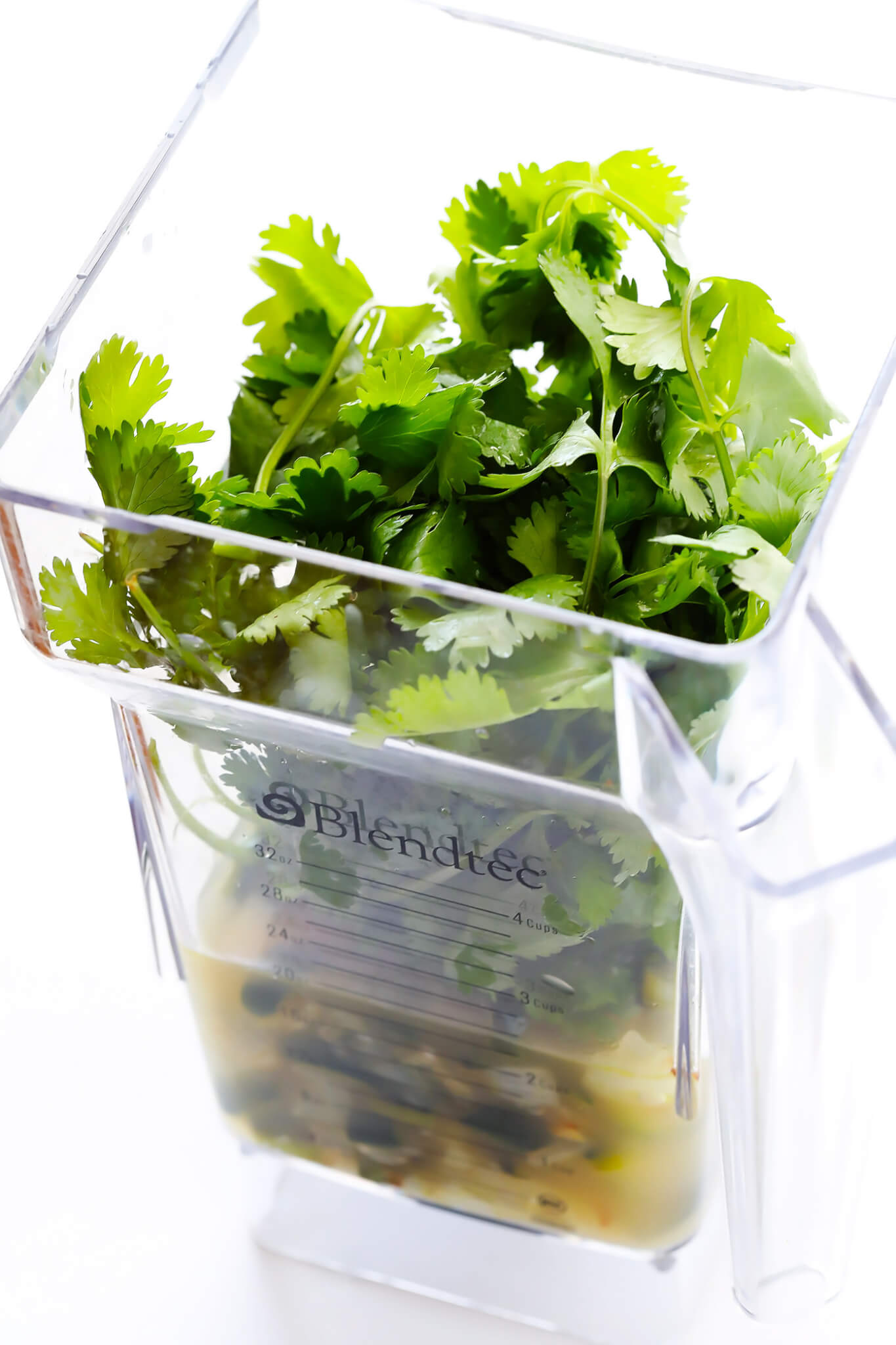 Transfer them to the blender, and let them sit and cool down a bit while you make the rest of the soup. Then, once your soup has been simmering for awhile, the potatoes and rice are nearly cooked and ready to go, finish up that sauce! Just add a bunch of fresh cilantro leaves (some stems are ok) and lime juice to the blender…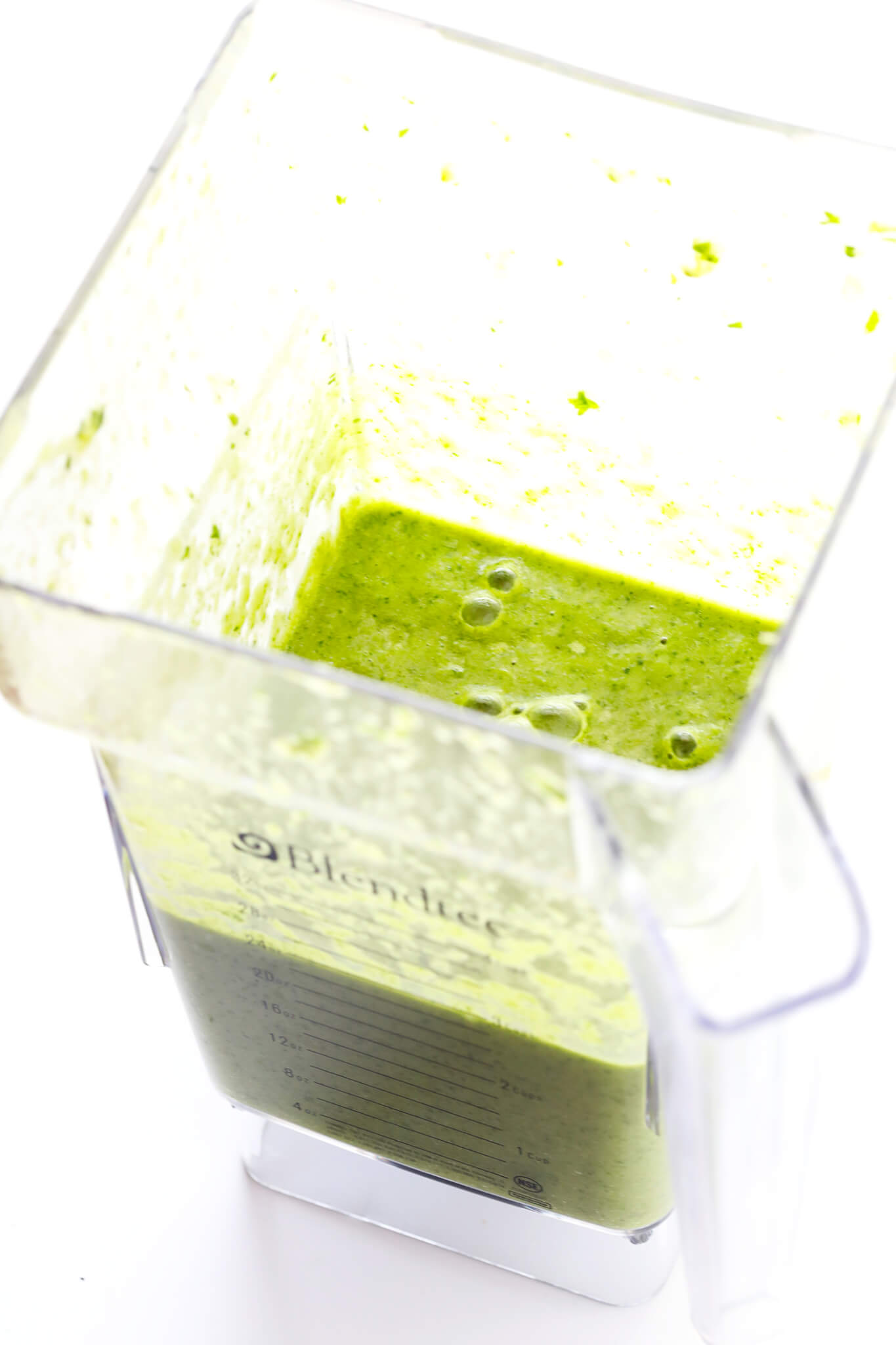 …then puree the heck out of it until the mixture is super-smooth (about 1 minute). Once the soup is ready to go, stir in the cilantro mixture at the last minute until combined. Garnish with extra cilantro and green onions…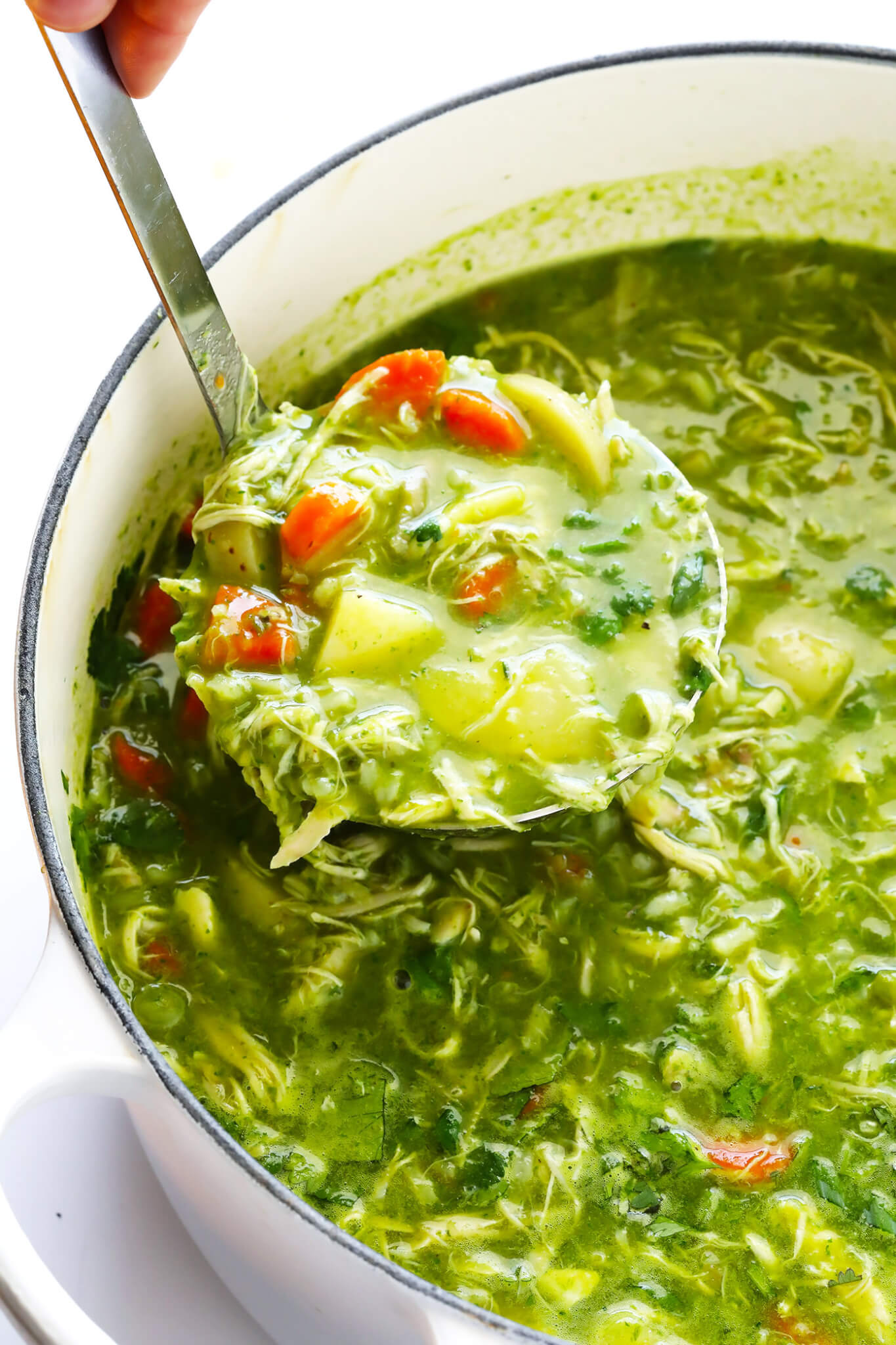 …and serve!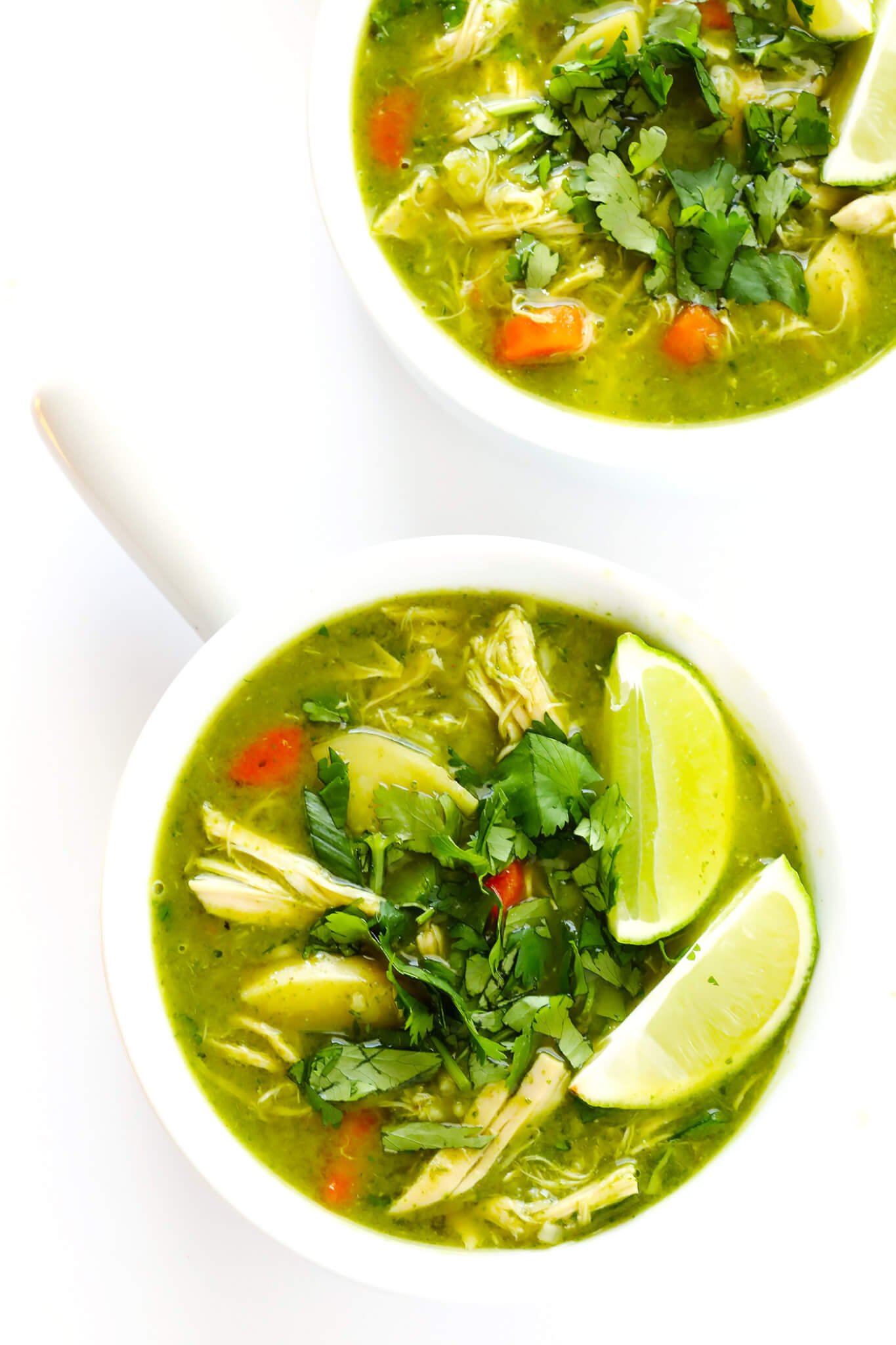 See? SO GREEN! And seriously, SO GOOD.
Also, if you want, you can totally make it SO SPICY. The traditional Peruvian version of this soup uses aji chiles (or much easier to find in the U.S. — this aji amarillo paste) as the heat in this soup, and you can add as much or as little as you'd like. Or if you can't find the paste, feel free to just add in a serrano or jalapeño pepper. (Or skip the chile peppers altogether, if you're not into spicy food.)
However you make it,

Yield: 8-10 servings
Aguadito De Pollo (Peruvian Chicken and Rice Soup)
Learn how to make traditional Aguadito De Pollo (Peruvian Chicken and Rice Soup) with this delicious and easy recipe.
Ingredients:
1 tablespoon avocado oil (or olive oil)

1 large poblano pepper, cored and diced

1 small white onion, peeled and diced

1 tablespoon aji amarillo paste (or 1 serrano or jalapeño pepper, cored and diced)

5 cloves garlic, peeled and minced

6 cups chicken stock, divided

2 cups shredded or diced cooked chicken

1 pound Yukon gold potatoes, diced

1/2 cup white or brown rice

1/2 cup peas

2 teaspoons ground cumin

1 bunch fresh cilantro leaves
juice of 1 lime
optional garnishes: extra chopped fresh cilantro leaves, thinly-sliced green onions
Directions:
Heat oil in a large stock pot over medium-high heat. Add the diced poblano pepper and white onion, and sauté for 5 minutes, stirring occasionally, until the onion is softened and translucent. Stir in the aji amarillo paste (or diced serrano or jalapeño) and garlic. Continue sautéing for 1-2 more minutes, until the garlic is fragrant. Transfer the entire mixture to a large blender, and set aside to cool.
Return the stockpot to the heat. Add chicken stock, cooked chicken, potatoes, rice, peas, cumin, and stir to combine. Bring the mixture to a simmer. Then reduce heat to medium-low so that the soup maintains a low simmer. Cover partially and cook, stirring occasionally, for 25-30 minutes, or until the potatoes are fork-tender and the rice is cooked.
Once the soup is ready, add the cilantro leaves and lime to the blender along with the pepper mixture. Pureé for 1-2 minutes, or until the mixture is completely smooth.
Stir the cilantro mixture into the soup. Taste, and season with a generous pinch (or more) of salt and black pepper as needed.
Serve immediately, topped with your desired garnishes.
Feel free to also add in 1/2 cup whole kernel corn if you'd like. And some traditional recipes also add in diced red bell pepper, which you're welcome to add.

Difficulty: Easy
Category: Gluten-Free

If you make this recipe, be sure to snap a photo and hashtag it #gimmesomeoven. I'd love to see what you cook!
This post contains affiliate links.