This easy recipe for Cilantro Lime Chicken uses fresh lime juice, a blend of spices, fresh cilantro, and juicy chicken breasts to make a delicious and simple meal with tons of flavor! The acidic marinade from the lime juice acts as a natural tenderizer. This low carb recipe is the perfect basic chicken dish to pair alongside rice, salad, beans, and more.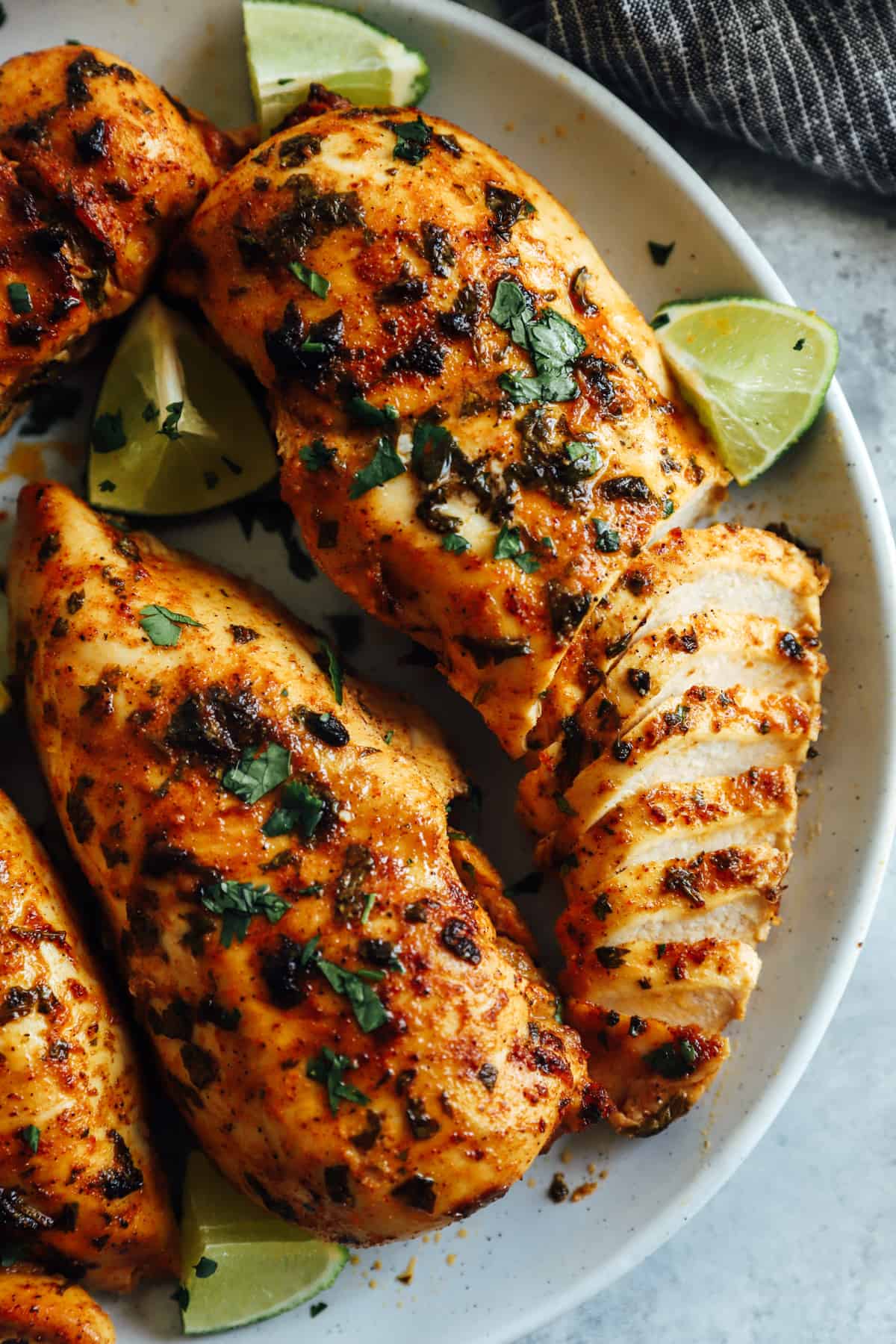 What's in this Cilantro Lime Chicken Recipe
Cilantro lime chicken is a simple recipe with only a handful of ingredients. Here's a rundown:
Olive Oil: Olive oil forms the base of our marinade, allowing it to coat the chicken breasts and infuse them with flavor. In place of olive oil, you could also use vegetable or canola oil for a more neutral flavor.
Lime Juice: The acid in lime juice helps to tenderize the chicken and adds a delicious, fresh flavor. In a pinch, you could use lemon juice, but I don't recommend using bottled lime or lemon juice because it lacks that zingy flavor.
Cilantro: Cilantro is what gives this marinade most of its flavor and beautiful color. It's fresh and herbaceous! You can swap it for parsley if you prefer.
Spices: Chili powder, cumin, garlic powder, onion powder, salt, and pepper help amp up the flavor in this marinade. To save some time, you could swap these spices for a pre-made spice blend, such as taco seasoning or chili seasoning!
Chicken: I like to use boneless, skinless chicken breasts, but you could also use boneless, skinless or bone-in, skin-on chicken thighs if you prefer. Chicken thighs, with or without the bone, will take longer to cook than breasts.
Pro Tip: If you like a sweeter marinade, feel free to add a tablespoon of honey or maple syrup!
Variations on the Cilantro Lime Marinade
This recipe is a jumping-off point for custom citrus-and-herb marinades! Try swapping the lime juice for orange or lemon juice, and swap out the cilantro for fresh rosemary or thyme. The possibilities are endless!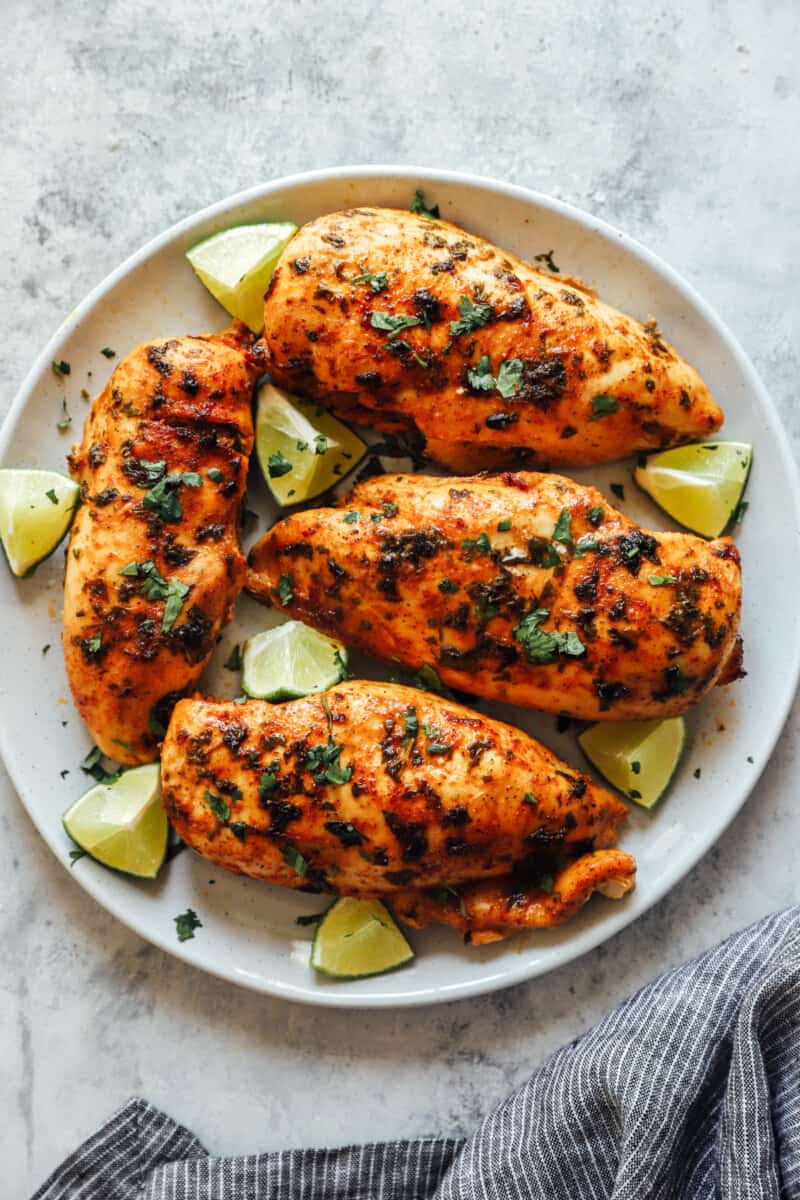 What does marinating chicken in lime juice do?
Marinating chicken in acidic ingredients such as lime juice helps to tenderize the meat as well as adds a fresh, zesty flavor!
How long should you marinate chicken in lime?
You can marinate this chicken in lime juice for as little as 30 minutes or up to overnight!
Can I use bottled lime juice?
I do not recommend using bottled lime juice in marinades, as it is not as punchy as fresh and will give a lackluster flavor.
What veggies go with cilantro lime chicken?
This chicken goes great with so many different veggies, like broccoli, corn, or even cauliflower mash!
Can I cook cilantro lime chicken on the grill?
Absolutely! Marinate the chicken as per the instructions, then cook on the grill until well browned and cooked through to 165°F.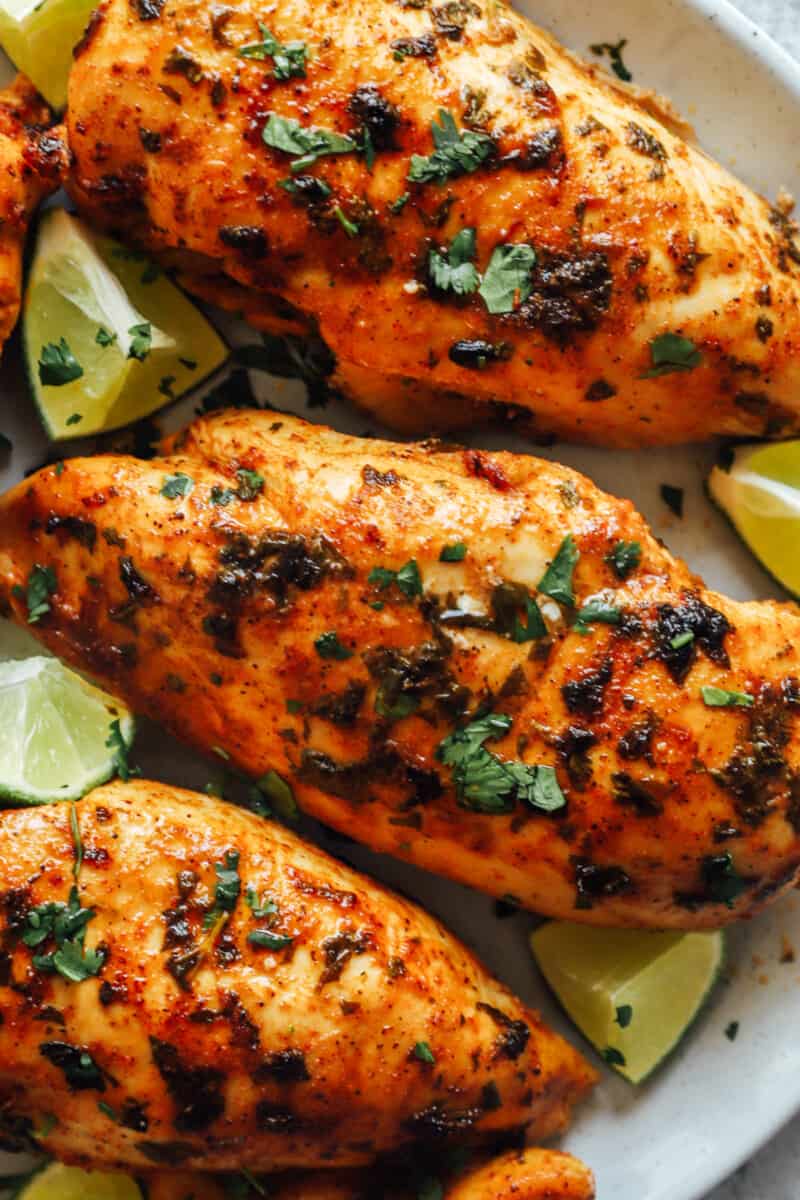 How to Store and Reheat Cilantro Lime Chicken Breast
Store leftover cilantro lime chicken in an airtight container in the refrigerator for up to 3 days. Reheat gently in the microwave or in a 350°F oven for 10-15 minutes, until warmed through.
How to Freeze Lime and Cilantro Chicken
Freeze chicken in an airtight container for up to 3 months. Let it thaw overnight in the refrigerator before reheating.
What to Serve with Cilantro Lime Chicken
The simple bold flavors in this great recipe allow it to pair well with several different side dishes and sauces. It's great simply served with cauliflower rice, brown rice, white rice, or quinoa and refried beans. Or try it with Mexican corn salad, salsa, tomatillo avocado salsa, or Mexican street corn.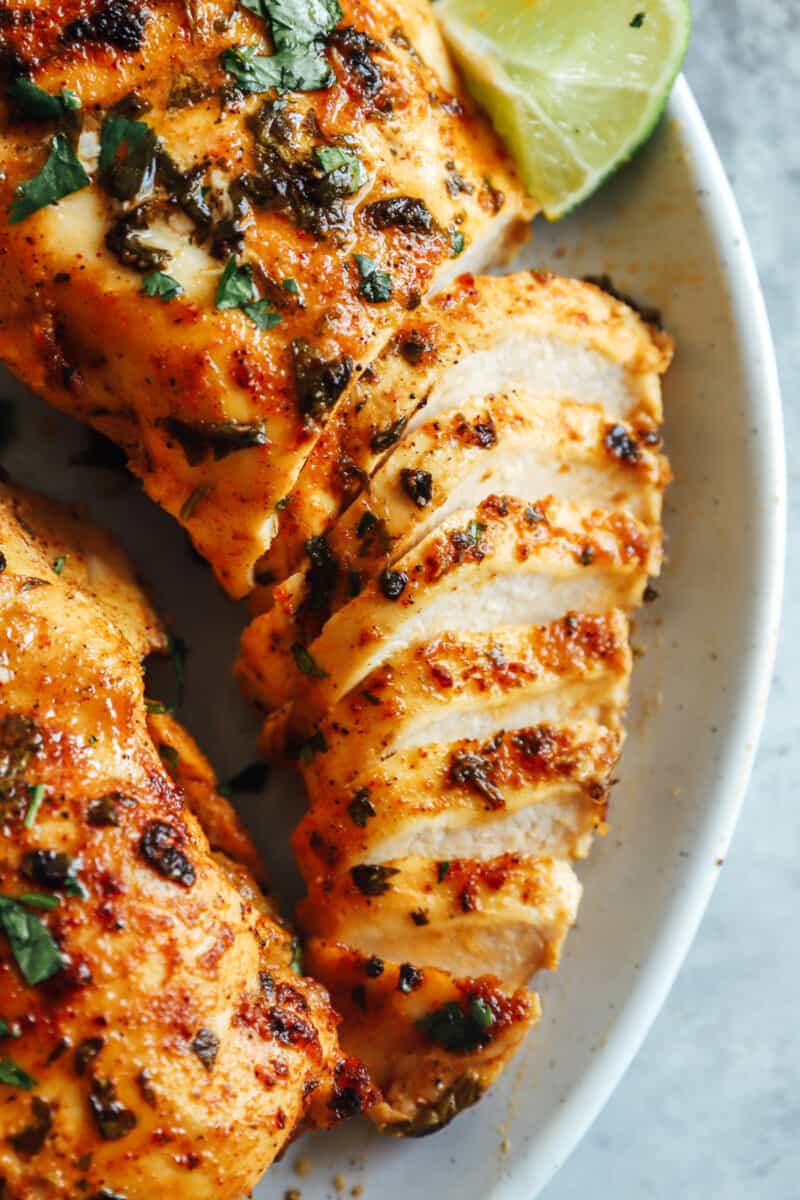 If you make this recipe be sure to upload a photo in the comment section below or leave a rating. Enjoy! You can also jump to recipe.
More Cilantro Lime Recipes We Love