No more standing, flipping, and checking – skip the stovetop, and make Air Fryer Bacon instead! This easy method gives you all the crispy goodness you love, without the hassle.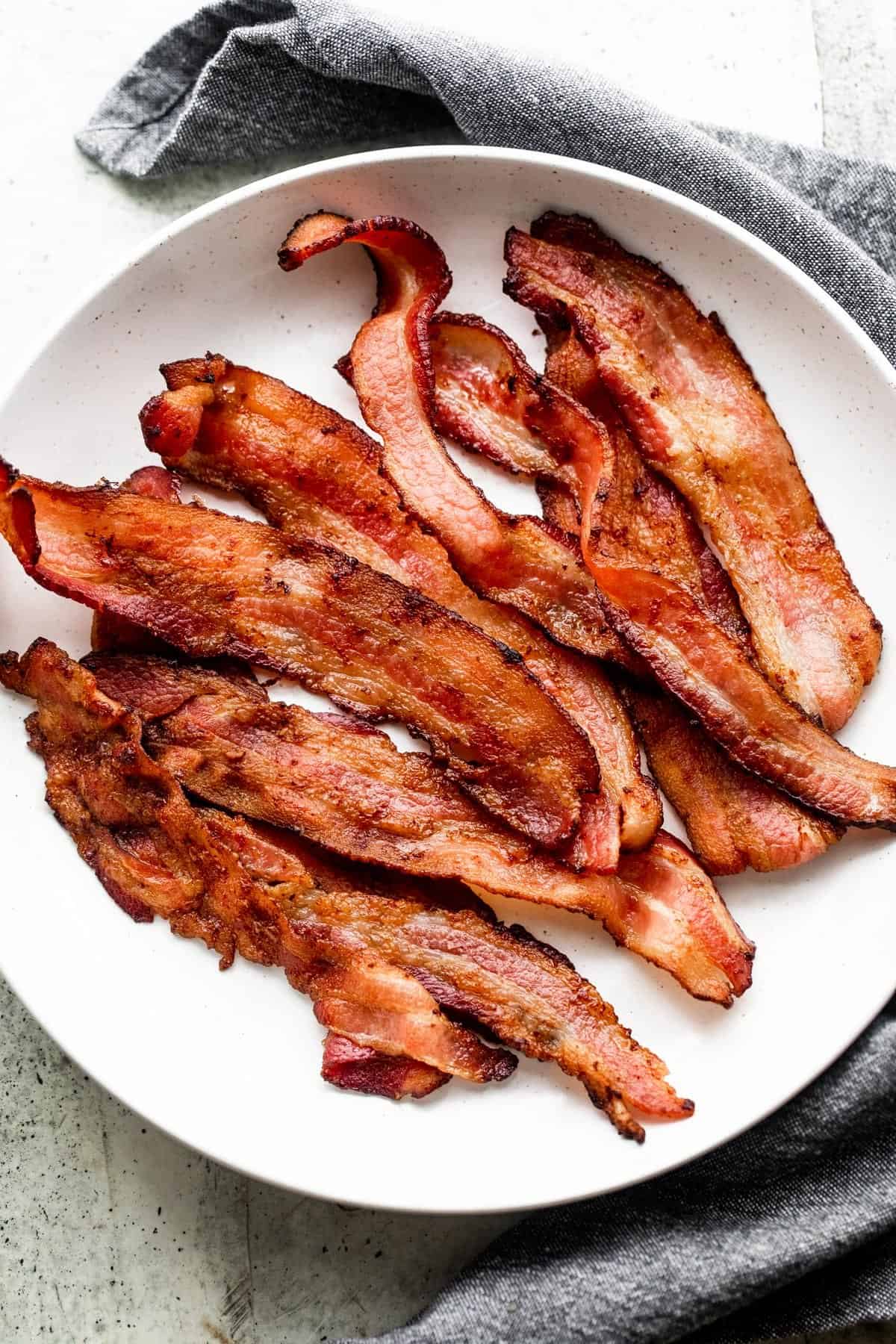 Perfectly Crisp and Crunchy Bacon in Minutes
I'm a crockpot fan, an Instant Pot gal, and obviously a grilling enthusiast. But lately, I'm starting to think my air fryer might just be my true love! It hardly heats up the kitchen at all, cooks practically everything with no fuss, and delivers ultra-crispy food, every time. What's not to love? ?
My latest air fryer discovery is this simple method for cooking bacon. I mean, it's not difficult to cook bacon on the stove or in the oven – both of those work just fine. But, it's so great to set it and forget it when you're making breakfast, you know?
Can you tell that I am especially thrilled with the quick, foolproof, and mouthwateringly savory results of air fryer bacon!? Mmmm. ?
What You'll Need
To make this recipe, you only need one ingredient – bacon! I like to use thick-cut bacon, but you can go with any style, cure, or flavor that you like. Don't worry about cooking spray for this; bacon doesn't need any. ?
Let's Make Air Fryer Bacon!
Okay, let's get down to business. How exactly do you cook bacon in the air fryer, as opposed to a regular skillet cooking method? It's surprisingly similar, just easier and faster, AND splatter-less! Here's the skinny:
Prep the Bacon and Air Fryer. To begin, preheat your Air Fryer to 400˚F. Peel the bacon strips apart and arrange them in the air fryer basket. You can only cook a single layer of bacon at a time, so you may need to cook in batches if you are making a lot, or if you have a very small air fryer.
Fry! Air-fry the bacon strips for 4 minutes. Then flip the strips (a pair of tongs is helpful for this) and cook for another 4 to 5 minutes, or until the bacon is crispy but not burned or dry.
Drain and Serve. Transfer the cooked bacon to a paper-towel lined plate to drain slightly, and serve warm.
How Long Does It Take Bacon to Air Fry?
To air fry thick-cut bacon, it should take 8 to 10 minutes at 400˚F. However, if you're using thinner bacon, it won't take as long. Also, since different air fryers cook at slightly different speeds and temperatures, you may need to adjust the time by a minute or two per side. Just keep an eye on it at first, until you get the hang of your Air Fryer's temperatures.
Tips and Tricks
Love the idea of air-frying your bacon? I know, it's pretty awesome. ? Keep reading for some helpful tips and tricks, to make the process even easier.
No Smoke: If you are concerned that the bacon grease may smoke in your air fryer, try slipping a slice of bread into the bottom of the air fryer to catch it.
No Cooking Spray: Unlike most other ingredients, bacon doesn't need any oil or cooking spray to air-fry. Just line it up and cook it!
Batch Cooking: If you are making more than a few servings, you'll need to cook the bacon in batches. Empty the excess grease (careful, it's very hot!) in between batches.
Use Tongs: To get the bacon out of the air fryer, or to flip it with ease, it's helpful to reach in with a pair of non stick tongs. 
Tasty Serving Suggestions
This easy air fryer bacon is a natural side for breakfast and brunch dishes, but you can also serve it as part of a hearty lunch or dinner. I'm talking sandwiches, salads, soups… crumble or top just about anything with bacon, and enjoy!
Eggs: Who could resist a bacon and eggs, right? From scrambled to fried to poached, any style of eggs is perfect for serving with crispy bacon. Try these Baked Eggs in Tomato Cups if you'd like something extra-festive!
Broccoli Salad: Creamy Broccoli Salad is made with crunchy broccoli, cheddar cheese, red onion, ripe cherry tomatoes, and so much more! Crumble in some air fryer bacon and enjoy this classic salad with ease.
BLT Sandwiches: There's nothing like a bacon, lettuce, and tomato sandwich on your favorite bread. With a little mayonnaise, it's a summertime favorite that'll fill you up and leave you feeling good. Try a little Honey Mustard Sauce drizzled over it for an even more mouthwatering meal.
Storing and Reheating Leftover Bacon
To store, cool the cooked bacon down and then place the strips in a plastic food storage bag, or an airtight container. Refrigerate for up to 5 days.
Reheat leftover bacon in the air fryer, oven, or in a skillet over low heat.
To freeze, place cooled cooked bacon in a freezer bag, mark with the date, and freeze for up to 6 months. For best results, press out as much air as you can before you seal the bag.
ENJOY!
Air Fryer Bacon
No more standing, flipping, and checking – skip the stovetop, and make Air Fryer Bacon instead! This easy method gives you all the crispy goodness you love, without the hassle.
Instructions 
Arrange bacon inside the air fryer basket in one single layer.

Set the Air Fryer to 400˚F.

Cook for 4 minutes; flip the bacon and continue to cook for 4 to 5 more minutes, or until crispy.

Remove bacon from the basket and transfer to a paper-towel lined plate.

Serve.
Nutrition Facts
Air Fryer Bacon
Amount Per Serving
Calories 150
Calories from Fat 126
% Daily Value*
Fat 14g22%
Saturated Fat 5g25%
Trans Fat 1g
Polyunsaturated Fat 2g
Monounsaturated Fat 6g
Cholesterol 24mg8%
Sodium 238mg10%
Potassium 71mg2%
Carbohydrates 1g0%
Protein 5g10%
Vitamin A 13IU0%
Calcium 2mg0%
Iron 1mg6%
* Percent Daily Values are based on a 2000 calorie diet.
Nutritional info is an estimate and provided as courtesy. Values may vary according to the ingredients and tools used. Please use your preferred nutritional calculator for more detailed info.
Keywords: breakfast ideas, cooking bacon, easy air fryer recipes
Want To Save This Recipe?
More Easy Air Fryer Recipes