Ancho Chicken Enchiladas
Easy45 mins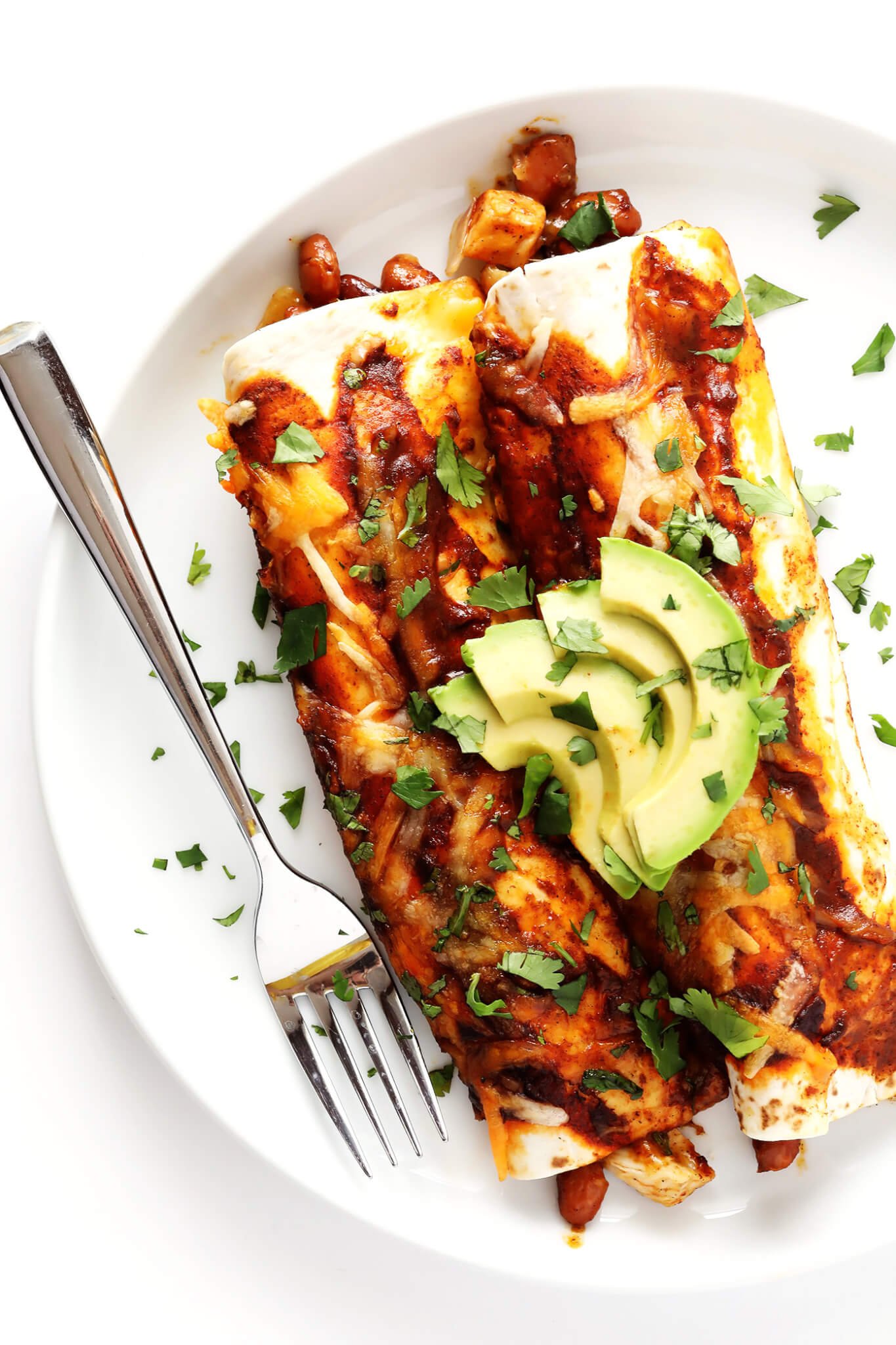 Happy Cinco De Mayo, everyone!!
I've been diligently eating Mexican food on Uno, Dos, Tres, and Quatro De Mayo all week, in order to fully prepare for the big day today (including multiple batches of my favorite homemade salsa and margaritas, of course, plus a surprise birthday lunch at one of my favorite local taco spots on Tuesday). But then when I arrived in Salt Lake City yesterday for a conference, I was stoked to find out that my friends here already had plans for us to eat even more Mexican food today and tomorrow. So heck, I figure I might as well round things out and enjoy the final leftovers of these ancho chicken enchiladas on Sunday to make this a veritable Mexican food feast WEEK!
My kind of way to begin the month of May, right there. ? ? ? ?
Also, I'm convinced you need these enchiladas in your life this weekend too.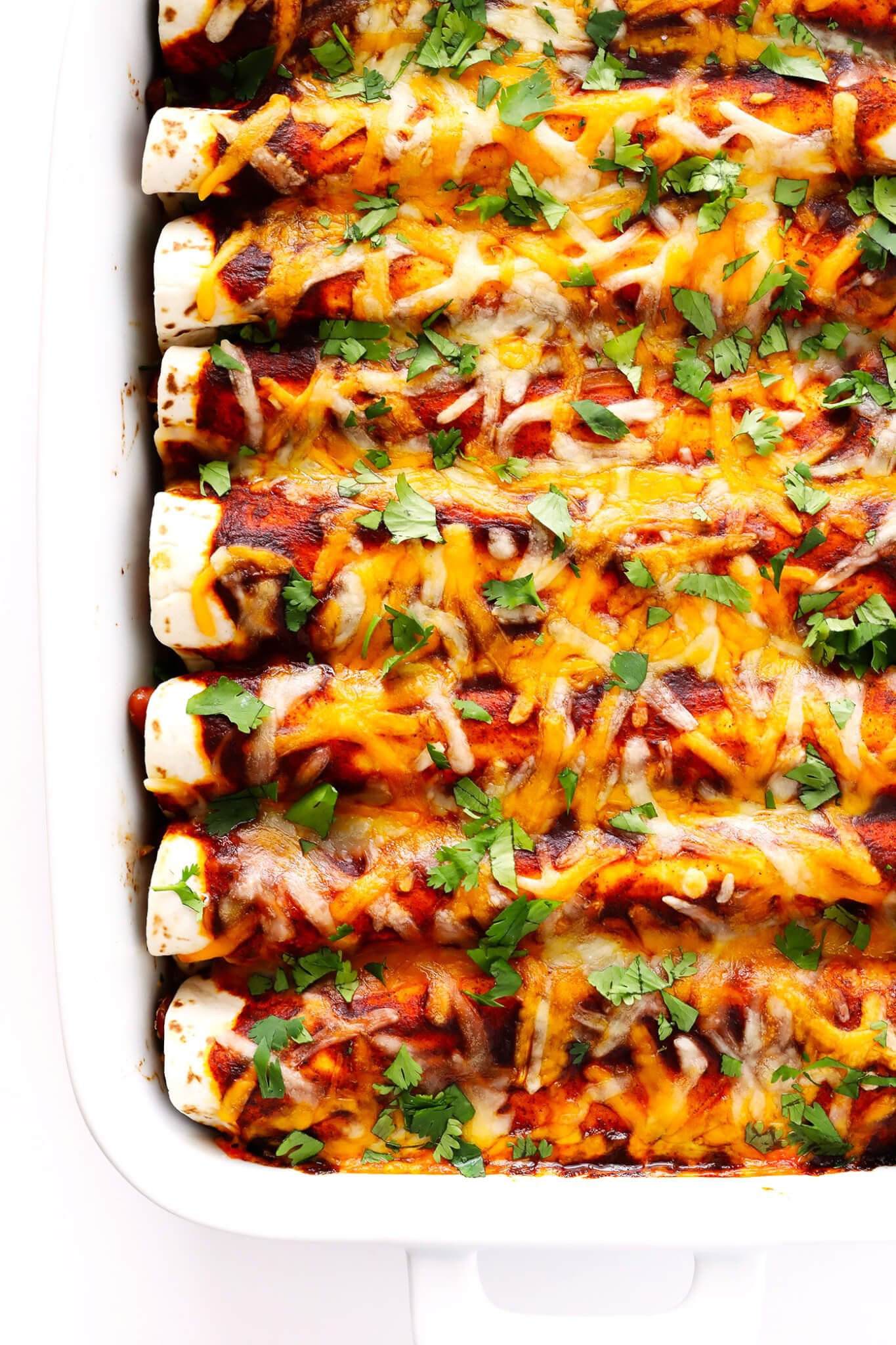 As many of you saw on my Instagram stories, I made a big batch of these enchiladas early in the week to have on hand for various Mexican food fiestas throughout the week. But this particular recipe — a riff on my favorite chicken enchiladas recipe — happens to be made with one special ingredient…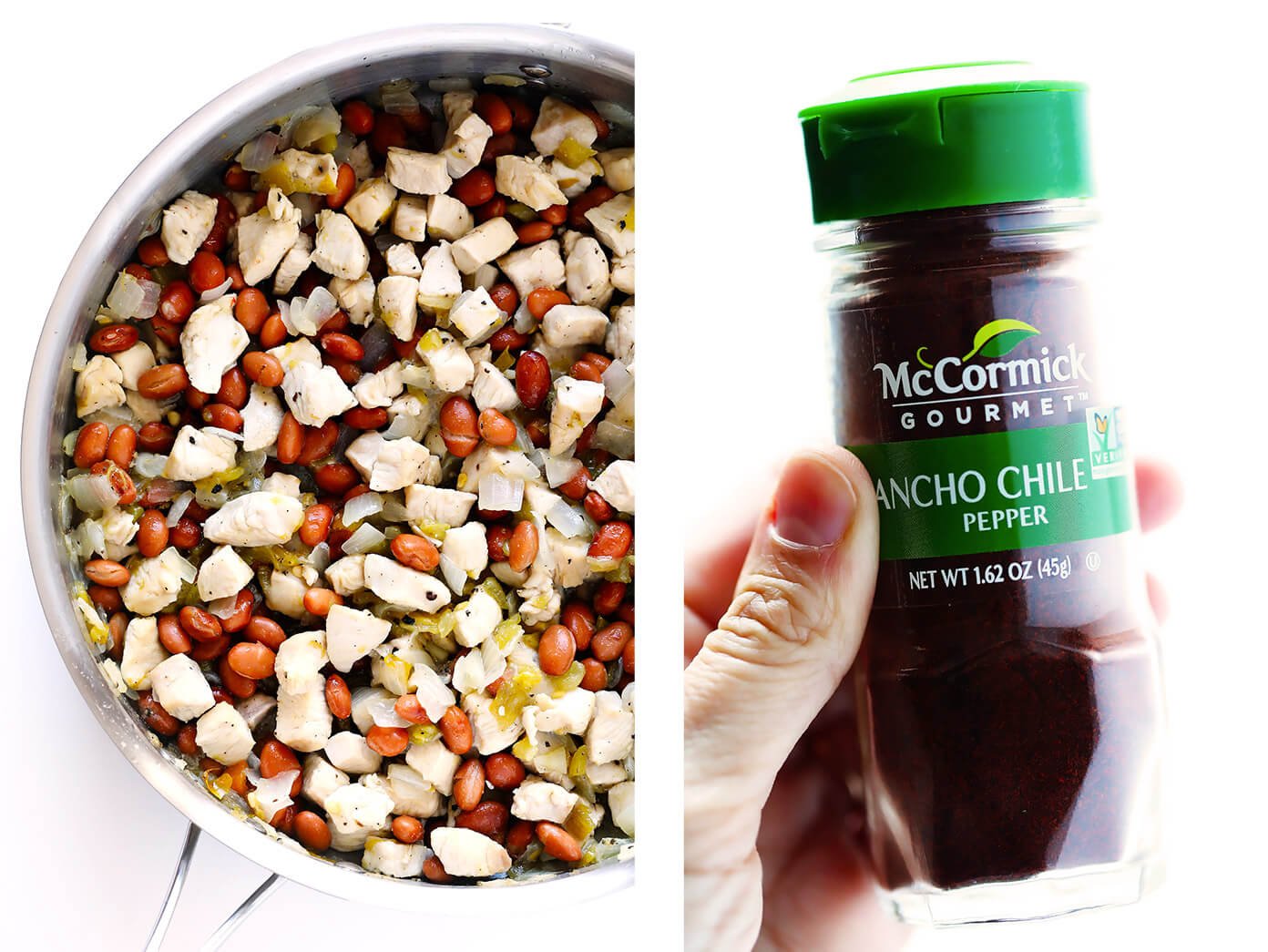 …ancho chile powder!
Do you have this one in your spice cabinet? If not, I highly recommend picking up a little jar. Ancho chiles are simply roasted poblano chiles, and their flavor when ground up into spices is extra earthy and smoky and ?. Heads up – different brands can vary with their levels of spiciness (heat). But in general, ancho chile powder is slightly spicier than traditional American chili powder, and I love the extra kick it brings to this recipe.
As always with me and homemade enchiladas, I will urge you to take the extra time (which you can also multitask with prepping the enchiladas) to make homemade sauce to go on these enchiladas…which is always worth it. And hey, while you're at it, go ahead and make a double batch so that you can use it in another recipe later in the week. It's so delicious and so versatile!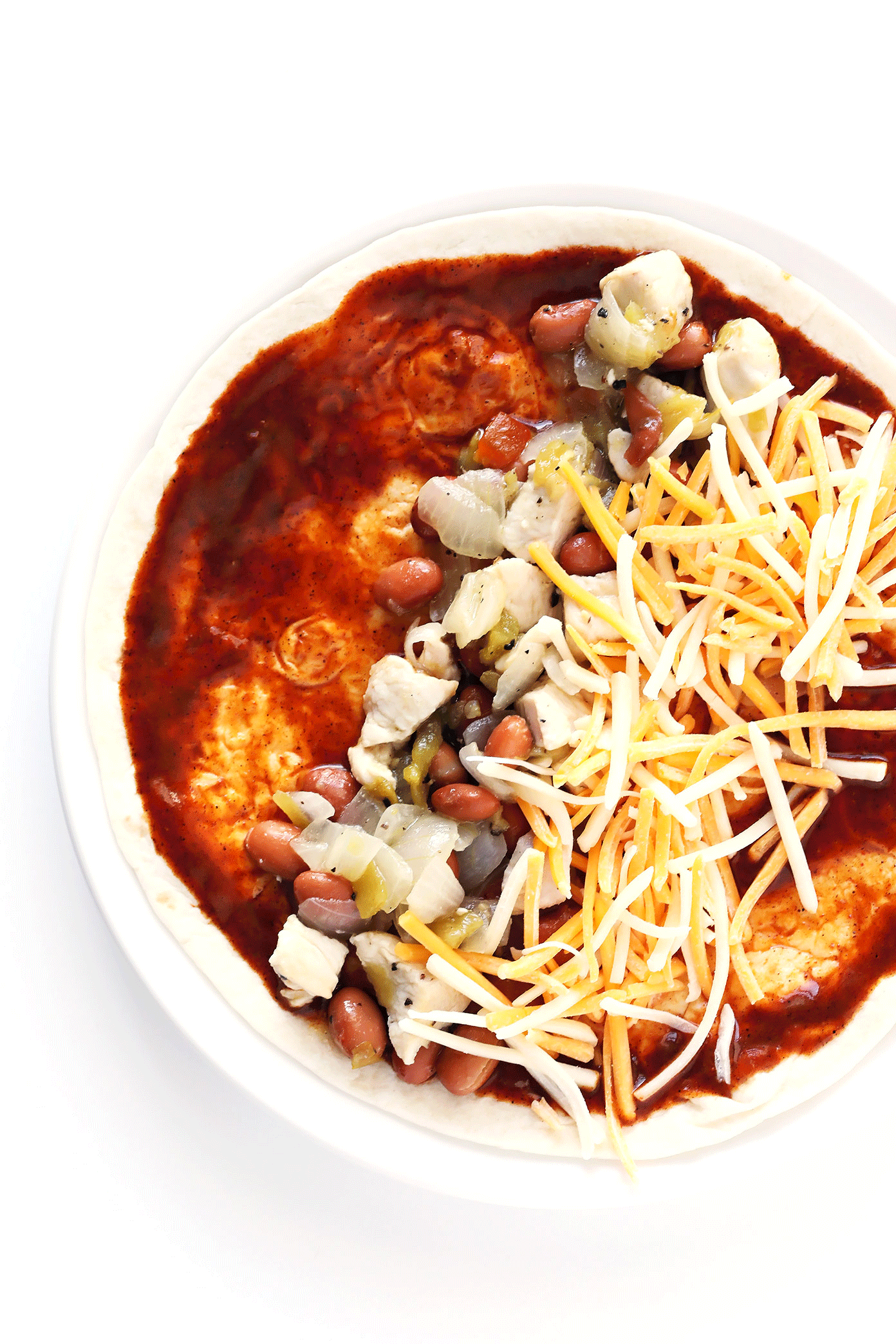 To make the enchiladas, just prepare your sauce ahead of time (or on the side), and then sauté some chicken (or you can use pre-cooked shredded chicken, see note below) along with some onions, diced green chiles, and beans to go in your enchilada filling. Then roll it up with cheese in some tortillas, line them up in a baking dish, smother lots of extra enchilada sauce and cheese on top…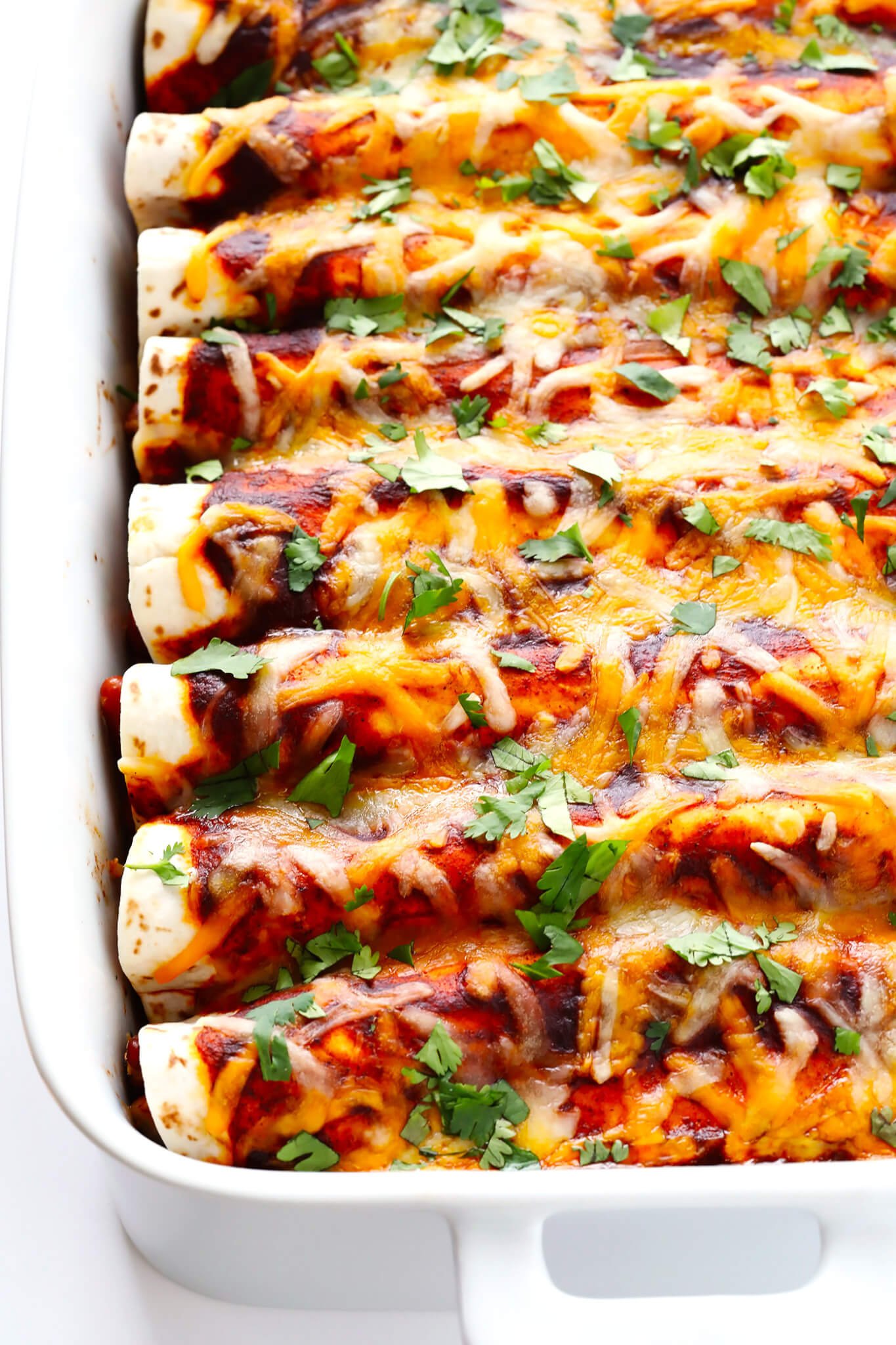 …and bake them until the cheese is nice and melted and the tortillas are a little bit crispy around the edges…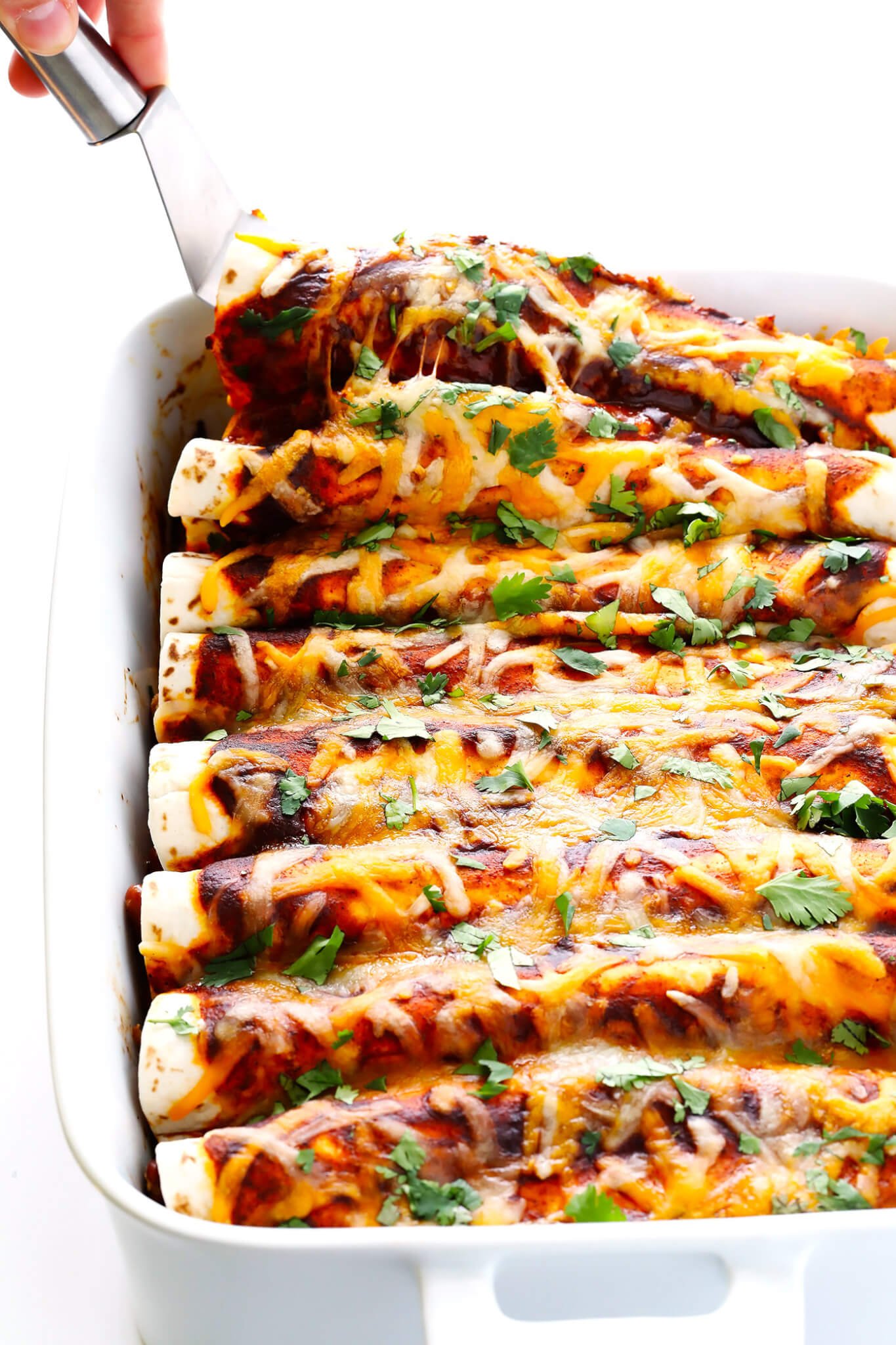 …then dish them UP.
I love serving mine with some fresh avocado, cilantro, and maybe some extra sour cream or cotija cheese on top. But feel free to go with whatever on earth sounds delicious to you. And enjoy every last bite.
Perfect for Cinco de Mayo, or Mexican-food-filled birthday weeks, or any day you're craving some seriously delicious enchiladas.
Enjoy, amigos!

Yield: 8 servings
Ancho Chicken Enchiladas
This Ancho Chicken Enchiladas are made with a rich ancho chile sauce,
Ingredients:
Enchilada Ingredients:
2 tablespoons avocado oil (or vegetable oil, or any other neutral oil)
1 small white onion, peeled and diced
1.5 pounds boneless skinless chicken breasts, diced into small 1/2-inch pieces (*or see substitution below for using pre-cooked shredded chicken)
salt and pepper
1 (4-ounce) can diced green chiles
1 (15.5-ounce) can pinto beans, rinsed and drained
8 large flour tortillas
3 cups Mexican-blend shredded cheese
1 batch Ancho Enchilada Sauce (see below)
chopped fresh cilantro, for topping
Ancho Enchilada Sauce Recipe:
2 tablespoons avocado oil (or vegetable oil, or any other neutral oil)
2 tablespoons all-purpose or gluten-free flour
4 tablespoons ancho chili powder
1/2 teaspoon garlic powder
1/2 teaspoon salt
1/2 teaspoon ground cumin
1/4 teaspoon dried oregano
2 cups chicken or vegetable stock
Directions:
To Make The Enchiladas:
Preheat oven to 350°F. Prepare your enchilada sauce.
In large saute pan, heat oil over medium-high heat. Add onion and saute for 3 minutes, stirring occasionally. Add diced chicken and green chiles, and season with salt and pepper. Saute for 6-8 minutes, stirring occasionally, or until the chicken is cooked through. Remove from heat and set aside.
To assemble the enchiladas, set up an assembly line including: tortillas, enchilada sauce, beans, chicken mixture, and cheese. Lay out a tortilla, and spread two tablespoons of sauce over the surface of the tortilla. Add beans in a line down the middle of the tortilla, then add in a spoonful of the chicken mixture, then sprinkle with 1/3 cup cheese. Roll up tortilla and place in a greased 9 x 13-inch baking dish. Repeat with the remaining ingredients. Then spread the remaining enchilada sauce on top of the tortillas, and sprinkle on the remaining shredded cheese.
Bake uncovered for 20 minutes. Remove from oven and serve immediately, garnished with chopped fresh cilantro if desired.
To Make The Ancho Enchilada Sauce:
Heat oil in a small saucepan over medium-high heat. Add flour and whisk together over the heat for one minute. Stir in the remaining seasonings (chili powder through oregano). Then gradually add in the stock, whisking constantly to remove lumps. Reduce heat and simmer 10-15 minutes until slightly thickened.
Use immediately or refrigerate in an air-tight container for up to 3 days. (I like to use mason jars or Weck jars to store this sauce.)
*If you are using pre-cooked chicken, just leave it out of the saute and cook the onion and green chiles for 1 additional minute (instead of 6-8). Once you remove the onion and green chiles from the heat, stir in the chicken (which should be shredded or chopped into bite-sized pieces).

Difficulty: Easy

If you make this recipe, be sure to snap a photo and hashtag it #gimmesomeoven. I'd love to see what you cook!
This post contains affiliate links.