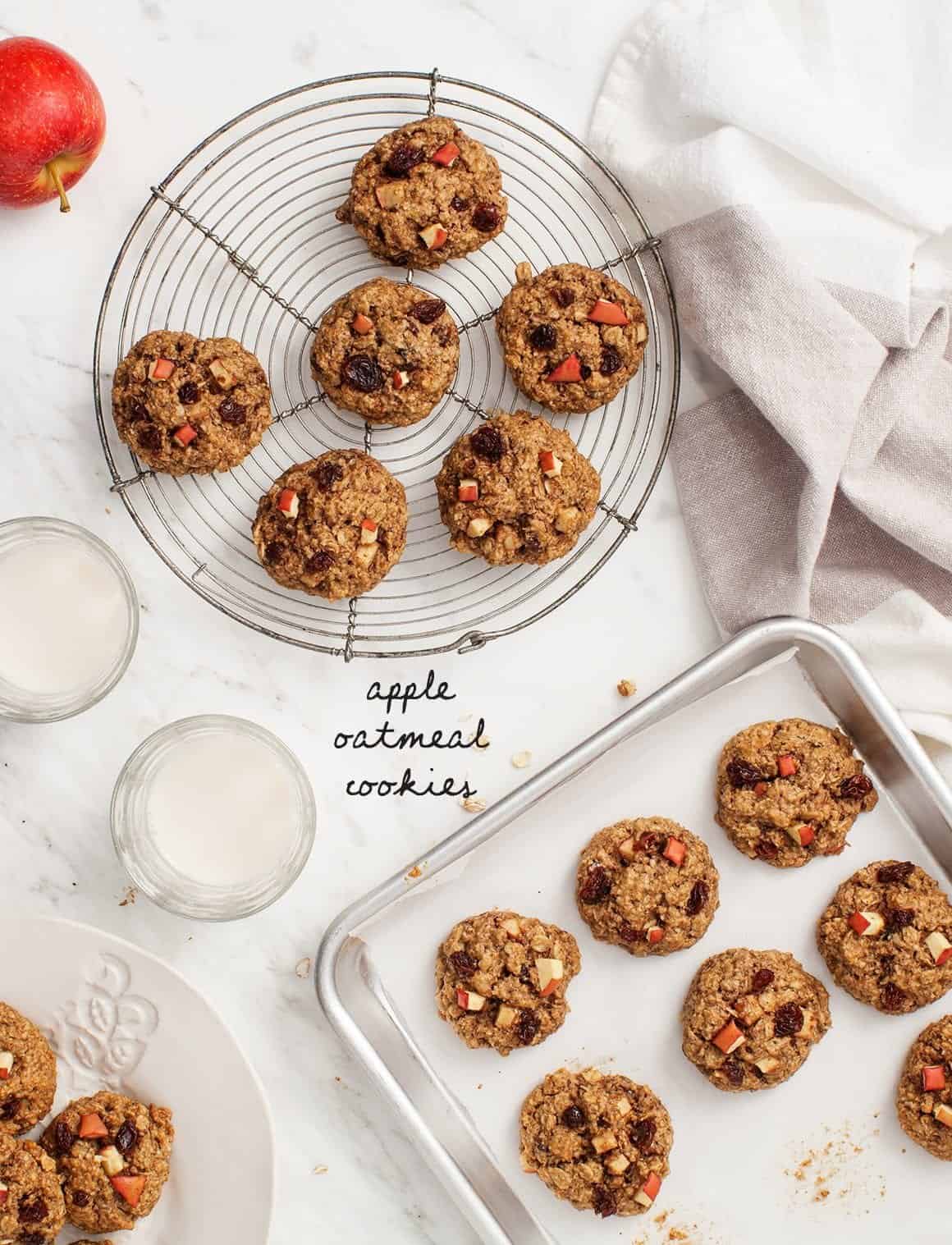 Something that's at the top of my fall bucket list: apple picking. Ok, I haven't actually made a fall bucket list, but I should because I have all these things that I want to do now that we've moved back to Chicago and are experiencing the season to its fullest.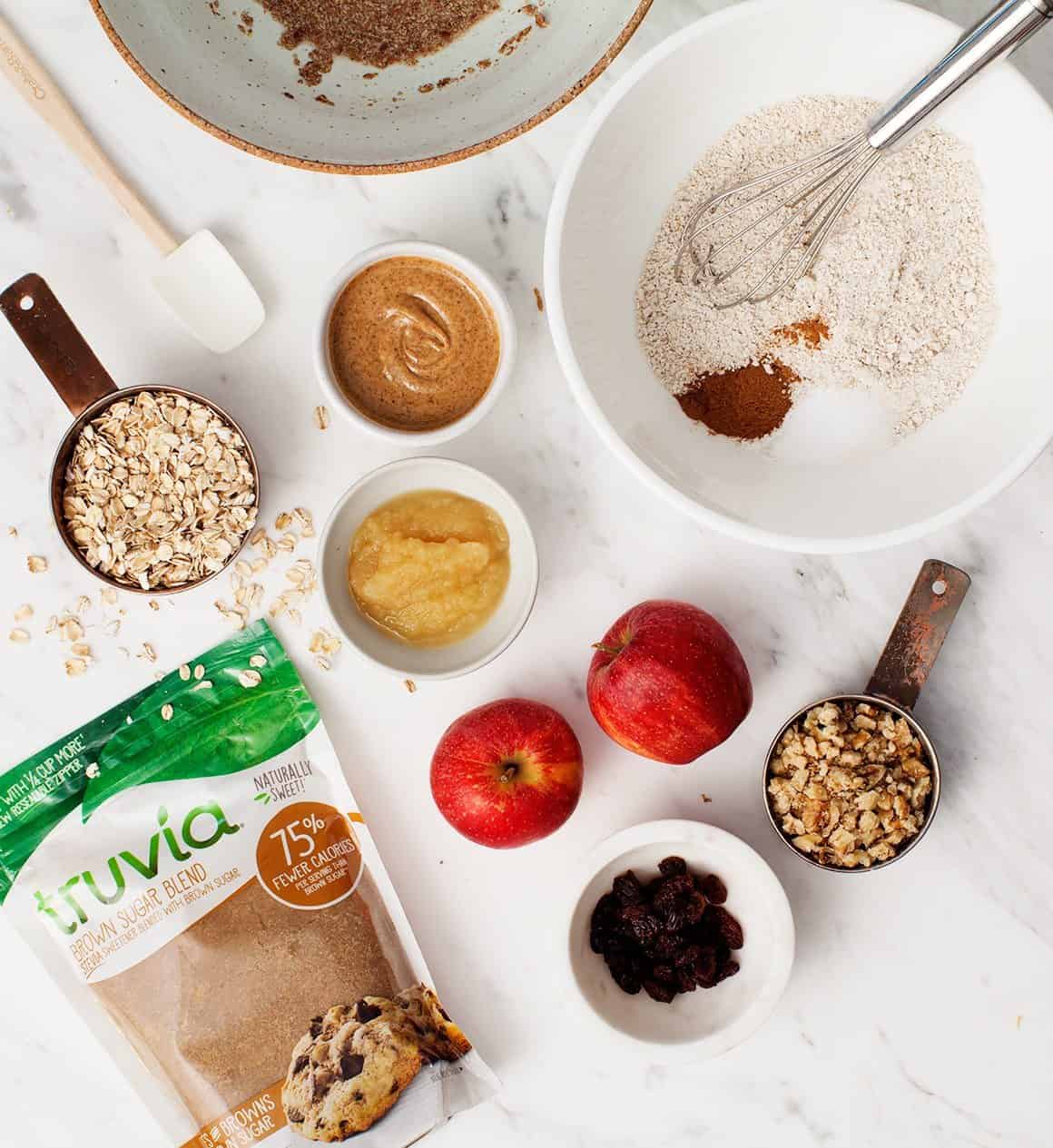 Growing up, one of my absolute favorite fall activities was our family's annual apple picking trip. We'd all pile into station wagons and drive to a nearby orchard for the day. Joining us were grandparents, cousins, aunts, uncles… the whole family! Afterward, we'd go back to someone's house and order pizzas (this is Chicago, after all) while the moms made apple pies. After that, we'd have bushels of apples (and pies!) for weeks.


I realize that this story should end with apple pie, but it ends with the next best thing – apple cookies! These cookies are on the healthy-ish side. They're soft – more like a muffin top than a crispy cookie. They're both vegan and gluten-free, made with oat flour. They're also low in sugar, thanks to Truvia's Brown Sugar Blend. I get SO MANY requests for lower sugar stevia-based recipes, so I'm happy to share this recipe in partnership with Truvia.
Truvia Brown Sugar Blend, a blend of Truvia Natural Sweetener and brown sugar, bakes and browns just like regular brown sugar with the same texture and moistness, which makes it easy to swap into your favorite fall baking recipes! Half a cup of Truvia Brown Sugar Blend is equal to 1 cup of traditional brown sugar with 75% fewer calories, so I can feel good about munching on cookies!


These apple cookies are packed with oats, raisins, apples, and walnuts – basically fall in a cookie ?

Apple Oatmeal Raisin Cookies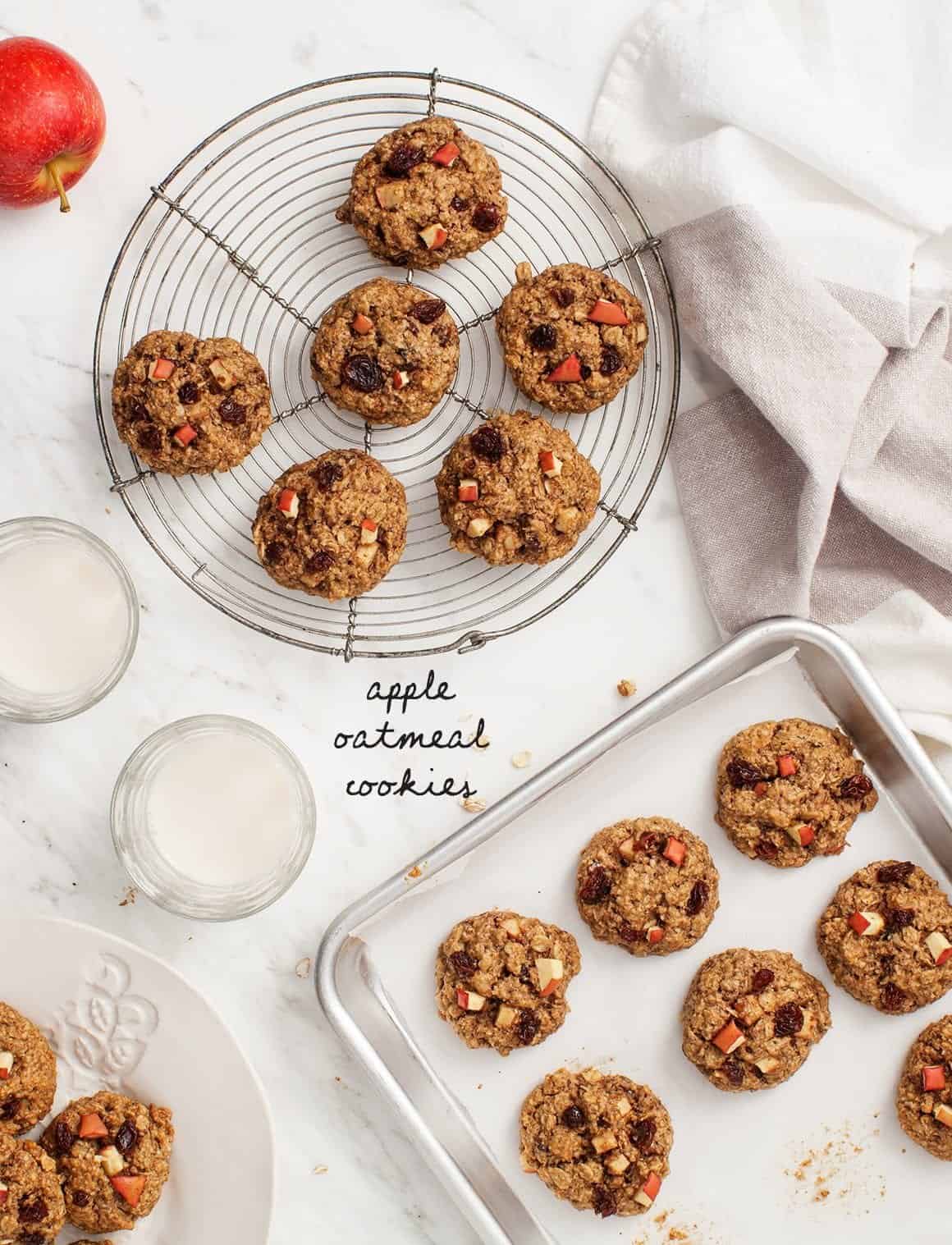 2 tablespoons ground flaxseed + 4 tablespoons warm water
1½ cups oat flour, blended from 2 cups whole rolled oats*
1 teaspoon baking soda
1 teaspoon cinnamon
½ teaspoon sea salt
½ cup very creamy almond butter
¼ cup melted coconut oil
¼ cup applesauce
1 teaspoon vanilla extract
½ cup Truvia Brown Sugar Blend
1 cup whole rolled oats
¾ cup finely chopped apple
½ cup chopped walnuts
¼ cup raisins
Preheat the oven to 350°F and line a large baking sheet with parchment paper.
In a small bowl, combine the flaxseed and water. Stir and set aside to thicken for about 5 minutes.
In a large bowl, stir together the oat flour, baking soda, cinnamon, and salt.
In a medium bowl, combine the almond butter, coconut oil, applesauce, vanilla, and brown sugar. Add the thickened flaxseed mixture and stir well.
Stir the whole rolled oats, apples, walnuts, and raisins into the bowl of dry ingredients. Add the wet ingredients to the dry ingredients and stir well to combine. The batter will be thick and sticky.
Drop rounded tablespoons onto the baking sheet and press down slightly. Bake for 12 to 15 minutes, until the bottoms are nicely browned. (Note: do not under-bake or your cookies will be more likely to fall apart). Remove from the oven and let the cookies cool on the baking sheet for 5 minutes before cooling completely on a wire rack.
Note:
*Make your own oat flour by blending (in a food processor) whole rolled oats into a fine flour.
3.4.3177
This post is in partnership with Truvia, thank you for supporting the sponsors that keep us cooking!