These Cinnamon Toast Crunch Apple Pie Bars are a festive fall snack that always hits the spot. A flaky crust is layered with cinnamon sugar, apple slices, and crushed Cinnamon Toast Crunch cereal, then drizzled with a sweet 2-ingredient glaze!
Looking for more apple pie recipes? Try my old-fashioned apple pie or this dutch apple crumb pie!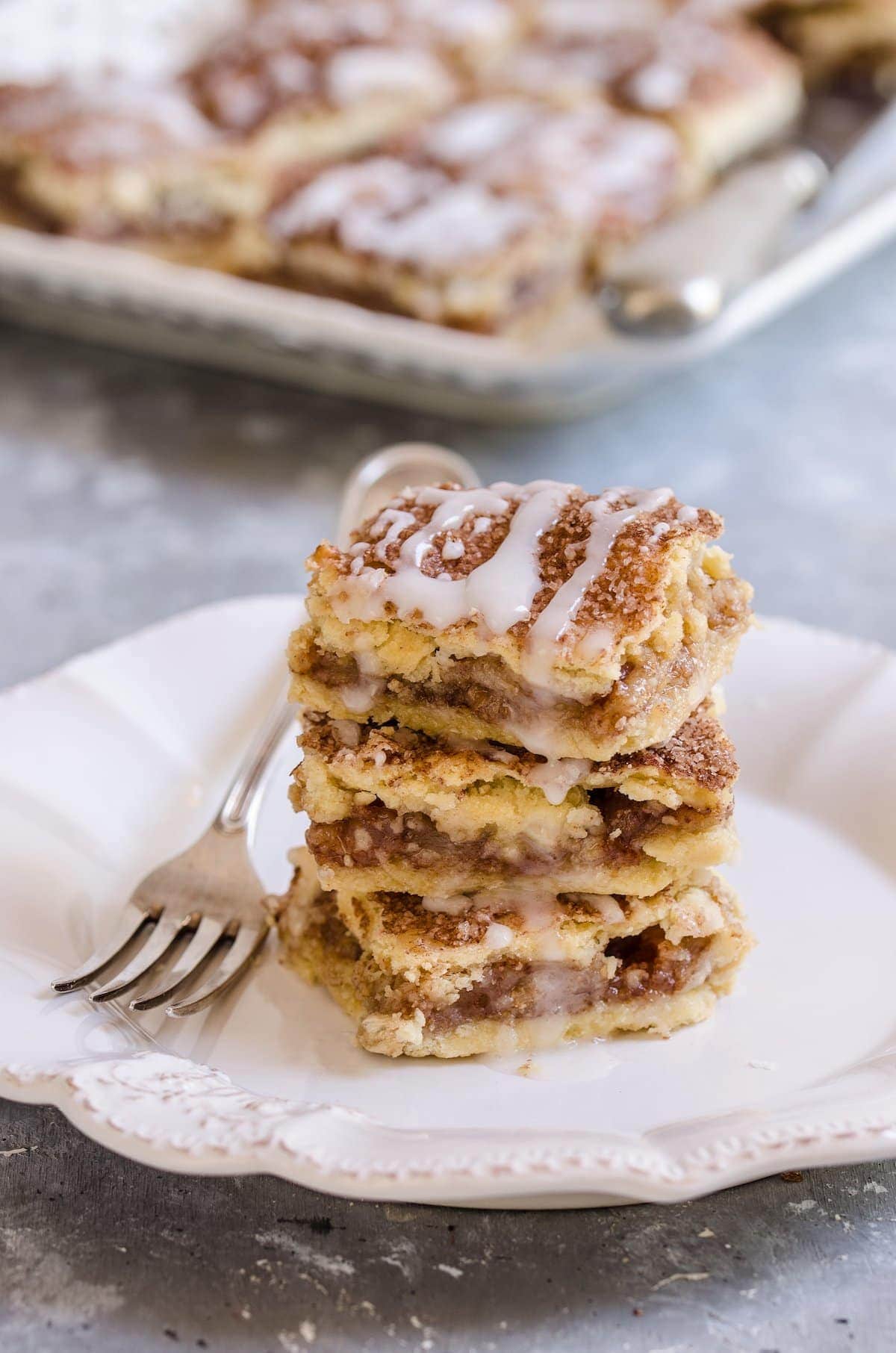 This post was originally published in 2010. The images and recipe tips have been updated in 2021.
These Apple Pie Bars Have a Secret Ingredient…
So, here's the thing. I'm not usually a pie baker. I like my desserts to be quick and easy so I can get them into the oven/pan/fridge, and then into my belly, STAT. But, every once in a while I get a craving for buttery crust and a sugary sweet filling, and so we end up with something like these Apple Pie Bars. Bars are the perfect way to eat pie, in my opinion…you don't have to get fussy with pretty lattice work, and that first slice is MUCH easier in square form!
AND here the SECRET INGREDIENT…add in some extra cinnamon-y sweetness with crushed Cinnamon Toast Crunch cereal, and you have a winner of a recipe. i'm telling you, the Cinnamon Toast Crunch cereal adds a little something extra to the filling that really makes these bars delicious!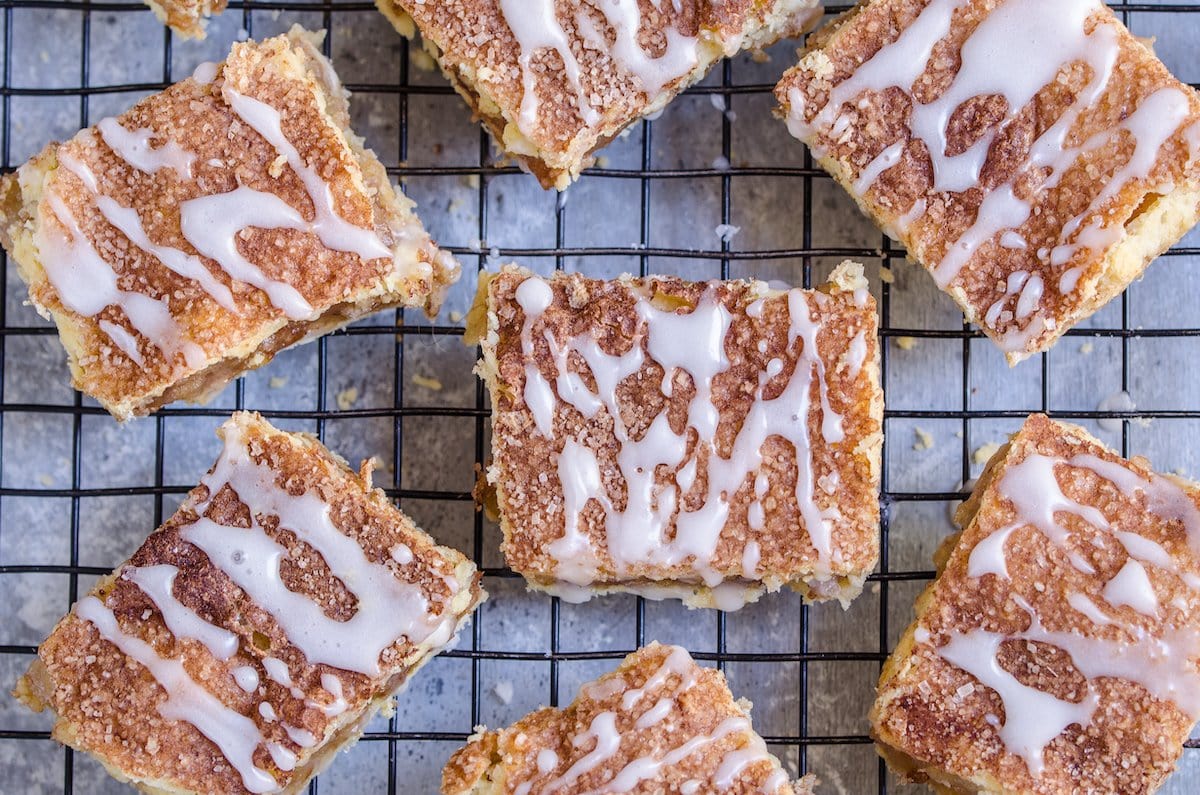 Why I Love These Apple Pie Bars
I feel like you've probably caught onto my apple pie bar excitement by this point, but I thought I would provide you with a few more reasons on why I love this recipe:
It's Simple: No need to worry about creating a picture-perfect pie crust. No need to worry if the filling isn't absolutely covered by the top layer of dough. I mean, you're just going to chop this dessert into bars anyway! And the glaze will cover your mistakes! It's all very low-stress.
It's Perfect for Fall: What says fall better than apples and cinnamon? Celebrating the beginning of fall with an individual apple pie sounds like a great idea. Use up those freshly-picked apples! (Also, if you've got fall get-togethers on the schedule, these bars are easily transported!)
It's Kid-Friendly: And adult-friendly, really! Who doesn't love apple pie that you can eat with your hands? Finger food is always a hit. It also means less dishes to wash, my friends, and that is never a bad thing.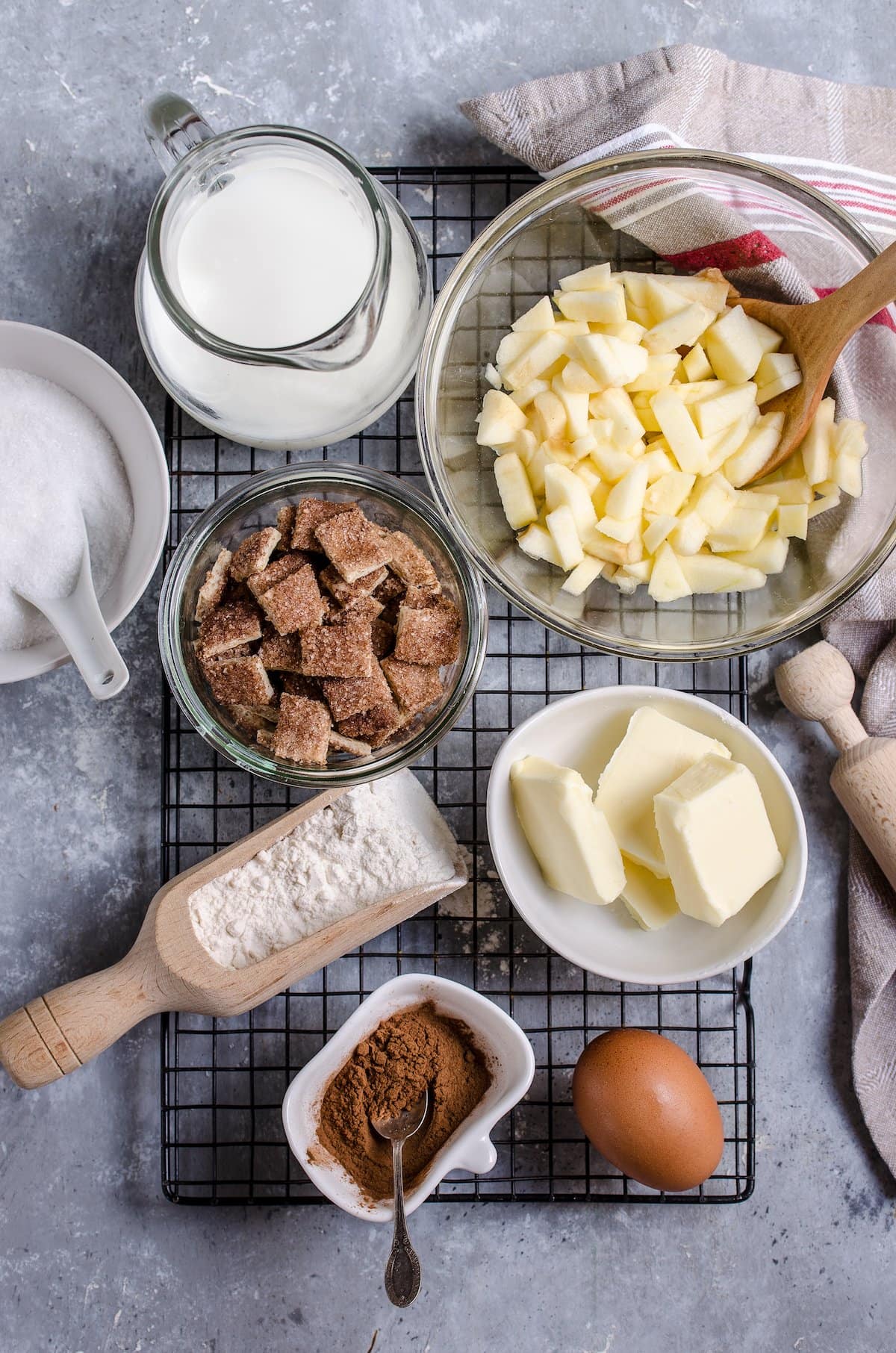 What You'll Need
Okay, so the ingredients list is going to look a little long, but I promise it's not that bad. These apple pie bars are so worth the somewhat crowded counter:
For the Crust
Flour: I used all-purpose flour for this recipe.
Salt: To balance out/enhance the sweetness of the filling.
Butter: Make sure the butter is cold, and not melted/softened.
Egg: You're going to need the yolk for the crust, but keep the egg white for later.
Milk: I like to use whole milk for the crust.
For the Filling
Cinnamon Toast Crunch: If you've got another cinnamon-themed cereal that you'd like to use, that's fine.
Apples: I used Granny Smith apples because they're the perfect level of tart, but Honey Crisps will work too.
Cinnamon Sugar: Combine cinnamon and powdered sugar to make a simple cinnamon sugar mixture.
For the Topping
Egg White: From the previously mentioned egg.
More Cinnamon Sugar: This time you can use cinnamon and granulated sugar because it adheres better to the outside of the dough.
For the Glaze
Powdered Sugar: Mix this carefully so that it doesn't fly everywhere.
Milk: You can use whole milk or 1-2% milk, whatever you prefer.
How to Make Apple Pie Bars
If you just looked at the recipe card and read the total time for these apple pie bars, you might be tempted to give them a miss. I know four hours sounds like a long time. But the prep work only takes about half an hour, so the rest of the time is basically waiting. So, while waiting is boring, it's not labor-intensive, and that's a win, right?
Here's how you put these apple dessert bars together:
Make the Crust
Mix the Flour, Salt, and Butter: In a medium bowl, combine the flour and salt. Next, add the butter. Using a pastry cutter, combine these three ingredients until the mixture becomes crumbly.