Baby Bok Choy with Warm Garlic-Soy Dressing is the refreshing and savory side you've been looking for! Crisp-tender baby bok choy are lightly sauteed, and then paired with an Asian-style sauce of fresh garlic, soy sauce, sesame oil, and sriracha.
An Easy, Healthy Bok Choy Side Dish
You know how it is. You're walking through the produce section, grabbing a bell pepper here, a bag of potatoes there… and then you see them. Literally the cutest vegetable in existence (sorry, radishes). That's right, I'm talking about baby bok choy!
Although I love regular bok choy, I have to admit, I'm a total sucker for the "baby" version! These adorable little vegetables are full of flavor, crunch, and color, and they are so easy to cook.
My favorite way to make baby bok choy is to simply slice them down the middle and pan fry them in a skillet with an Asian-style dressing. This one features garlic, sesame oil, sriracha, and soy sauce, as well as a touch of rice vinegar and lime.
Is Bok Choy Good for You?
In a word, absolutely! Bok choy is a cruciferous vegetable, related to cabbage and broccoli. It's high in fiber, and a great way to get some vitamin C, Vitamin K, potassium, magnesium, calcium, and many other helpful nutrients!
From fighting inflammation and reducing your risk of cancer to supporting skin health and boosting immunity, this is one very healthy veggie.
What You'll Need
So what will you need for this simple side dish? To make the bok choy, all you need are fresh baby bok choy and a little oil. From there, the dressing is made in the same skillet, using pan-Asian staples. Here's a rundown of what you'll need (for the full recipe card with amounts, scroll to the bottom of this post):
For the Bok Choy:
Oil: You can use vegetable oil, or substitute avocado oil or coconut oil.
Baby Bok Choy: Cut the heads of baby bok choy in half, longwise, for a pretty dish.
For the Dressing:
Oil: Again, use your favorite oil here.
Garlic: Minced fresh garlic is best, but garlic powder will also work.
Soy Sauce: I typically choose low sodium soy sauce, but you can also substitute coconut aminos or tamari.
Sriracha: A bit of sriracha sauce gives this sauce a kick!
Rice Vinegar: Rice vinegar is a delicate, but full-bodied vinegar. If you don't have this on hand, you can use apple cider vinegar or white vinegar, but the flavor will be slightly different.
Lime Juice: Fresh is best for a truly bright, light taste, but bottled is fine, too!
Sesame Oil: This gives that unmistakable sweet and nutty taste to the dressing that goes so perfectly with bok choy. Try not to skip it.
Sesame Seeds: Optional, for garnish. So pretty!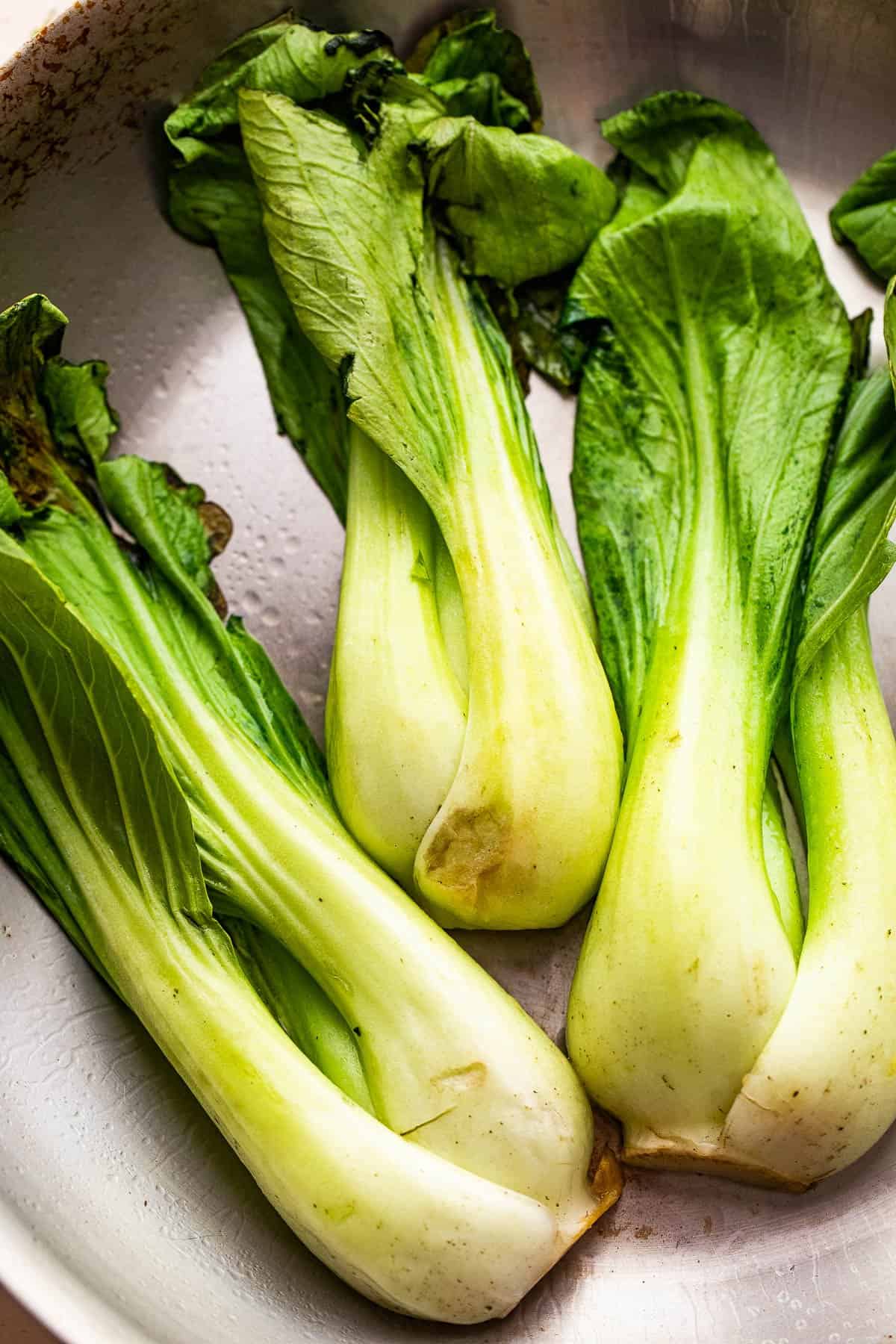 How to Make Baby Bok Choy with Garlic Soy Dressing
This dish cooks up fast, so it's helpful to have all of your ingredients measured and ready to go before you start.
Cook the Bok Choy Uncovered. Heat a few tablespoons of oil in a large frying pan over medium-high heat. When the oil is hot, place the halved baby bok choy pieces in the skillet, cut side down. Let them cook for 2 minutes, and then turn and cook for one minute on the other side. (If the skillet seems dry, you can add more oil.) 
Cook the Bok Choy Covered. Cover the skillet and allow the baby bok choy halves to steam for 3 to 4 minutes, or until crisp-tender, turning them once or twice during cooking. Transfer to a plate or platter and set aside.
Make the Dressing. In the same skillet, heat a tablespoon of oil. Stir in the minced garlic and cook for 20 seconds, or until fragrant. Then add the soy sauce, sriracha, rice vinegar, lime juice, and sesame oil, whisking to combine. Allow the dressing to cook for one minute or until it just starts to thicken.
Finish the Dish. Drizzle or brush the dressing over the bok choy. Garnish with sesame seeds, and serve warm.
Tips for Success
If you've never cooked with bok choy before, it's really easy! And these handy tips will make it even easier.
Substitute Large Bok Choy: You can also make this dish with full-sized bok choy. Just trim off the tough stem ends, and cut the bok choy into segments about 3 inches long. You'll end up with more of a stir-fry.
Cut the Heat: Not a fan of spicy sriracha? Try using sweet chili sauce instead! It brings its own special touch of sweetness, as well.
Wash Well: Like other leafy veggies, bok choy needs a good wash to get rid of any grit or dirt before cooking.
Serving Suggestions
Wondering what to serve with bok choy? I recommend Asian flavors to go with the savory dressing in this recipe. Here are some easy, homemade Asian recipes to try!
How to Store and Reheat Bok Choy Leftovers
Store leftover bok choy in an airtight container and keep in the refrigerator for up to 3 days. Store the sauce separately.
To reheat, place both the bok choy and sauce in a covered skillet over low heat, and cook until just heated through.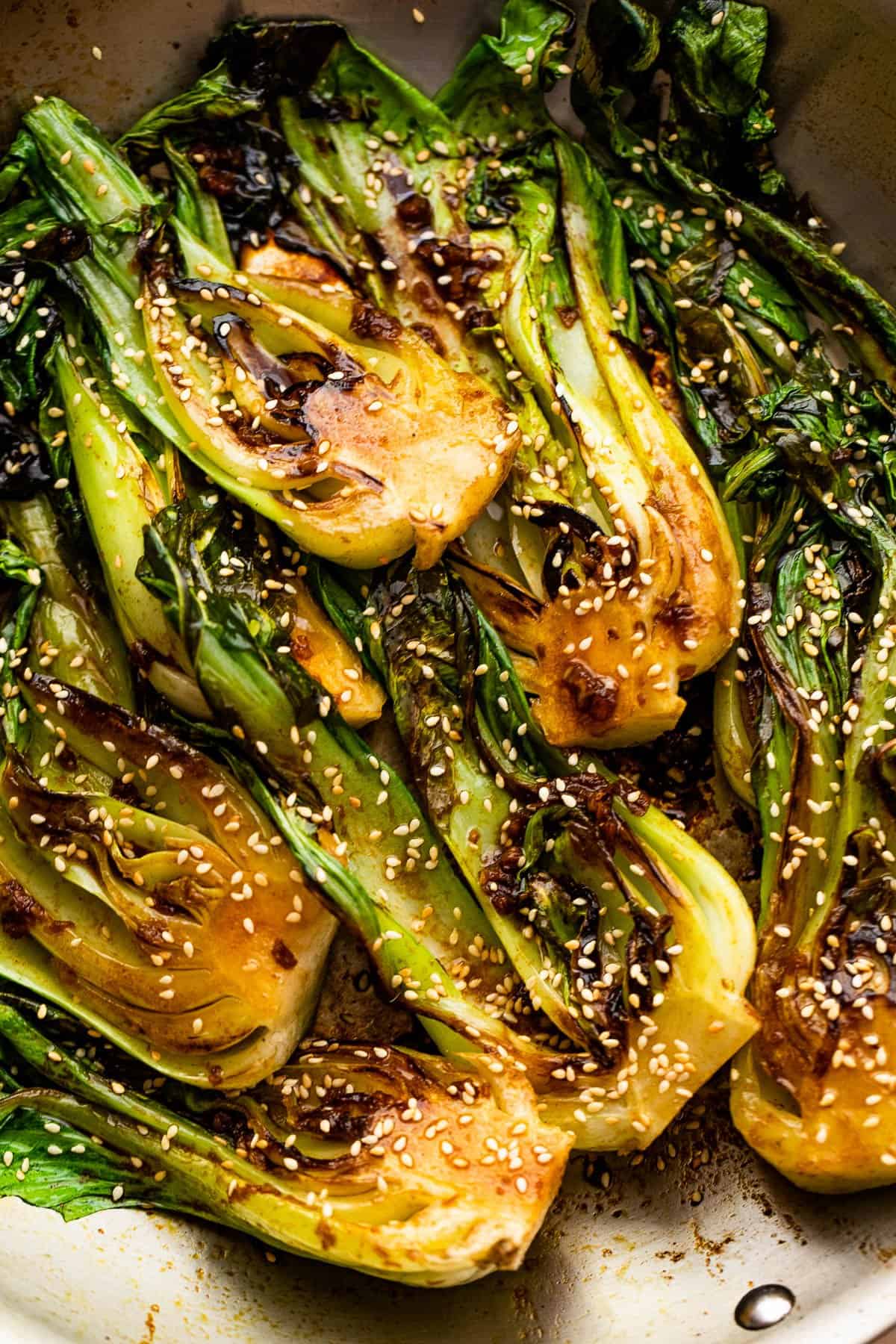 ENJOY!
BABY BOK CHOY WITH WARM GARLIC SOY DRESSING
Baby Bok Choy with Warm Garlic-Soy Dressing is a refreshing side dish of crisp-tender baby bok choy, paired with a savory Asian-style sauce made with garlic, soy sauce, sesame oil, and sriracha.
Ingredients
For the Garlic Soy Dressing:
Instructions 
Heat 3 tablespoons vegetable oil in a large skillet set over medium-high heat.

To the hot oil add the halved bok choy pieces to the skillet, cut side down; cook for 2 minutes.

Turn over the bok choy and cook for a minute. Add more oil, if needed.

Cover and continue to cook for about 3 to 4 minutes, or until crisp-tender. Turn the bok choy couple times while cooking.

When done, remove bok choy from the skillet and set aside.

Return skillet to the heat and add a tablespoon of vegetable oil.

Stir in the minced garlic and cook for 20 seconds, or until fragrant.

To the skillet, add soy sauce, sriracha, rice vinegar, lime juice, and sesame oil; whisk until well combined.

Cook for 1 minute, or just until the sauce starts to thicken.

Remove from heat.

Drizzle or brush the sauce over the bok choy.

Garnish with sesame seeds.

Serve.
Nutrition Facts
BABY BOK CHOY WITH WARM GARLIC SOY DRESSING
Amount Per Serving
Calories 78
Calories from Fat 45
% Daily Value*
Fat 5g8%
Saturated Fat 1g5%
Polyunsaturated Fat 2g
Monounsaturated Fat 2g
Sodium 730mg30%
Potassium 56mg2%
Carbohydrates 6g2%
Fiber 2g8%
Sugar 2g2%
Protein 3g6%
Vitamin A 7577IU152%
Vitamin C 81mg98%
Calcium 214mg21%
Iron 2mg11%
* Percent Daily Values are based on a 2000 calorie diet.
Keywords: asian side dishes, baby bok choy, sauteed bok choy
Want To Save This Recipe?
More Veggie Sides