Baked Eggs with Spinach topped with avocado, tomatoes, and crumbled feta cheese makes a great breakfast for every day or easy entertaining.
I love eggs, from my head down to my legs. Well, I love them now. I haven't always loved eggs, it has been a process. When I was little, I wouldn't touch eggs, unless they were baked in cookies or another baked good..ha! But now, I am a huge fan and eat them almost every day. We love eggs so much that Josh spent the weekend building a chicken coop. It is almost done and soon we will have our own chickens…and lots of eggs. YAY!
I make Avocado Toast with Eggs, Spinach, and Tomatoes all of the time. It's my go-to for any meal. Well, I recently mixed things up and now I am hooked on Baked Eggs with Spinach. Baked eggs are the perfect healthy breakfast! 

OTHER RECIPES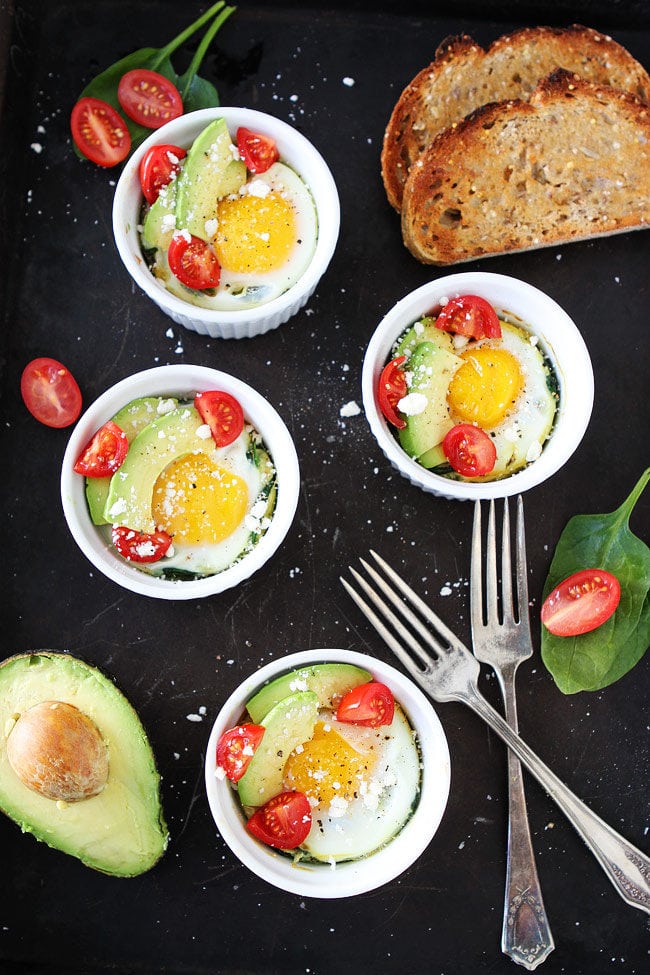 Baked Spinach and Eggs 
Baked Eggs with Spinach are really easy to make, but they are special. Every time I make these baked eggs our boys get excited because they get their OWN little egg dish. I bake the eggs with spinach because I am all about getting more greens into my diet and my boys diet.
When the spinach and eggs come out of the oven I top them with:
avocado slices
tomatoes
crumbled feta cheese
Kosher salt and freshly ground black pepper
Don't skip the toppings! They really make the baked eggs EGGcellent:)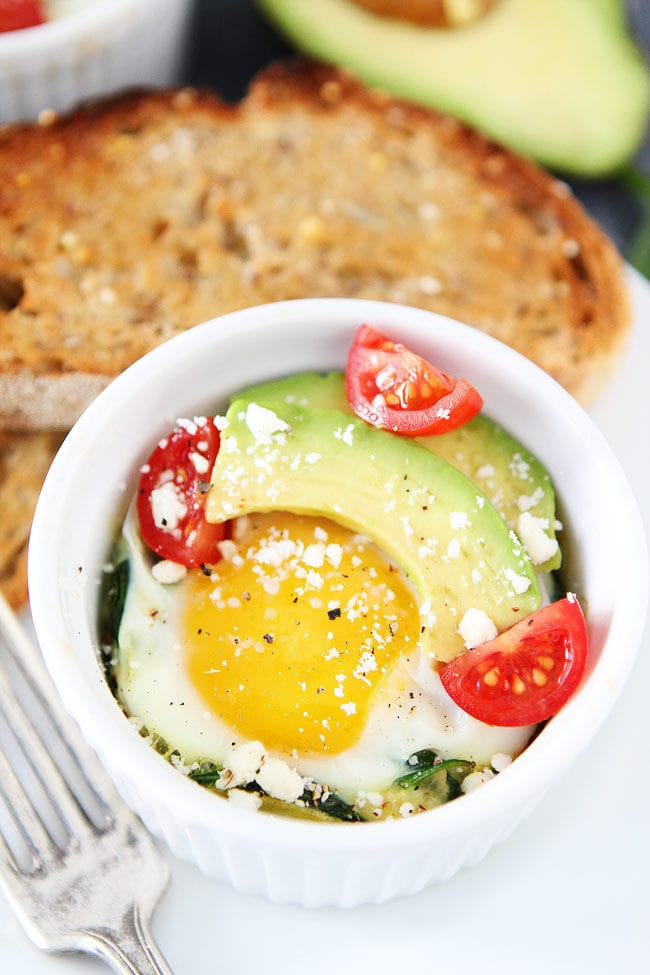 Tips for Baked Eggs
Don't forget a piece of toast to go with the baked eggs. Dipping the toast into the warm, runny baked egg is the best part. Mmmmmm!
This easy spinach egg bake only takes 20 minutes and are great for breakfast, but we also like to eat them for dinner. Breakfast for dinner is always a good idea.
This recipe can easily be multiplied for a crowd. The next time you are hosting brunch, serve up savory baked eggs! They are sure to be a hit! Enjoy!
How to Make Baked Eggs
If you like these Baked Eggs with Spinach, you might also like: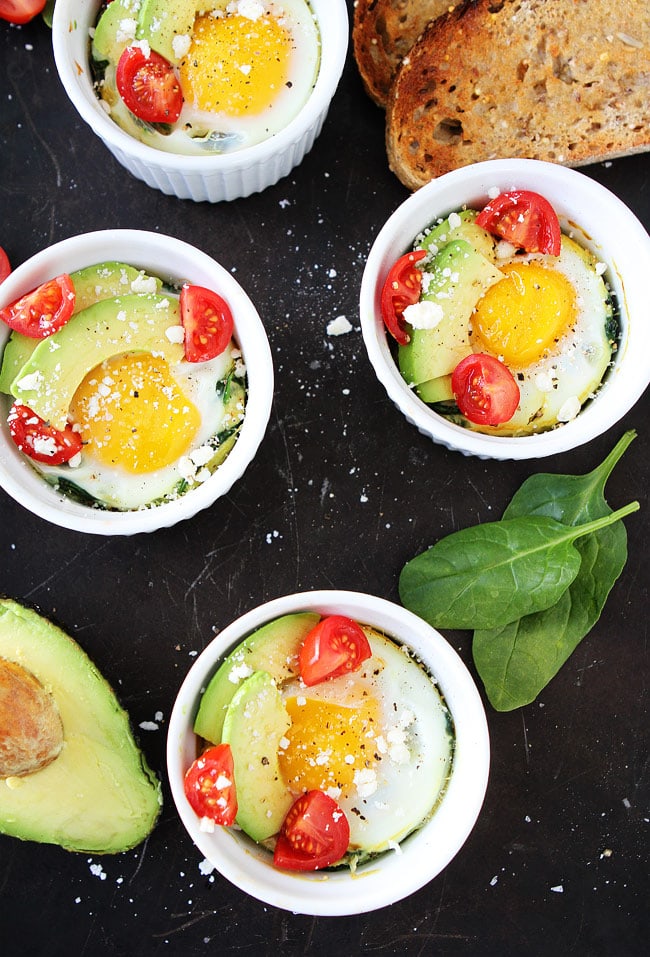 Baked Eggs with Spinach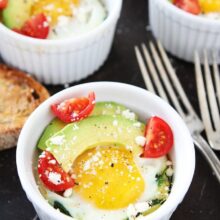 Baked Spinach and Eggs makes a great, easy breakfast. Top with avocado, tomatoes, feta cheese, and serve with toast.
Yield: Serves 4
Prep Time:10 minutes
Cook Time:20 minutes
Total Time:30 minutes
Ingredients:
1 tablespoon olive oil
1 small shallot, minced
2 cloves garlic, minced
8 ounces spinach, large stems removed
4 large eggs
Salt and freshly ground pepper
1/2 avocado, chopped
1/3 cup halved grape tomatoes
1/4 cup crumbled feta cheese
Directions:
Preheat the oven to 375 degrees F. Grease 4 (6 oz) ramekins with nonstick cooking spray and set aside.
In a large skillet, heat the olive oil over medium high heat. Add the shallot and garlic and cook for 2-3 minutes. Stir in the spinach and cook until wilted, about 5 minutes.
Divide the cooked spinach among the prepared ramekins. Break an egg into each ramekin and sprinkle each with salt and black pepper, to taste. Place the ramekins on a rimmed baking sheet.
Bake until the whites are set and the yolks are firm around the edges but still soft in the center, about 20 minutes. Remove from the oven and garnish with tomatoes, avocado, and feta cheese. Serve immediately. We like to serve the baked eggs with toast.


All images and text ©Two Peas & Their Pod.




Follow twopeasandpod on Instagram and show us what recipes you are making from our blog! Use the hashtag #twopeasandtheirpod! We want to see what you are making in your kitchen!