These BAKED EXTRA CRISPY PARMESAN CHICKEN NUGGETS will blow your mind and become an instant family favorite. Made healthier by baking instead of frying, you'll never miss the grease. Kids and adults will be requesting these flavorful cheesy nuggets again and again!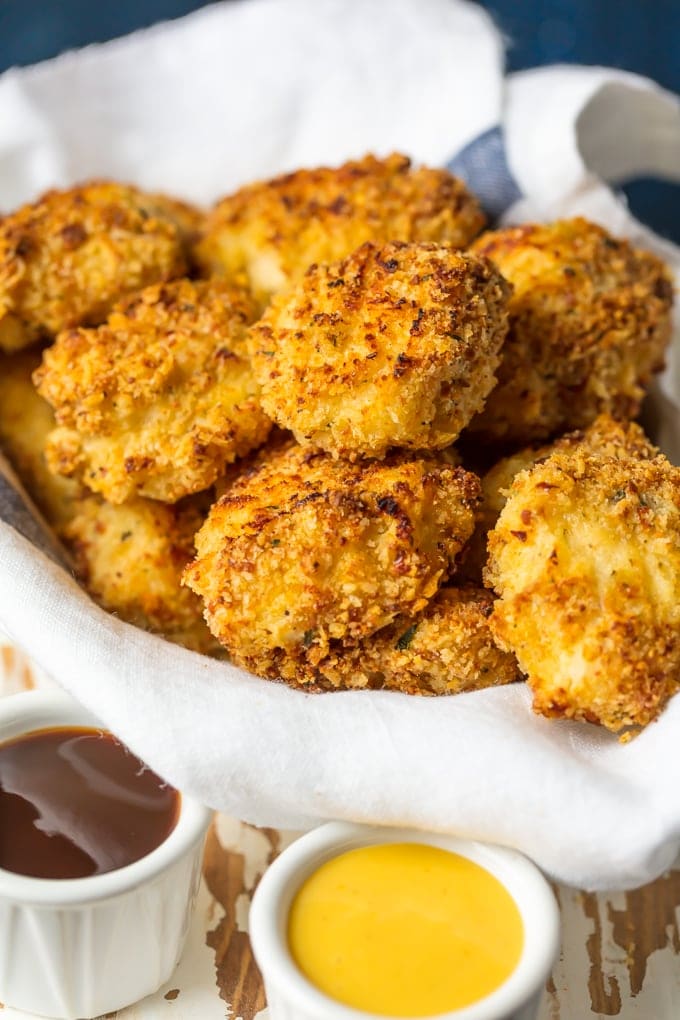 If you're like me, you want it all. You want to be able to eat crispy, cheesy, perfect chicken nuggets without all the guilt of frying the perfect crust (BY THE WAY…if you want your chicken fried….DO NOT feel guilty. Just do it. No shame in your game!) let alone the mess of all that grease. Enter these Baked Extra Crispy Parmesan Chicken Nuggets. They're healthy(er) than the alternative, coated in the most flavorful and juicy cheesy crust, and so crave worthy for kids and adults alike. I'm OBSESSED and could eat about a 20 pack if they were sold at McDonalds.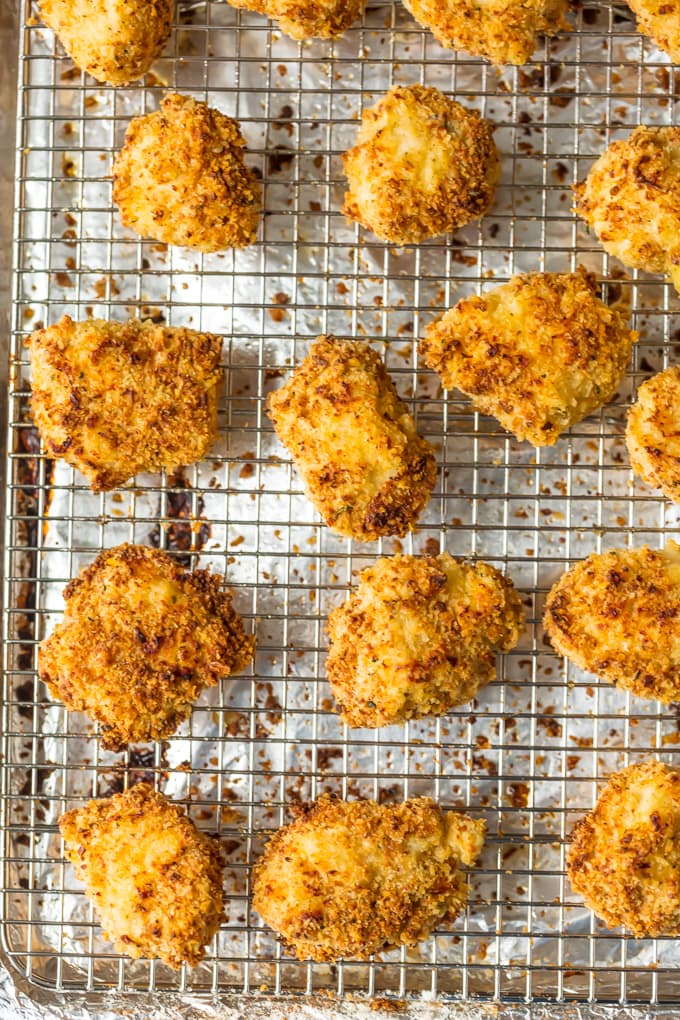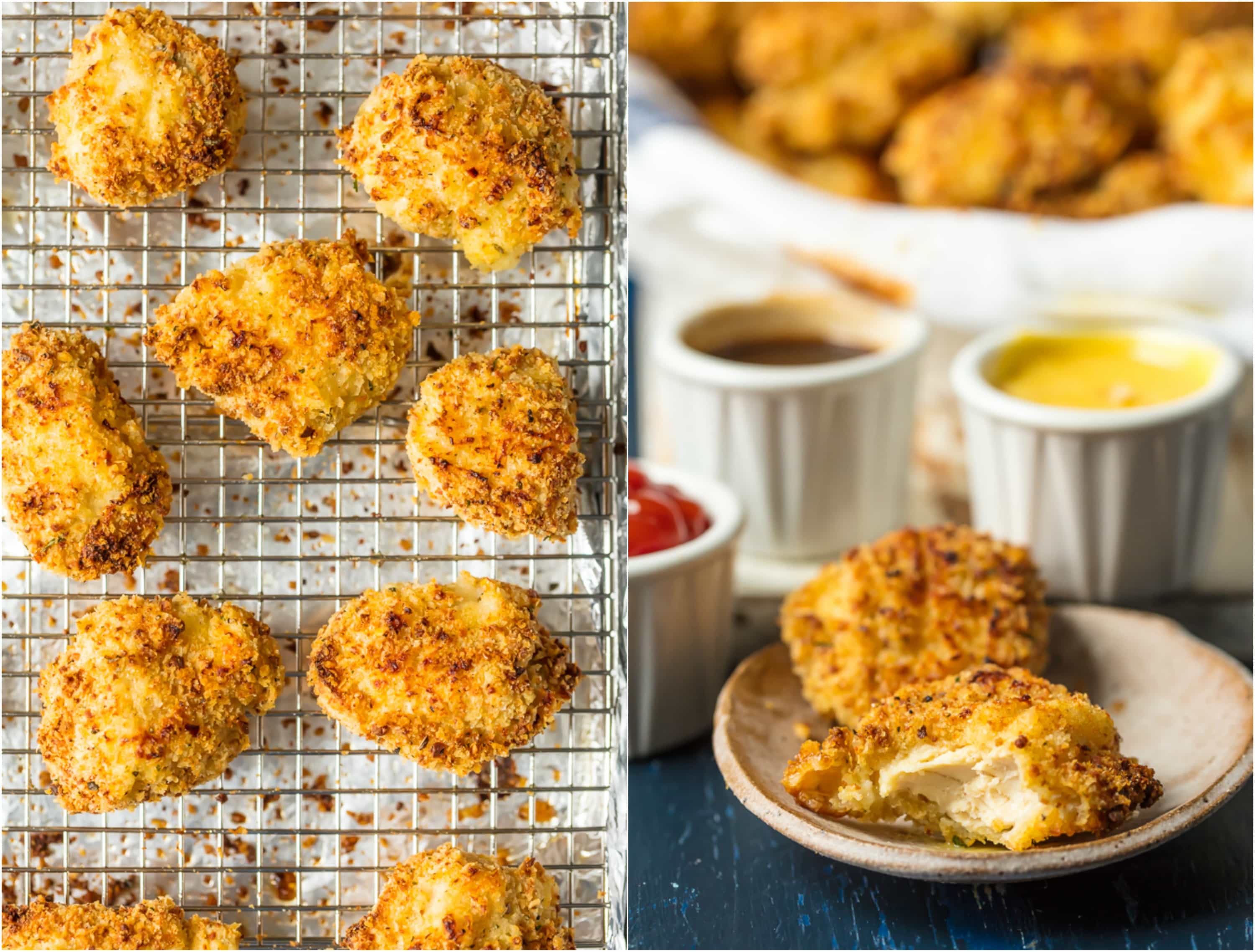 I'm the kind of nugget eater that lines up ALL the dipping sauces and goes to town. I need sweet and sour, honey mustard, bbq, ketchup, buffalo sauce…all of them. Each nugget needs multiple dips in multiple sauces. Is that so wrong? I am well aware sauces are where all the calories like and I do not care. Flavor baby.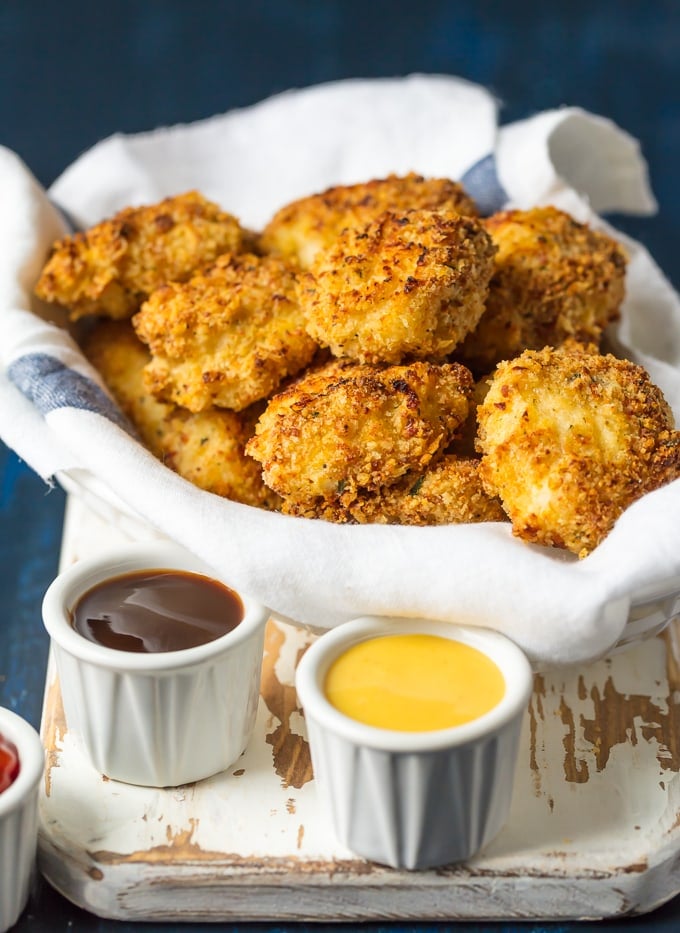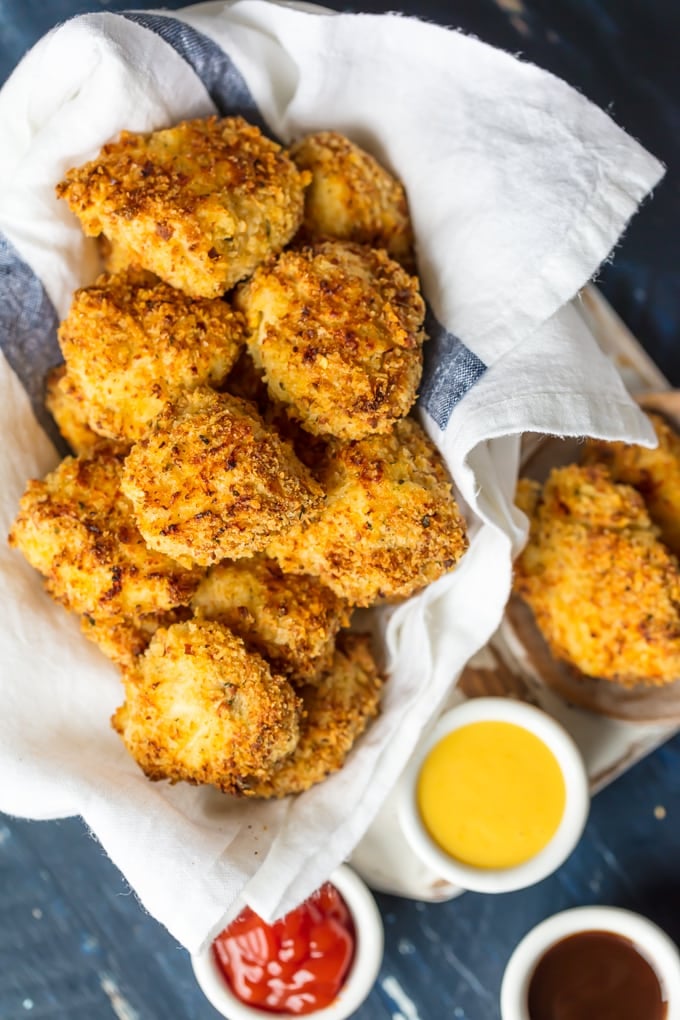 These Baked Parmesan Chicken Nuggets have been one of Henry's favorite things in his 12 months of life. He gave me a Mother of the Year award that I'll always cherish! 🙂 They're oh so easy and tasty. Sometimes adults just want to eat like the kids and not feel bad about it. Grown up comfort food and I don't mind if I do.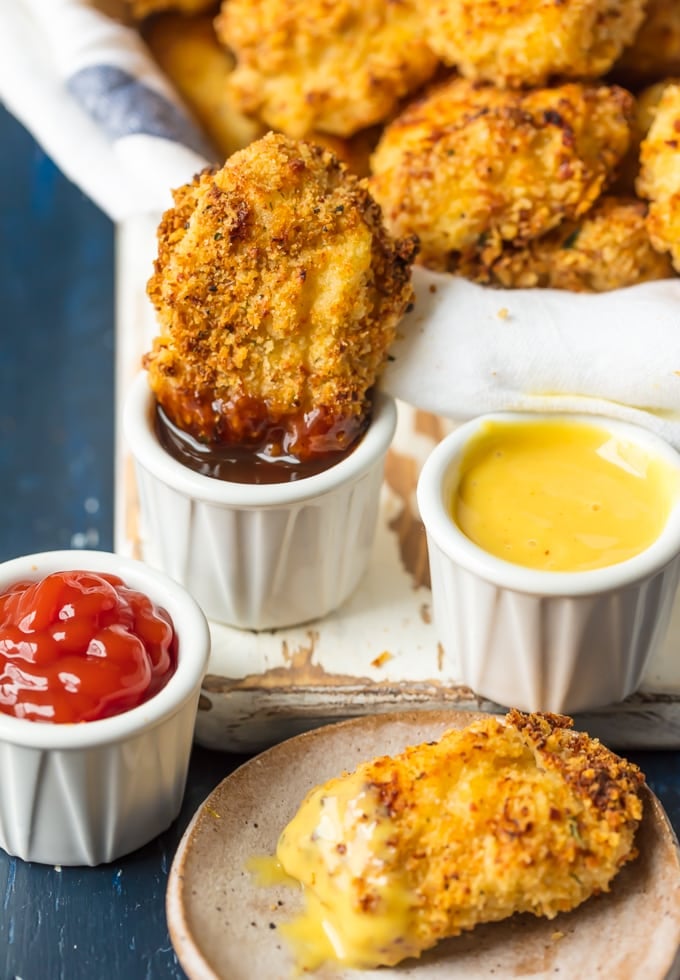 Be sure to check out all of our favorite Kid Friendly Recipes. I hope you and your family can't get enough of these Baked Nuggets! I have a feeling you'll be making them again and again. I know we will!
Enjoy.
Baked Extra Crispy Parmesan Chicken Nuggets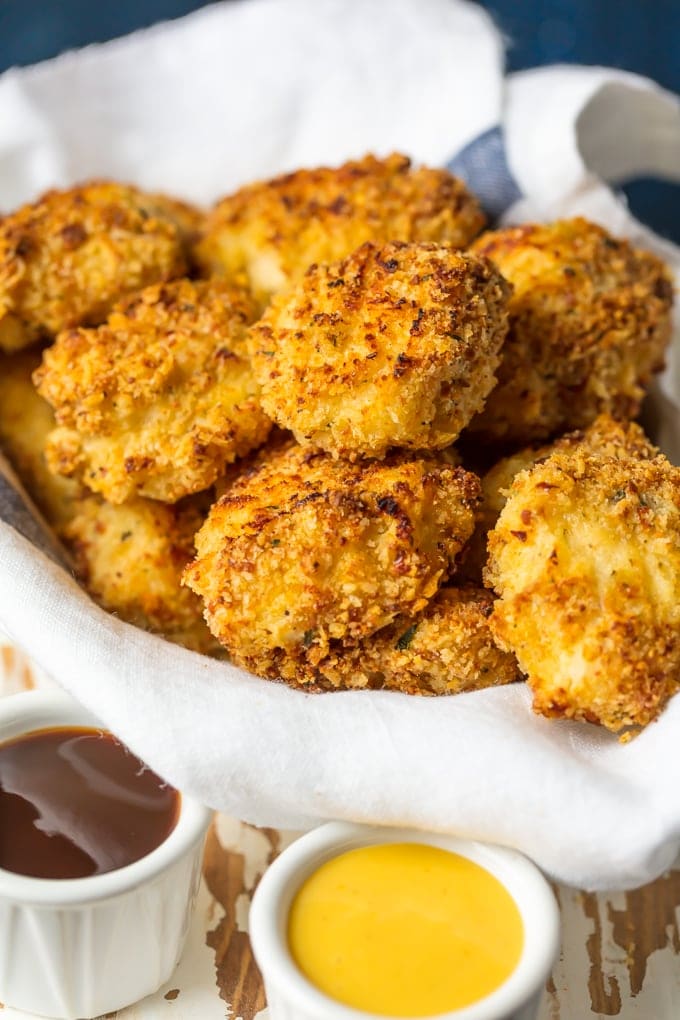 Ingredients
3 skinless, boneless chicken breasts
1 teaspoon kosher or coarse salt, divided
1 teaspoon black pepper, divided
½ cup buttermilk
1 cup panko breadcrumbs
½ cup good Parmesan cheese
1 teaspoon favorite herb blend, optional
1 cup all-purpose flour
½ cup butter, melted
2 eggs, lightly beaten
Instructions
Heat oven to 400°F. Cover a rimmed cooking sheet with foil and spray the foil with nonstick cooking spray. Place a wire rack on the cooking sheet, and spray it lightly with nonstick cooking spray.
Pat the chicken dry, cut it into 1½-inch pieces and place it in a medium bowl. Sprinkle the chicken with ½ teaspoon salt, ½ teaspoon freshly ground black pepper, and add the buttermilk. Mix to coat all the chicken pieces. Set aside.
In a shallow dish, combine breadcrumbs, Parmesan and herbs. Mix to combine.
Place flour, butter and eggs in separate shallow dishes. There will be 4 dipping dishes in total.
Strain the chicken/buttermilk over a mesh strainer with a bowl underneath.
Line up the dipping dishes; chicken, flour, butter/egg mixture, breadcrumb mixture.
Dredge a chicken piece with flour and shake off any excess. Dip it in the butter/egg mixture and then the breadcrumb mixture. Place it on the wire rack. Repeat until all chicken has been coated.
Place cooking sheet on the middle rack in the oven. Bake 20-30 minutes, turning after 10-15 minutes.
Nuggets are done when golden brown, crispy and cooked through.
If nuggets aren't as crispy as you want after 30 minutes, Set the oven to broil and cook a few minutes until desired crispiness.
Serve hot with dipping sauces.
Enjoy!
7.6.7
2547
https://www.thecookierookie.com/baked-extra-crispy-parmesan-chicken-nuggets/
Did you make this recipe?
Becky woke up on her 30th birthday and realized she didn't know how to cook, ANYTHING! She started The Cookie Rookie as a way to document her journey to learn how to cook, one recipe at a time! The Cookie Rookie is a place to find easy recipes that anyone can make, and everyone will love!