Easy40 minsGluten-Free
My favorite baked pork chops recipe — easy to make, nice and juicy, and easy to customize with your favorite seasonings.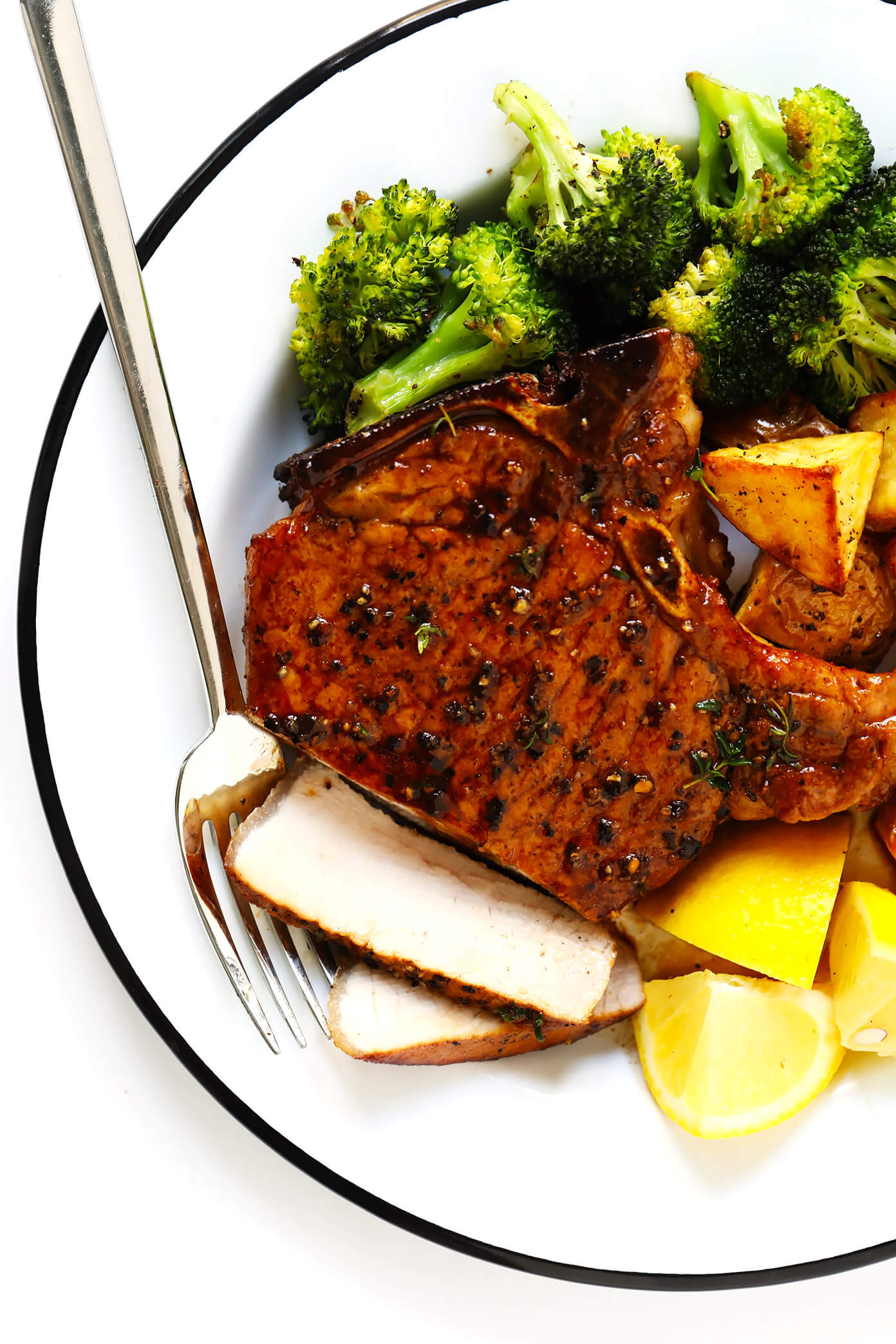 Next up in our back-to-the-basics series this week about how to bake proteins in the oven — my go-to method for how to make juicy, tender, flavorful oven baked pork chops.
(Pssst, this one's a bookmark-er!)
I don't know about you, but pork has always been the most challenging meat for me to cook perfectly in the oven.  When cooked properly, a nice thick pork chop can be an incredibly delicious, tender, juicy, and versatile cut of meat.  But when overcooked — which can happen in a matter of seconds — pork regrettably becomes the meal that you're going to wish was over, chop-chop.  Oof.  Nobody likes a dried out pork chop.
Here's the great news though — it's actually surprisingly easy to cook pork chops perfectly.  And since "the other white meat" happens to also be one of the most affordable and versatile and lean proteins at the store, it's definitely worth the effort to learn!  All you need is this simple basic method plus a few important tips.  I'll show you. ♡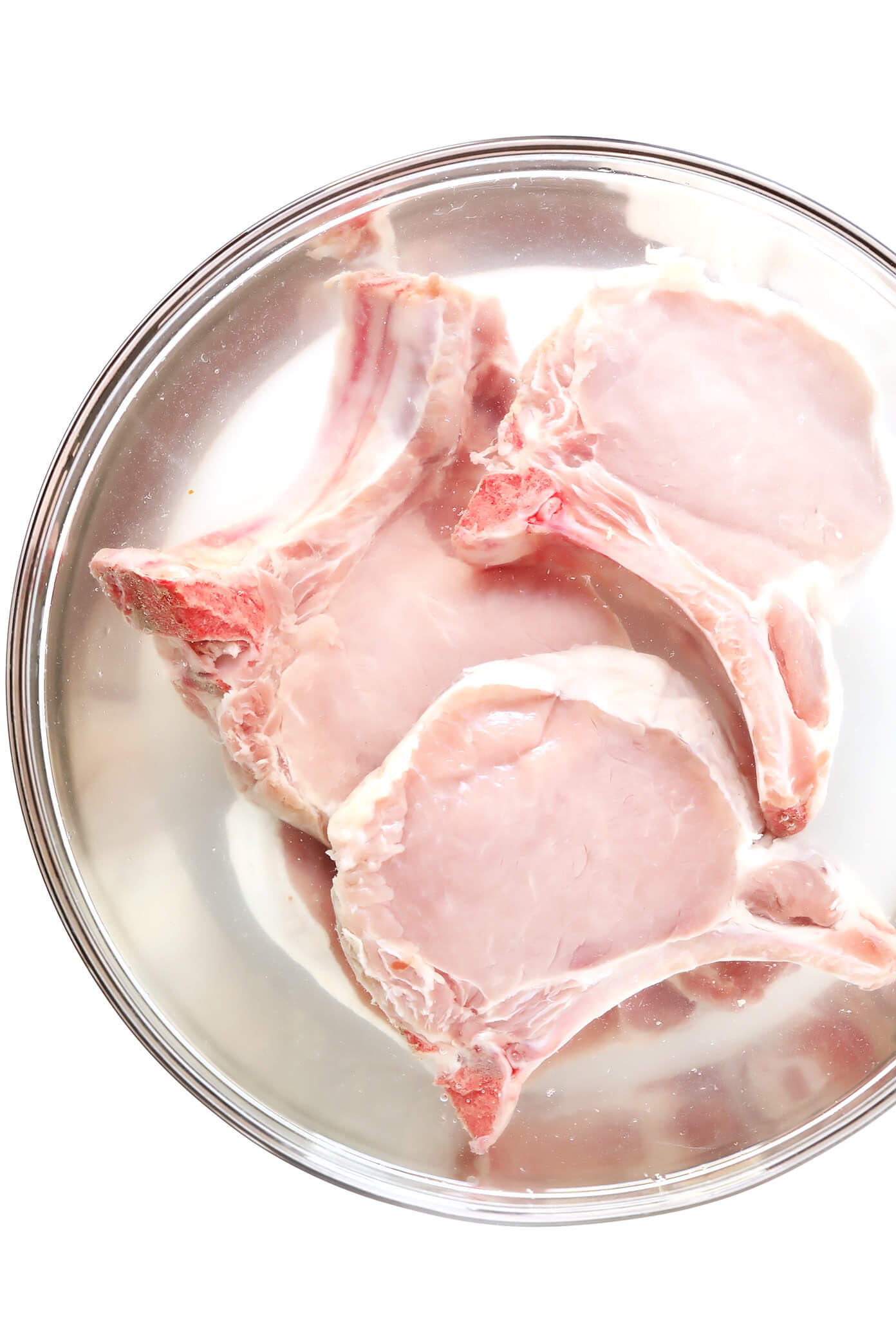 Baked Pork Chops Ingredients & Cooking Tools:
To make this baked pork chops recipe, you will need:
Thick-cut pork chops: When it comes to purchasing pork chops, there are three important qualities to look for that I highly, highly recommend:

Thick-cut: Ideally, between 1 to 1.5 inches thick.  Thick-cut pork chops much easier to cook correctly than their thinner counterparts.  If your grocery store only offers really thinly-cut chops, just go to the meat counter and ask if they can double-cut them (cut them a bit more thick) for you.
Bone-in: I much prefer bone-in pork chops (specifically, rib chops or loin chops) because they have the most flavor.  But if you prefer the leaner boneless pork chops, those will work too.  Just be extra-careful not to overcook them.
Fresh: Be sure to also buy the freshest pork that you can find.  In general, you want to look for pork that is a deep reddish-pink or reddish-purple color, not grayish or white.  And the fat should be white and creamy, not dotted with dark spots.  It should also be pretty firm, and not soft and squishy.

Olive Oil: Or whatever your preferred cooking oil may be.
Kosher Salt: An essential ingredient in our brine, and also to season the pork.
Seasonings: I typically like to use a simple garlic powder, salt and black pepper seasoning blend with pork.  And then serve it up with lots of fresh lemon slices, to brighten up the flavors.  But feel free to use whatever other dry seasonings you like.
You will also need (affiliate links included):
An oven-proof skillet: I absolutely recommend a cast-iron skillet (or a cast-iron Dutch oven) if you have one, which will hold heat and cook the pork more evenly.  But if not, any oven-proof skillet that can sustain high heat will do.
Tongs: These will be essential for flipping the pork as it is searing.  I recommend these 12-inch tongs from OXO.
An instant-read thermometer: I really feel like this is a must with this recipe.  A cooking thermometer is the best way to ensure with 100% accuracy that your pork is not over- or under-cooked.  And it is just as helpful with cooking many other proteins besides pork too.  I recommend this:

Instant-read cooking thermometer: which I have owned and used for years when cooking pork, which retails for about $9.99 on Amazon. (Only downside is that it cannot be used inside the oven.)
Dual-probe wireless meat thermometer: which I also own and love because it can be used inside of a hot oven (especially helpful for baking pork, salmon, steak and chicken), which retails for about $24.99 on Amazon.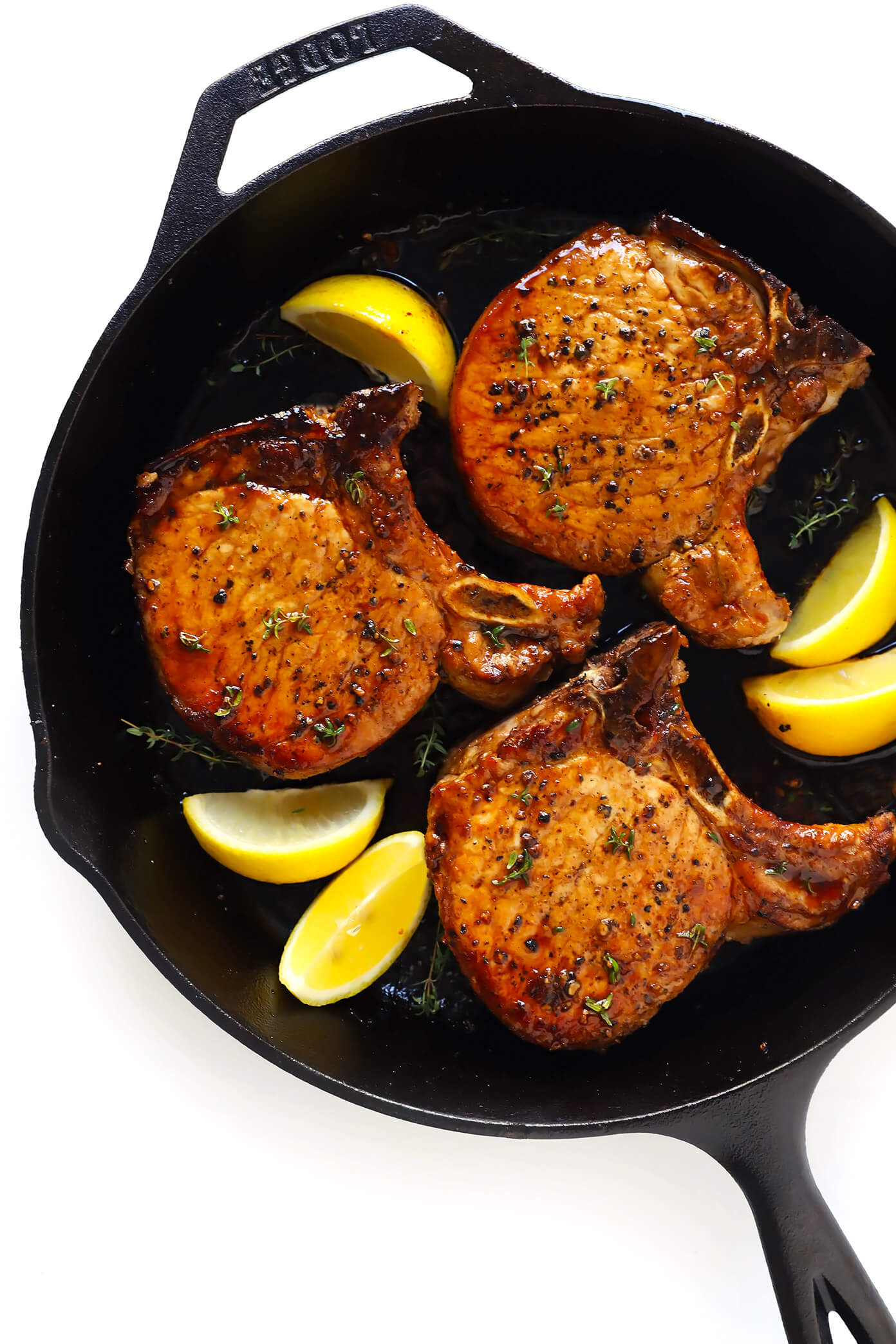 How To Make Baked Pork Chops:
As much as I would love to say that you can make perfectly baked pork chops by just popping them directly in the oven, I've just never had good luck with that method.  Instead, I've learned over the years that the secret is taking an extra 15 minutes (at least) to brine the pork.  Then giving it a quick sear on the stove before roasting it in the oven.  And then, as I mentioned above, using the help of a cooking thermometer to measure the internal temperature of the pork and ensure that it has reached the magical 145°F (62°C).  It may sound complicated, but I promise you — it's easy peasy.  Simply:
Brine the pork.  In a large mixing bowl, combine warm water and kosher salt (about 1 tablespoon per cup of water) and stir until the salt is dissolved.  Submerge the pork chops in the saltwater and soak for at least 15-30 minutes, or up to 4 hours.  Remove the pork chops and rinse them off with cold water.  Then pat them dry with paper towels and place on a clean plate.
Season the pork.  Brush the pork chops on both sides with olive oil.  Then sprinkle with your desired dry seasonings.  (I like a mixture of garlic powder, kosher salt and black pepper.)
Pre-heat your skillet. Meanwhile, as you're seasoning the pork, heat your skillet over high heat for about 5 minutes, until it is super-hot.  Once your pork is seasoned and your skillet is ready…
Sear the pork on one side.  Place the pork chops in the hot skillet (carefully, so that the oil doesn't splatter).  Then give the tops of the pork chops a gentle press down with a spatula, so that the full bottom surface of the pork chops makes contact with the pan (instead of accidentally curving up).  Cook for 2-3 minute, or until the bottom of the pork chops are golden.  Then flip the pork chops over to the other side, and quickly…
Transfer pan to the oven and bake.  Carefully use an oven mitt to move the entire pan to the oven, where the second side of the pork will continue to sear.  Then bake for 3 minutes, flip.  And continue baking for 3-5 minutes more, or until the pork reaches an internal temperature of 145°F (62°C).  Remove the pan from the oven, and transfer the pork to a clean plate.  Use a pastry brush to brush any of those extra juices in the pan onto the pork chops (that's where so much of the flavor is hiding!).  Then tent the plate with aluminum foil and…
Rest the pork.  Let the pork rest for 3-5 minutes, to lock those juices in.  Once the pork is ready to go…
Serve warm!  And enjoy!
Once the pork has been baked, it can be stored in a sealed container in the refrigerator for up to 3 days.  Or you can freeze it for up to 3 months.  (<– I recommend shredding, dicing or slicing the pork before freezing for easier use.)
**Also, one important note — the pork chops will definitely be pretty smoky as they are cooking!  So be sure to turn on an exhaust fan above your stove (if you have one) or open a window.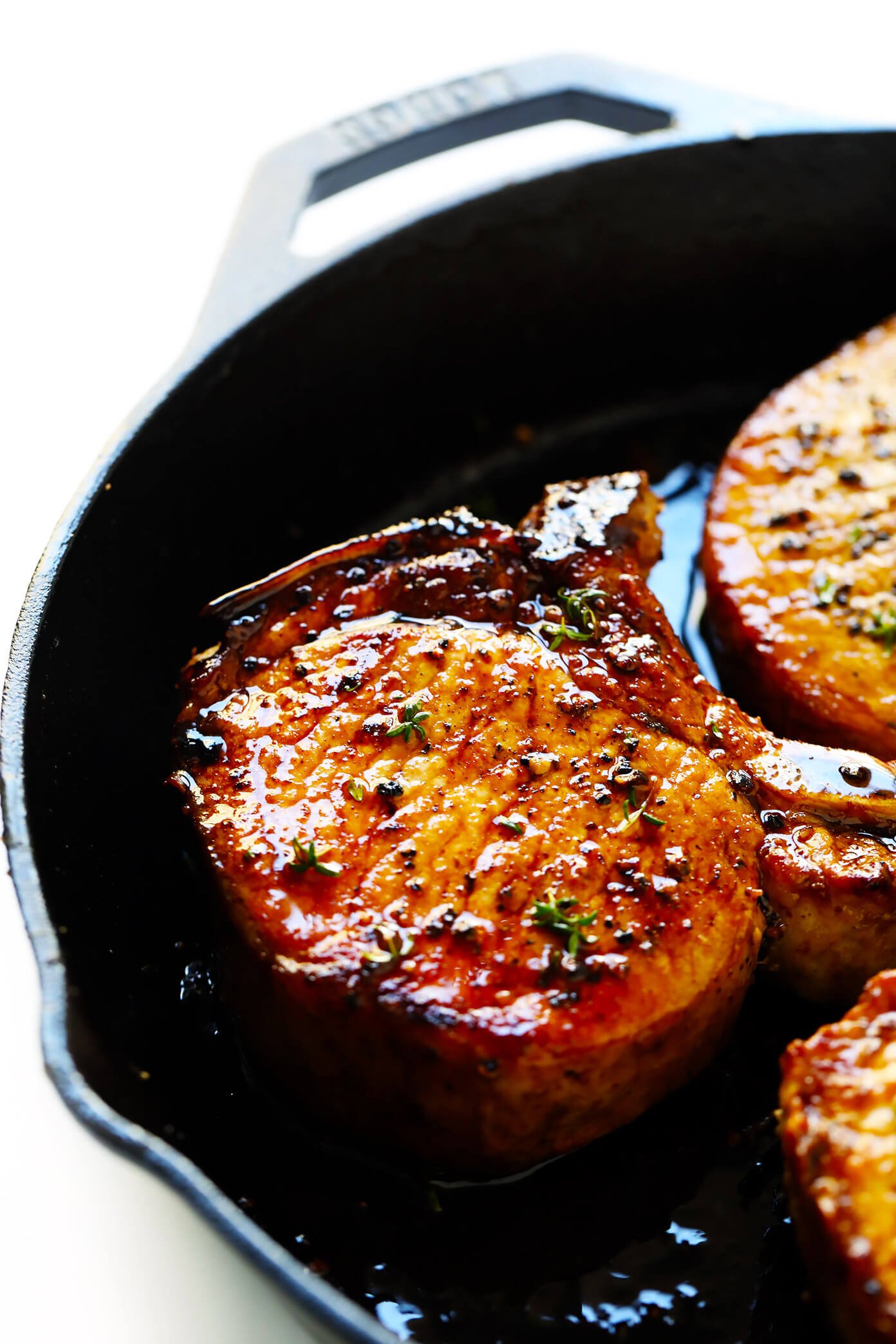 How To Season Baked Pork Chops:
Similar to chicken, pork does a brilliant job of adopting whatever flavors you choose to use in your seasonings. I'm a big fan of the simple garlic powder/salt/pepper mix in the recipe below, which goes with just about any cuisine.  But if you'd like to mix things up, feel free to sub in any of your favorite dry seasoning mixes, such as:
And of course, feel free to also toss the baked pork chops with your favorite finishing sauces as well.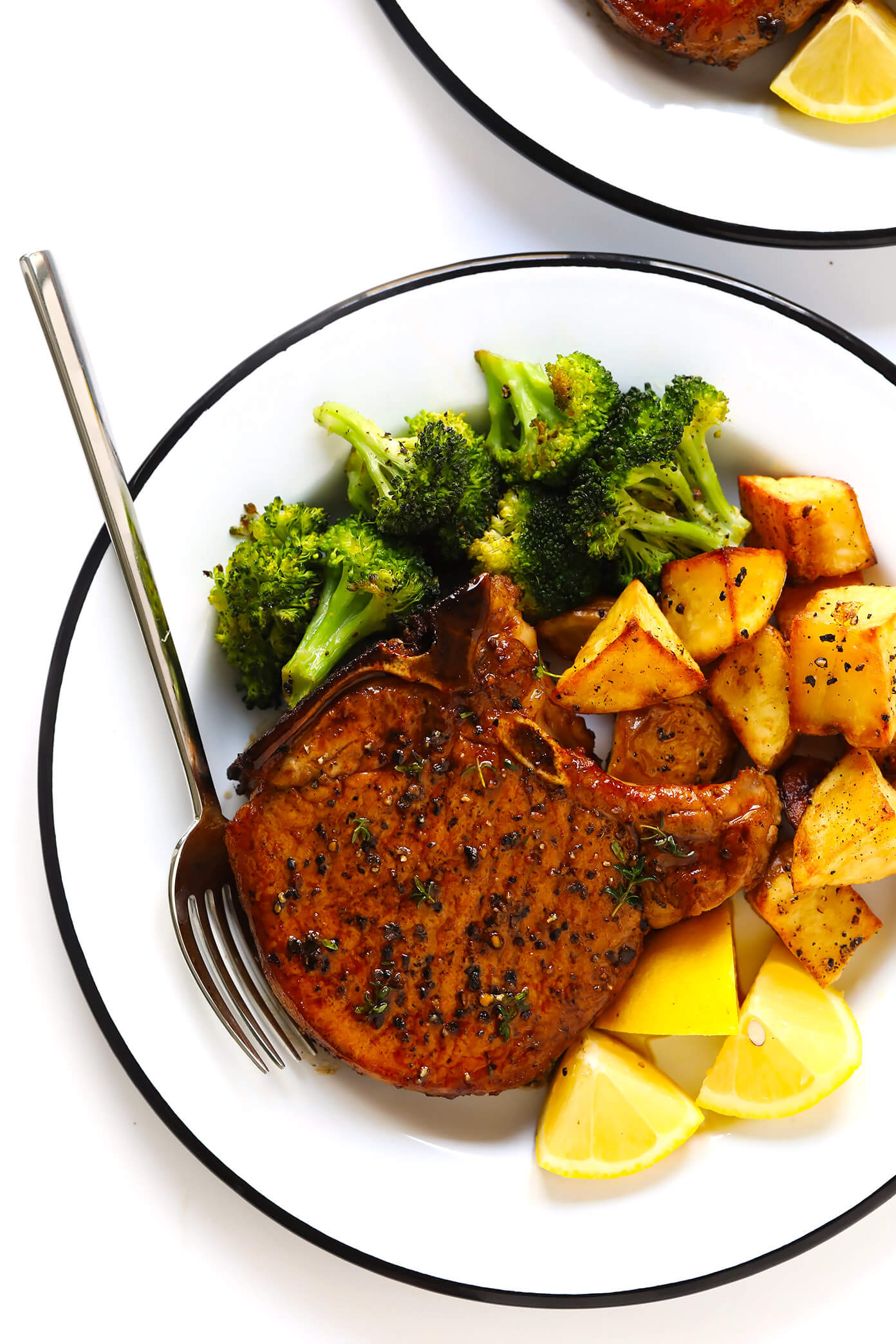 Side Dish Recipe Ideas:
Looking for some side dishes to serve with this baked pork chops recipe?  Here are a few of my faves: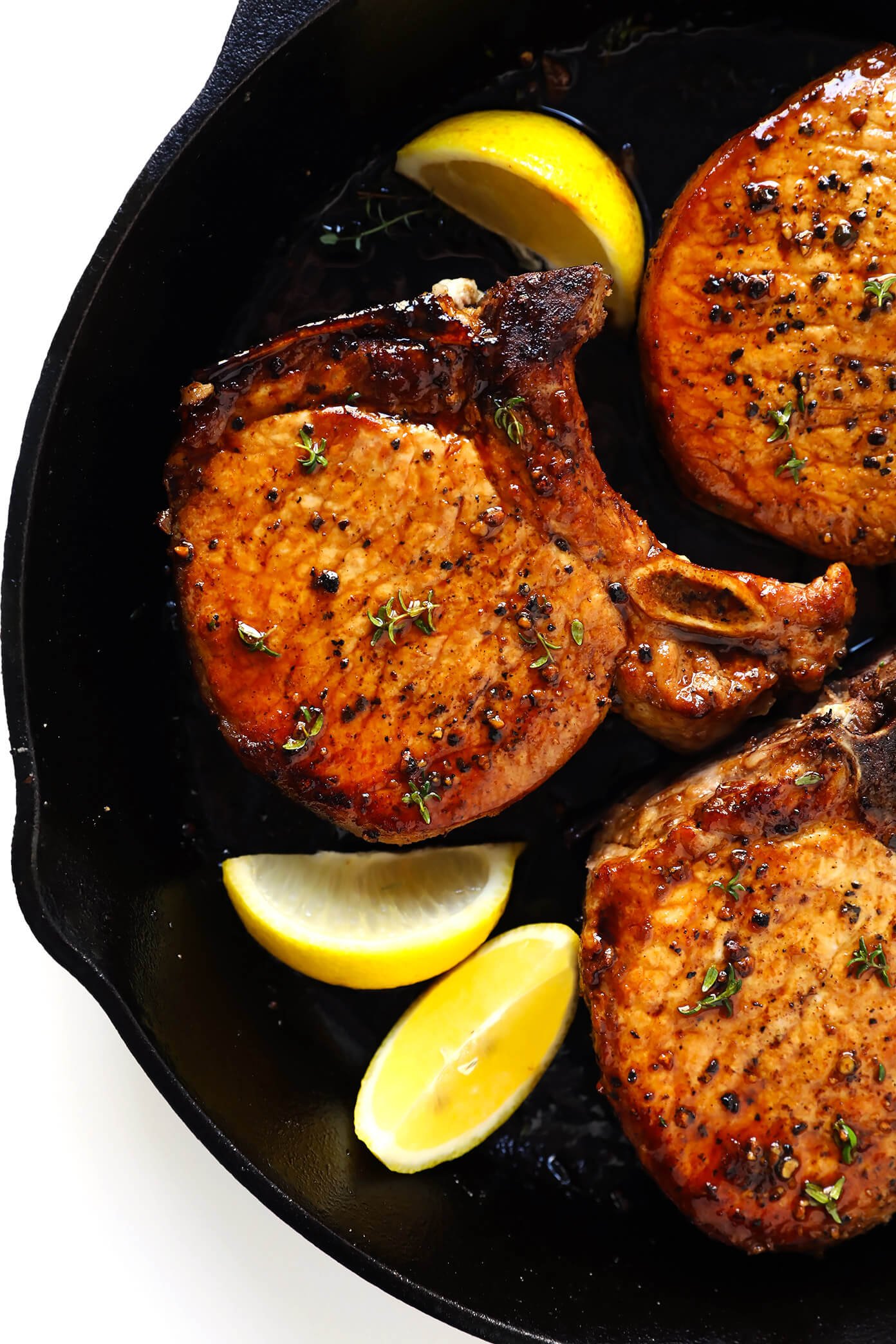 Other Baked Protein Tutorials:
Be sure to check out our other baked protein tutorials here on the blog.  (More coming soon!)
Enjoy, everyone!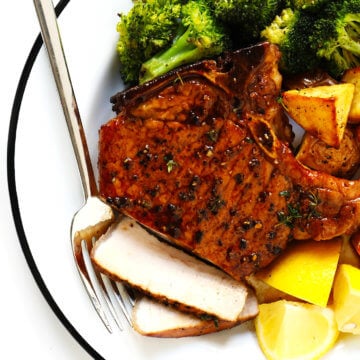 Yield: 2 servings
Baked Pork Chops
Ingredients:
Directions:
Difficulty: EasyCategory: Gluten-Free


All images and text ©Gimme Some Oven
If you make this recipe, be sure to snap a photo and hashtag it #gimmesomeoven. I'd love to see what you cook!