This Baked Raspberry Oatmeal is my new favorite breakfast! Baked Oatmeal is warm, cozy and comforting…plus it's super easy to whip up. Make this your new weekend breakfast staple!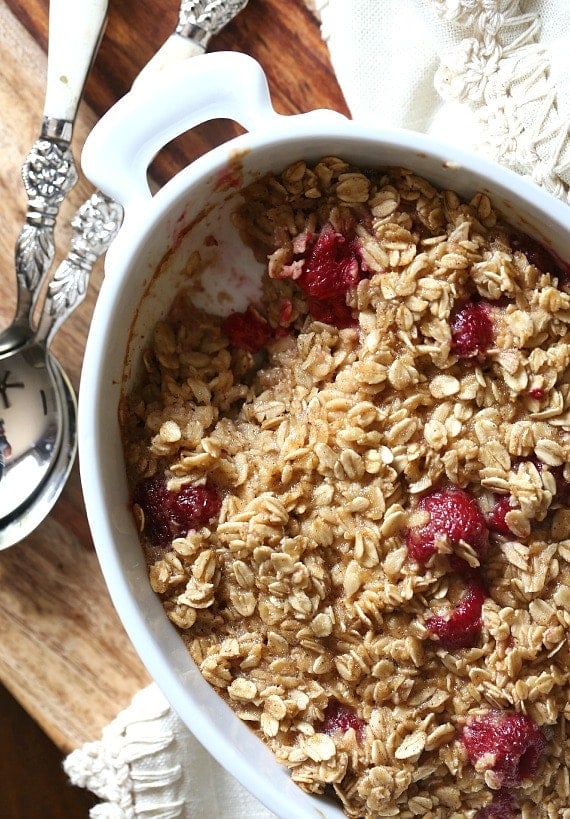 Baked Oatmeal Is My New Favorite Way To Eat Oatmeal!
Looking for a cross between oatmeal and a cake? Baked oatmeal is the recipe you've been looking for. I've never been an oatmeal for breakfast kind of girl. I don't know if it is a texture thing…or the fact that I grew up with my mom buying the Instant Oatmeal packets…but I just never loved it.
But Baked Oatmeal has taught me that THIS is the way oatmeal for breakfast was meant to be consumed! Yes, it takes a bit longer than an Instant Oatmeal, but I you can even make this the night before and heat it up in the morning to save time, or as a great brunch item when you're entertaining.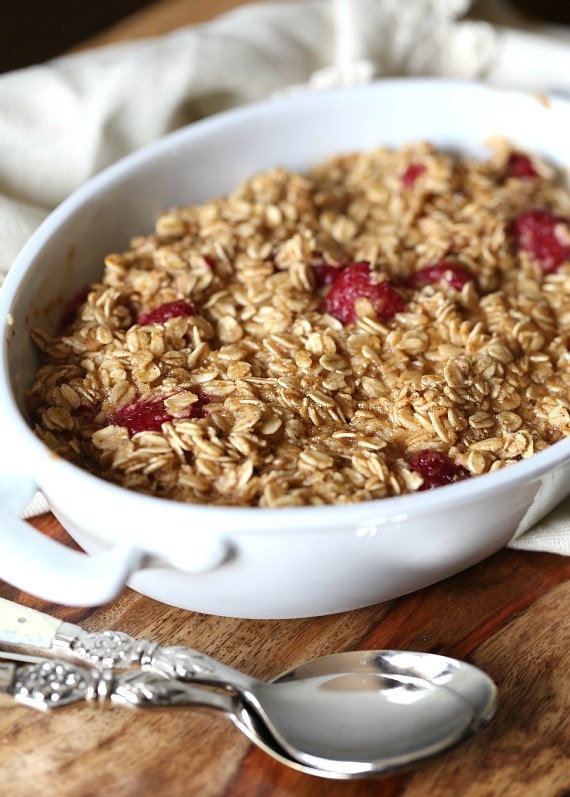 What Ingredients Are In Baked Oatmeal?
Don't let the ingredients list fool you…it looks a little long, I get it…but let me break down the key ingredients what you need:
Oats. Of course you need oats! Use old fashioned (or rolled oats) in this recipe. The bake time is written for rolled oats, not Quick Oats!
Coconut Milk. You can ABSOLUTELY use regular milk. Coconut milk is just a nice option!
Applesauce. This is a great flavor-maker, as well as a healthy way to add moisture.
Brown Sugar. You can use honey, maple syrup, or agave syrup if you prefer. If you do choose to use a liquid sugar, measure out 1/4- cup in a liquid measuring cup!
Here's How You Make Baked Raspberry Oatmeal…
I feel like baked oatmeal is even easier than cooking oatmeal on the stove top. All you do is whisk together the simple ingredients and bake! Like, literally that's all you do. It's really THAT simple!
Do You HAVE To Use Raspberries?
Nope! You can leave out the fruit element altogether, OR you can add other types. Here are a few ideas:
Any other types of berries…blueberries, strawberries, blackberries…
Sliced bananas would be amazing!
Diced apples…yum!
Chopped peaches…giving you peaches and cream oatmeal vibes!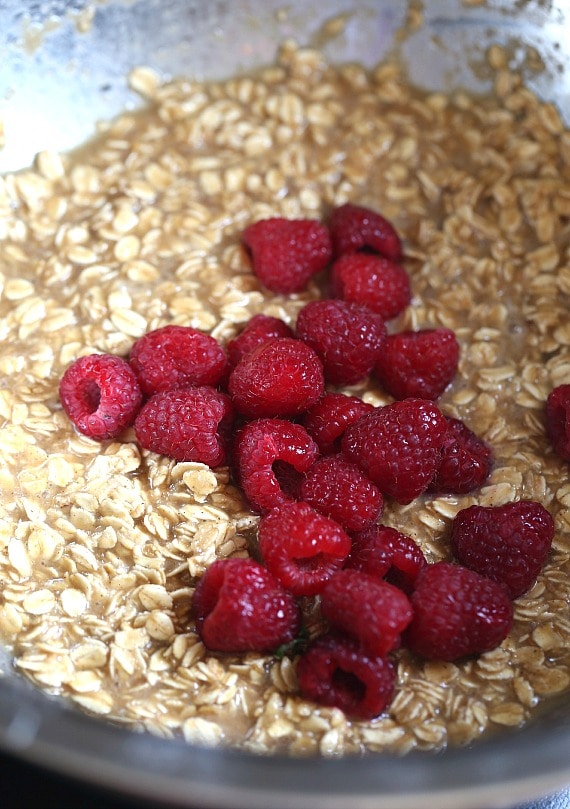 Can You Make This Baked Oatmeal Ahead?
Absolutely! You can make this on the spot, or make it the night before. To reheat the oatmeal just cover it and place in a 350°F preheated oven for 10-ish minutes. Or heat up individual portions in the microwave!
What Can You Top This Baked Oatmeal With?
So many options!!! Here are a few that I love…
A drizzle of browned butter. OMG YES.
A few teaspoons of milk or heavy cream.
Maple Syrup
Whipped Cream
A sprinkle of brown sugar.
Looking For More Oatmeal Recipes? Try These: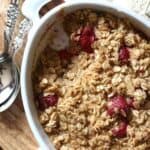 ---
---
Ingredients:
1 1/2 cup

s old fashioned rolled oats

1/2 cup

loose packed light brown sugar

1 tsp

baking powder

1/2 tsp

ground cinnamon

1/4 tsp

salt

1/2 cup

canned light coconut milk

1/4 cup

applesauce

1

egg

1 tsp

vanilla

1 Tbsp

butter, melted

2/3 cup

fresh raspberries
---
Instructions:
Preheat oven to 350°
Spray a small baking dish with spray. I used a small 2 serving round oval dish.
In a large bowl whisk together oats, brown sugar, baking powder, cinnamon and salt. In a separate bowl whisk together coconut milk, applesauce, egg and vanilla. Slowly add melted butter, whisking constantly. Pour this mixture into the oat mixture and stir to combine.
Gently stir in the raspberries and transfer to prepared dish.
Bake oatmeal for 25 minutes until top is lightly golden.
Drizzle with additional coconut milk if desired.
---
Notes:
recipe from Seriously Delish
Jessica's recipe also suggests drizzling 2 Tbsp of brown butter on top of the oatmeal. This would be AMAZING, I just opted not to, trying to keep the fat a little lower..but you should totally try it!
Want To Save This Recipe?