This is the absolute BEST White Chicken Chili recipe. Make it in the Crock Pot or on the stove top…either way so much flavor is packed into this lean and easy white chili.
Top this chili with my favorite Avocado Salsa and some crushed tortilla chips…it's the PERFECT combo!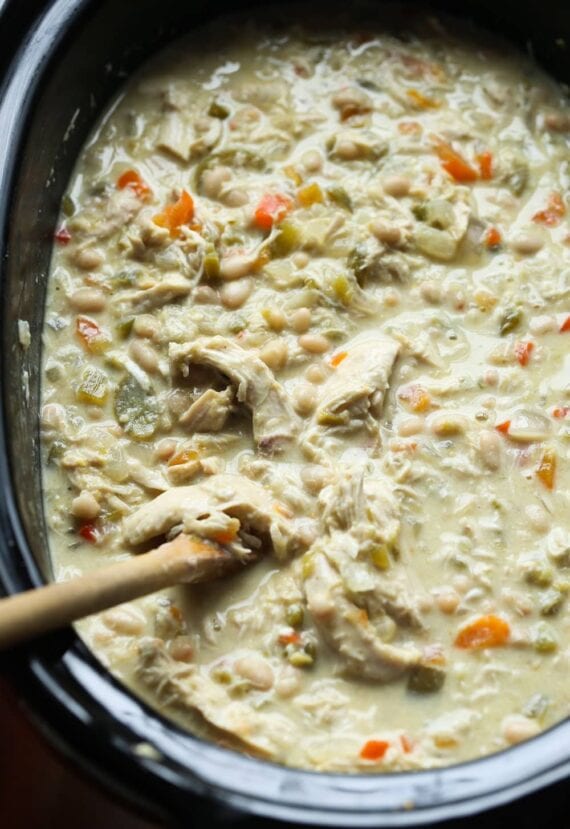 My Most Favorite White Chicken Chili Ever!
We make the white chicken chili recipe all year long. It's cozy in the fall and winter time, perfect for tailgating and game day, and amazing in the hot summer months because you don't have to turn on your stove top!
There is a ton of flavor in this easy dish, and it's very adaptable as well. You can make it as spicy or mild as you would like. You can also add in some smoked paprika, or a few drops of liquid smoke to up the smokiness.
It's also a great chili to top! Tortilla chips, salsa, guacamole, cilantro, more jalapeños…honestly, get creative!
Do You Have To Make This Chili In The Crock Pot?
NO! I love making this in the slow cooker, just because it's easy. But sometimes I don't plan ahead. Luckily this recipe works just as well on the stove top.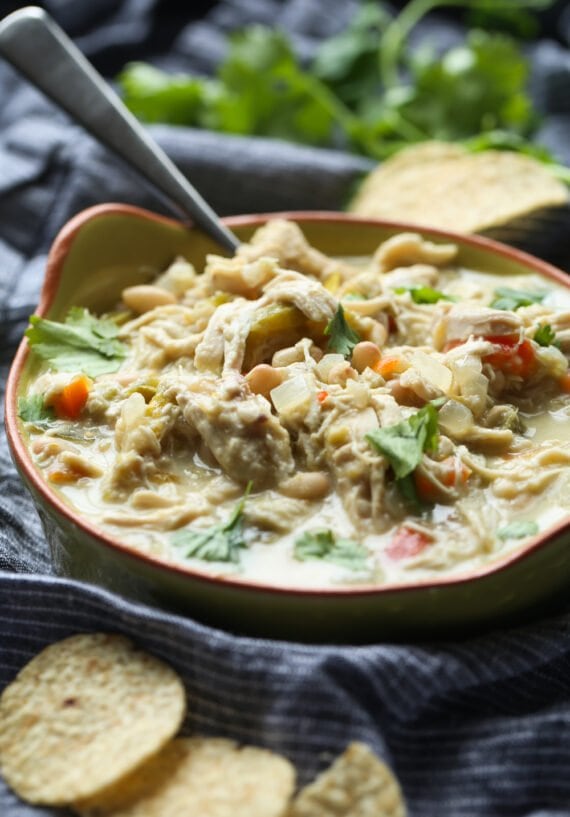 Ingredients You Need…
diced onion
bone-in split chicken breasts
minced garlic
diced green and red bell pepper
salsa verde
chopped green chilis
pickled jalapeños
cumin
kosher salt
white beans
sour cream
chopped cilantro
But Can You Use Boneless Chicken Instead?
Yep! If you don't want to worry about bones at all use boneless chicken breasts instead. Use 3-4 pounds of boneless, skinless chicken breasts instead.
If You Don't Like Spicy…
This recipe calls for a whole cup of pickled jalapeños. If you don't like things as spicy, cut it back to 1/2 cup!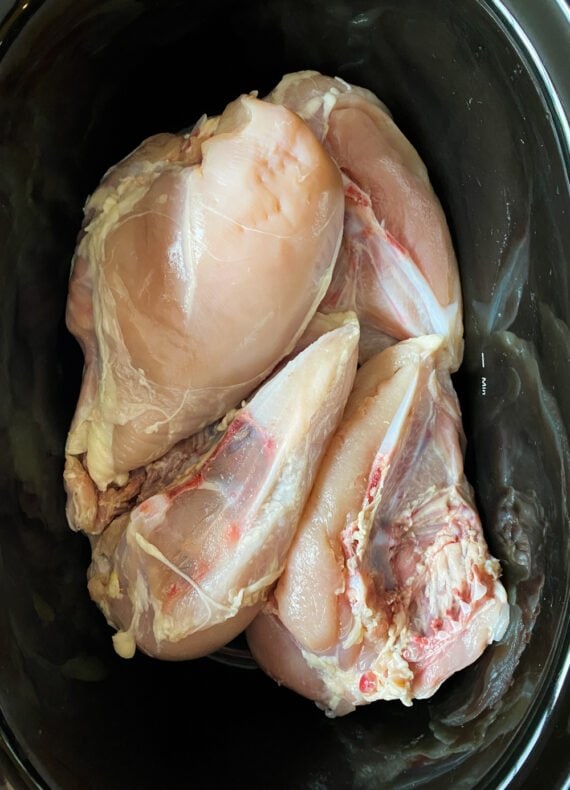 Making This In the Crock Pot…
This is a great fix-it-and-forget-it dinner. Essentially you dump everything into the slow cooker (except the sour cream and beans) and leave it alone for a few hours.
I like to microwave the onions before adding them to the Crock Pot just to ensure they get cooked down nice and soft. And this extra little steps just starts the softening process.
Making This On the Stove Top…
You simply prepare the recipe as written, but instead of using a slow cooker, use a large, covered Dutch Oven or stock pot. Cook the chicken, veggies, and spices on medium-low heat for 45-60 minutes before removing the chicken to shred. Then add the sour cream and beans to the pot, bring back up to a simmer and return the shredded chicken back to the pot.
Can You Freeze White Chicken Chili?
Absolutely! Store it in an airtight container and freeze it for up to a month. Allow it to thaw in the refrigerator before reheating on the stove top.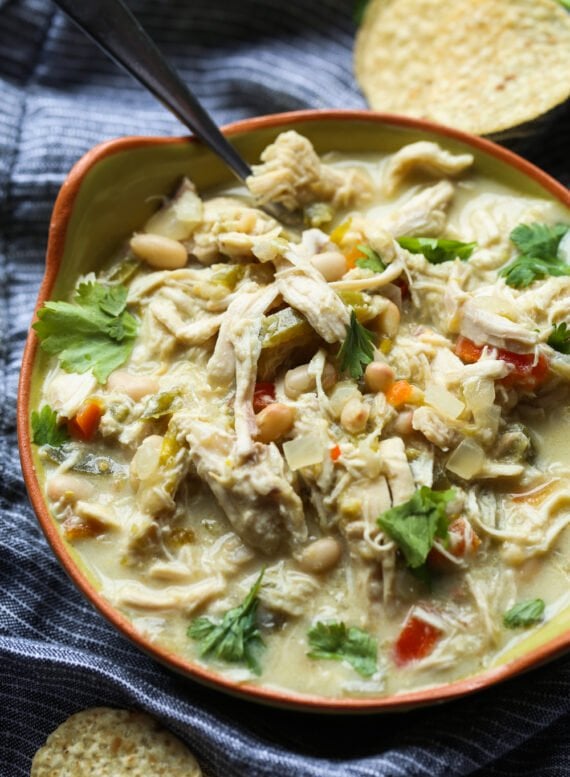 If You're Looking For More Chili Recipes, Try These…