This post may contain affiliate links. Please read my disclosure policy.
This banana baked oatmeal cups recipe is easy to make and perfect for healthy grab-and-go breakfasts.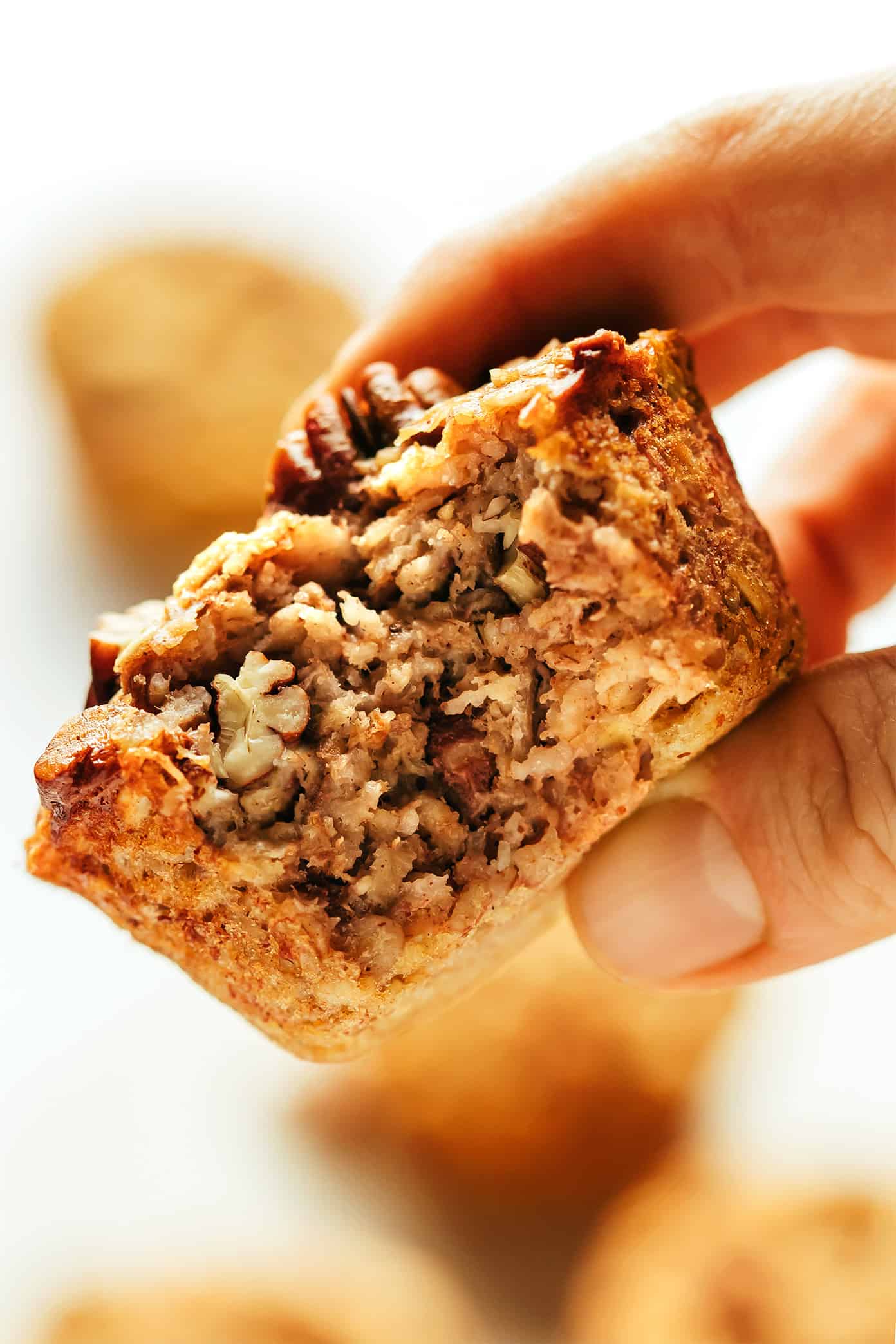 Say hello to the yummy banana baked oatmeal cups that my son and I have been loving lately. ♡
Teo has recently crossed over into that delightful stage of toddlerhood where he's proudly vetoing most new recipes I make for him lately. But these baked oatmeal cups (and these very similar healthy banana muffins) continue to be a big hit…which I'm all for!
This baked oatmeal recipe is incredibly easy to mix up with a simple base of oats, bananas, egg, milk (dairy or non-dairy) and warming spices. We typically just add in a hint of maple syrup to sweeten, since those ripe bananas are already quite sweet on their own. And then while I usually go the banana nut route and add in some chopped pecans or walnuts while making these for Teo, you could totally add in some chocolate chips or dried fruit to your baked oatmeal cups if you'd like.
This recipe freezes also well if you'd like to meal prep a big batch ahead of time, and happens to be naturally gluten-free and can easily be made vegan if you'd like. And if you don't feel like making individual baking cups, you can also also just pour the batter into a baking dish and cut it into slices too.
So many good reasons to make this recipe, but more than anything, we keep making these banana baked oatmeal cups because they're simply delicious. Teo thinks you're going to love them too!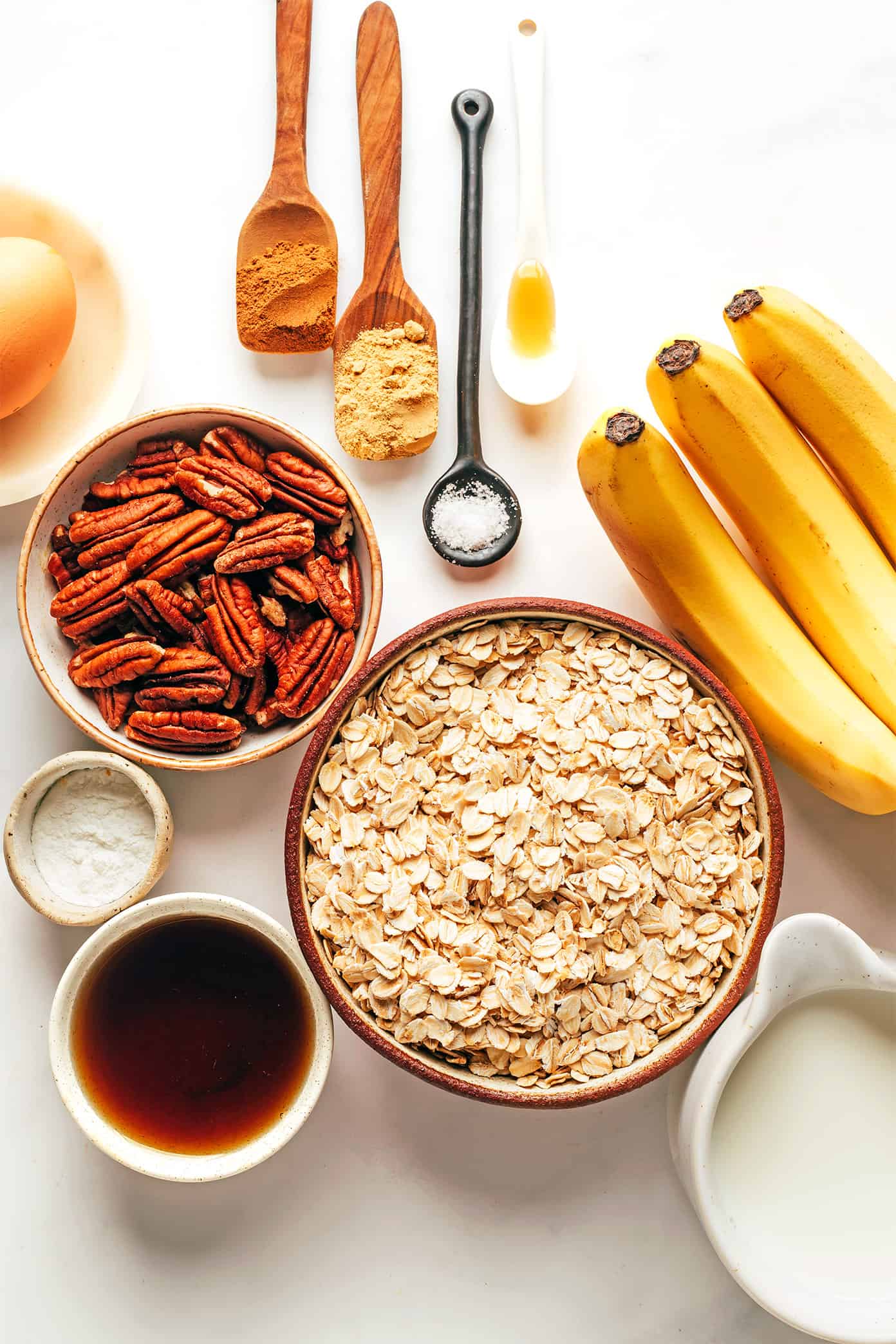 Banana Baked Oatmeal Cups Ingredients
Here are a few quick notes about the ingredients you will need to make this baked banana oatmeal cups recipe:
Old-fashioned oats: Be sure to use old-fashioned (aka "rolled") oats for this recipe and not quick oats. If you are making this recipe gluten-free, be sure to also check the label to be sure that you are purchasing certified gluten-free oats.
Ripe bananas: Use bananas that are nice and ripe in order to give this recipe the richest, sweetest banana flavor.
Milk: Feel free to use whatever dairy or non-dairy plain milk that you prefer. We typically use plain oat milk with this recipe here in our house.
Egg: I always use an egg will help to bind all of these ingredients together, but you are welcome to use a flax egg if you would like to make this recipe vegan (see instructions below).
Maple syrup: This is my natural sweetener of choice for this recipe, since the flavor of maple syrup always pairs so deliciously with banana and nuts. But feel free to sub in brown sugar, coconut sugar or honey if you prefer.
Baking powder: This helps to give the oatmeal cups a slight rise as they bake.
Spices, vanilla extract and salt: I typically make these oatmeal cups with a mix of ground cinnamon, ground ginger, vanilla extract and fine sea salt. But feel free to play around with whatever warming spices (such as cardamom, nutmeg, allspice, cloves, etc) that you love best.
Nuts or chocolate chips: We love adding chopped pecans or walnuts to these oatmeal cups for extra protein. But you're welcome to toss in a handful of chocolate chips instead, or use a mix of chocolate and nuts!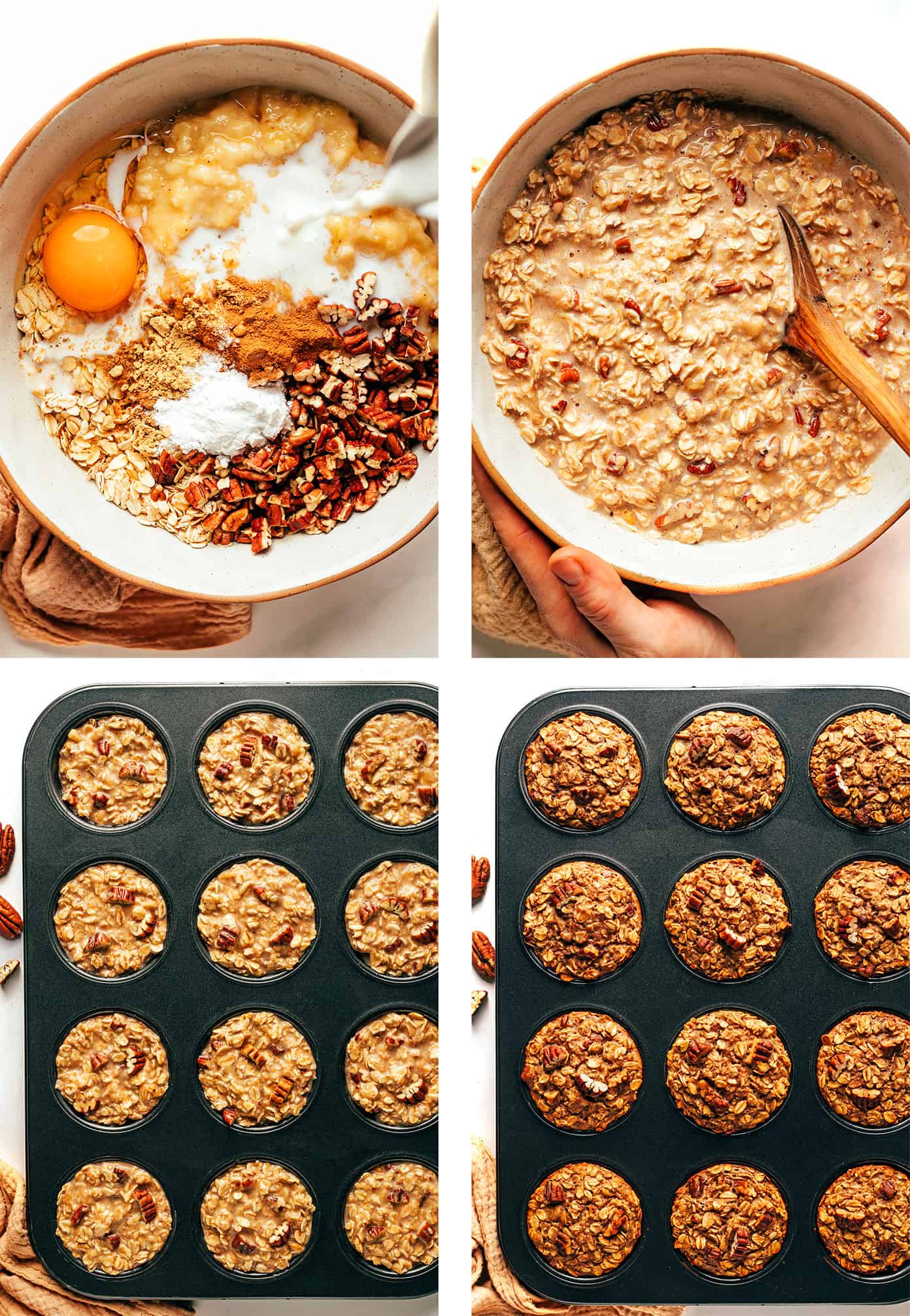 How To Make Baked Oatmeal Cups
Full instructions for how to make baked oatmeal cups are included in the recipe below, but the general method is so easy! Simply…
Mix. Stir all of the ingredients together in a mixing bowl. Then let the batter rest for 5 minutes or so, which will allow the oats to absorb some of the liquid and thicken the batter a bit.
Bake. Portion the batter evenly into greased baking cups. (I find it's easiest to do this with a muffin scoop.) Bake for about 25-30 minutes, or until a toothpick inserted in the middle of an oatmeal cup comes out clean.
Enjoy. Then let the oatmeal cups cool on a wire baking rack for about 10 minutes, serve and enjoy!
How To Store Baked Oatmeal Cups
Baked oatmeal cups can be kept in a food storage in the refrigerator for up to 4 days or frozen for up to 3 months. You can reheat frozen baking cups in the microwave or bake at 300°F until warmed through.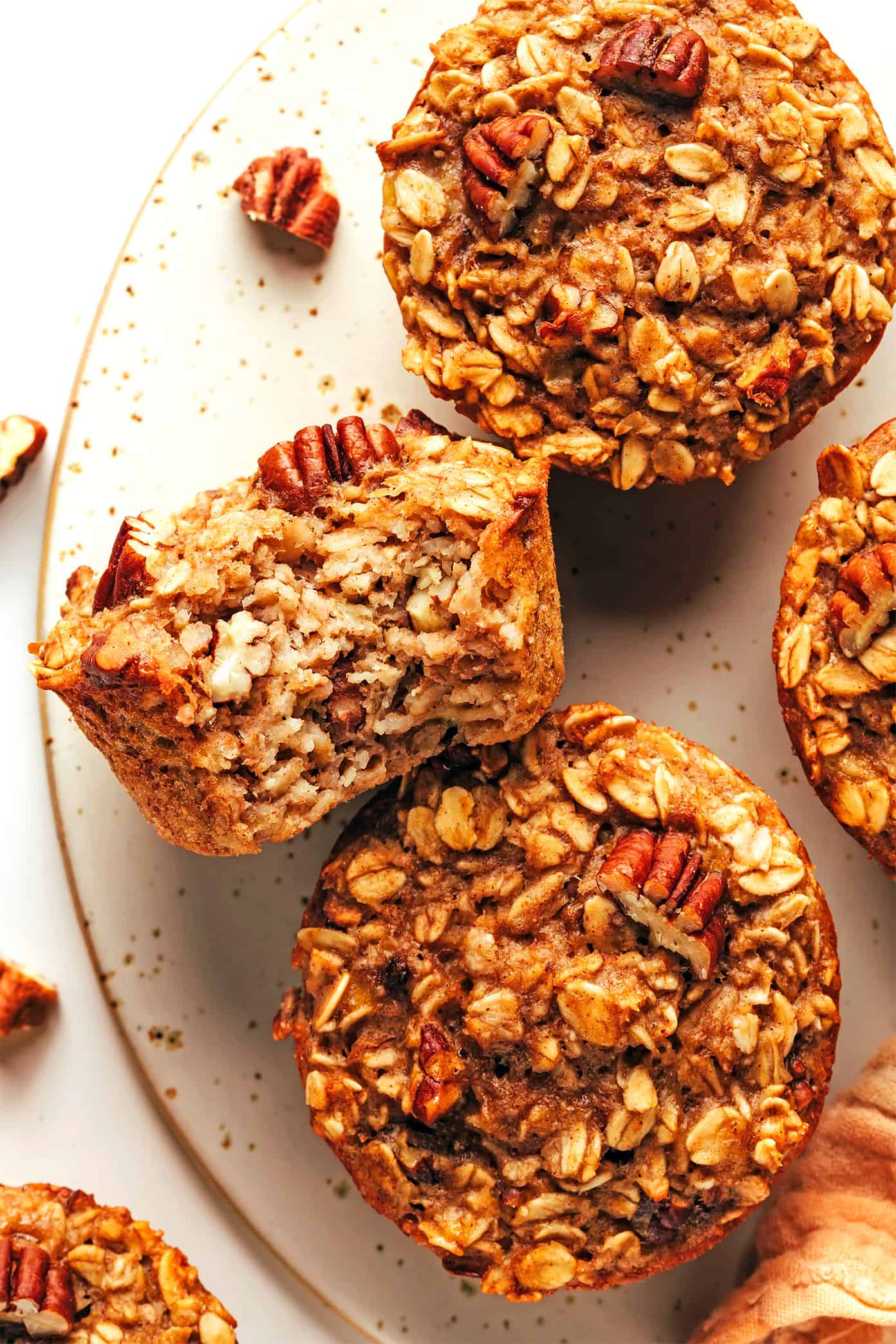 Recipe Variations
Here are a few additional variations you are welcome to try with this banana baked oatmeal recipe:
Use a baking dish: Bake the batter in a baking dish (I'd recommend a 9 x 9-inch) instead of individual baking cups. Cooking time will depend on the size of your baking dish.
Use different mix-ins: Use whatever other kinds of chopped nuts or baking chips you might prefer, or add in some chopped dried fruit, coconut flakes, or fresh berries. I recommend limiting the total amount of mix-ins to around 1/2 cup.
Use different spices: Use whatever other warming spices you might prefer, either in addition to or mixed with the ground cinnamon and ginger, such as ground allspices, cardamom, cloves or nutmeg.
Make it dairy-free: Use dairy-free milk and chocolate chips (if using) to make this recipe dairy-free.
Make it vegan: Use a flax egg (3 tablespoons water mixed with 1 tablespoon ground flax seeds, soaked together for 5 minutes) in place of a traditional egg.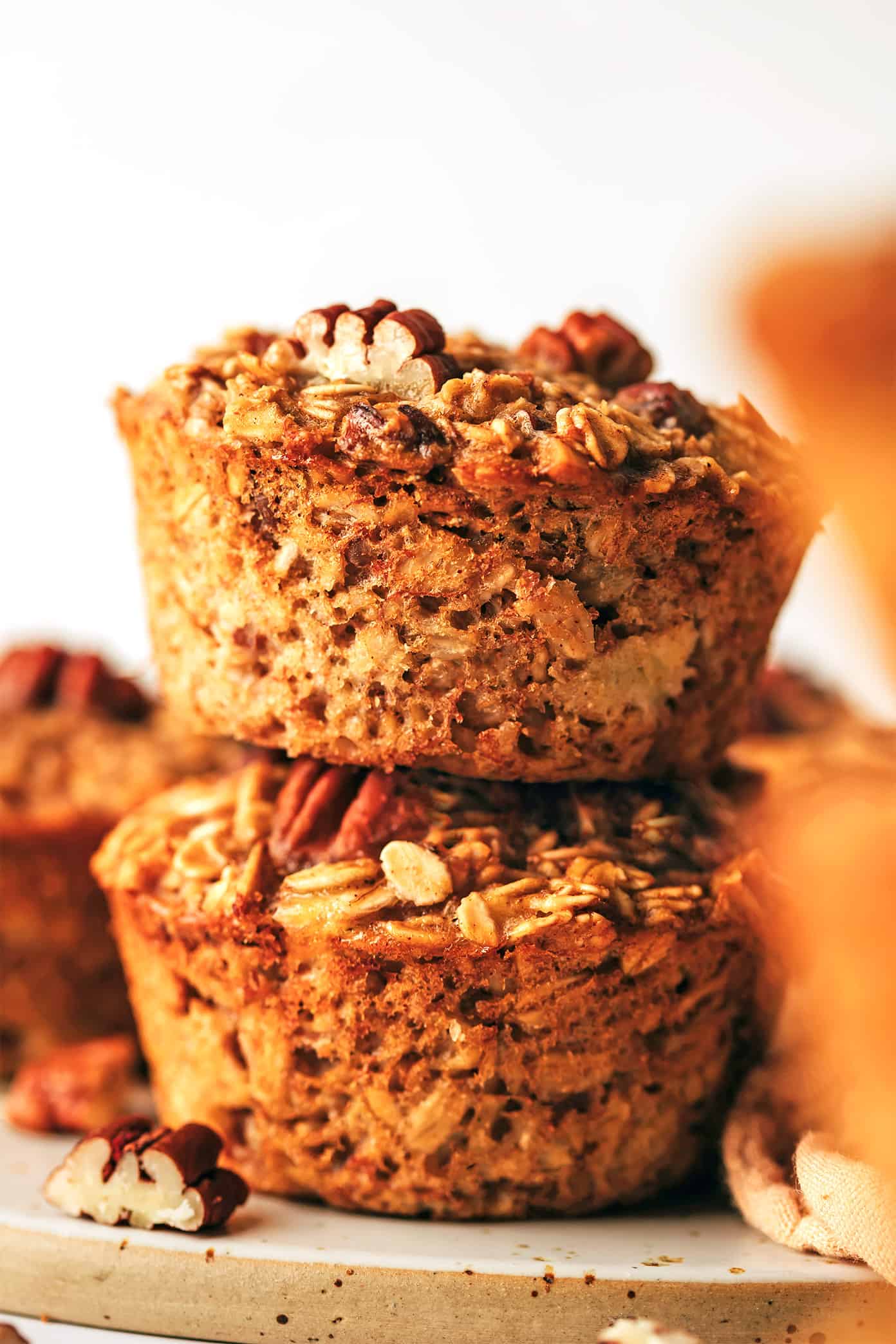 More Favorite Banana Recipes
Looking for more healthy banana recipes to try? Here are a few of our favorites: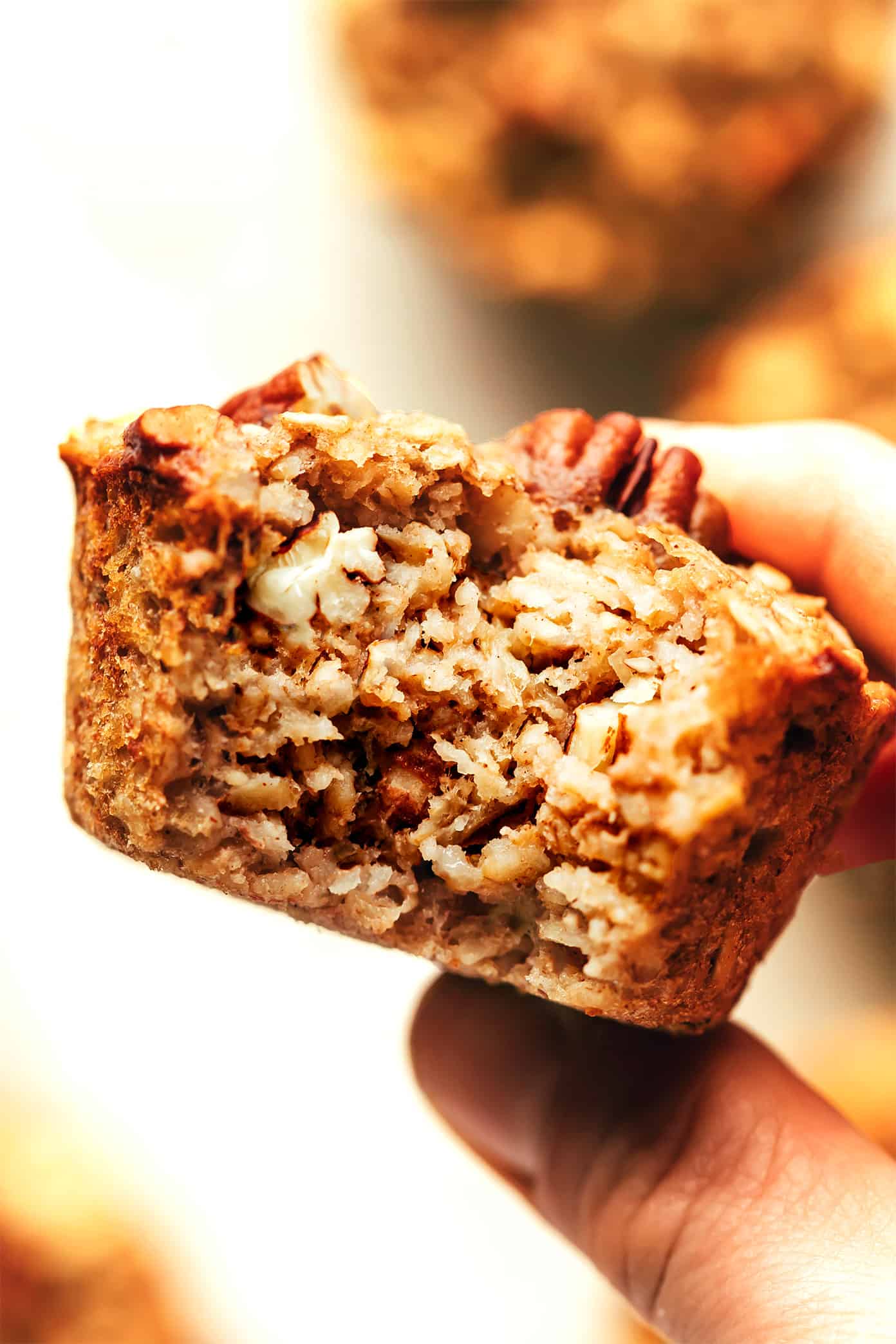 ---
3 cups

old-fashioned oats

1 1/4 cups

plain milk (dairy or non-dairy)

1 cup

mashed ripe bananas

1

egg

1/2 cup

chopped pecans

1/3 cup

maple syrup

1 teaspoon

baking powder

1 teaspoon

pure vanilla extract

1/2 teaspoon

each: fine sea salt, ground cinnamon, ground ginger
---
Prep oven and muffin pan.

Heat oven to 350°F (180°F). Grease a muffin pan with baking spray.

Mix batter.

Stir all of the ingredients together in a large mixing bowl until evenly combined. Let the batter rest for 5 minutes so that the oats can absorb some of the liquid.

Bake.

Scoop the batter into the prepared muffin cups so that they are full but not overflowing. Bake for 25-30 minutes or until a toothpick inserted in the middle of an oatmeal cup comes out clean. Transfer the pan to a wire rack to cool for at least 10 minutes.

Serve.

Serve warm and enjoy! To store any leftovers, allow the oatmeal cups to cool to room temperature. Then transfer to a sealed storage container and refrigerate for up to 4 days or freeze for up to 3 months.
---