These THAI PEANUT CAULIFLOWER STEAKS are just the right amount of creamy, spicy, and tasty. This easy vegetarian meal or side is always a hit. SO MUCH FLAVOR!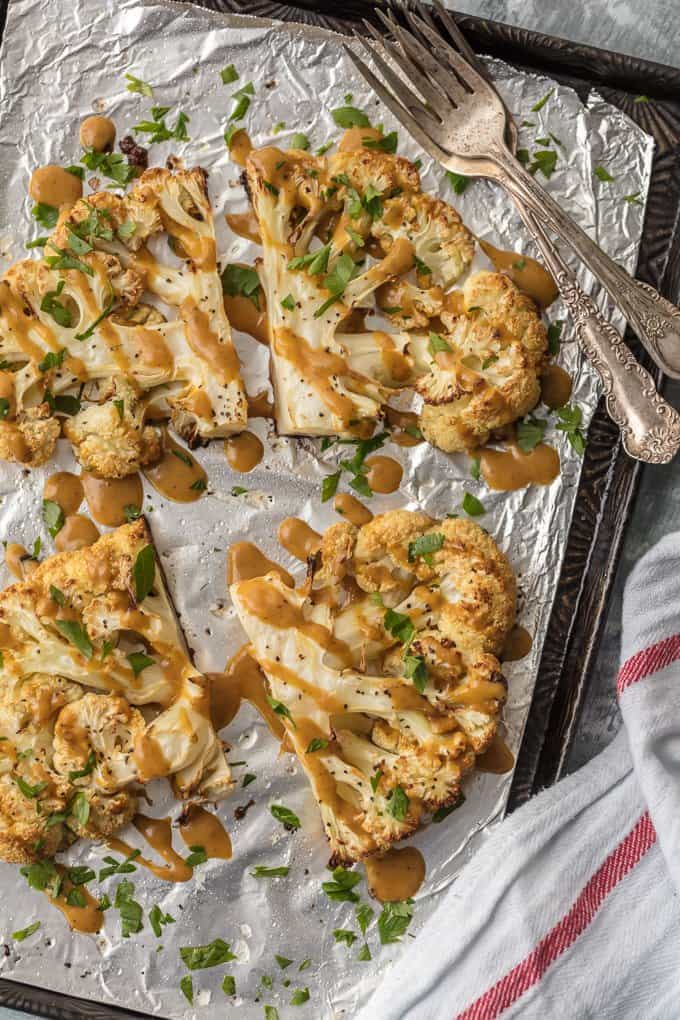 It's January 3rd and I have New Years Resolutions on the brain! The Cookie Rookie has never been known for all heathy or diet recipes, but I do like the post one now and then that is easy and also super flavorful. Over the years I have found several healthy favorites, including our Salmon with Avocado Salsa (which also happens to be the #3 most popular recipe on the site…so you guys must love a little dose of skinny once in a while as well!), Pesto Chicken Tortellini Soup, Sheet Pan Chicken Parmesan, and Skillet BLT Chicken and Rice.
Sometimes I forget that I love food that doesn't include cheese, and these AMMMMAZING THAI PEANUT BUTTER CAULIFLOWER STEAKS are the perfect example. They're the ultimate in both ease and flavor, and you don't have to feel bad about eating more than one. Serve it as a side, OR a main course. This sauce you guys…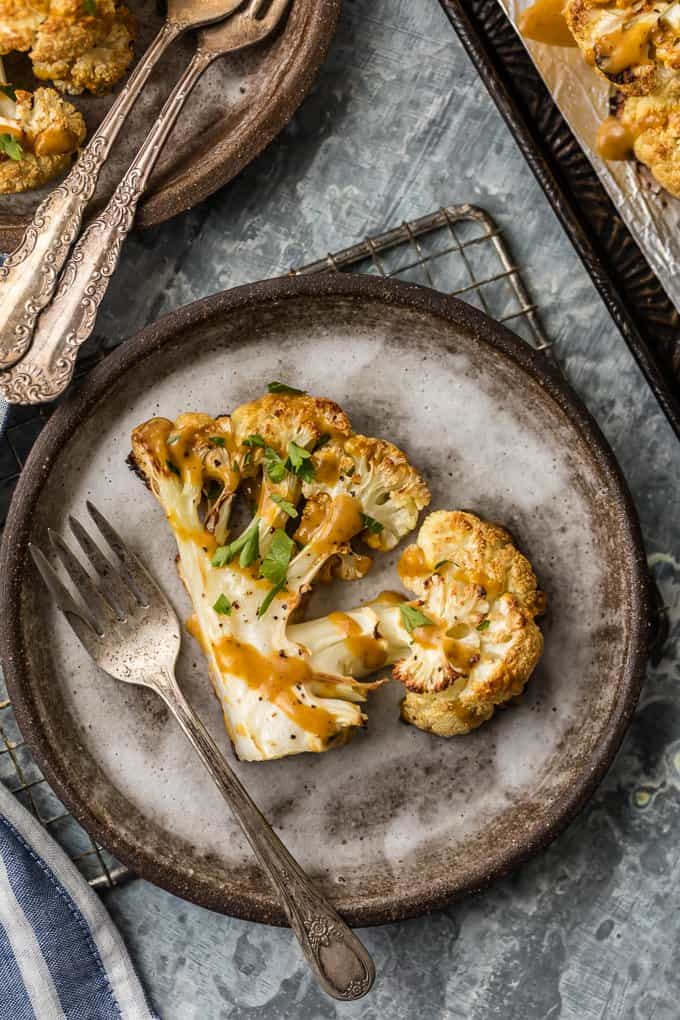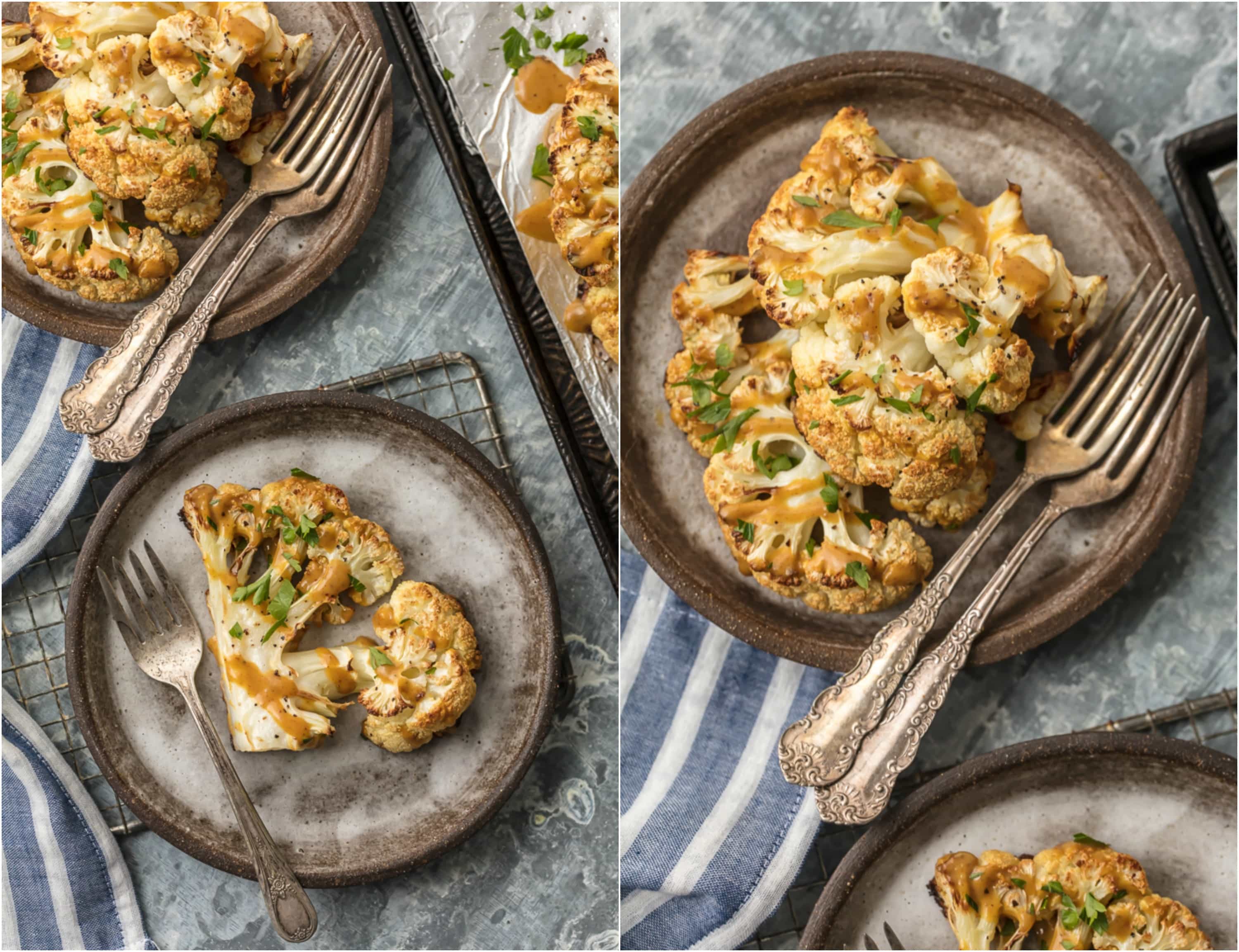 I actually made these last Spring after I had Henry and was trying hard to eat healthy and lose the baby weight. Let's be honest, I didn't quite get there and need to get my butt in gear again.
Food like these Cauliflower Steaks help me to remember that making smart choice with eating can be just as delicious as layering on the cheese and carbs. I think I could get used to meals like this! Pat even approved. That should be a good gauge for an awesome recipe.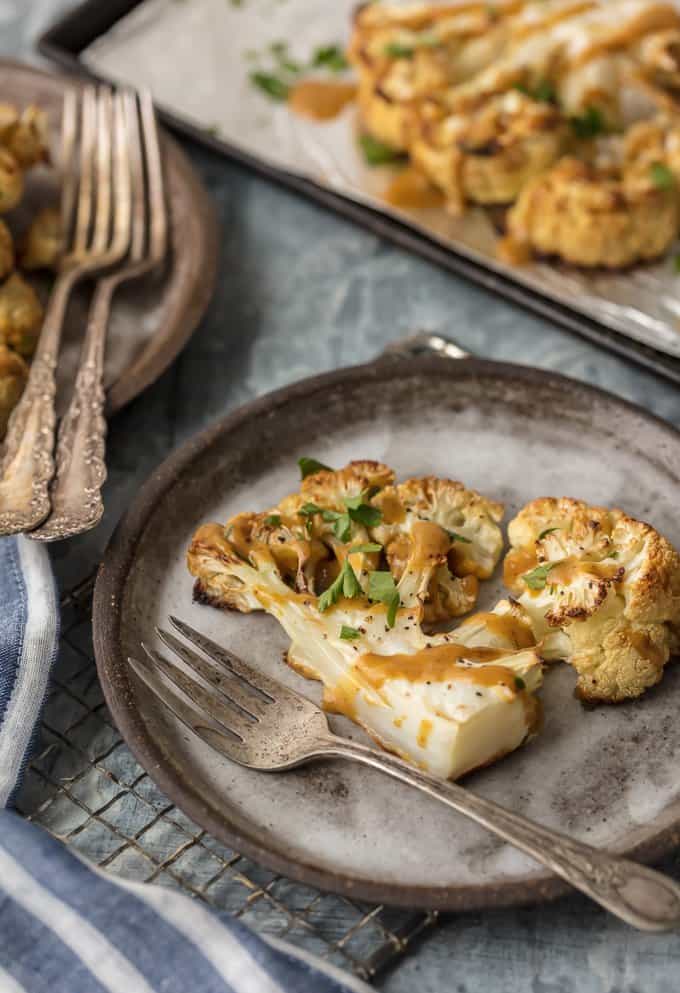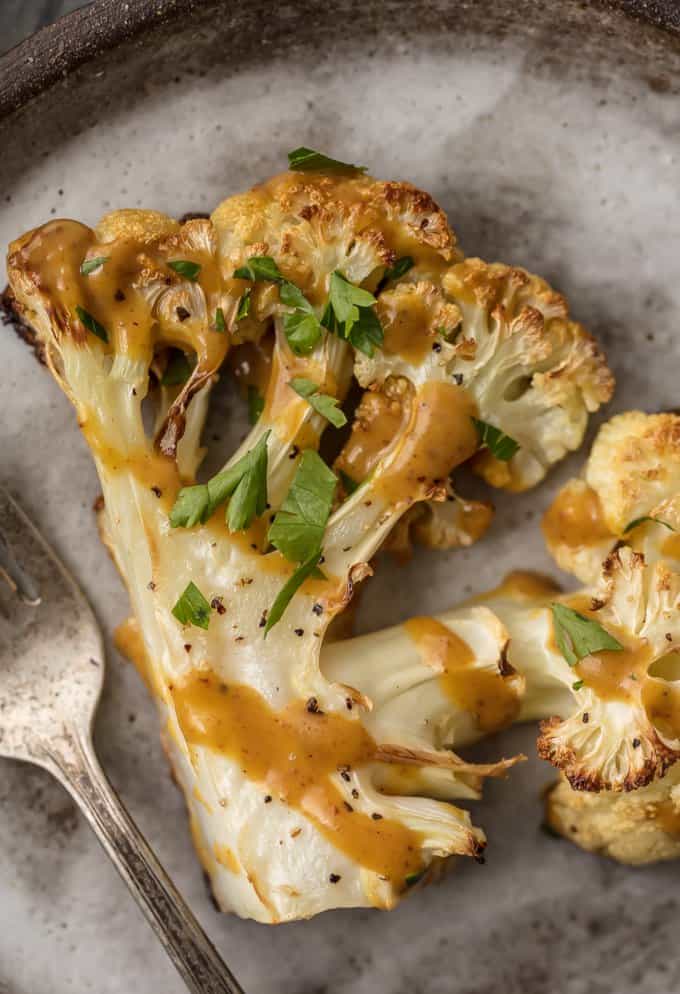 What are your New Years Resolutions? Some of mine include eating cheese and chocolate in moderation, keep my studio/office CLEAN and organized, to quit waking sweet Henry up in the middle of the night to cuddle him for my own selfish gain, and to eat more of these Thai Peanut Cauliflower Steaks! Join me 🙂
Enjoy!
Thai Peanut Cauliflower Steaks
These THAI PEANUT CAULIFLOWER STEAKS are just the right amount of creamy, spicy, and tasty. This easy vegetarian meal or side is always a hit. SO MUCH FLAVOR!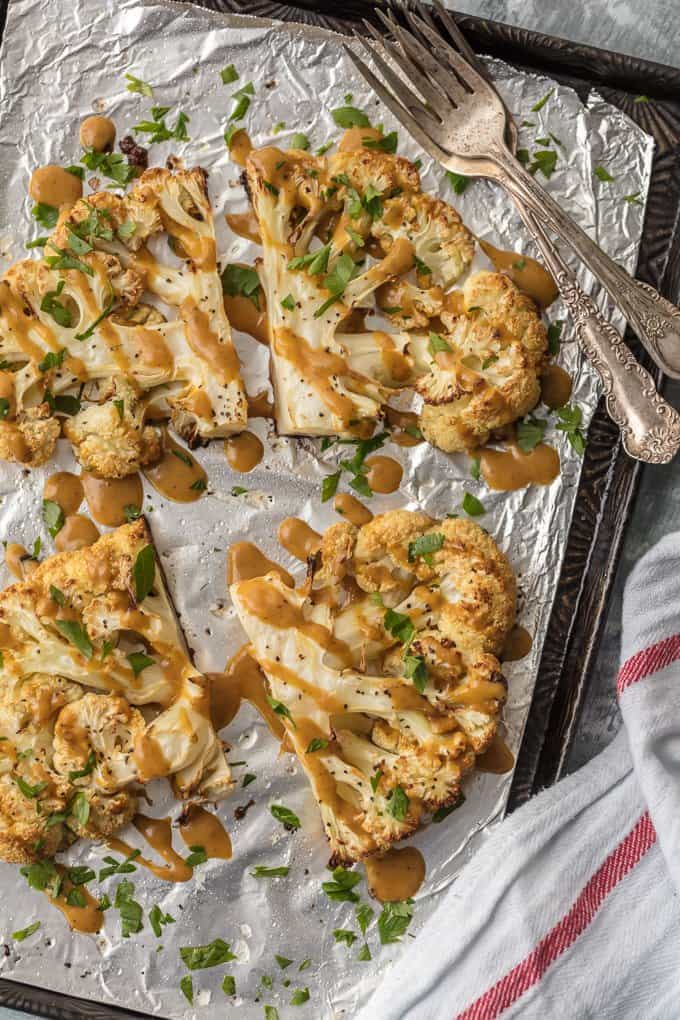 Ingredients
Instructions
For the Cauliflower Steaks:

Preheat oven to 400F and cover a baking sheet with foil. Spray the foil with cooking spray.
Slice the cauliflower head into 4 even pieces and place them, evenly spaced on the prepared baking sheet. (Save the extra cauliflower pieces for later use or roast alongside the steaks.) Brush each steak with olive oil then sprinkle with salt & pepper. Cook 30-35 minutes or until cauliflower is tender and edges are beginning to carmelize.
While cauliflower is cooking, prepare the sauce.

For the Thai Peanut Sauce:

Place all sauce ingredients in a medium saucepan over medium heat. Whisk constantly until sauce comes to a slow boil. Reduce the heat to low and simmer 5-7 minutes. Whisk continuously so mixture doesn't scorch at the bottom. Remove sauce from the heat.
Drizzle sauce over cooked cauliflower and serve.

*See Notes

Enjoy!
*Note: The Thai Peanut Sauce will keep in a glass container in the refrigerator for 4 weeks. It also freezes well.
**Note: Sauce will thicken when refrigerate. Just reheat and serve (dilute with a little water, if necessary).
***Note: Sauce is delicious served with grilled chicken or pork.
7.6.6
2510
https://www.thecookierookie.com/thai-peanut-cauliflower-steaks/
Did you make this recipe?