This post may contain affiliate links. Please read my disclosure policy.
This kefir pancakes recipe is easy to whip up and always so fluffy and delicious!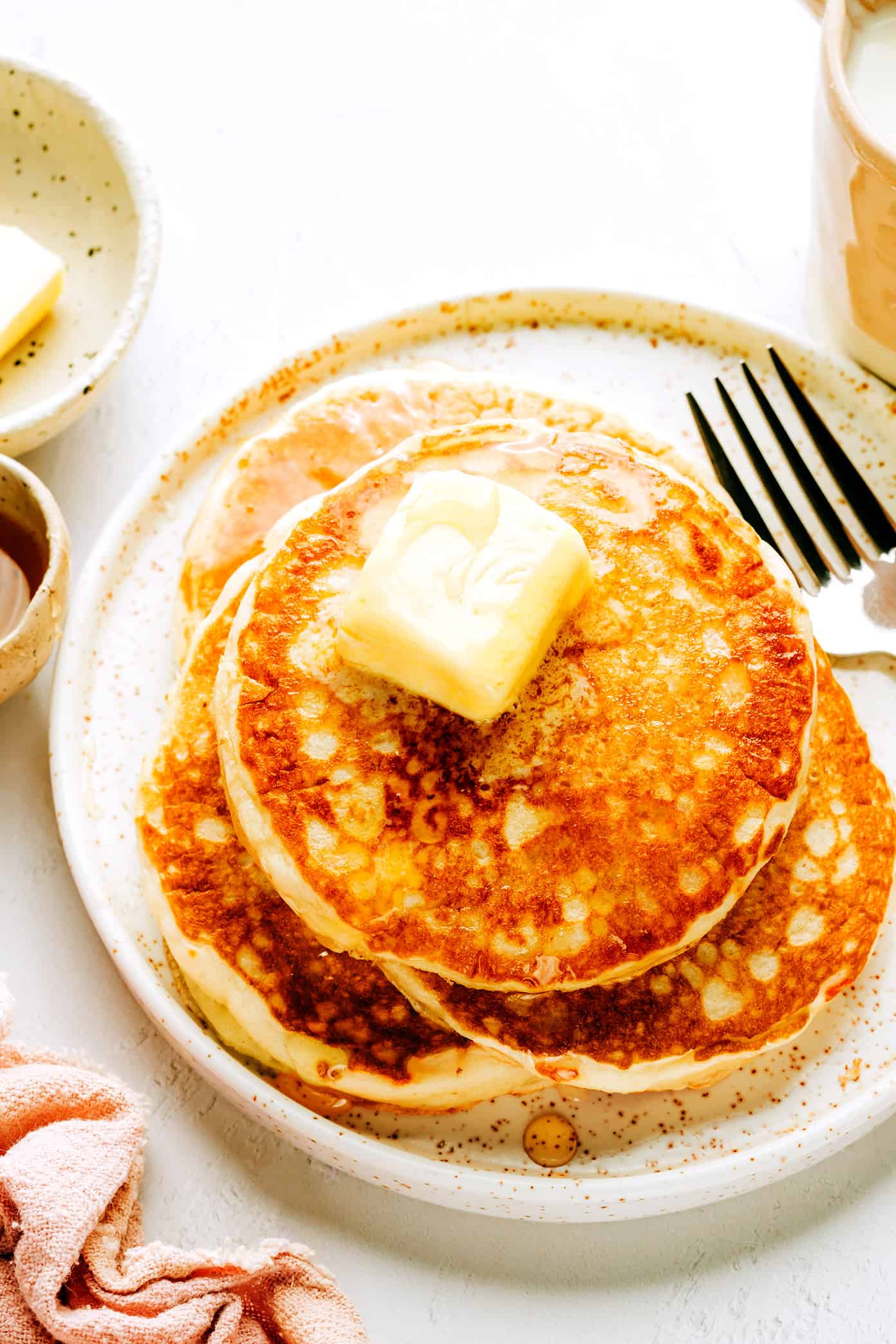 Sundays are pancake days here in our home. ♡
Barclay decided to start this weekly tradition back when we were newlyweds, always saying with a wink that was practicing to get his skills in shape so he could be "that dad who makes really good pancakes" someday if a little one came into the picture. And now, five years into marriage (our anniversary was this week) with a hungry little sous-chef happily perched on his hip (hola, Teo!), I have to say that Pancake Sundays have become sweeter than ever.
It's usually a bit of sweet chaos, of course, with a 14-month-old in the kitchen. But now that Teo is old enough to "help" out a bit, he loves getting to add in the ingredients and stir the batter. And the moment those hot cakes land on his high chair tray, you'd better believe our little dude is on it. He absolutely loves his dad's pancakes and always polishes off every last bite, which couldn't delight Barclay more. And I have to agree…these pancakes are amazing!
Barclay always makes them with kefir instead of buttermilk, which adds in some extra probiotics and makes them extra fluffy. And while we usually just prefer ours plain with a drizzle of maple syrup, there are all sorts of fun mix-ins or toppings that you're welcome to add too. The batter is incredibly quick and easy to make, and I've included all of my best pancake tips below too to help ensure that yours brown and fluff up perfectly.
Anyway, I've been meaning to share this recipe for years. So come join us for Pancake Sunday — or any day of the week that you're craving a sweet treat for breakfast — and let's make a round of Barclay's kefir pancakes together!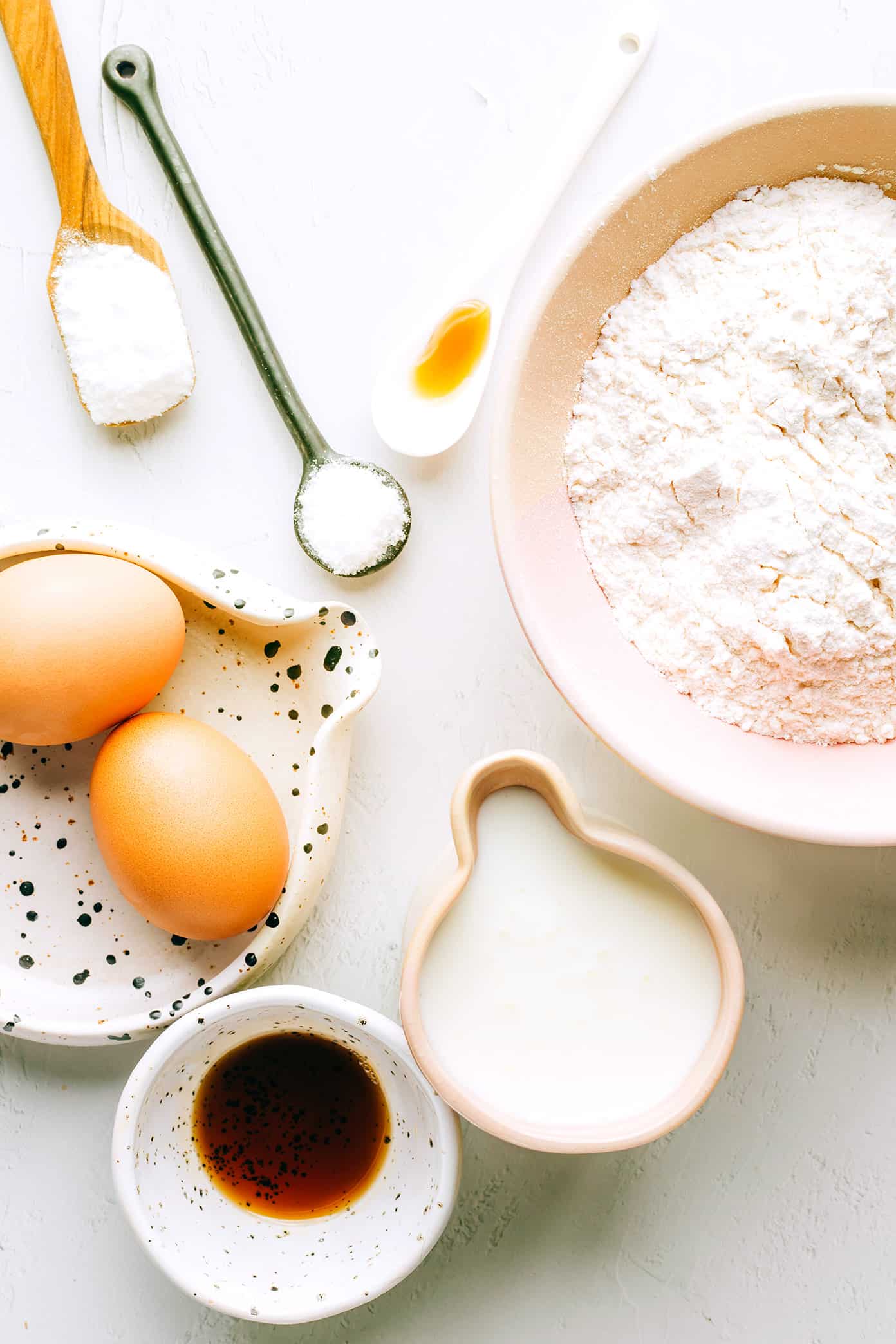 Kefir Pancake Ingredients
Before we get to the full kefir pancake recipe below, here are a few notes about the ingredients you will need:
Kefir: Kefir is a fermented milk drink with a tangy flavor (somewhat similar to buttermilk) and a thick and creamy texture (kind of like thinned-out yogurt). It's high in probiotics and tastes absolutely delicious in pancakes! We usually use organic cow's milk kefir, but we've also tried goat's milk kefir and both work well in this recipe.
Flour: Barclay always make these pancakes with basic all-purpose flour. We can't vouch for any alternative types of flour, but if you give any a try, let us know how it goes in the comment section below.
Baking powder 

and

baking soda: We will use both to make these homemade pancakes perfectly soft and fluffy.
Salt: We always use fine sea salt in our kitchen. (If you only have iodized table salt on hand, please note you will need to use less salt.)
Eggs: You will need two large eggs.
Maple syrup: We will use just a tablespoon of maple syrup to lightly sweeten the pancake batter. Then, of course, we highly recommend plenty extra for drizzling on top of the hot pancakes.
Vanilla extract: Finally, you'll need a hint of vanilla to make the batter extra cozy and delicious.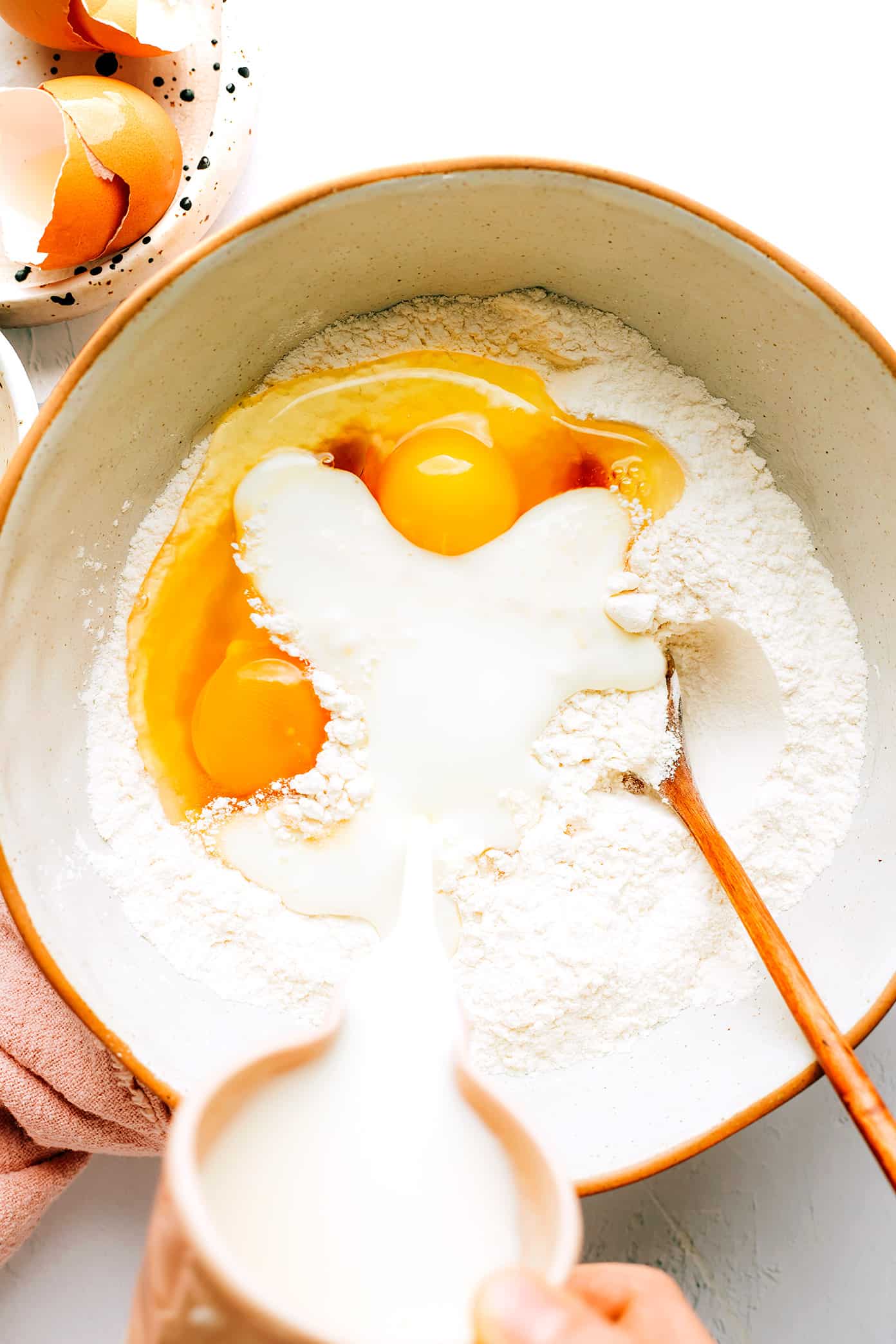 Pancake Tips
Here are a few additional tips to keep in mind for how to make the best pancakes!
Use fresh baking powder and soda. As always when making pancakes, double-check that your baking ingredients are fresh and not expired so that the pancakes will fluff up properly.
Don't over-mix the batter. Over-mixed batter is usually to blame for tough pancakes. So in order to keep your pancakes soft and fluffy, stir the ingredients until they are *just* combined and you no longer see flour streaks. It's okay if a few small lumps remain!
Use a cold stick of butter to grease the pan. I find it's easiest to run the end of a stick of cold butter around the pan to lightly grease it between batches, but you're welcome to use any other butter or oil that you prefer. Also on that note…
Wipe down the skillet between batches. Butter will burn if heated too long. So I recommend keeping a few paper towels handy and (carefully!) wiping down the skillet between batches.
Use a cookie scoop for the batter. If you happen to have a 1/4-cup cookie scoop, it makes measuring out and adding the batter to the pan 

so

much easier. Highly recommend!
Use a flexible spatula to flip. If you love making pancakes as much as we do, I highly recommend investing in a nonstick flexible silicone spatula. It makes it so much easier to peek under the pancakes to know when to flip them and will help avoid any batter sticking to the spatula.
Serve as quickly as possible. Hot pancakes are the best pancakes, so have everything prepped and ready so that you can serve them fresh off the skillet. That said, if you are prepping all of the pancakes at once and need a place for them to rest…
Or transfer to a wire rack or baking sheet. Rather than piling the cooked pancakes into a stack where they can tend to overcook and stick together, place them in a single layer on a large wire cooling rack or baking sheet. You can store the sheet in a low-heat oven (170 to 200°F) to keep them warm while you finish cooking the batch.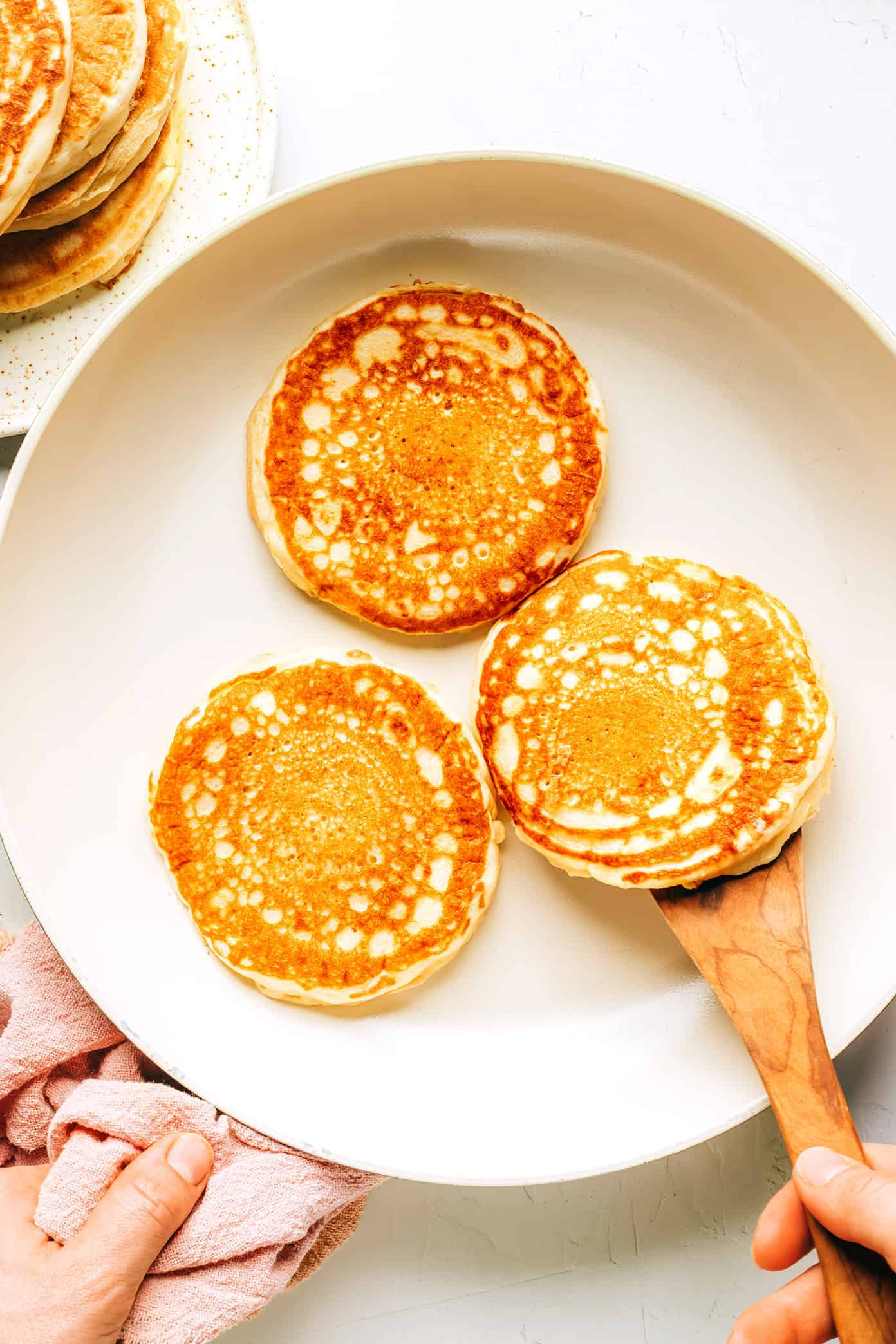 Pancake Toppings and Mix-Ins
Want to customize your homemade pancakes? We often love folding a handful of chocolate chips, chopped nuts, fruit (especially blueberries) or a scoop of nut butter directly into the batter. Or of course, you're welcome to pile them high with your favorite toppings too such as…
butter
maple syrup
whipped cream
chopped fresh fruit
nut butter
Nutella
jam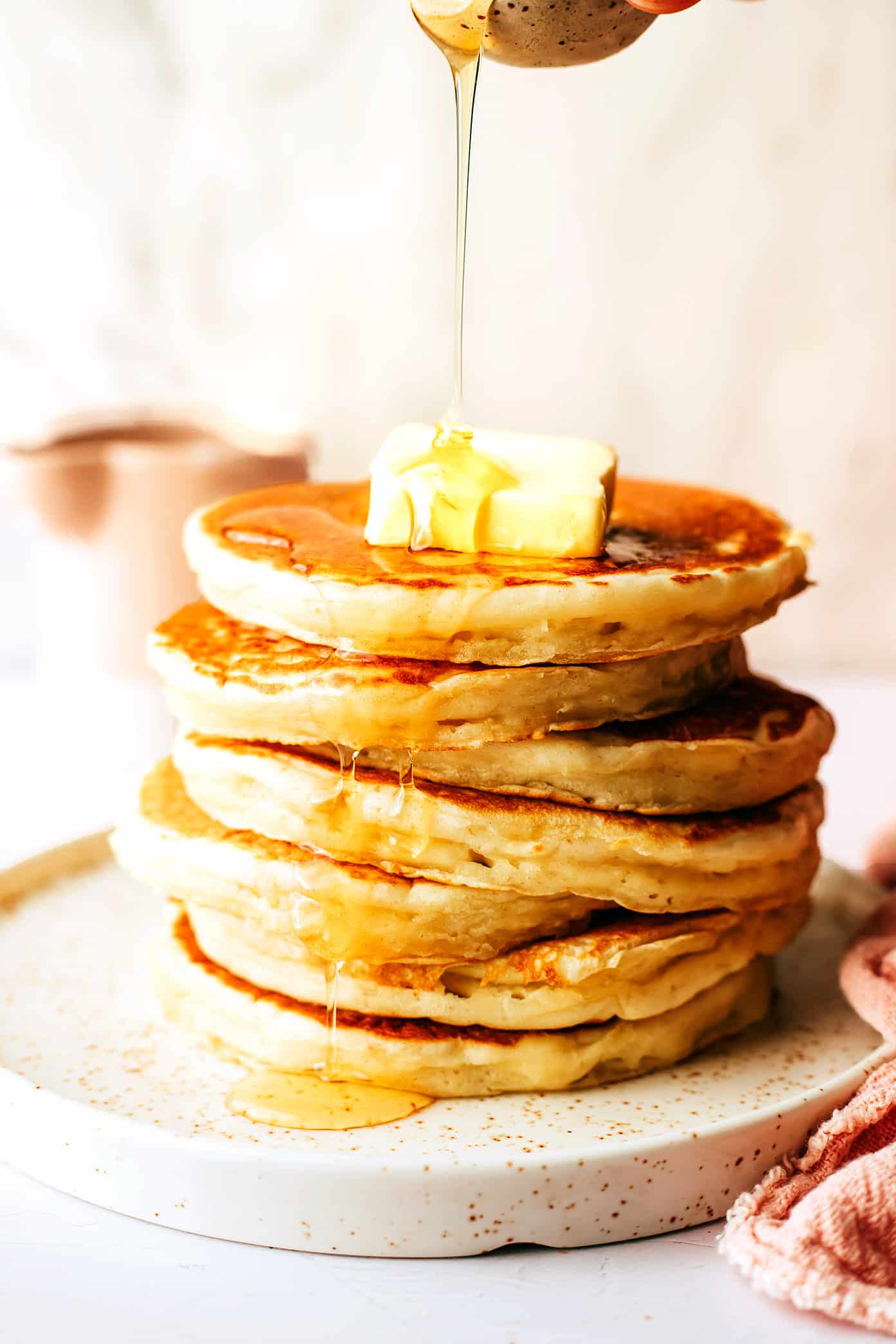 More Easy Breakfast Recipes
Looking for more easy breakfast recipes to try? Here are a few more of our family favorites:
---
Description
This kefir pancakes recipe is easy to whip up and always so fluffy and delicious!
---
1 3/4 cup

all-purpose flour

1 1/2 teaspoons

baking powder

1 teaspoon

baking soda

3/4 teaspoon

fine sea salt

2

eggs

2 cups

kefir

1 tablespoon

maple syrup 

1/2 teaspoon

vanilla extract
---
Mix the batter.

In a large mixing bowl, whisk the flour, baking powder, baking soda, and salt together until combined. Add the eggs, kefir, maple syrup and vanilla extract and whisk until the batter is just combined and no flour streaks remain. (The batter will still be a bit lumpy, so be careful not to over-mix.)

Cook the pancakes.

Heat a lightly-greased* large nonstick sauté pan or griddle over medium-high heat. Pour the batter in ¼-cup dollops on the hot griddle – as many as will comfortably fit in the pan with enough room to easily flip the pancakes. Cook the pancakes until bubbles begin to form and pop around the edges and the bottoms of the pancakes are lightly golden brown, about 3 minutes. Use a spatula to flip and cook for another 2 to 3 minutes until lightly golden brown. Transfer the pancakes to a serving plate or baking sheet* and continue making pancakes until the batter is gone.

Serve.

Serve warm with butter, maple syrup, or any other desired toppings. Enjoy!
---
---
Notes
Greasing the pan: I highly recommend running the end of a cold stick of butter briefly around the hot pan just before adding the batter, but you're welcome to use olive oil or any other grease that you prefer.
Baking sheet: If you are not serving and eating the pancakes right away, I recommend placing the cooked pancakes in an even layer on a large baking sheet or wire cooling rack. You can then place the sheet/rack in the oven at very low heat (170 to 200°F) to keep them warm until the entire batch is ready to serve.