What makes the best banana cake? Well, it's fluffy, moist, tender and infused with banana flavor. It's absolutely delicious on its own but I felt compelled to top it with a divine Kahlua whipped cream topping!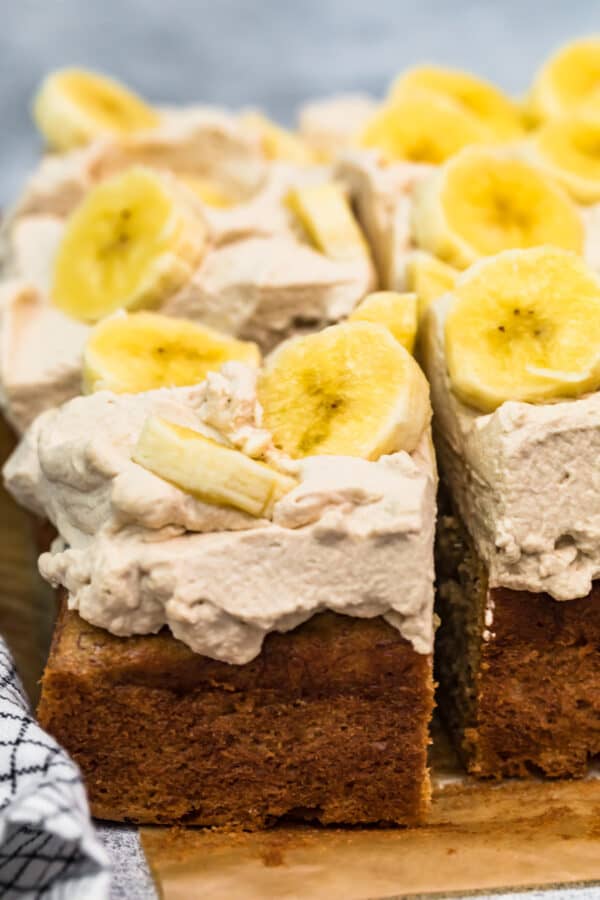 This is the Best Banana Cake recipe because it's not only delicious, but it's also no fuss. Sometimes simplest is best! I've kept it single layer but topped it with a magnificent Khalua and coffee whipped cream. It's a triple threat of desserts, simple, delicious and gorgeous!
Why this is the Best Banana Cake
Perfect banana flavor! Using ripe bananas, this is moist and perfectly flavored. Not too sweet.
An amazing cake topping. Kahlua and espresso mixed with homemade whipped cream, for fluffy and creamy topping. Top with fresh banana slices – so good.
No fuss. There's some mixing involved but then it's straight into the oven.
Ingredients
For the Banana Cake
Flour: All purpose flour.
Baking Soda: To help the rise and make the cake fluffy.
Salt: Table salt is best.
Bananas: Very ripe.
Sour Cream
Pure Vanilla Extract
Butter: Unsalted and at room temp.
Sugar: You'll need granulated sugar and brown sugar.
Eggs: Large and at room temp. Ideally go for free range.
Cinnamon: Optional
Garnish: Banana slices.
For the Kahlua Espresso Cream
Heavy Whipping Cream
Confectioner's sugar: Powdered sugar.
Espresso Powder
How to make the Best Banana Cake
Whisk the flour, baking soda, salt and cinnamon in a bowl. In another bowl mix bananas, sour cream and vanilla.
Then in a stand mixer, beat the butter until cream. Add the granulated sugar and brown sugar until light and fluffy. Incorporate the eggs and add flour.
Then add the banana mixture and mix at a low speed until almost all the flour is gone.
Pour the cake batter into a baking dish and bake for around 50 mins.
For the Kahlua topping, whisk the cream in a mixer and add the remaining ingredients. Finally spread onto the colled banana cake.
Serve and enjoy!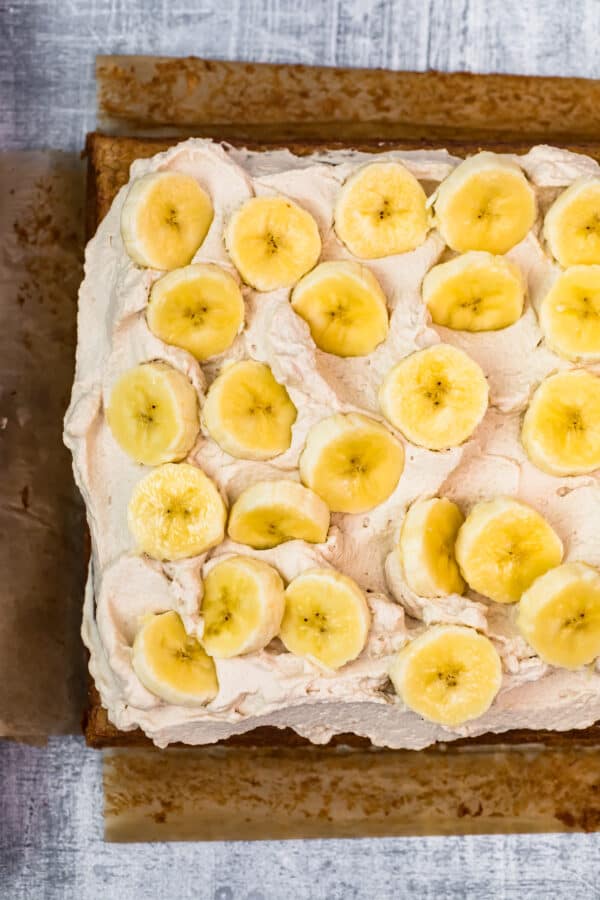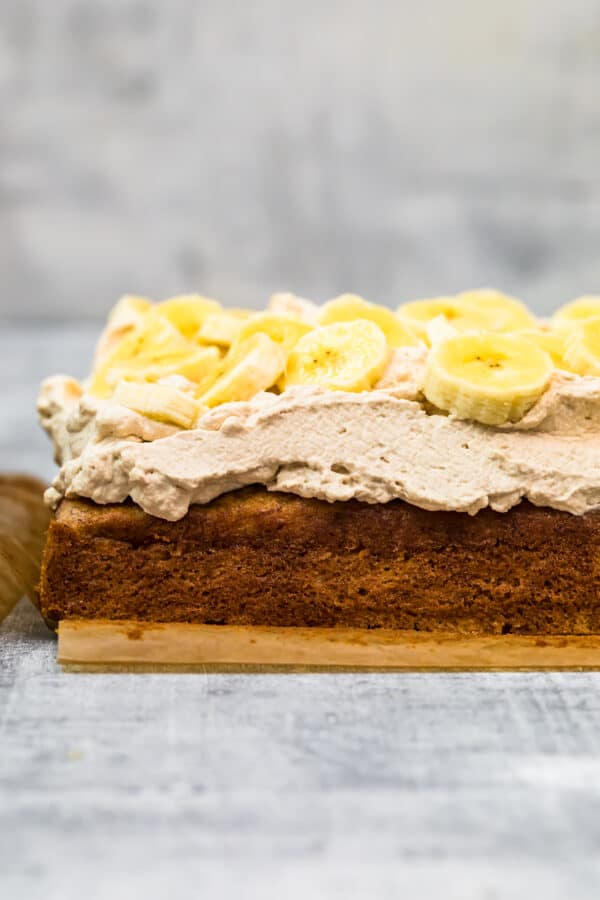 Kahlua Whipped Cream
This homemade whipped cream is so easy to make and packs a punch of coffee flavor, complimenting the banana cake beautifully.
Kahlua Whipped Cream adds a wonderful extra special and extra flavorful touch to desserts.  The flavor is a sweet touch of Kahlua and a hint of bitterness of espresso, without the Kahlua being too overpowering or tasting harshly of alcohol.
Best Bananas for Banana Cake
The best bananas for banana bread aren't yellow; they're black. Or they're at least streaked with black/brown, with just the barest hint of green at the stem. And again, the darker the better: there's no such thing as a too-ripe banana when you're making banana bread.
If your bananas are underripe, you can ripen them quickly in the oven.
Preheat the oven 350 degrees Fahrenheit and line a rimmed baking sheet with parchment paper for easy clean-up. Separate the bananas and bake them, unpeeled, on a baking sheet for 15 to 30 minutes, until they're black on the outside and very tender inside. Let them cool before handling.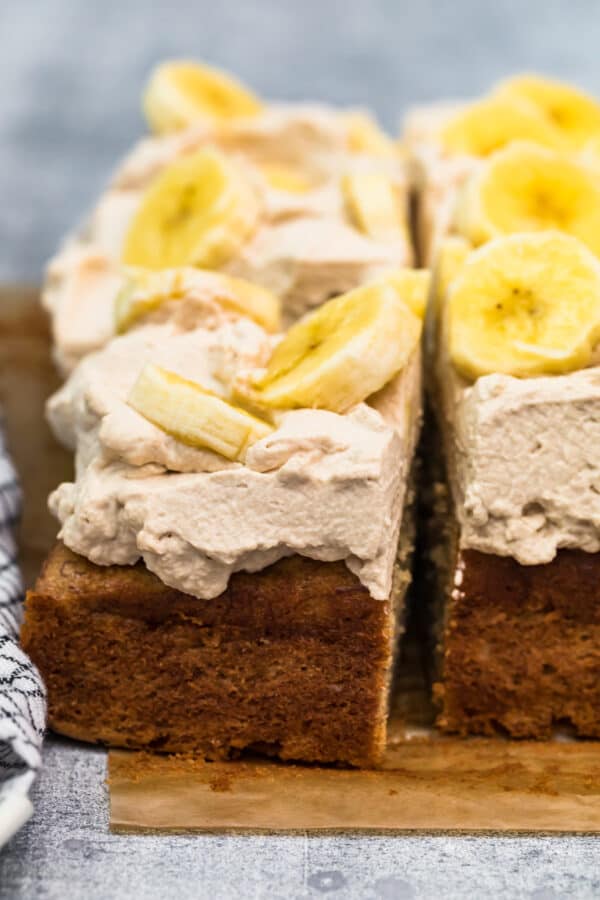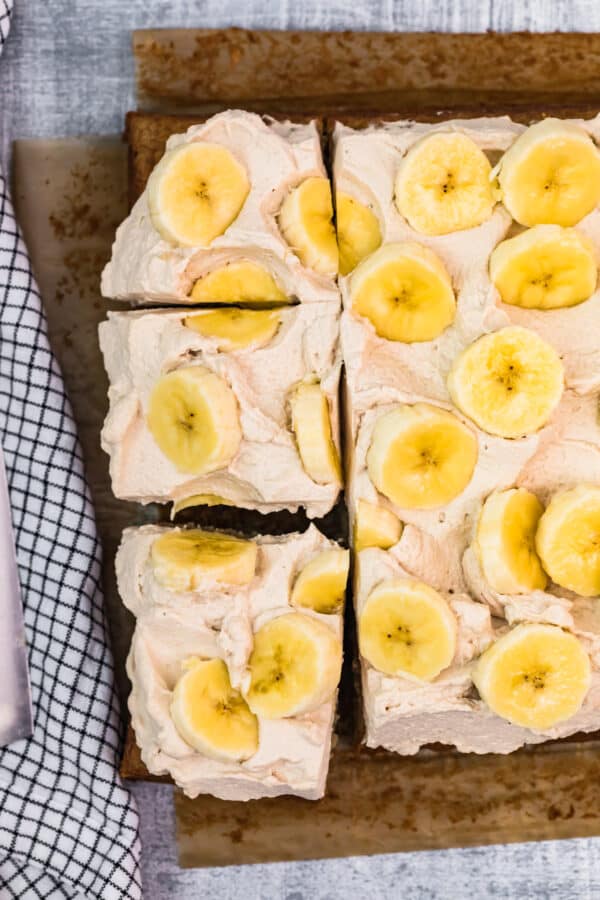 Can you freeze Banana Cake?
The cake itself, without the whipped cream topping will freeze well. Carefully wrap the cake in a double layer of clingfilm and a layer of foil and freeze for up to 3 months. To defrost the cake, unwrap it and put it on a wire rack at room temperature for 3-4 hours.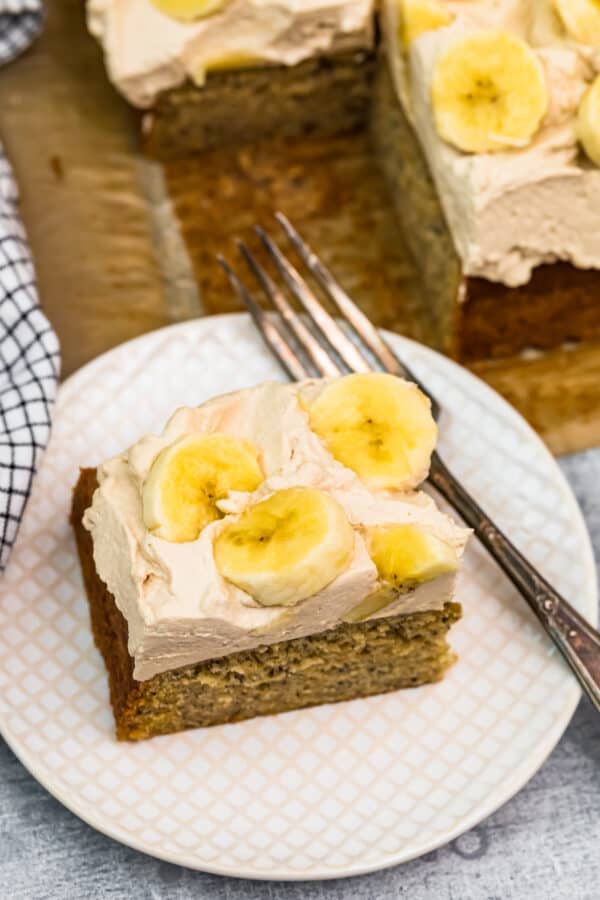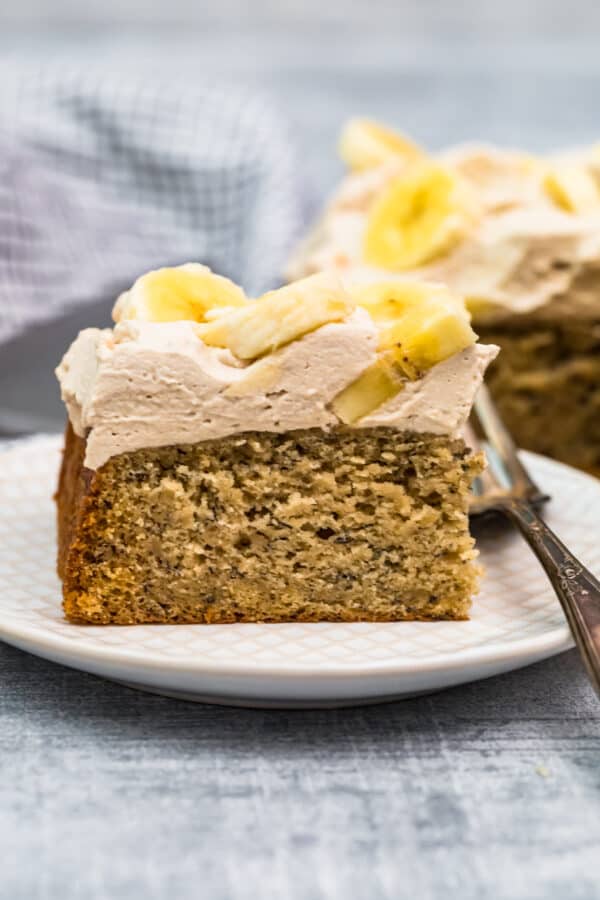 Top Tips for the Best Banana Cake
The riper your bananas the better!  I prefer mine to be mostly brown (which I did not have when I made the video below… food blogger fail), the riper they are the more flavorful your banana cake will be.
Ensure your ingredients are at room temperature (eggs and butter).
When adding the flour mixture you want to mix until just combined.  Over-mixing will cause a dense chewy result.
The cooking time on this cake can vary.  Check your cake at 50 minutes, if it isn't ready, continue cooking until a toothpick comes out clean (this can be up to an additional 20 minutes depending on your oven).  The result will be a moist and irresistible banana cake.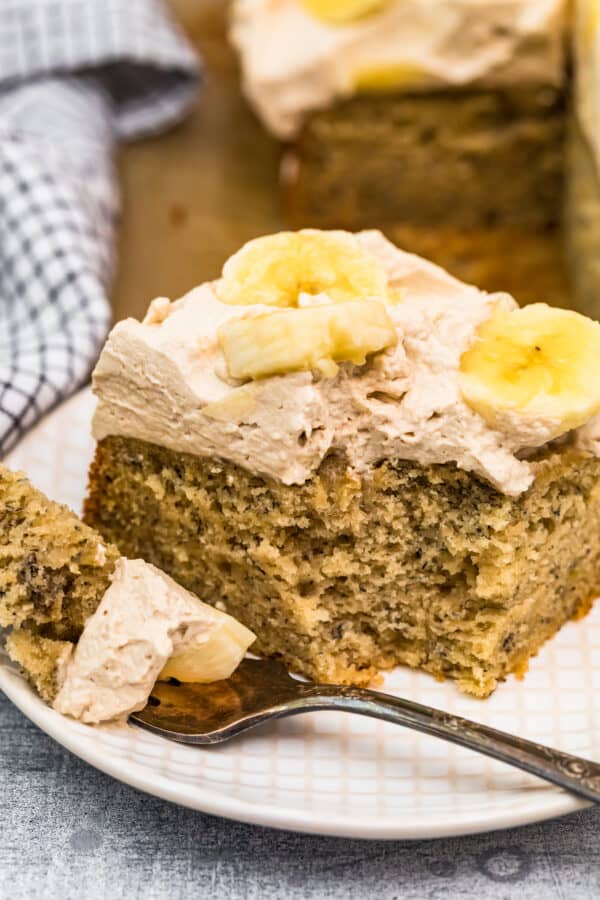 Other delicious banana desserts
Have you tried the Best Banana Cake recipe? Feel free to leave a star rating and I'd love to hear from you in the comments below!