If your holidays aren't complete without a pumpkin pie then this recipe is for you! It's easy, foolproof, no-fuss, the perfect texture and flavor, and will leave you with just one bowl to clean up! 
Ready for more pie recipes? Me too! Check out my popular posts for Apple Slab Pie, Brown Sugar Walnut Apple Pie, and Apple Crumble Pie.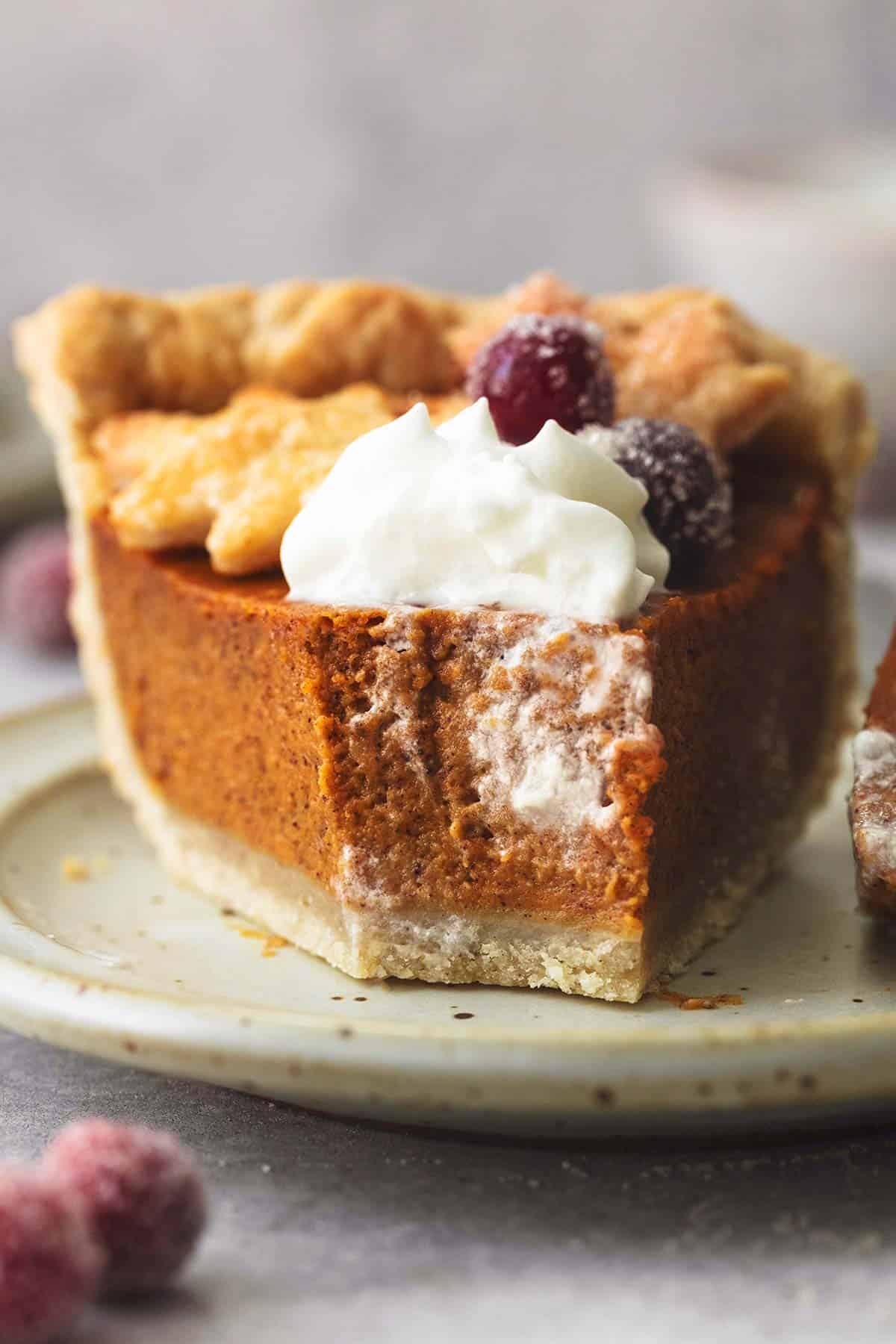 My mother is a classic over-do-er, and, lucky for us, always has been. Our regular Sunday dinner is a huge affair with 2 or 3 types of meat. And then there's the 4 or 5 side dishes as well. Also, she really goes waaaaaay overboard with desserts. Cake and cookies and brownies and ice cream, all in one night, just so people have options. 
But all of that is nothing compared to the holidays at my parents' house. The amount of food and number of dishes she makes easily doubles and there is quite literally a dessert table that always includes at least one, maybe even two pumpkin pies.
And, if your family is anything like mine, those pumpkin pies are a must-have. This recipe is so easy, you'll be able to fill that dessert table up in a jiffy, no problem. 
Why This Recipe Works
Volunteer to make the pumpkin pie this year, it'll be our little secret that it took you no time at all! 
Canned pumpkin — The holidays are for eating sure, but they're also for enjoying time with family and friends. Free up some of that time by making your baking as easy as possible, using pre-packaged ingredients if possible, like canned pumpkin puree. Just open and mix with a few other ingredients, easy, peasy. 
Easily doubles — If you have a big family like mine (or lots of holiday guests) then you know one pumpkin pie isn't going to cut it. Plus, refrigerated pie crusts come in packs of two so basically the universe is telling you to just go ahead and make two of these easy pumpkin pies. 
Great leftovers — If (big "if") you have any pie leftover, it keeps just fine on the counter for a couple of days or even longer in the fridge. Also? It's great for breakfast the next morning, or for a midnight snack, dessert after lunch…basically it's great to eat at any time of day or night.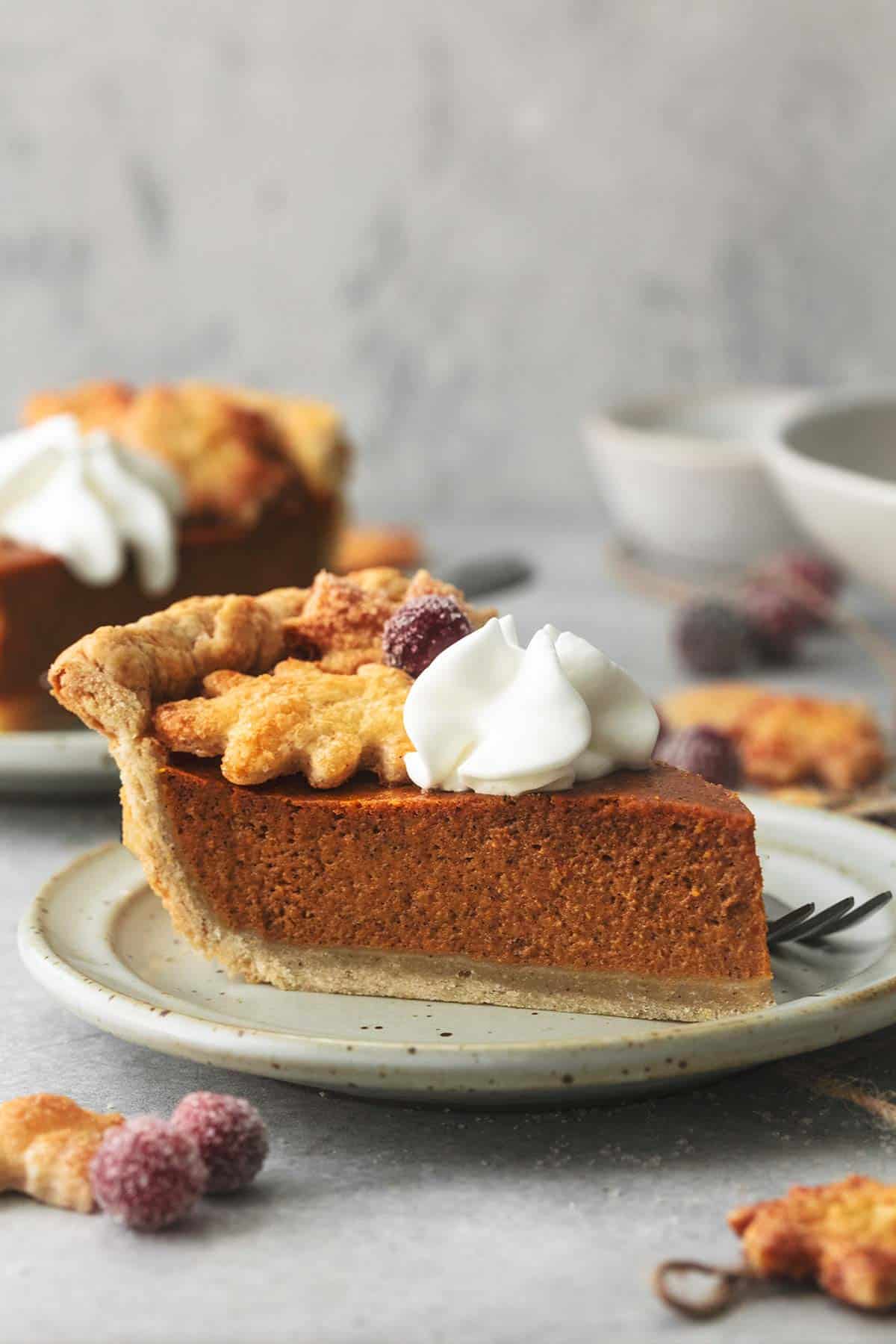 Here's How You Make It
Preheat the oven to 425 degrees. If you are using a homemade pie crust, make your crust ahead of time. If you're using store-bought crust, make sure it's thawed first.
Get out a large bowl and mix together the pumpkin, sweetened, condensed milk, and eggs.
Add the cinnamon, pumpkin pie spice, and salt and stir together.
Pour the mixture into the pie crust.
Bake for 15 minutes at 425 degrees, then reduce oven temperature to 350 and cook an additional 35-40 minutes. The pie is done when the crust is browned and only the center of the pie jiggles when you lightly shake the pan.
Allow pie to cool on a cooling rack to room temperature or cover and chill for up to 2 days. When you're ready to serve, allow the pumpkin pie to come to room temperature and serve with chopped nuts and whipped cream if desired.
Can I Use Substitute Evaporated Milk Instead of Sweetened Condensed Milk in Pumpkin Pie?
Nope, sorry, if all you have is evaporated milk, that will not be a good substitute at all for sweetened, condensed milk in this pumpkin pie recipe. The sweetened milk sweetens the filling and makes it creamy. If you use evaporated milk, the pie won't be sweet at all and will have a watery texture. 
Expert Tips
Here's what you need to know to make the absolute best, easy homemade pumpkin pie!
Get your pie crust out to thaw about 30 minutes before you're ready to make this pie. You don't want to be all ready to bake and find out your crust is still frozen. Plus, if you try to unroll a frozen crust, it will just break up into pieces. 

I prefer to bake the whole pie — crust and all — at the same time. But, this does make the pie crust a little soggy. If you want your crust a little flakier, you can poke the bottom of the crust with a fork a few times (to release steam), then pre-bake it at 375 for 10-12 minutes before adding the filling. Then, cover the outside edges of the crust with foil or a pie shield. 

You know what's better than whipped cream on top of pumpkin pie? That's right, ice cream! Especially if the pie is still warm (and even if it isn't!). 
More Pumpkin Recipes For the Holidays
Did you make this dish? Please rate the recipe below!
easy shortbread pie crust
for the filling
In a large bowl mix together pumpkin, sweetened condensed milk, and eggs. Add cinnamon, pumpkin pie spice, and salt and stir well. Pour into prepared crust.

Brush crust with egg wash.

Bake on lowest rack for 15 minutes at 425 degrees, then change oven temperature to 350 and bake 35-40 minutes longer. Pie is done when the crust is browned and only the center of the pie jiggles when you lightly shake the pan.

Allow to cool on a cooling rack to room temperature or cover and chill up to 2 days. When ready to serve, allow to come to room temperature and serve with chopped nuts and whipped cream if desired.
for the pie crust
In a food processor combine flour, sugar, salt, and cinnamon and pulse several times.

Add butter cubes and pulse until mixture resembles coarse crumbs.

In a liquid measuring cup combine water, vinegar, and enough ice cubes to reach 1 cup.

Add liquid to the flour mixture (strain the ice so that it stays in the measuring cup) 2 tablespoons at a time, pulsing after each addition, until mixture resembles streusel (it will not come together like a dough, it will be somewhat dry but should stick together when you smoosh come of it between your fingers).

Shape dough into a ball with your hands. Divide in half and place each half on a large piece of plastic wrap. Pat into a 1/2-inch thick disc and wrap tightly in plastic wrap. Place in the freezer for 20 minutes.

Roll each disc into a 12-inch circle. Gently shape one into the bottom of a 9-inch pie dish . Fold the overhanging dough back toward the center of the dish and crimp edges with your fingers to make the crust.

Optional: Cut shapes from the second crust, brush with egg wash and sprinkle generously with sugar. Place on a baking sheet and bake at 350 for 10 minutes. Cool and decorate baked pie.
Sugared cranberries: combine 1/2 cup sugar and 1/2 cup water in a small sauce pan. Whisk over medium heat (do not boil) for 3-5 minutes until sugar is dissolved. Stir in 1 cup fresh cranberries. Use a slotted spoon to transfer to a cooling rack over paper towels or foil. Cool 1 hour, then roll in 1/3 cup sugar. Use to garnish cooled pumpkin pie. 
Calories: 420kcal | Carbohydrates: 41g | Protein: 8g | Fat: 25g | Saturated Fat: 15g | Cholesterol: 122mg | Sodium: 666mg | Potassium: 169mg | Fiber: 3g | Sugar: 3g | Vitamin A: 7153IU | Vitamin C: 2mg | Calcium: 42mg | Iron: 3mg