Easy40 minsQuick
My favorite soft pumpkin cookies recipe, topped with the most heavenly cream cheese frosting.  It's the perfect fall dessert recipe!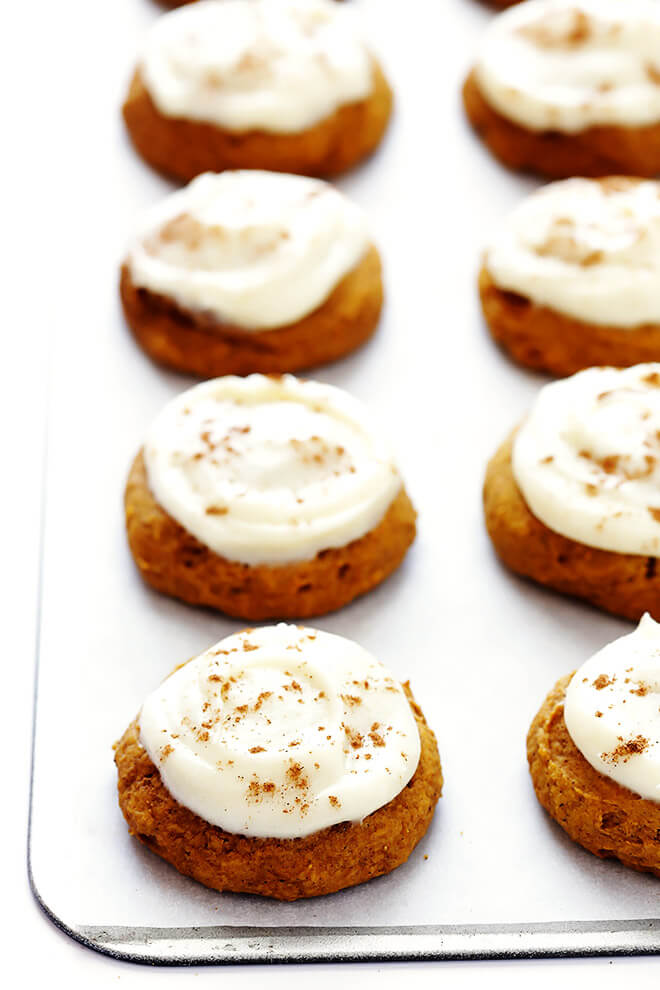 Who's ready for some fall baking? ? ? ?
I just officially stocked my pantry with its first round of pumpkin puree for the season (yesss), and whipped up a fresh batch of homemade pumpkin pie spice (just 5 ingredients!), and stocked the fridge with a very friendly stash of butter and cream cheese to have on hand (because…butter and cream cheese ?).
Now the question is simply…what to make?!?
I'm feeling all of the baking vibes this year, and have a long list of new recipes that I'd like to try.  But if you have any specific requests or favorite recipes to share, I'd love love love to hear 'em.  (Seriously, your requests are my favorite recipes to share here!)
That said, I also have a long list of pumpkin recipes here on the site that I'm excited to revisit this fall, including these perfectly soft and delicious pumpkin cookies with cream cheese frosting that I first shared way back in my very first year of blogging (holla 2009!).  I was cleaning out an old camera card this week and forgot that I had re-photographed them last year.  So I thought I would bump this recipe back to the top of the blog today for anyone who might have missed them over the years.  They have been my go-to pumpkin cookie recipe for literally a decade now, and they are seriously the best.
(This post contains affiliate links.)
To make them, simply whip up a quick batch of cookie batter featuring lots of pumpkin puree and pumpkin pie spice.  Heads up that the batter for this recipe is super-soft (very different than, say, chocolate chip cookie dough batter), and tends to puff up a bit rather than flatten during baking.  I like to use a cookie scoop to plop it onto a parchment-covered baking sheet, and then gently press the batter down with my fingers a bit to flatten.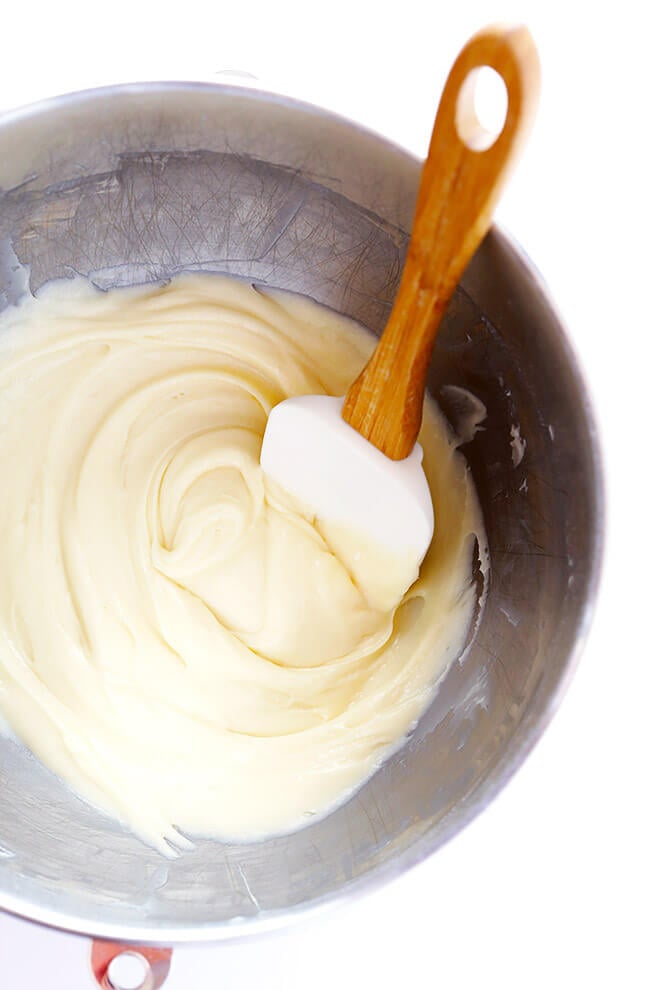 Then, while those yummy cookies are baking in the oven, I highly recommend whipping up a batch of this heavenly cream cheese frosting.  It's indulgent and doesn't cut corners…and it is THE BEST.  ?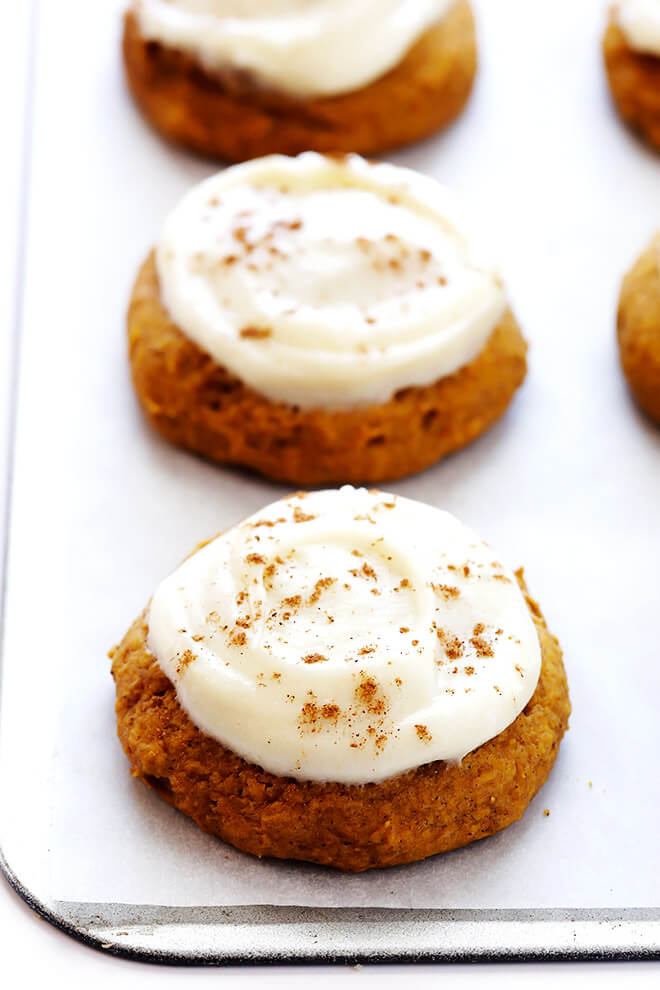 Then once the cookies are ready to go, let them cool completely to room temperature before frosting.  (<– Otherwise that delicious cream cream cheese icing will slide right off!)  Then give them a quick frost…maybe an extra sprinkle of cinnamon or pumpkin pie spice…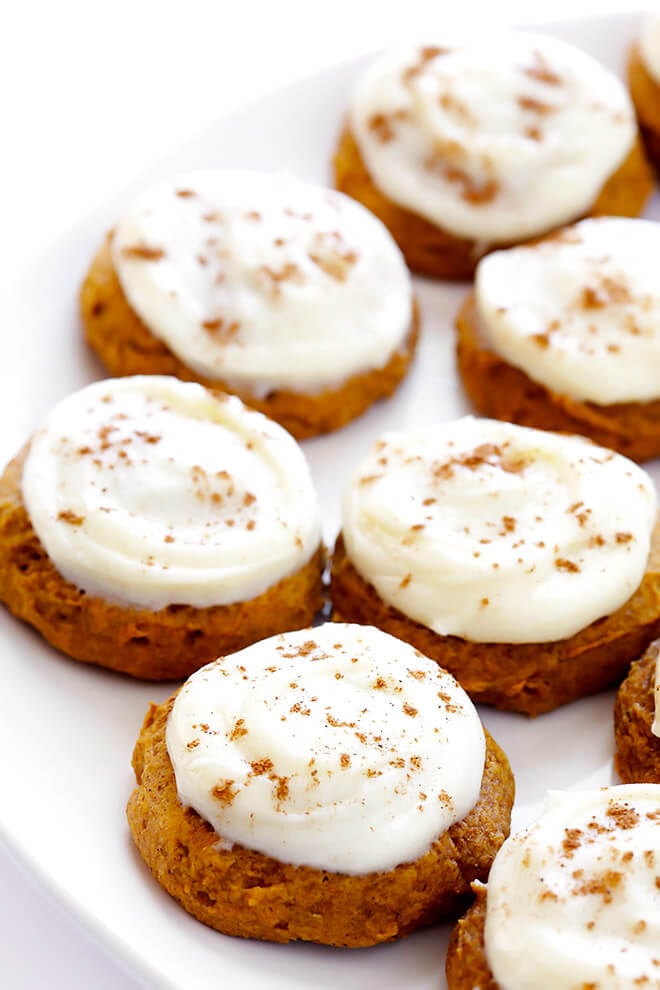 …and behold, these gorgeous soft pumpkin cookies will be yours to share and enjoy.  (<– Key word: share, since I can vouch from personal experience that these cookies have a way of making everyone smile and feel all ? ? ? about fall.)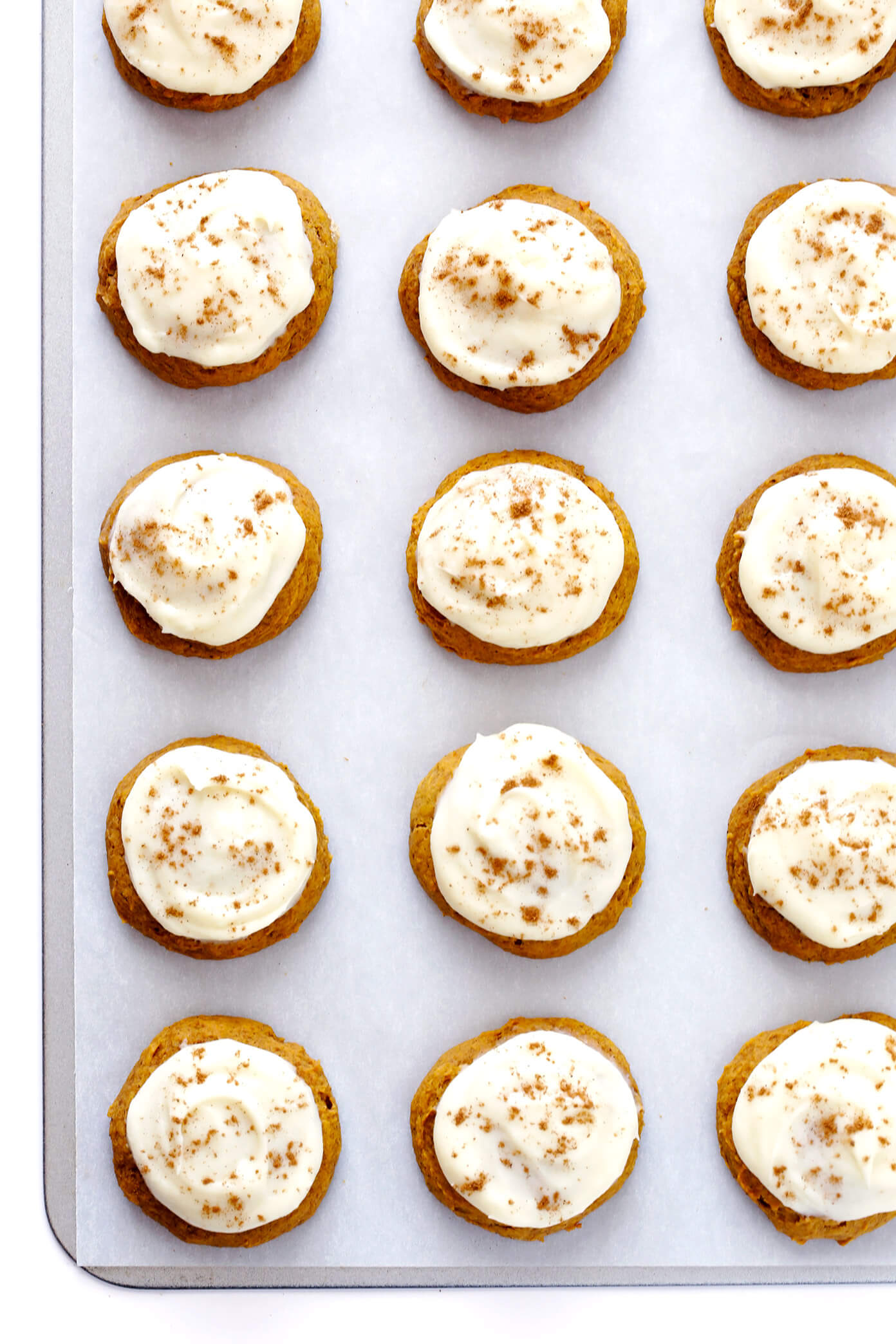 Enjoy, everyone!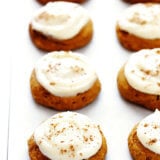 Yield: 3 dozen
Pumpkin Cookies with Cream Cheese Frosting
This soft pumpkin cookies recipe is my absolute fave!  Soft spiced pumpkin cookies topped with a heavenly cream cheese frosting — what's not to love? 🙂
Ingredients:
Pumpkin Cookies Ingredients:
2 1/2 cups all-purpose flour
1 teaspoon baking powder
1 teaspoon baking soda
1 tablespoon pumpkin pie spice, plus extra for sprinkling
1/2 teaspoon salt
1/2 cup (1 stick) butter, softened
1 cup granulated sugar
1/2 cup brown sugar
1 1/4 cups canned pumpkin puree
1 egg
Cream Cheese Frosting Ingredients:
8 ounces (1 brick) low-fat cream cheese, room temperature
3 tablespoons butter, room temperature
1 teaspoon vanilla extract
2 cups powdered sugar
Directions:
To Make Pumpkin Cookies:
Preheat oven to 350°F.  Line a baking sheet with parchment paper.
In a large mixing bowl, whisk together flour, baking powder, baking soda, pumpkin pie spice, and salt until combined.  Set aside.
In the bowl of a stand mixer, cream together the butter, granulated sugar, and brown sugar on medium-high speed for 1 minute until light and fluffy.  Add in the pumpkin, egg, and vanilla to butter mixture, and beat on medium-speed until just combined.  Fold in the dry ingredients until just combined.
Drop on cookie sheet by heaping tablespoonfuls (I like to use this cookie scoop), then use your fingers or a spoon to flatten then slightly.  (These cookies tend to poof up slightly rather than flatten during baking, so shape them beforehand however you'd like.  They won't rise much.)
Bake for 15 to 20 minutes, or until the cookies are cooked through and bounce back slightly if you touch them.  Transfer cookies to a wire rack to cool until they reach room temperature.  Then frost or drizzle with cream cheese frosting, and sprinkle with an extra pinch of pumpkin pie spice or cinnamon if you'd like.  Refrigerate in a sealed container for up to 3 days.
To Make Cream Cheese Frosting:
With an electric mixer, beat cream cheese, butter and vanilla together on medium-high speed until smooth.  Gradually add in the powdered sugar until it is all combined and the frosting is smooth.  If it is too thick, add in a tablespoon or two of milk (or water) until it reaches your desired consistency.  If it is too thin, add in more powdered sugar until it reaches your desired consistency.
Adapted from All Recipes.  Updated in September 2017.
All images and text ©Gimme Some Oven
If you make this recipe, be sure to snap a photo and hashtag it #gimmesomeoven. I'd love to see what you cook!