The Best French Toast is super easy to make and arrives just in time for your weekend planning!
Spoil mum this Mother's Day with The Best French Toast! The perfect balance of flavours soaks into brioche slices, then puff up in a hot, buttered pan, crisping to a rich, golden brown. With a hint of vanilla and cinnamon, a touch of sweetness, and crispy pan fried edges, this is one French Toast recipe the whole family goes crazy for.
Easy French Toast Recipe
This is our Sunday morning French Toast recipe that I've been making since forever. The kitchen fills with vanilla and cinnamon aromas while they are frying, which gets the whole family up and eager to eat! My recipe does NOT include any cream (heavy or thickened), as I find the right amount of eggs and milk is just enough to make the perfect French toast. You can make these with any bread slices (any dense bread such as challah or sourdough), but our favourite is buttery Brioche and only a handful of ingredients:
Eggs
Milk
Vanilla
Cinnamon
Sugar — optional
To minimise cleanup, whisk your egg wash together in a bowl you'll be using to dip your bread in, preferably a large shallow bowl.
How to make perfect French toast
If you've never had French toast, you will love how easy it is to make them. I usually opt to make these over pancakes when I'm in a rush and don't feel like making a batter. The bread with an egg wash does it all for you!
The egg wash — you can use any of your favourite spices or flavours here. I use cinnamon and pure vanilla extract, but you could also use vanilla sugar, nutmeg, or any other flavours you prefer.
Dip the bread — I usually soak them for only 2-3 seconds per side, pressing them down lightly to absorb the flavours in the egg. If using denser white bread, soak them for about 10 seconds per side to really absorb the egg wash. Try not to soak them any more than that, as they tend to fall apart and turn to mush in the pan while cooking.
Fry — use a nonstick pan, skillet or griddle over medium heat. They don't take long to cook, about 3-4 minutes on each side.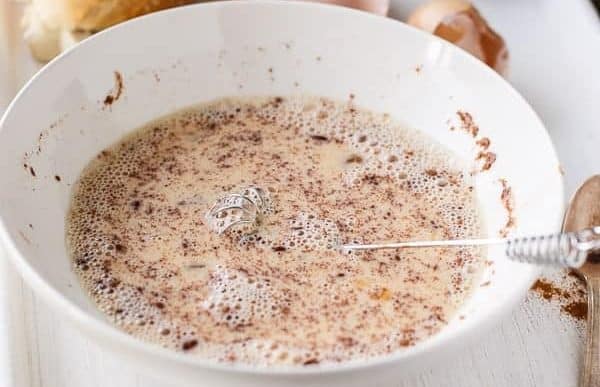 Substitutions
Heavy cream — You CAN make this French toast with heavy cream or half and half, but I prefer it with milk. It's not so heavy while frying and tends to brown more evenly without creating soggy/undercooked toasts on the inside while over cooking and burning on the outside.
Milk — Any milk is fine to use. Through the years, I've used whole milk, skim milk, almond milk, rice milk, oat milk and coconut milk. The good news is that they always turn out perfect.
Sugars or sweeteners — You can use raw, white or light brown sugars, and any natural granulated sweetener (like Swerve or Natvia). Splenda tends to be a bit strong, but if you're used to the taste, go for it. Just follow the packet instructions in regards to measurements.

What to have on French toast
Butter
Maple syrup
Fresh berries — strawberries, blueberries, raspberries or blackberries
Honey
Nutella
Peanut butter
Powdered sugar
Fresh squeezed lemon juice
To make your life easier, place bowls of your family's favourite toppings in the centre of the table so each person can reach for whatever they feel like!
Looking for more French Toast recipes? Try these!
Red Velvet French Toast | Apple Pie French Toast Bake | Banana Bread French Toast | Churro French Toast Ice Cream Sandwich
French Toast
The Best French Toast is super easy to make with the perfect balance of flavours soaked into brioche slices! With a hint of vanilla and cinnamon, a touch of sweetness, and crispy pan fried edges, this is one French Toast recipe the whole family goes crazy for.
8 slices brioche bread ((cut 3/4-inch – 1-inch thick) — sub with any bread if desired)
6 large eggs
3/4 cup whole milk (or 2%)
1/4 cup granulated sugar (or superfine/caster sugar)
2 teaspoons pure vanilla extract
1 heaping teaspoon ground cinnamon
Butter for griddle
Jam, jelly, butter, maple syrup or honey, (to serve)
Preheat a non-stick pan or skillet over medium-low heat.
Whisk eggs in a large, shallow dish. Add the milk, sugar, vanilla and cinnamon; whisk well to combine.
Lightly grease pan with a little butter or cooking oil, spreading evenly over the surface with a spatula.

Working quickly, dip one slice of bread into the egg wash, allow to soak for 2-3 seconds; flip and dip the other side, soaking again for a further 2-3 seconds.

Fry until golden browned on underside, (about 3 minutes), then flip and cook until golden browned, (about another 3-4 minutes). You can cook 2 toasts at a time, depending on the size of your pan.

Repeat with remaining bread slices.

Serve warm with desired toppings.
The post Best French Toast appeared first on Cafe Delites.