Homemade Lemonade is so easy to make but it makes all the difference in the heat of summer. This Fresh Squeezed Lemonade is simple, pure, with the only 3 ingredients you need to make lemonade. Learn how to make homemade lemonade to serve on hot days, at summer parties, or any time you need a quick refresher!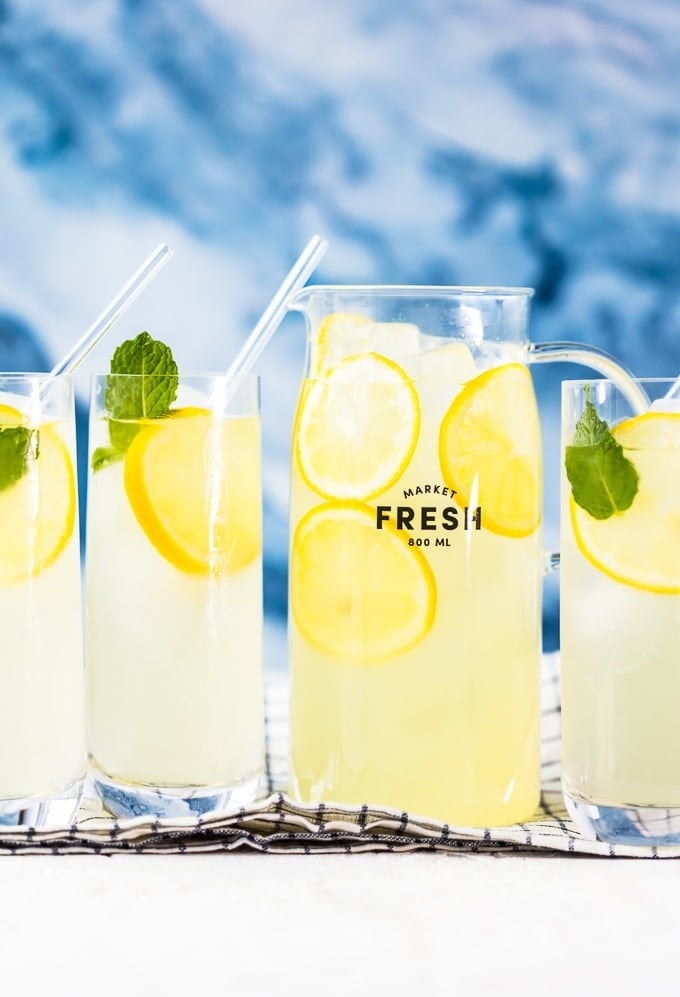 Homemade Lemonade 
This homemade lemonade recipe is the BEST! It's fresh, simple, and contains the only 3 ingredients you really need to make lemonade.
There's nothing better than Fresh Squeezed Lemonade in the heat of summer. It's the perfect drink to cool down in the afternoon and it's such a great thing to serve at parties and BBQs.
I love this Homemade Lemonade recipe because it's just so simple. You only need 3 ingredients to make lemonade, and that's all I put in here. Make your own fresh lemon juice and mix with water and sugar, then pour it over ice for a nice, cool drink.
Find out how to make Homemade Lemonade so you can make a fresh batch any time you want.
This Homemade Lemonade recipe is simply perfect with only 3 ingredients!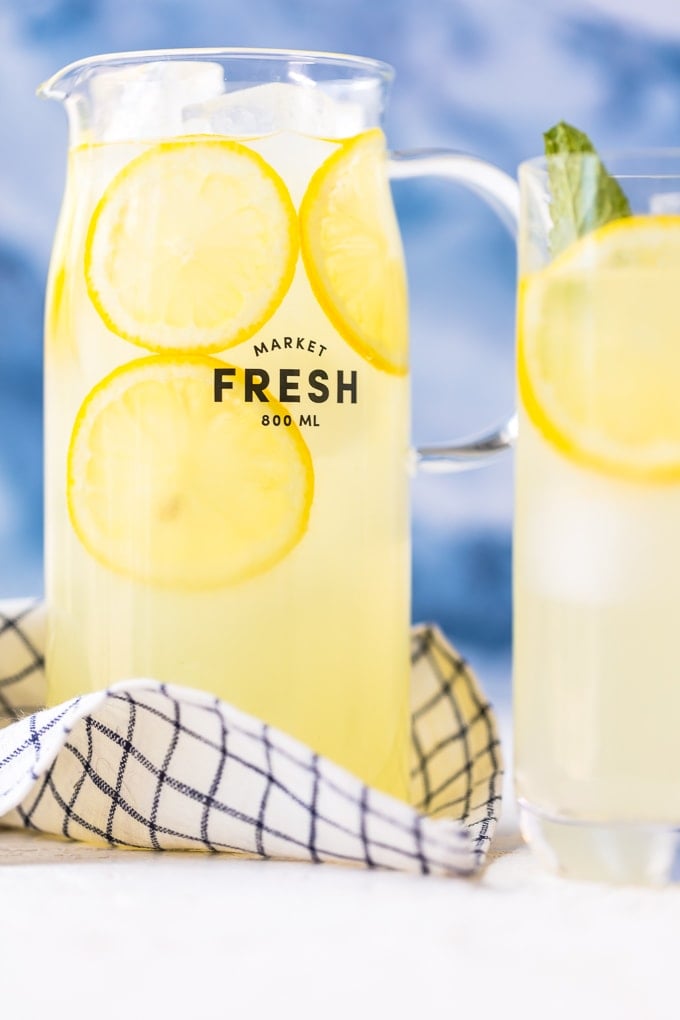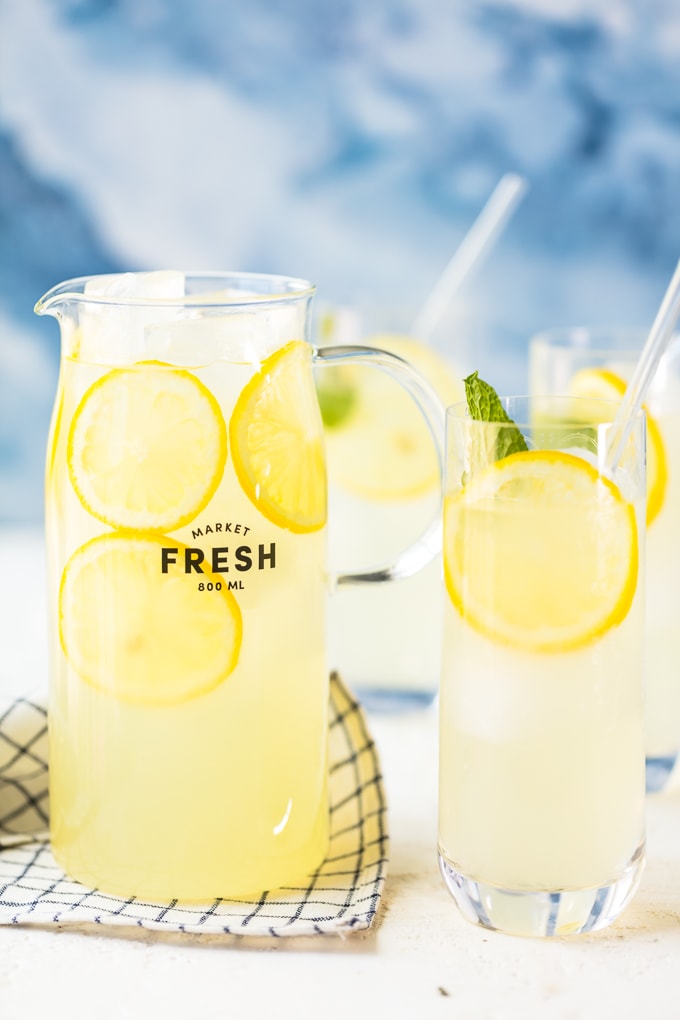 How to Make Homemade Lemonade
Making fresh squeezed lemonade at home is so easy and takes just a few minutes. You can have a perfectly sweet, cold drink ready in no time!
How to Make Homemade Lemonade:
Squeeze fresh lemons to make lemon juice. You'll need about 1 1/4 cups of juice.
Whisk together sugar + 1 1/2 cups water in a saucepan on medium heat
Once it  boils, reduce heat & stir until sugar dissolves
Let the syrup cool
Strain the lemon juice & pour into a 2-quart pitcher
Add 3 cups of water to the pitcher + the syrup & stir until everything is mixed together
Refrigerate until ready to serve
Here are a few more tips to make the best lemonade:
Squeezing lemons to make your own lemon juice creates the freshest flavor!
I made a simple syrup (lemon juice & sugar) and then added water to that instead of just mixing everything together while cold. This helps the sugar dissolve better, and I feel like this creates the absolute best homemade lemonade.
If you use ultra fine sugar instead of granulated sugar, you don't need to make a syrup first. You can just mix everything together.
Add a bit more water if the lemonade if you prefer a lighter flavor
Recommended Products to make Fresh Squeezed Lemonade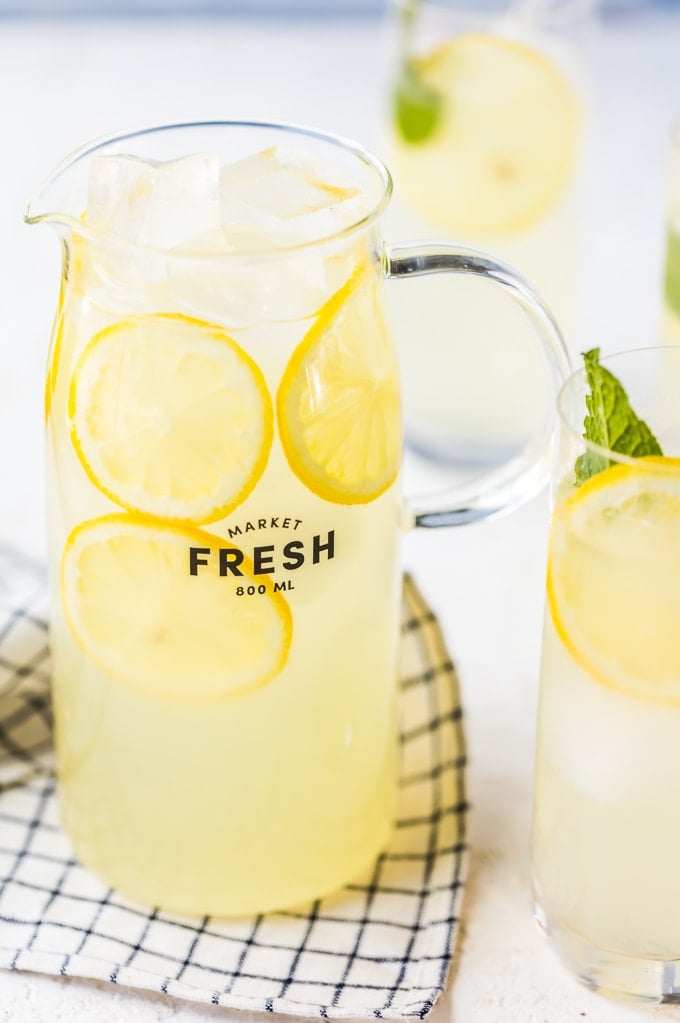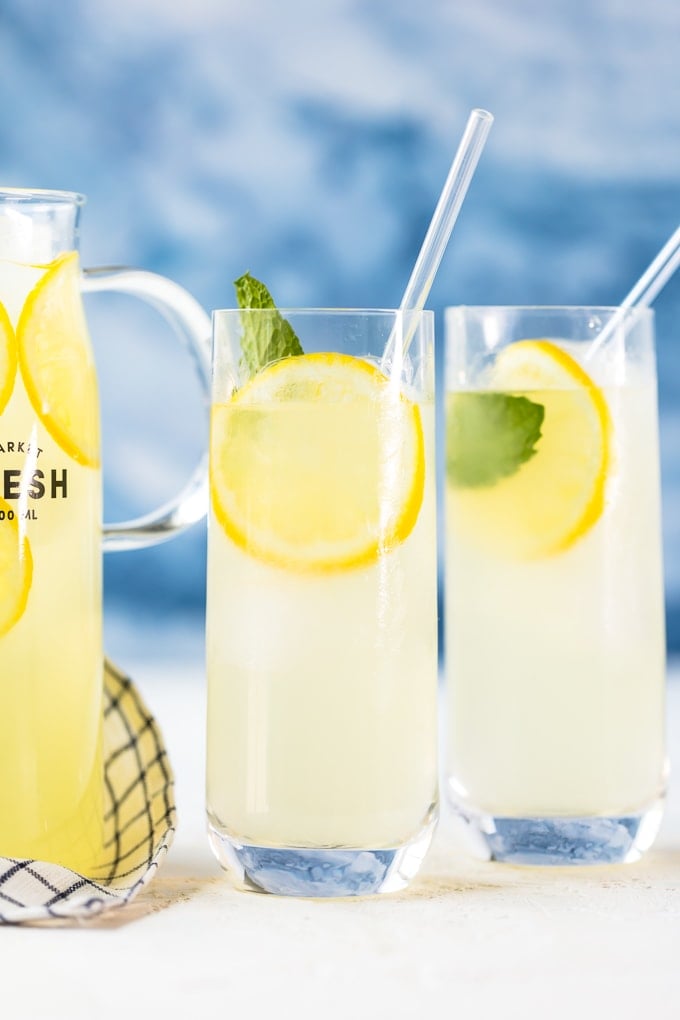 Fresh Squeezed Lemonade
You can't make great homemade lemonade without making your own lemon juice. Fresh Squeezed Lemonade is the best lemonade! You can just cut each lemon in half and squeeze by hand. But I recommend using a lemon squeezer or manual juicer to get as much juice from each lemon as you can. Plus it makes the process easier and leaves you will less pulp.
More Lemonade Recipes
I love love love lemonade! While this is the best simple, straightforward homemade lemonade recipe, I have plenty of other lemonade recipes too. There are so many flavors, some with alcohol, and they're all super refreshing.
Try some of my other favorite lemonade recipes: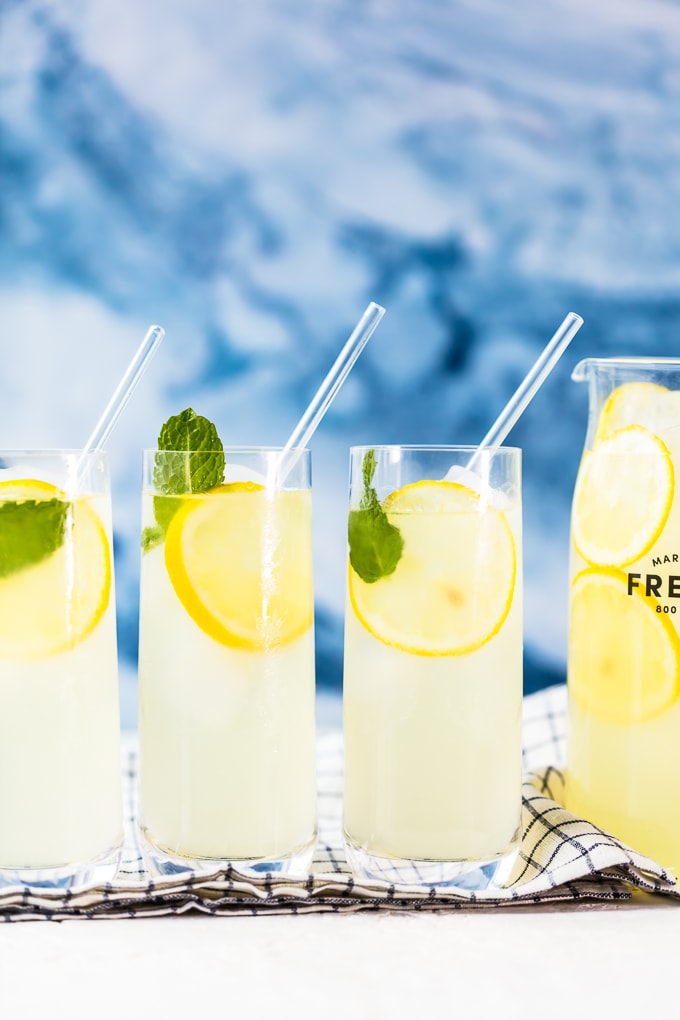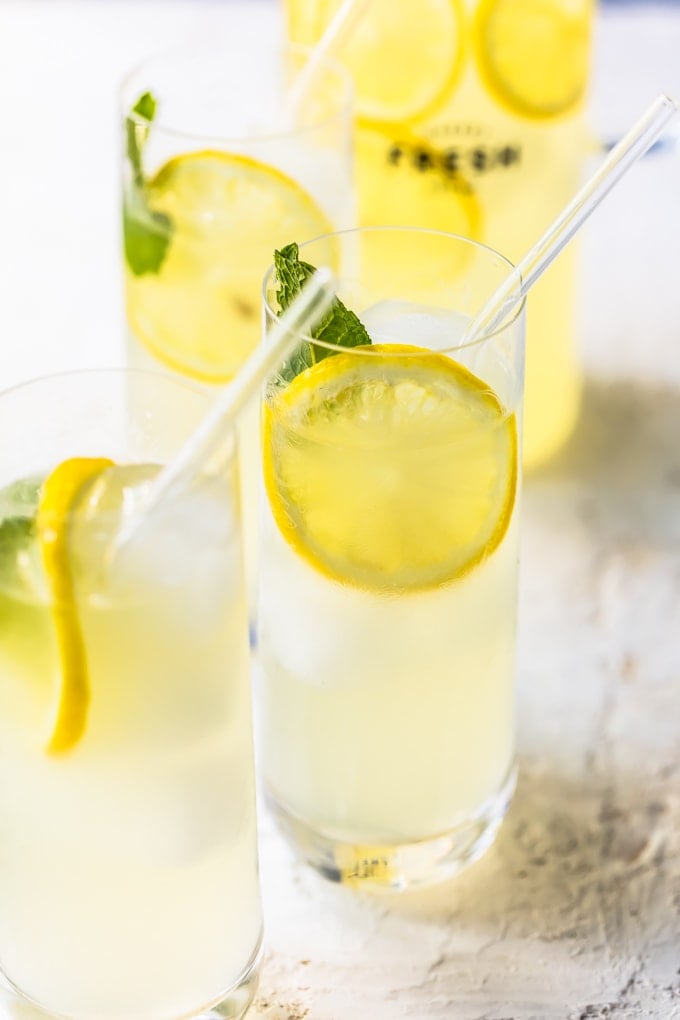 How many lemons do you need to make a pitcher of lemonade?
You'll need 1 1/4 cups fresh squeezed lemon juice, so you'll need about 6 lemons to make that much juice. It does depend on the size of the lemons, but 5-7 lemons is a good estimate.
What are the ingredients of lemonade?
This fresh homemade lemonade recipe only contains 3 ingredients so it's wonderfully simple and pure. It's the perfect recipe!
Lemonade Ingredients:
You really don't need anything else in fresh squeezed lemonade!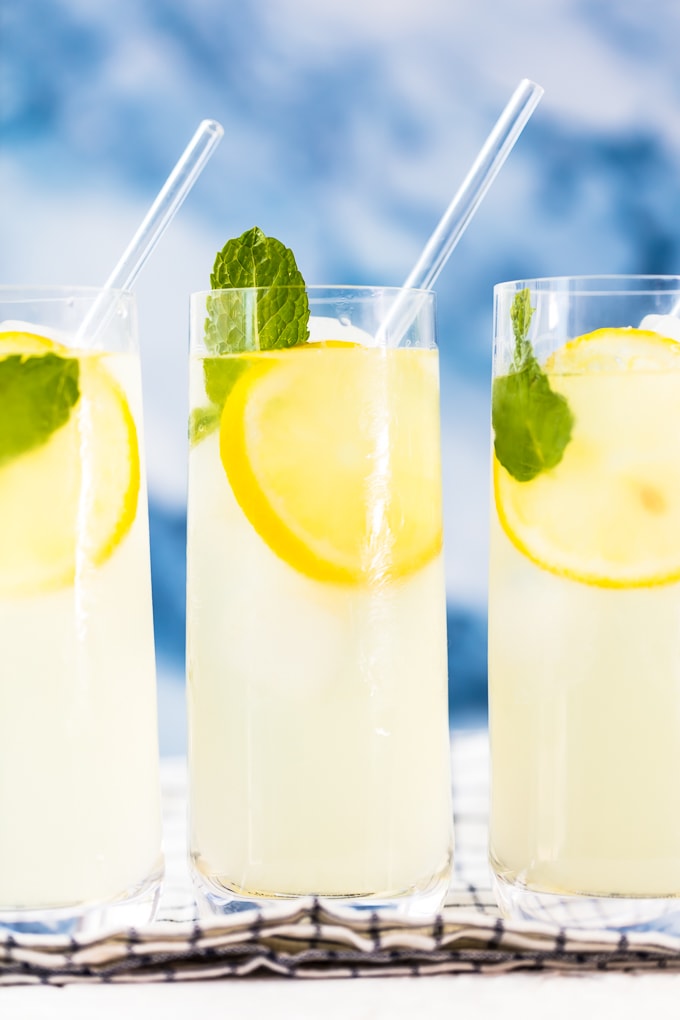 I can't get enough of this fresh squeezed lemonade recipe. It's so refreshing with the perfect balance of tart lemon and sweet sugar. I'll be serving it at every party this summer to keep everyone cool!
Watch the video or see the recipe card below for details on how to make Homemade Lemonade. Enjoy!
If you like this homemade lemonade recipe, try these other lemon-filled recipes too: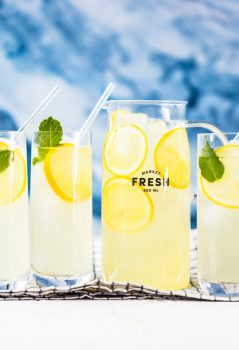 Homemade Lemonade Recipe
This Homemade Lemonade recipe is as pure & simple as it gets! Make fresh squeezed lemonade all summer long with the perfect recipe.
1¼

cup

granulated sugar

(if using ultrafine sugar, see note)

4½

cups

water

divided

1¼

cups

fresh-squeezed lemon juice
In a small saucepan, over medium heat, whisk together sugar and 1½ cups water. Bring to a boil, reduce heat and stir often until sugar is dissolved. Remove from heat and cool.

Strain the lemon juice through a fine-mesh sieve into a 2-quart pitcher.

Add 3 more cups of water and the sugar/water simple syrup. Stir well and adjust to taste, if needed. Refrigerate until ready to serve.

Serve in glasses filled with ice and garnish with lemon slices and fresh mint leaves.

Enjoy!
*Note: If using ultrafine sugar, there is no need to make a simple syrup. The ultrafine sugar will dissolve easily without making a simple syrup.
Nutrition Facts
Homemade Lemonade Recipe
Amount Per Serving
Calories 258
% Daily Value*
Sodium 15mg 1%
Potassium 78mg 2%
Total Carbohydrates 67g 22%
Sugars 64g
Vitamin C 35.8%
Calcium 1.3%
Iron 0.3%
* Percent Daily Values are based on a 2000 calorie diet.