This post may contain affiliate links. Please read my disclosure policy.
Bourbon takes the place of tequila in a classic margarita recipe…and it's surprisingly delightful.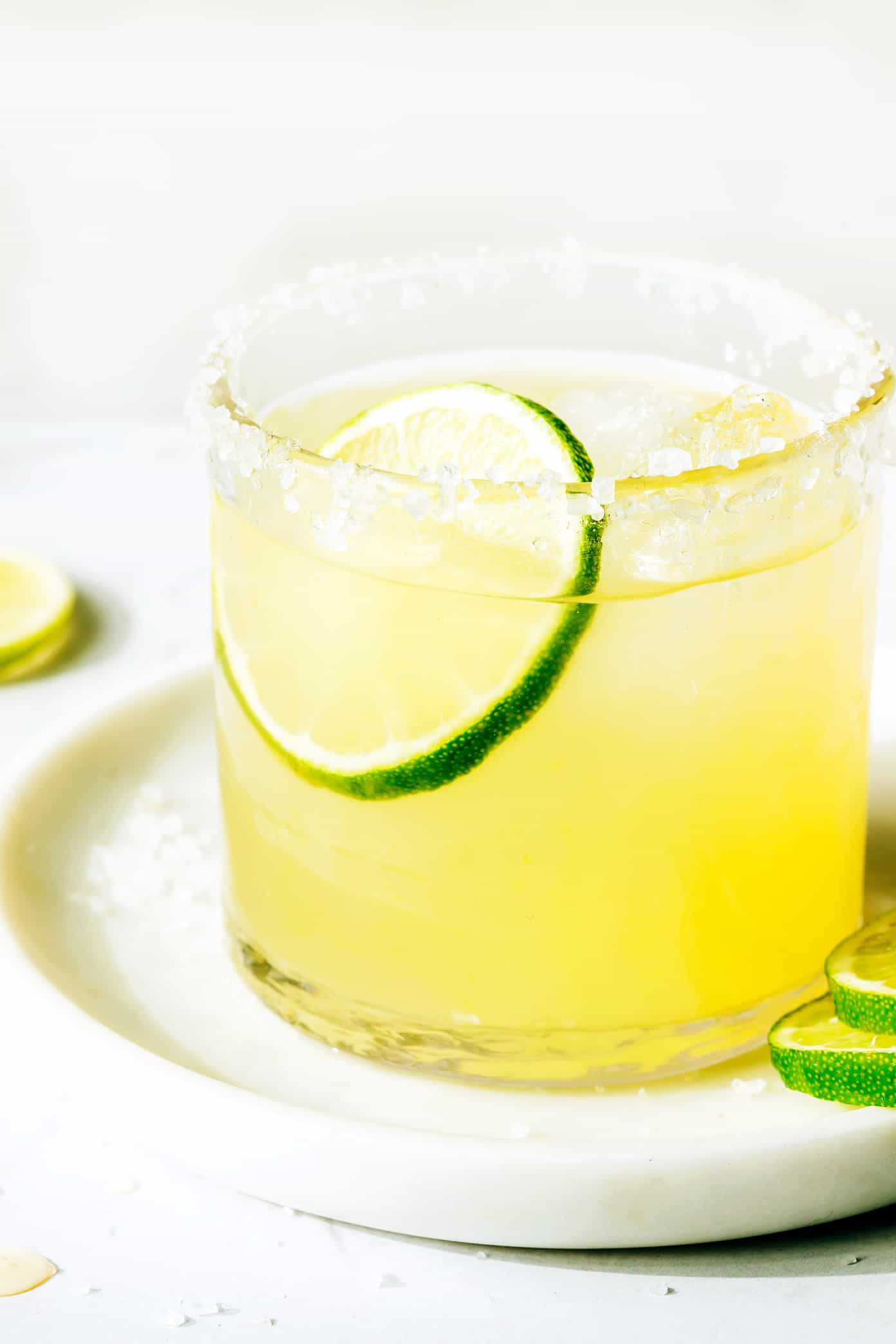 Ever tried swapping bourbon for tequila when making a margarita?
I think you might just love it. ♡
Barclay and I have long been fans of pairing bourbon and lemon together for a good whiskey sour or horsefeather. But a friend recently turned us onto the fact that bourbon also plays beautifully with lime and orange in a classic margarita. And after giving it a try, we couldn't agree more.
Turns out that bourbon, with its warming caramel and oaky notes, balances out the bright and tangy lime juice and bittersweet orange liqueur in a margarita just perfectly. And when sweetened with a tiny hint of maple syrup (optional, if you like a sweeter marg) and and served with a coarse salt rim, we found each sip of this margarita to be endlessly intriguing and so damn good. If you love bourbon and margs as much as we do, I highly recommend giving it a try!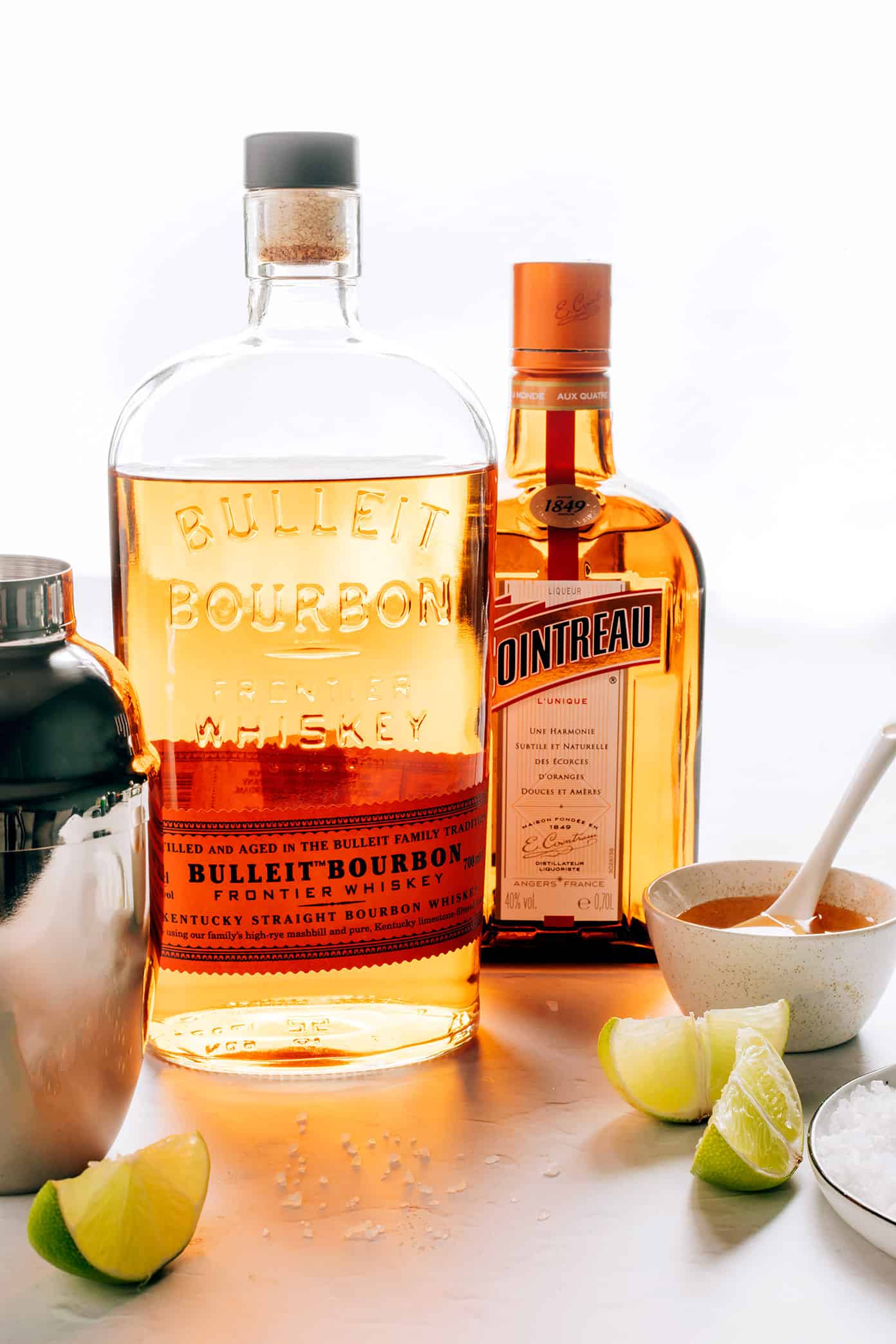 Bourbon Margarita Ingredients
Before we get to the full bourbon margarita recipe below, here are a few notes about the ingredients you will need…
Bourbon: Any good-quality bourbon whiskey will work in this cocktail. (Or rye whiskey would be delicious too.)
Orange liqueur: I'm partial to Cointreau or Grand Marnier in margaritas, but a good-quality Triple Sec would also work too.
Lime juice: Freshly-squeezed juice, as always, plus feel free to use a slice as garnish. I'm a big fan of this citrus juicer, which makes juicing limes a breeze!
Sweetener: I typically prefer my margaritas without extra sweetener. But maple syrup plays beautifully with the bourbon, if you would like to sweeten your cocktail a bit. Or you could go with the standard agave nectar (or simple syrup).
Ice: You will need a handful of ice to shake the cocktail. Then I recommend a large chunk of ice (such as a large cube or sphere) in the serving glass so that it will melt slowly.
Lime wedge and coarse salt: If you would like to rim the glass with salt, just run a lime wedge around the rim and dip it in a plate of coarse salt. (I recommend Kosher salt, whose texture is ideal for a good salt rim.)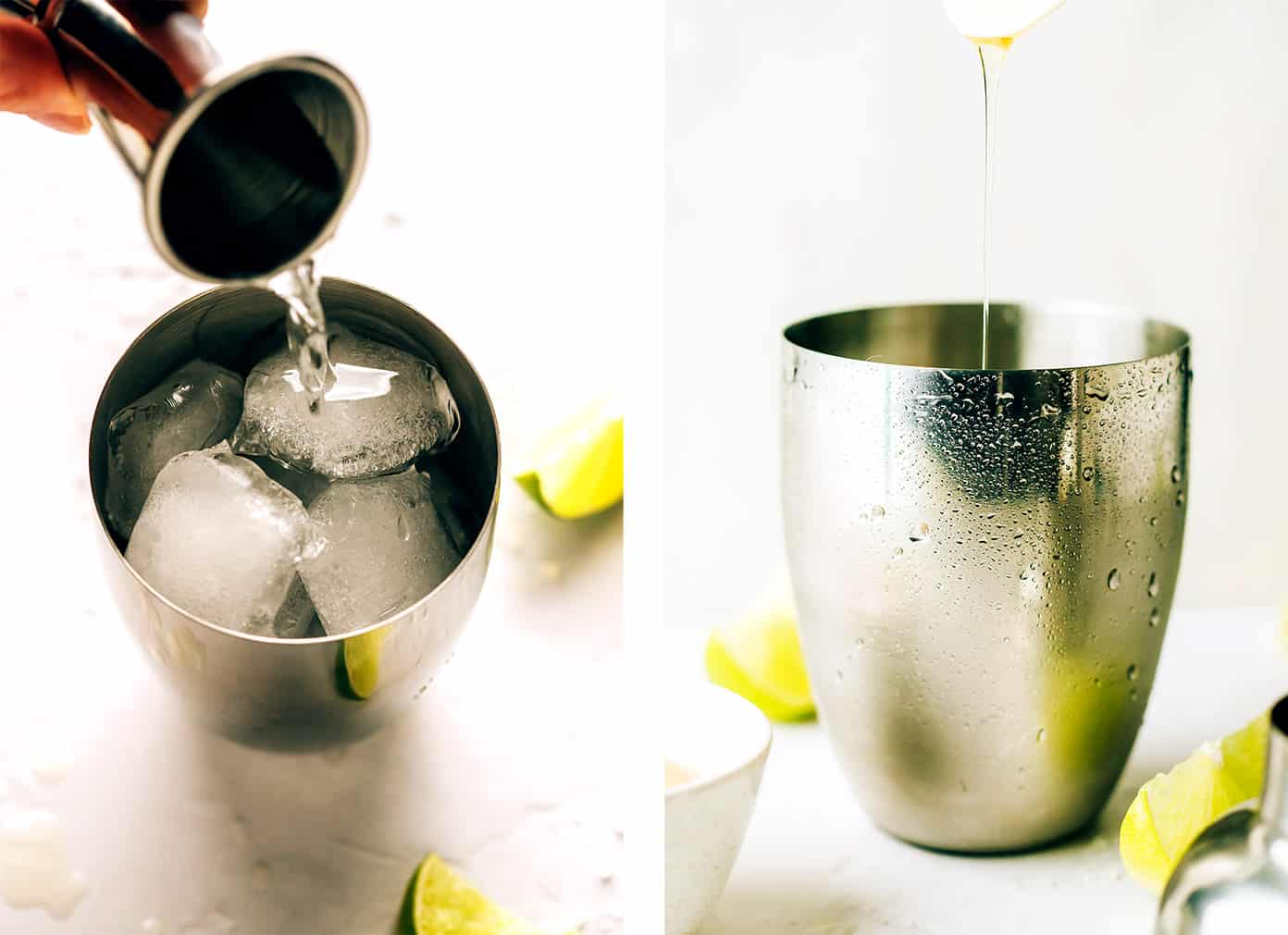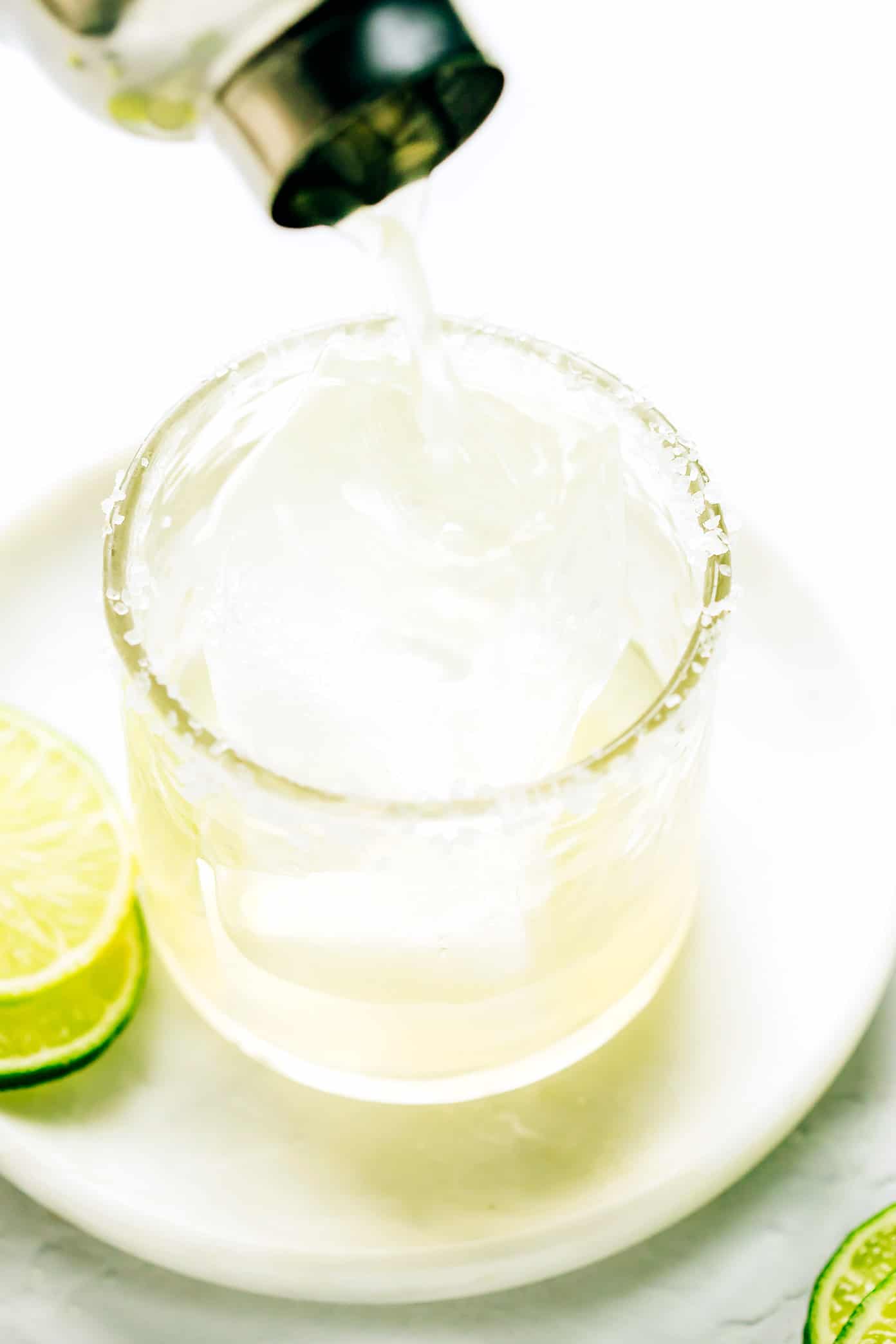 Recipe Variations
Here are a few additional ways that you can customize this bourbon margarita recipe…
Use fresh orange juice: To make a "skinny" margarita, substitute freshly-squeezed orange juice in place of the orange liqueur.
Use a different rim: I love mixing Tajín with coarse salt to make a spicier chili-lime salted rim. Or if you want to go sweet and spicy, you can mix some turbinado sugar (or any type of sugar) with the salt.
Add jalapeño: To make a spicy margarita, muddle a jalapeño slice or two in the cocktail.
Make a pitcher: To make a pitcher of bourbon margaritas (16 servings), stir bourbon, orange liqueur, lime juice and a handful of ice together in a large pitcher until combined. Add sweetener to taste, if desired, until the margaritas reach your preferred level of sweetness. Serve over ice, garnishing each glass with an extra lime slice if desired.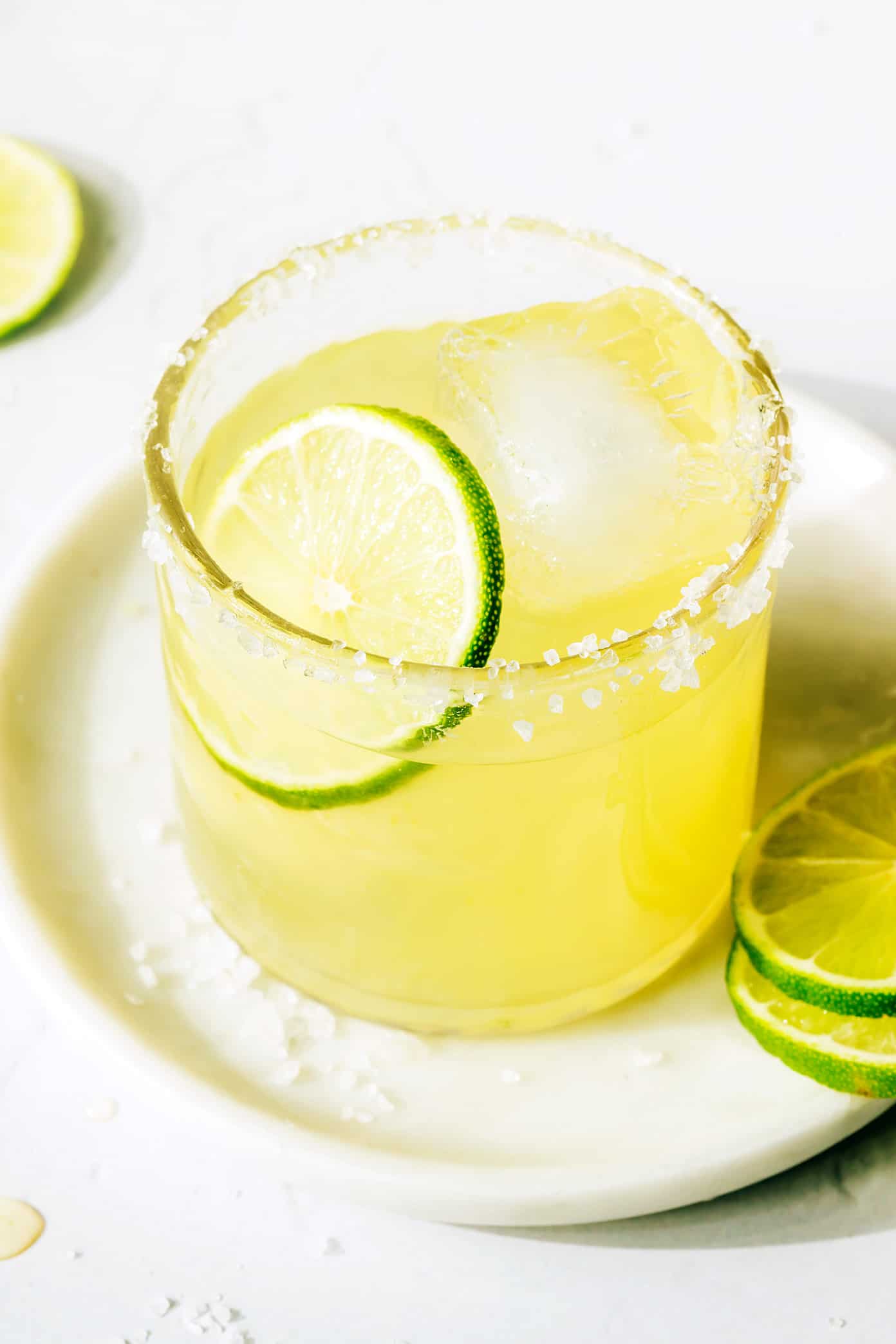 ---
1 1/2 ounces

bourbon

1 ounce

Cointreau

(or Grand Marnier)

3/4 ounce

freshly-squeezed lime juice
optional sweetener: 1 to 2 teaspoons maple syrup (or agave nectar)

ice

lime wedge and

coarse salt

for rimming the glass
---
Salt the rim (optional).

Run a lime wedge (the juicy part) around the top rim of your serving glass. Fill a shallow bowl or plate with coarse salt, then dip the rim until it is covered with your desired amount of salt. Set aside.

Make the margarita mix.

Add bourbon, Cointreau, lime juice and a few ice cubes to a cocktail shaker. Shake or stir vigorously for about 10 seconds to chill. Give the mix a quick taste and stir in your desired amount of sweetener if desired.

Serve.

Fill the prepared serving glass with ice. Strain in the margarita mix, garnish as desired, serve and enjoy. Cheers!
---
---