This post may contain affiliate links. Please read my disclosure policy.
This nutrient-rich pink latte recipe is easy to make hot or iced and features a cozy mix of beetroot powder and warming spices, your choice of milk and a hint of sweetener.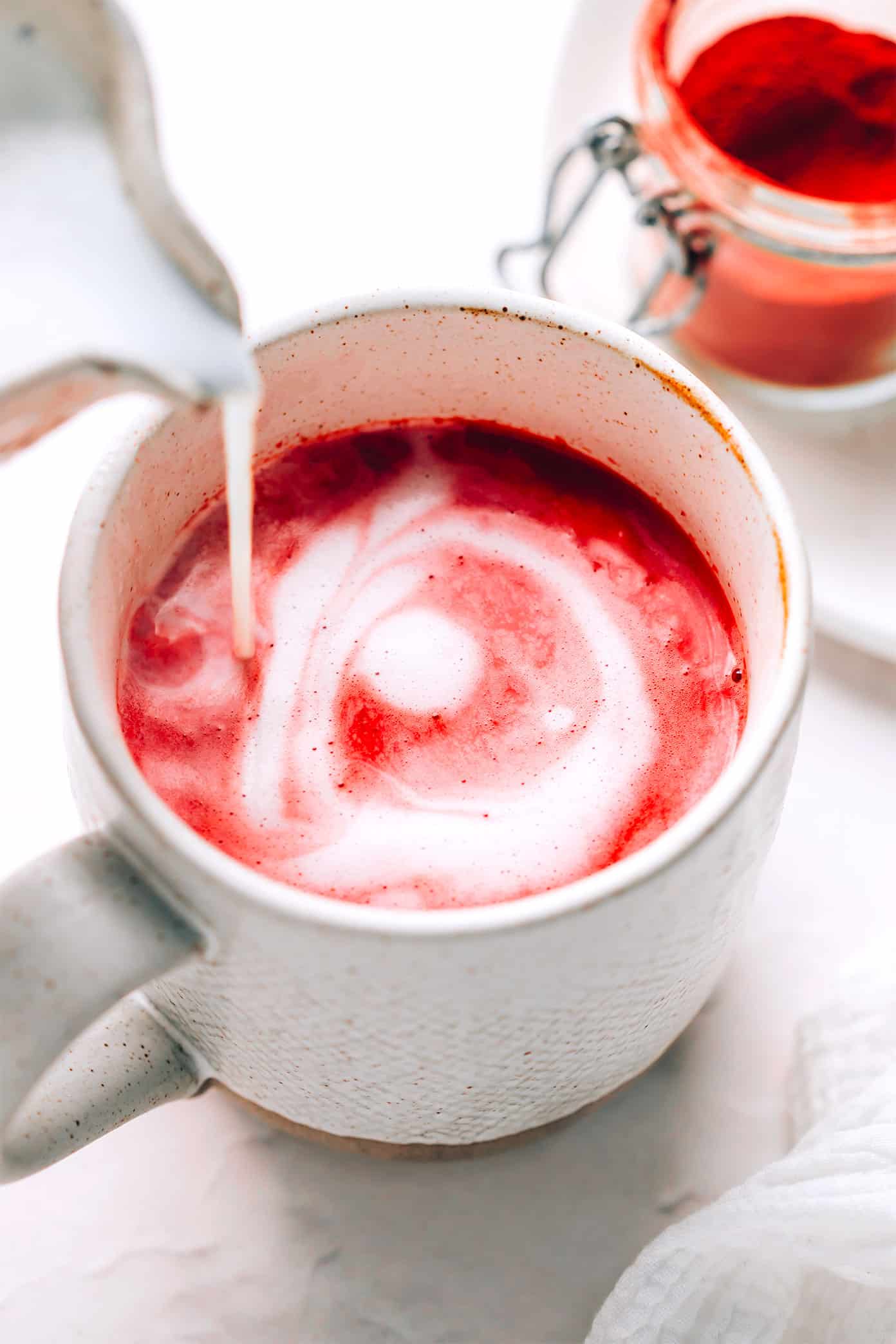 Every time I'm back in our old neighborhood in Barcelona, I can't resist stopping by Brunnels, the historic pastisseria located a few doors down from our old place. This gem of a bakery just celebrated its 170th birthday and also recently won the coveted award of best croissants in Spain, which I am all too familiar with and can vouch are delightful. But in my opinion, the best kept secret of this charming bakery is actually quietly hiding out on their drink menu…
…their pink beetroot latte. ♡
As someone who's never been all that into beets, I had always assumed the pink latte trend wouldn't be for me. But ever since I aged into the can't-come-anywhere-near-caffeine-after-11am club a few years ago, I've been spending much more time exploring decaf menus all around town. And one day when the barista at Brunnels talked me into trying his favorite drink on their menu, the latte de remolacha, I was surprised to not just like it…but love it.
To be sure, there are countless ways to make a "pink" latte. But Brunnels' version is spiced similarly to a chai or golden milk with lots of cozy warming spices, a touch of sweetener, and whatever milk you prefer. Then that gorgeous burst of pink comes from the addition of beetroot powder, whose earthiness adds an irresistible bit of earthiness to drink, as well as major dose of vitamins and nutrients. A hot mug is the perfect sipper on a cold winter's day…or the iced version is also delightfully refreshing. I love them both!
Anyway, you probably imagined where this story was heading. Once we moved away from Brunnels to our current flat in Barcelona, I realized it was officially time to figure out how to make my own beetroot lattes en casa. Turns out, it's incredibly quick and easy to mix your own dry beet root latte mix with just 5 ingredients. Then whenever you're craving a homemade pink latte, just add a spoonful to either a mug of steamed milk or glass of iced milk and you're good to go. It's so comforting, nice and healthy, and surprisingly delicious. I think you're going to love it.
Let's make some pink lattes!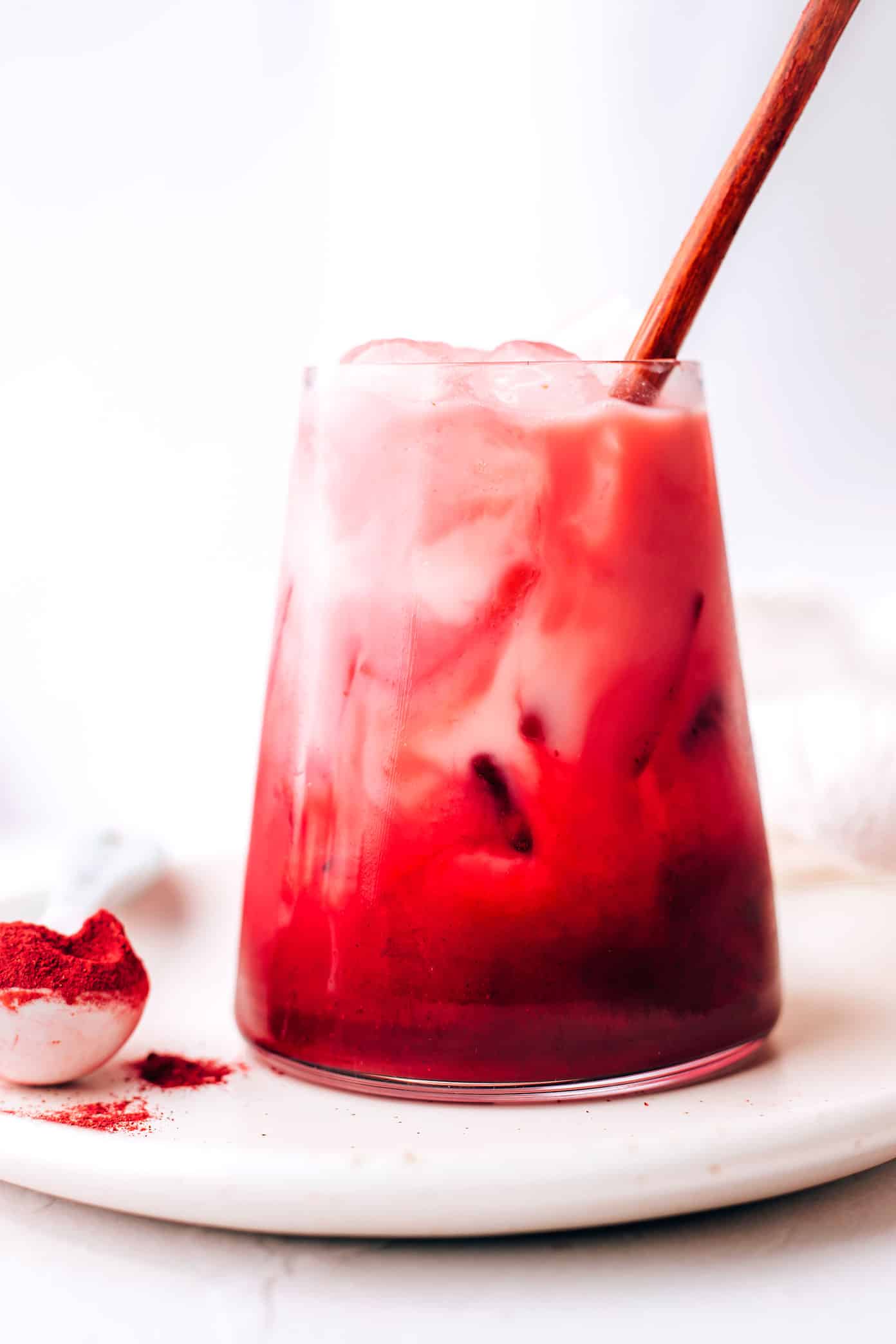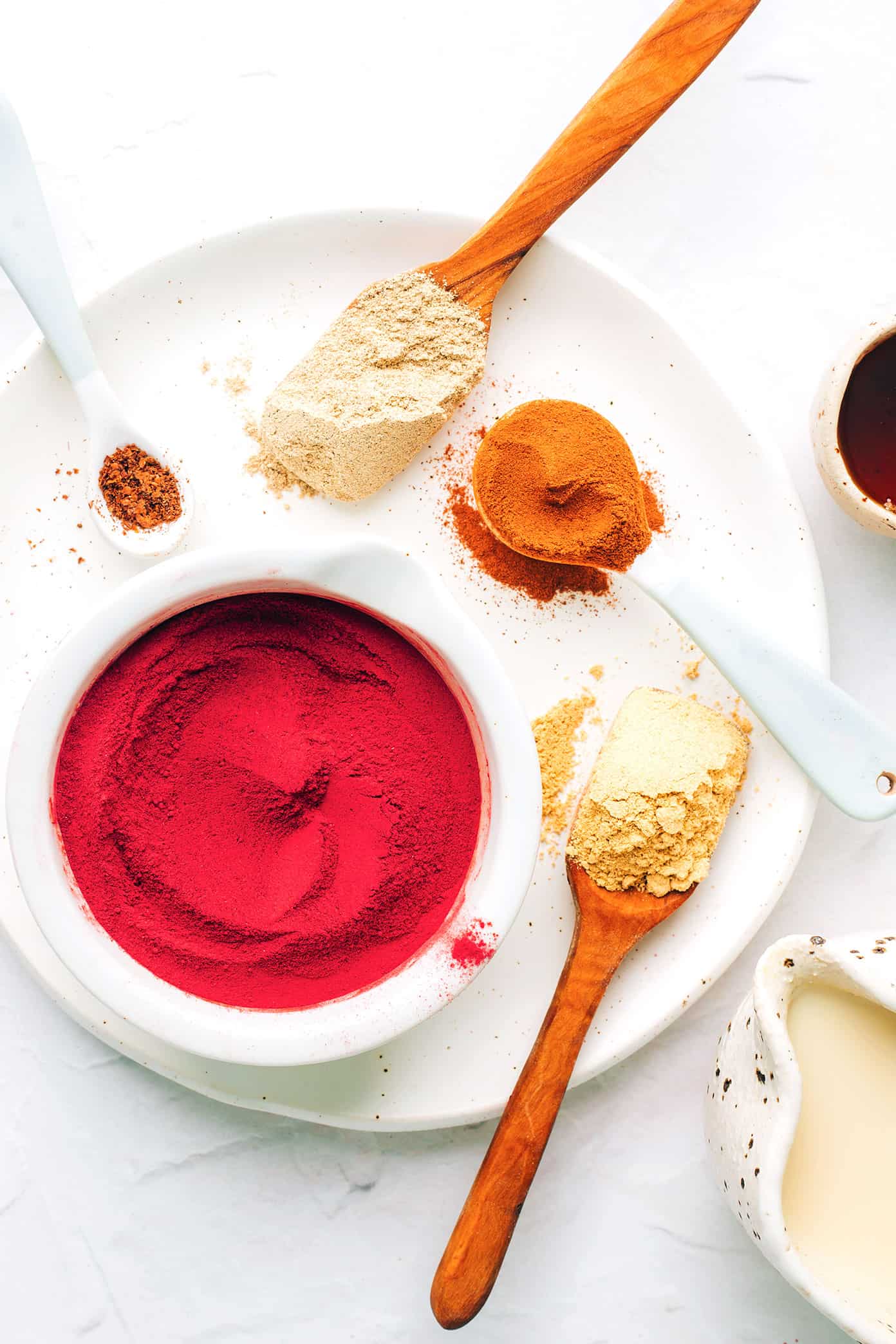 Pink Latte Ingredients
Before we get to the full recipe below, here are a few notes about the pink latte ingredients you will need:
Beetroot powder: Beetroot powder (a.k.a. beet root powder or beet powder, depending on your part of the world) is made with freeze-dried concentrated beet juice, which is rich in protein, fiber, vitamins C and B6, folate, magnesium, potassium, manganese, iron and nitrates. You can read more about the health benefits of beetroot powder here.
Warming spices: I used a mix of ground cardamom, ground cinnamon, ground ginger and ground cloves. But please feel free to customize your blend of warming spices to taste. (See recommendations in the notes below.)
Milk: I typically use plain oat milk, but you can use whatever type of plain milk (dairy or plant-based) that you love best.
Sweetener: I'm partial to the caramel flavor that a hint of maple syrup adds to this pink latte. But feel free to use honey, raw sugar or any other sweetener that you prefer, adding more or less to taste.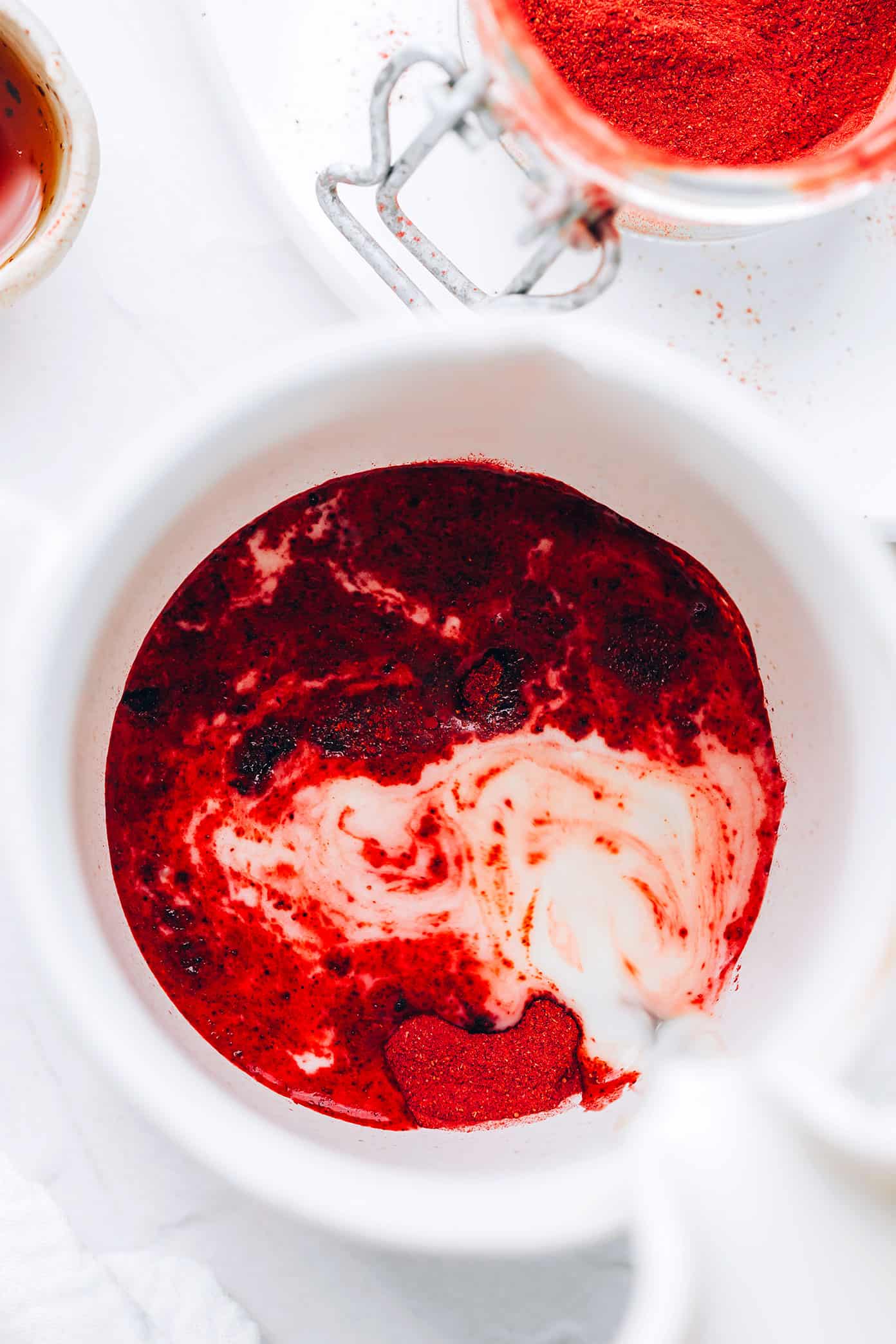 Tips for Making Beetroot Lattes
Here are a few important tips to keep in mind when making beetroot lattes:
You must start with a hot liquid. Especially when making iced pink lattes, it's essential to first dissolve the dry mix in a bit of hot milk or water before adding in the cold milk and ice. If you stir the dry mix directly into cold milk, it will be grainy and won't dissolve well.
Use whatever type of milk frother/steamer that you prefer. We're big fans of this Aeroccino frother and use it every day in our house for lattes. But you can also use a handheld frother or a hand blender to froth the milk, or just whisk it briefly by hand until frothed.
Avoid stains. Beet juice is water soluble and should not stain any of your mugs or classes. But if a drop lands on your clothing, be sure to stain-treat it immediately to avoid any permanent damage.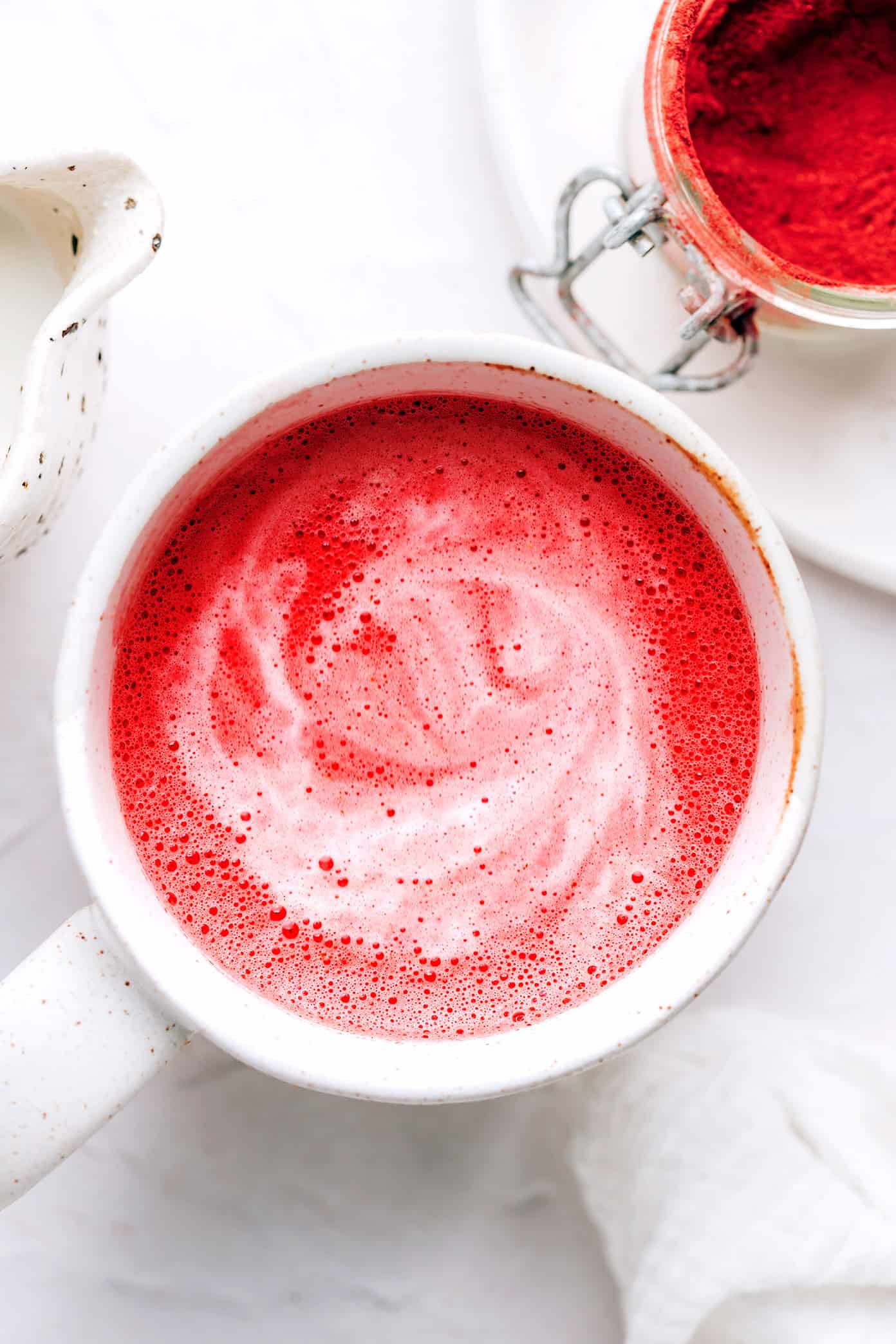 Pink Latte Recipe Variations
Here are a few options for potential ways to customize your own pink latte:
Use different warming spices: Feel free to tinker around with the blend of warming spices. You are welcome to adjust the amounts and/or add in any extra spices that you prefer, such as nutmeg, allspice, turmeric or black pepper.
Use fresh ginger: Stir add a few thinly-cut slices of fresh ginger to your hot latte if you would like to use fresh instead of ground ginger.
Use fresh beets or beet juice: Instead of using beetroot powder, you can roast one small beet until tender and then purée it into the drink, or add in a shot of concentrated cold-pressed beet juice.
Add vanilla: I also occasionally like adding a tiny splash of pure vanilla extract to this latte.
Add espresso: You're welcome to add a shot of espresso to your pink latte if you would like.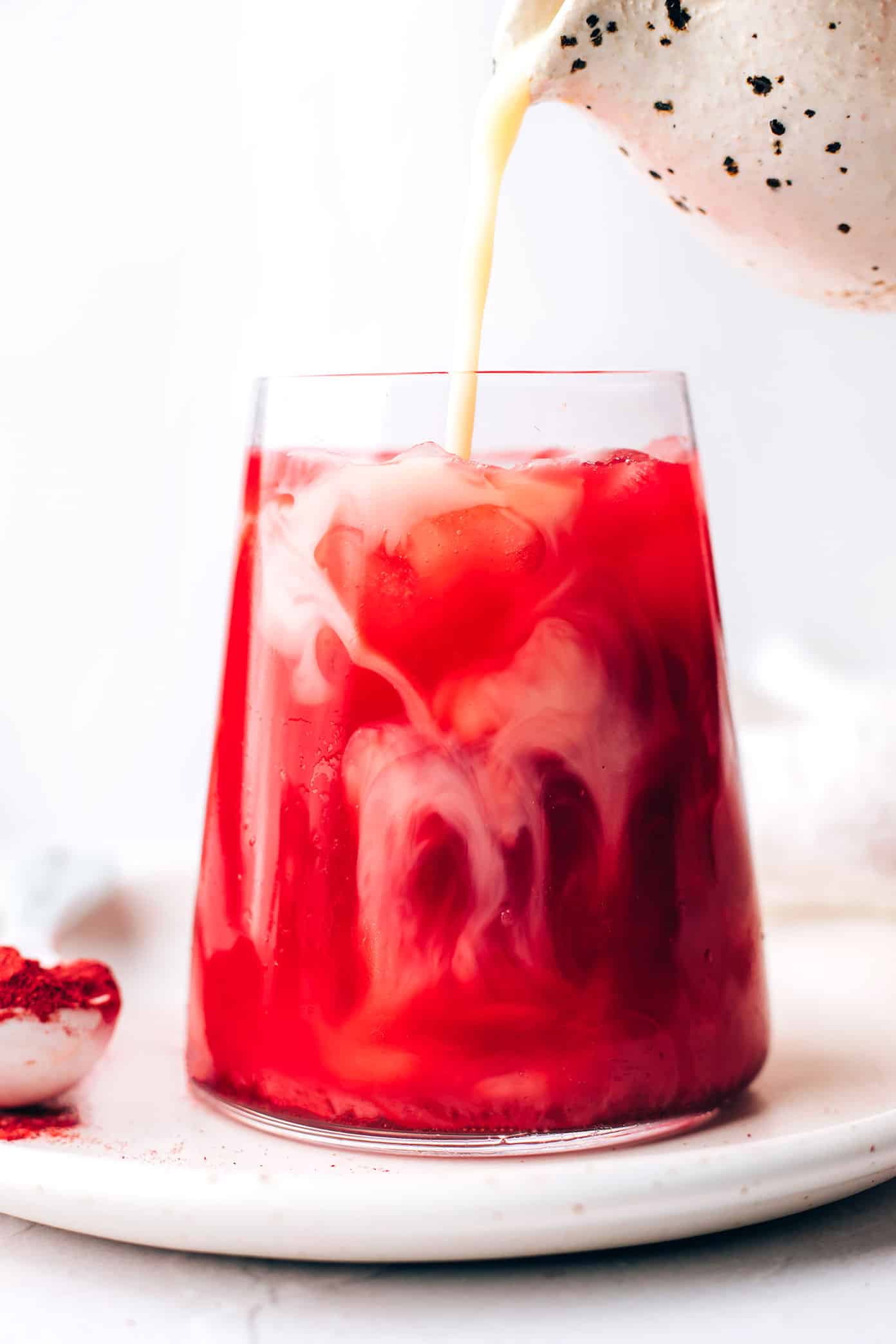 ---
Description
This simple pink latte recipe is easy to make hot or iced, and features a cozy mix of beetroot powder and warming spices, your choice of milk and a hint of sweetener.
---
Pink latte mix:
Individual latte:
1 1/2 cups

plain oat milk (steamed or cold)

1 tablespoon

pink latte mix

1

to

2

teaspoons maple syrup or honey, to sweeten
ice (if making an iced latte)
---
To make the mix:
Mix. Combine all ingredients in a jar. Cover and shake until evenly combined.
To make a hot latte:
Steam the milk. Steam the milk until warm and frothy using a frother. Or heat the milk in a saucepan over medium heat until nearly simmering, and whisk briefly until frothy.
Mix until combined.

Add 1 tablespoon of the dry pink latte mix plus 1 teaspoon maple syrup to a heatproof mug. Pour the steamed milk (minus the foam) into the mug and stir until combined. Add the foam on top and give it a brief stir.

Add extra sweetener if needed.

Give the latte a taste and add extra sweetener, if needed.

Serve warm.

Serve immediately and enjoy!
To make an iced latte:
Dissolve the pink latte mix.

Heat ¼ cup of the oat milk (or alternately you can just use hot water) until nearly simmering. In a heatproof glass or measuring cup, whisk together the hot milk, 1 tablespoon of the dry latte mix and 1 teaspoon maple syrup until combined.

Mix until combined.

Fill a large glass with ice. Pour in the warm latte mixture. Then pour in 1 ¼ cups cold oat milk, and stir briefly with a straw until combined.

Add extra sweetener if needed.

Give the iced latte a taste and add extra sweetener, if needed.

Serve cold. Serve immediately and enjoy!
---
---