These Breakfast Stuffed Peppers with cheese, bacon and spinach (or use whatever fillings you like!) are an easy, healthy, low carb breakfast, lunch or dinner!  Cook them in the oven or the slow cooker! Includes step by step recipe video.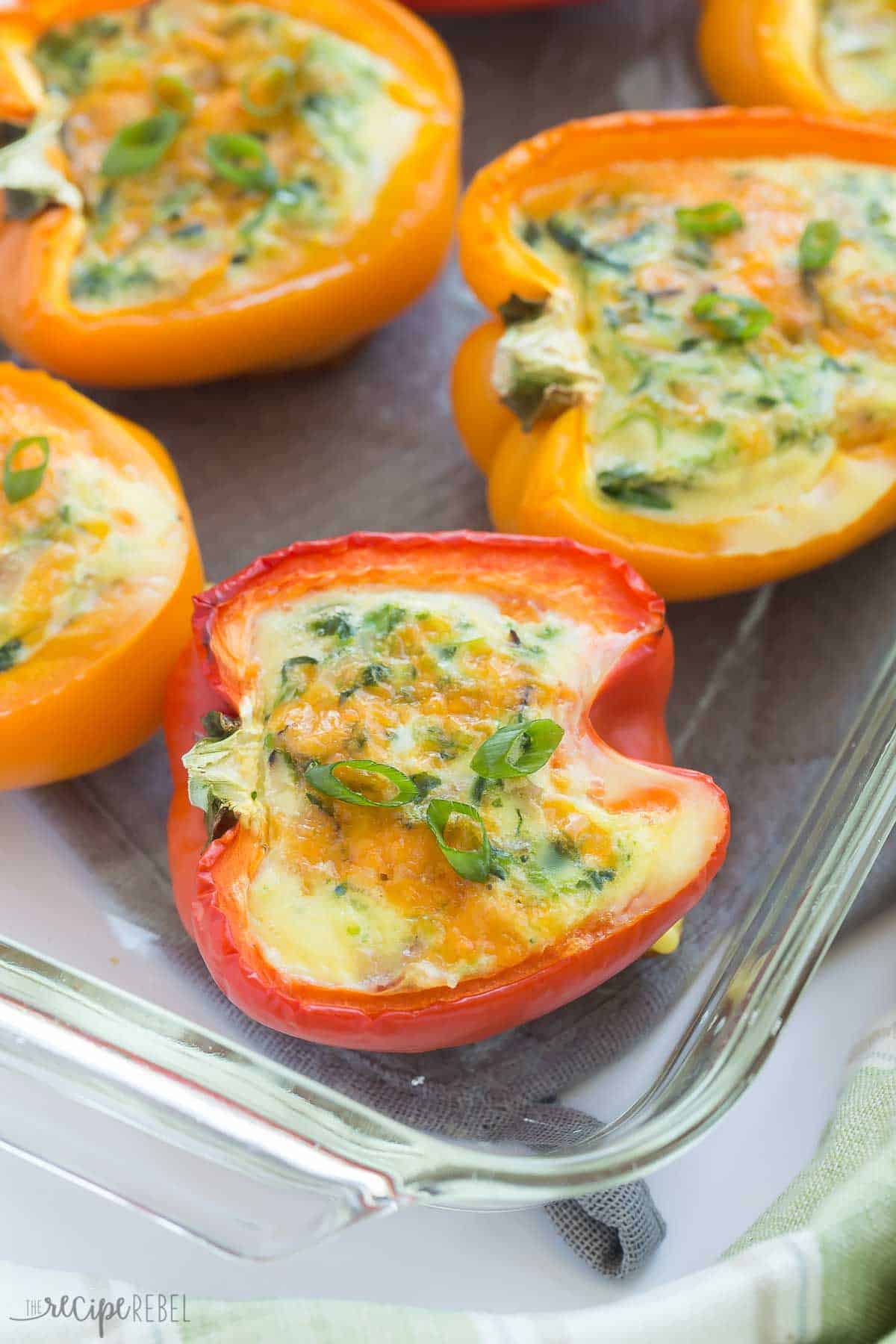 These Breakfast Stuffed Peppers were originally posted in August of 2015, but since they've been incredibly popular I'm updating the photos, adding a step by step video and cleaning things up a bit! Enjoy!
Here we are. How was your January 2018??
I did really well at staying on track for the first few weeks of January. But I'll admit, once I started to get into Easter recipes and Spring desserts…. I started to lose track of my goals.
But since Stella has started sleeping longer at night — up to 10 or 11 hours in one stretch! — we are feeling a little more energized and my workouts have a little more "oomph" to them ? Thank you sweet baby for going easy on us!
Our second daughter slept a lot less and was always hungry, so I know how important it is to have some easy, healthy meals on hand that you can make when you can hardly think or move.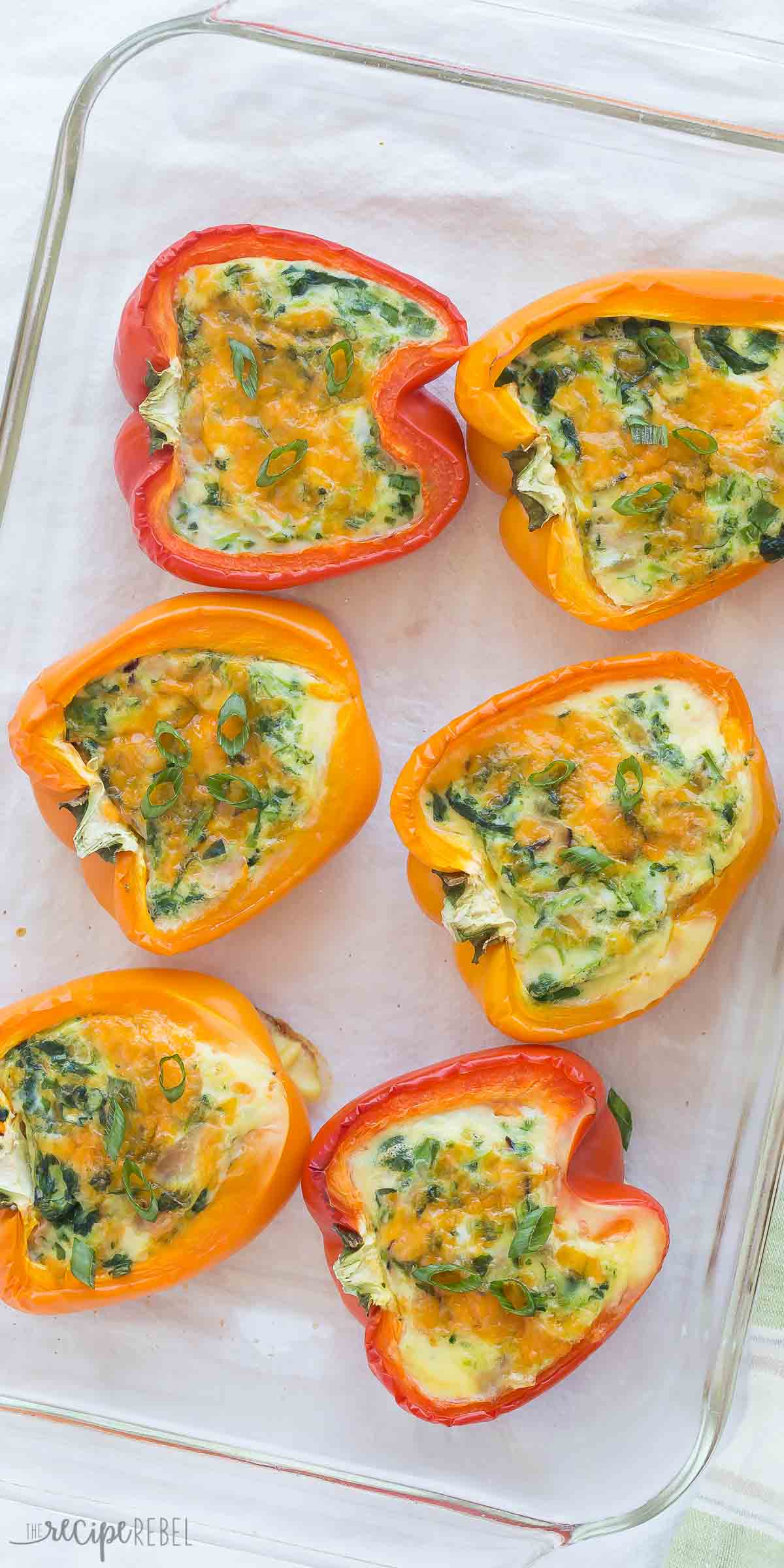 We love eggs, and we eat them for any meal of the day, in any form.
Breakfast burritos, breakfast quesadillas, or this Loaded Baked Potato Breakfast Casserole — we'll take them all. (And if they come in the form of French toast or cake, we ain't mad about that either!).
These Breakfast Stuffed Peppers are super fun and easy for the kids to customize — everyone can add in their favorite veggies, seasonings and cheeses and they all bake up in one pan. If you leave them a little firmer, they're even easy to grab and eat on the go!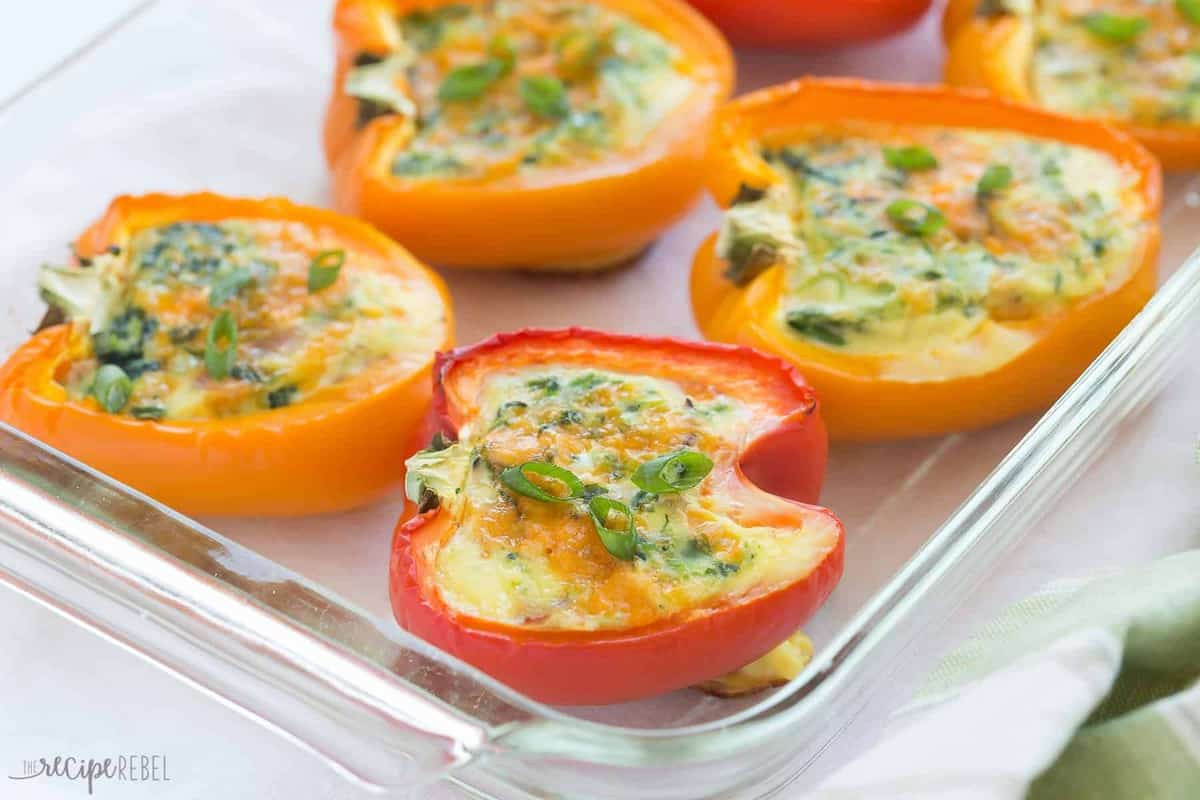 Tips and Tricks for Making these Breakfast Stuffed Peppers:
Try to cut your peppers so that they'll be relatively flat on the bottom — we don't want too much spillage in the pan!
Mix up your veggies, meats and cheeses as you desire — or let everyone put their own in the peppers and just pour the whisked eggs right over top!
These stuffed peppers keep well in the refrigerator for a couple of days but aren't great from the freezer — unless you are okay with your peppers being totally soft and mushy!
Watch the recipe video and see how easy they are to make!
I would love to hear what your go-to recipes are for the busy weeks ahead!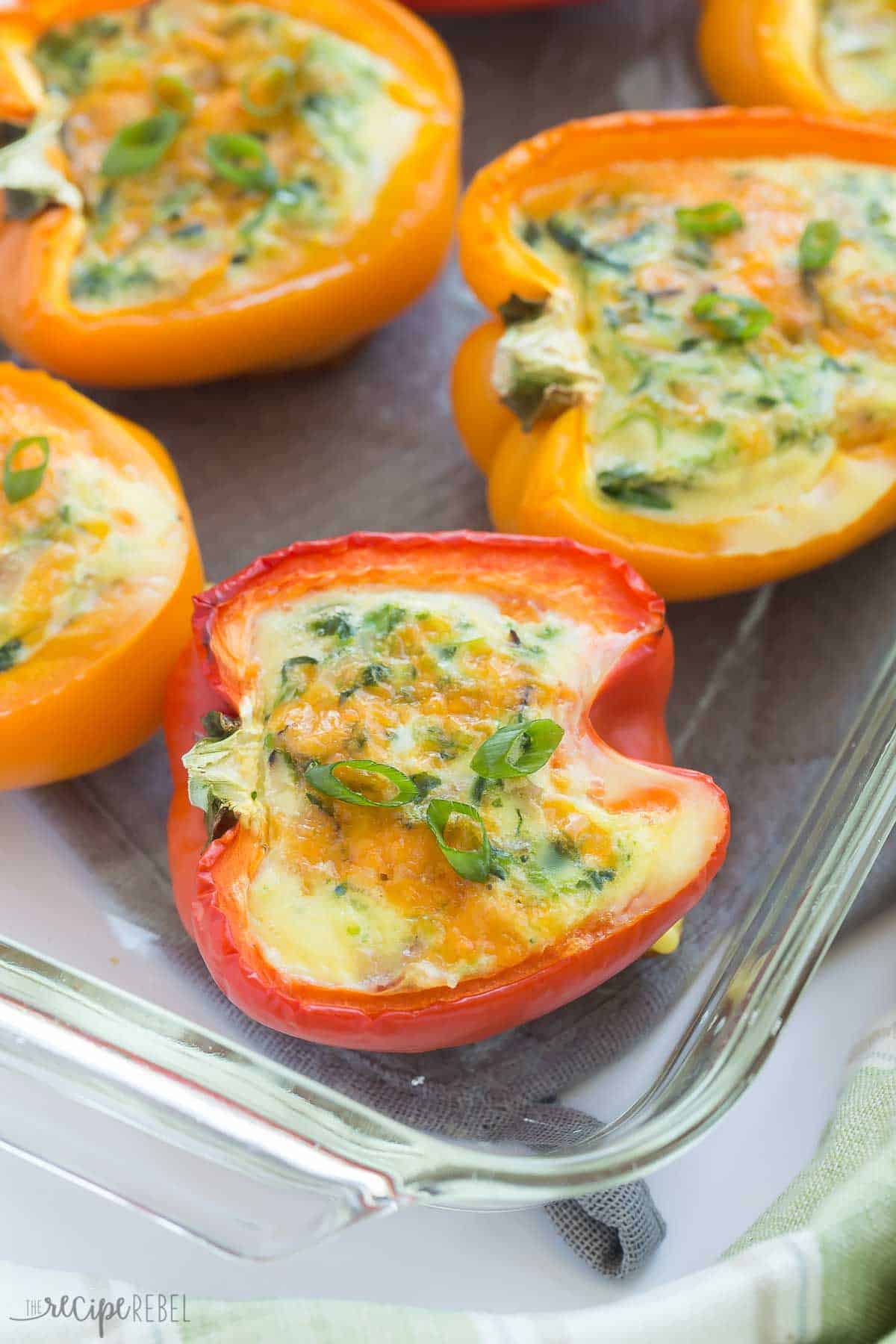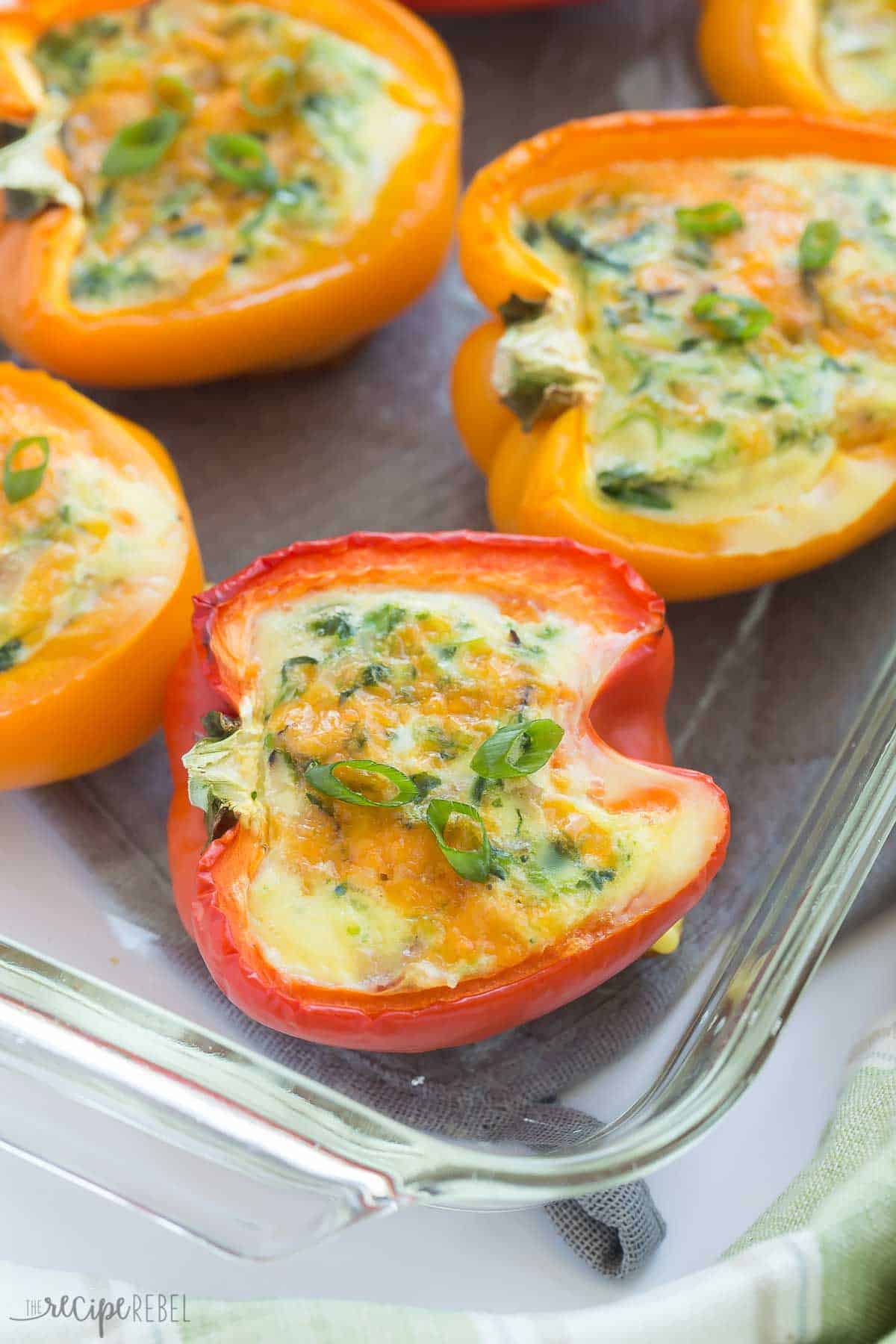 Ingredients
3 bell peppers, halved and seeded
4 eggs
1/2 cup milk
3/4 tsp salt
2 tbsp chopped green onion
1/4 cup chopped frozen spinach, thawed, squeezed dry
3/4 cup shredded cheddar cheese, divided
1/2 cup finely chopped ham
Directions
Preheat oven to 350 degrees F.
In a medium bowl, combine eggs, milk, salt, green onion, spinach, ½ cup cheese and ham with a whisk until combined.
Lay your peppers in a lightly greased baking dish (whatever size works — you want them to be a little snug so they don't move too much and spill). Divide your egg mixture between your peppers and sprinkle with remaining cheese. Bake for 45-50 minutes, until eggs are set.
Line slow cooker with tin foil. Place peppers in slow cooker and fill. Cook on low for 3-4 hours or until eggs are set.
Recipe Notes
* You can easily substitute fresh — I would increase the amount to ¼-1/2 cup.
** Nutrition information is calculated per half bell pepper.
Loading nutrition data…