Butterfinger Cookies are a chewy, rich, buttery, and loaded with chopped Butterfinger candies. This is an easy cookie recipe for all the Butterfinger fans out there. You won't be able to eat just one!
Butterfinger Cookies Are Easy, Chewy, and Buttery!
I feel like I don't give Butterfingers a fair shot in the quest for top candy bar. I have always liked them, but they aren't ever my first choice. But why? I don't even know the answer to that! They are pretty much everything I love in a candy bar…crispy, buttery, kinda peanuty doesn't actually have nuts, and comes with the ability to eat the chocolate coating off before eating the inside. Don't pretend you don't know what I am talking about. This feature alone is one of the reasons Kit-Kats are atop the leaderboard. If I can deconstruct candy, you're a winner.
ANYHOW, Butterfingers scream to be added to a cookie recipe. They add a buttery, chewy texture that really is amazing. I made these cookies last week and promptly ate 3.  And by 3, I mean 12. I am a sad case and can't be stopped.
Looking for More Butterfinger Recipes? Try These: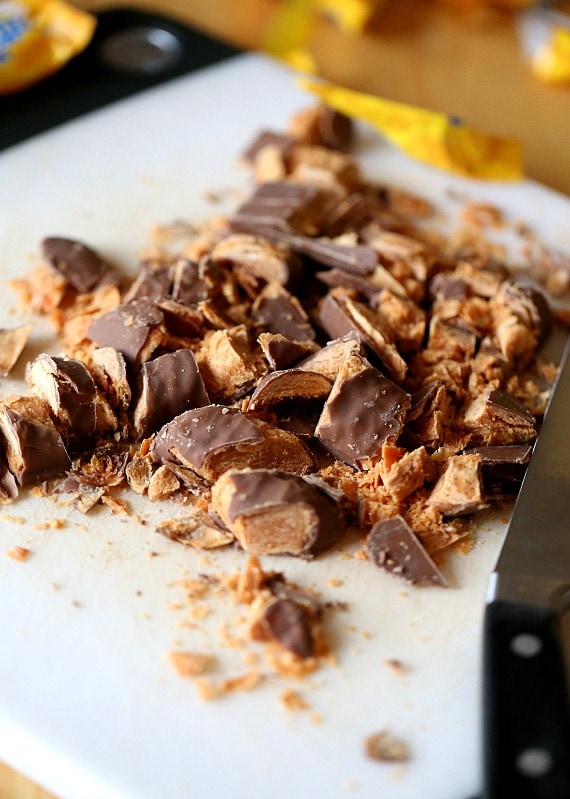 How to Make These Easy Butterfinger Cookies
The great thing about this cookie recipe is how easy it is! No chill time necessary, standard ingredients and they always turn out great!
What Ingredients Do You Need?
Butterfingers. You'll need about 2 cups of chopped candy. Don't get too hung up on exact measurements. I chopped about 11 Snack Sized Butterfinger candy bars.
Egg + Egg Yolk. I use an extra egg yolk in this cookie recipe to amp up the chewy factor. It always works perfectly!
Vanilla Extract. I always use Pure Vanilla Extract. You can use any brand, but I love Neilson-Massey
Sugar. Granulated Sugar works best in this recipe. The Butterfingers have so much flavor so a mild flavored sugar works best!
Baking Soda, Salt, & Flour. These are pretty standard ingredients for cookies!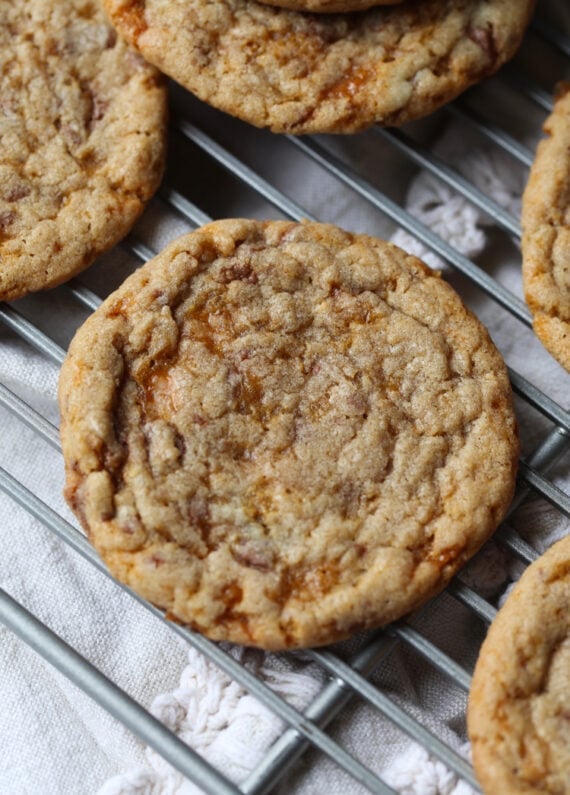 How To Make Sure Your Cookies Are Perfectly Baked
Like I said earlier, these cookies always turn out great, but I do want to share a few tips with you to make sure you have cookie success!
Make sure to line your baking sheet with parchment paper or a silicone liner. Since the butterfinger melt while they are baking they can stick to an unlined baking sheet!
Use a cookie scoop to ensure all the cookies are the same size, and will bake evenly. I used my large 3 Tbsp cookie scoop.
Bake the cookies until the bottoms and sides are lightly brown. They should be soft and chewy on the inside, but crispy and golden on the outside.
If you're not a Butterfinger Fan, here are a few other cookie recipes using different kinds of candy:
* This post was originally published in 2014, but I updated the photos and added baking tips in 2019