Cabbage Cucumber Salad is a classic salad recipe made with a homemade vinaigrette dressing and plenty of cool, crisp veggies. Easy and quick to make!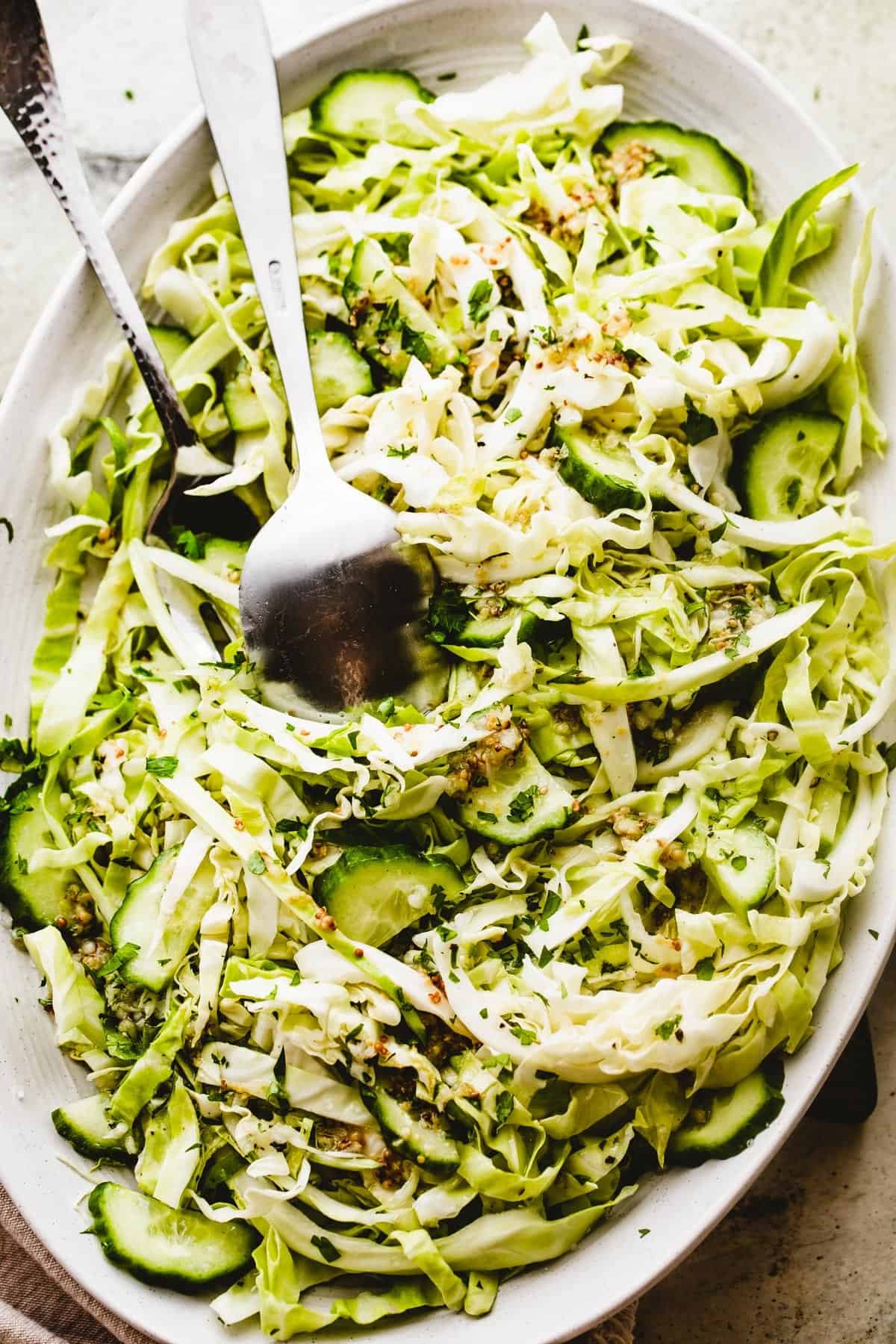 A Tangy, Crunchy, Addictive Cabbage Salad!
Cabbage Salad is just about the perfect side dish, bursting with fresh veggies and nutrition. The only downside to any salad is that the ingredients are often on the delicate side, from tender lettuce to fresh tomatoes, or even fruit. Those ingredients can be amazing, of course, but they often don't store or travel very well.
Enter the humble cabbage. ? Cabbage is one salad item with plenty of staying power, maintaining its crispy crunch no matter how much dressing you throw at it, and storing well in the fridge for days at a time!
If you are a fan of coleslaw, then you'll love this easy cabbage cucumber salad. There's no dairy or mayo in this, but there is plenty of tangy, savory goodness, in the form of a homemade Dijon vinaigrette with white vinegar, olive oil, and fresh parsley. Best of all, it's super easy to make!
This Recipe Is Awesome Because…
You can make it ahead, if desired, because the flavors and textures actually improve with a couple of hours of chilling.
It's ultra-crisp and flavorful!
The tartness of cabbage cucumber salad goes perfectly with almost any rich, savory, or saucy dish.
It's made with healthy, fresh veggies – no junk food or processed ingredients here.
No complicated processes or steps.
It stays fresh for days in the fridge!
What You'll Need
So just what goes into this simple salad? Besides the veggies, the ingredients are essentially seasonings and condiments which make up the vinaigrette. Let's do a quick rundown:
Olive Oil: You'll need a generous amount of  extra virgin olive oil for the vinaigrette mixture.
Vinegar: White vinegar is nice and sharp, perfect for dressing cabbage, which has a strong taste..
Garlic: Fresh minced garlic adds a little bite. It will mellow slightly while the cabbage cucumber salad chills.
Parsley: Chopped fresh parsley gives the flavor profile a lift, with its clean, fragrant taste.
Dijon: I really recommend Dijon mustard in this recipe. It has a special flavor that is very wine-like, with an unusual umami depth as well. If you need to substitute another kind of mustard, that will work, but Dijon is definitely my preferred ingredient!
Honey: Use a little bit of honey to balance the vinaigrette, or substitute maple syrup, sugar, etc.
Salt and Pepper: To taste.
Cabbage: Shred up a small head of cabbage – about 8 cups total.
Cucumber: I like to use an English cucumber, cut into half-moons. If you use a smaller variety of cucumber, you may want to slice up two of them to have the right amount.
Is Cabbage Good for You?
Definitely! Cabbage is low in calories, but high in Vitamin K and vitamin C, and fiber. It promotes healthy digestion, and may help reduce chronic inflammation, thanks to its antioxidant content. Plus, cabbage is delicious!
What Kind of Cabbage Should I Use?
This recipe is fantastic with regular green cabbage, but you can also use savoy cabbage or napa cabbage. Red cabbage could technically be used, but the vibrant color may fade or bleed into the cucumber slices.
How to Make Cabbage Cucumber Salad
Once the cabbage is shredded, the cucumber is sliced, and the parsley is chopped, this recipe is as easy as can be to pull together. Here's how to do it:
Mix the Vinaigrette Ingredients. Into a large serving or salad bowl measure the oil, vinegar, garlic, parsley, mustard, honey, salt, and pepper. Use a whisk to mix this all together into a smooth dressing.
Toss the Dressing and Veggies Together. Dump the shredded cabbage and cucumber slices into the bowl with the vinaigrette mixture, and use two large spoons or salad tongs to mix and coat. 
Taste and Chill. Taste the salad and adjust the salt, vinegar, honey, and other ingredients to your taste. Then, for best results, refrigerate the salad for an hour or two before serving. This will allow the cabbage to soften slightly.
Enjoy! Before serving, lightly toss the ingredients again.
Tips and Tricks
These are my top tips for making this salad the easy way. I hope you feel inspired to try this fresh, green classic! Happy reading, and happy cooking!
Choosing a Good Cabbage: A good cabbage will have firm, mostly unblemished outer leaves, and be tightly packed. Limp, loose, or damaged heads of cabbage should be avoided.
Coleslaw Mix: If you prefer, you can use pre-shredded cabbage or coleslaw mix to make this easy recipe even easier!
Make It Ahead: One of the great things about cabbage cucumber salad is that it stores well for several hours, or even a whole day, before serving. Not a lot of salads do that! So feel free to make this up to 24 hours ahead of time. 
Herbs and Mix-Ins: Feel free to add other herbs and mix-ins, like chopped fresh dill, chopped fresh cilantro, sliced green onions or chives, toasted sesame seeds, etc.
Irresistible Serving Ideas
Cabbage cucumber salad is a fantastic side dish to serve with just about any savory main course, from chicken to pork to beef to vegetarian options. It's a favorite at big picnics and potlucks, for good reason!
Barbecue: Any kind of barbecue dish is perfect with cabbage cucumber salad. That tangy, fresh crunch is the perfect contrast for pulled chicken, barbecue beef, or my personal favorite: Easy Baby Back BBQ Ribs.
Noodles: Egg noodle dishes are generally good partners for this tangy salad. Easy One-Pot Turkey Sausage and Noodles recipe is a great choice!
Potatoes: There's no doubt that cabbage and potatoes are a match made in heaven, so why not try serving your salad with a warm dish of Potatoes au Gratin? Yum!
How to Store Cabbage Cucumber Salad
You can store your leftover salad in the refrigerator, covered well, for a couple of days. If you feel like the flavor is not quite as bright, just sprinkle a little more salt or vinegar (or both).
Can I Freeze This Recipe?
Can you freeze cabbage salad? Well, yes and no. You can put it in a freezer bag and freeze it for a month. Thaw it out, and it will be perfectly safe to eat.
The problem is that frozen and thawed fresh cabbage will be mushy after thawing, and cucumbers will likely be even mushier since they contain so much water! So although it is safe to freeze this salad, I don't recommend it. The texture will be very different if you freeze and thaw it.
ENJOY!
Cabbage Cucumber Salad
Cabbage Cucumber Salad is a classic salad recipe made with a homemade vinaigrette dressing and plenty of cool, crisp veggies. Easy and quick to make!
Instructions 
In a large serving/salad bowl combine oil, vinegar, garlic, parsley, mustard, honey, salt, and pepper; whisk until thoroughly incorporated.

Add in the shredded cabbage and cucumber slices; toss to coat.

Taste and adjust accordingly.

For best results, refrigerate salad for about 1 to 2 hours before serving. This gives the cabbage time to soften.

Toss again and serve.
Nutrition Facts
Cabbage Cucumber Salad
Amount Per Serving
Calories 198
Calories from Fat 126
% Daily Value*
Fat 14g22%
Saturated Fat 2g10%
Polyunsaturated Fat 2g
Monounsaturated Fat 10g
Sodium 368mg15%
Potassium 443mg13%
Carbohydrates 18g6%
Fiber 5g20%
Sugar 11g12%
Protein 3g6%
Vitamin A 426IU9%
Vitamin C 71mg86%
Calcium 93mg9%
Iron 1mg6%
* Percent Daily Values are based on a 2000 calorie diet.
Nutritional info is an estimate and provided as courtesy. Values may vary according to the ingredients and tools used. Please use your preferred nutritional calculator for more detailed info.
Keywords: cabbage recipe, easy salad recipe, healthy side dish, simple salad, summer bbq side dish
Want To Save This Recipe?
More Healthy Salad Recipes