Cake Batter Blondies are chewy, sweet, loaded with sprinkles, and topped with marshmallow buttercream! They start with a cake mix, with a few added ingredients including marshmallows to up the chewy factor! The prettiest blondies you will ever make!
Top these blondies off with my sweet Party Frosting aka Marshmallow Buttercream!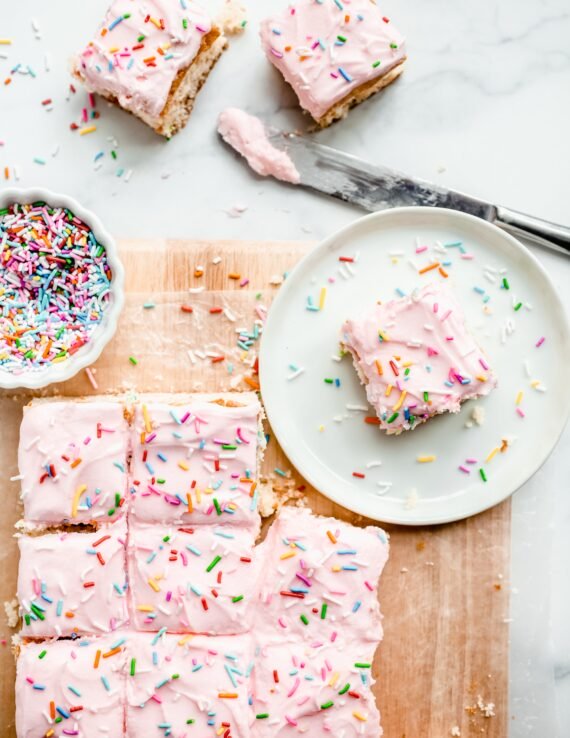 Cake Batter Blondies are the Perfect Party Dessert!
I made these Cake Batter Blondies way back in 2011, but thought they might need a little facelift! I snapped a few new pictures and thought that I'd bring these beauties back up to the top of your newsfeed again!
What's not to love about a sprinkle filled, buttery bar topped with fluffy marshmallow buttercream frosting? If you're looking for a party party treat, this is the easy dessert recipe for you!
It All Starts With A Cake Mix!
The beauty of these blondies is they start with a cake mix! I used Funfetti, because SPRINKLES! But you can certainly use any flavor that you would like. If you're going for that true "cake batter" flavor, I do recommend that you use any version of vanilla.
Starting with a cake mix is definitely a short-cut. You use the dry cake mix as an ingredient, so don't prepare the cake according to the package directions. Use it as you would any other dry ingredient.
Add Marshmallows!
Adding marshmallows into the batter makes these blondies extra chewy! It's a pretty simple ingredient to add that really amps up the chewy factor. They kind of melt into the batter as it bakes, like a secret sweet ingredient.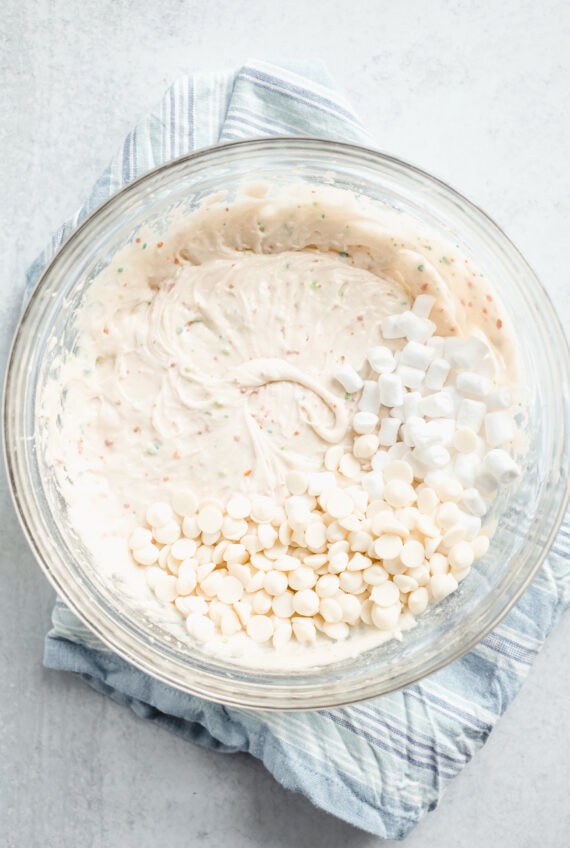 Ingredients For Cake Batter Blondies…
1 box vanilla cake mix. I used Funfetti, but you can get creative with other flavors!
Vegetable oil
Egg
Milk
White chocolate chips. If you use a chocolate cake mix you can use chocolate chips instead! Or if white chocolate isn't your thing you can leave them out!
Mini marshmallows to add extra chewiness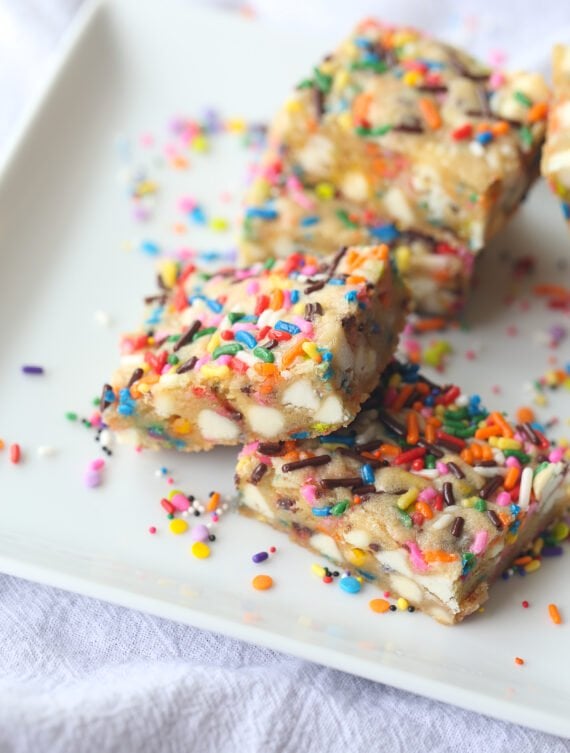 Add Frosting…Or Don't…
If frosting isn't your thing, you can absolutely leave it off! I made some without and added some extra sprinkles on top instead.
These blondies are very sweet already, so leaving it off is fine, although I am always up for adding frosting when I can.
I do like to press sprinkles into the top, though, as the batter is a bit thick and the tops of these blondies can be a bit lumpy and not as pretty when baked.
Looking For Other Cake Mix Recipes? Try These: