Cake Mix Cookies are an easy cookie recipe that you can mix and match cake flavors and add-ins! Mix in chocolate chips, M&Ms, sprinkles, peanut butter chips and more to your favorite cake mix flavor and get creative!
Making Cookies With Cake Mix Couldn't Be Easier!
You know I love an easy cookie recipe and baking using cake mix as a short cut ingredient is a trick I am fully on board with! Cake Mix is such a great time saver, and while I don't use it all the time, I feel like it definitely has a time and place when I'm in a pinch! One of my favorites is my Cake Mix Brownies! I even have a whole section on my site here for Cake Mix Recipes!
Here are some of my favorite using Cake Mix: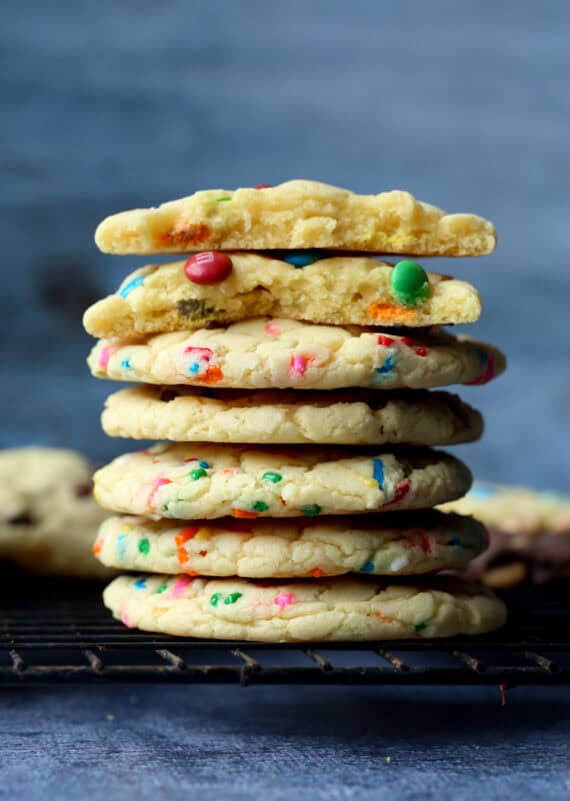 How To Make Cookies Using Cake Mix
There are days when I really crave something home-baked, but don't feel like breaking out the measuring cups, and this easy cookie recipe is just the answer! You only need 3 ingredients, plus any add-ins you desire!
What You'll Need:
Cake Mix. I like vanilla cake mix the best!
Eggs. Use large eggs for this recipe.
Oil. I use vegetable oil in this recipe, however, any light colored oil will work such as Canola Oil or Corn Oil.
What Can I Add Into Cake Mix Cookies?
This is one place you can get creative when making these cookies or you can keep it simple and leave them plain!
Chocolate Chips
M&M's
White Chips
Reese's Pieces
Chopped Candy Bars
Sprinkles
Peanut Butter Chips
What Kind Of Cake Mix Can I Use?
Here's another place you can use your imagination! There are so many flavor combos that could be great!
Vanilla
Chocolate
Spice Cake
Carrot Cake
Red Velvet
Lemon
Funfetti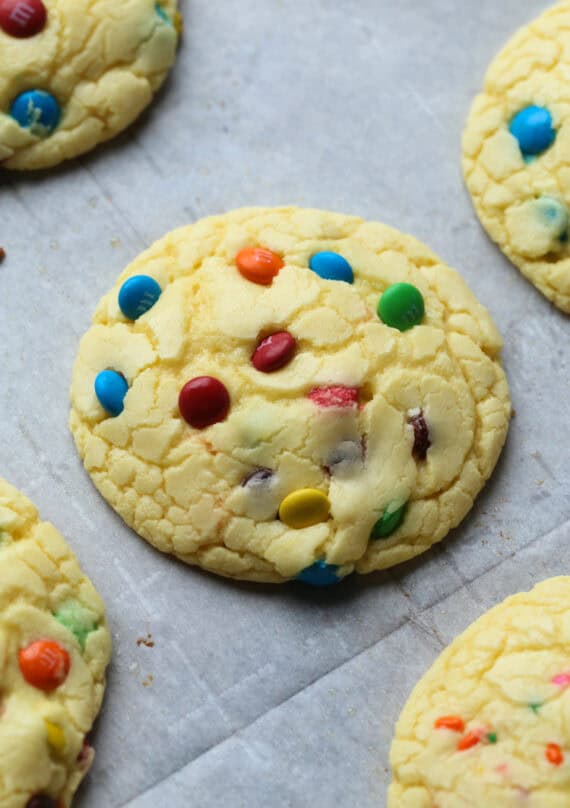 Here Are Some Flavor Combo Ideas!
There are so many possibilities here, but I'll give you a few fun ideas:
Red Velvet + White Chips
Chocolate Cake + Peanut Butter Chips
Spice Cake + Cinnamon Chips
Carrot Cake + White Chips
White Cake + Fruity Pebbles
Lemon Cake + White Chips
Strawberry Cake + Mini Chocolate Chips
Chocolate Cake + Rolo Candies
Looking For More Cake Mix Cookies? Try These: