Bone broth is all the rage. But I don't cook with bones, so I'm always trying to come up with nutrient-dense, mineral-rich broths that check all the beneficial boxes. Enter this CAP Beauty No Bone Broth. It's dense with mushrooms, seaweed, root vegetables, ginger, turmeric – you see where this is headed? All the good stuff.
I've been cooking quite a lot from High Vibrational Beauty: Recipes and Rituals for Radical Self Care over the past few weeks. It's such a great new book by the founders of one of my favorite natural beauty hotspots in New York City, CAP Beauty (go visit!). Kerrilynn Pamer and Cindy Diprima Morisse include a robust No Bone Broth in their book and it is SO GOOD. My pro tip: make double, because it goes fast.
The recipe: I made a couple little tweaks based on the ingredients I had on hand, but it's pretty close to Kerrilyn and Cindy's version. My version is a little less "sea" tasting comparatively, because I used dried porcini and chanterelle in place of shiitake mushrooms, and less seaweed.
Keep in mind, while you start out with 8 cups of liquid, you lose a lot of that because of the long simmer. Also, there's a lengthy ingredient list, which is what you want in a broth like this (for that wide range of beneficial) ingredients. But, consider a double batch while you're making the effort. You can always freeze half for later use…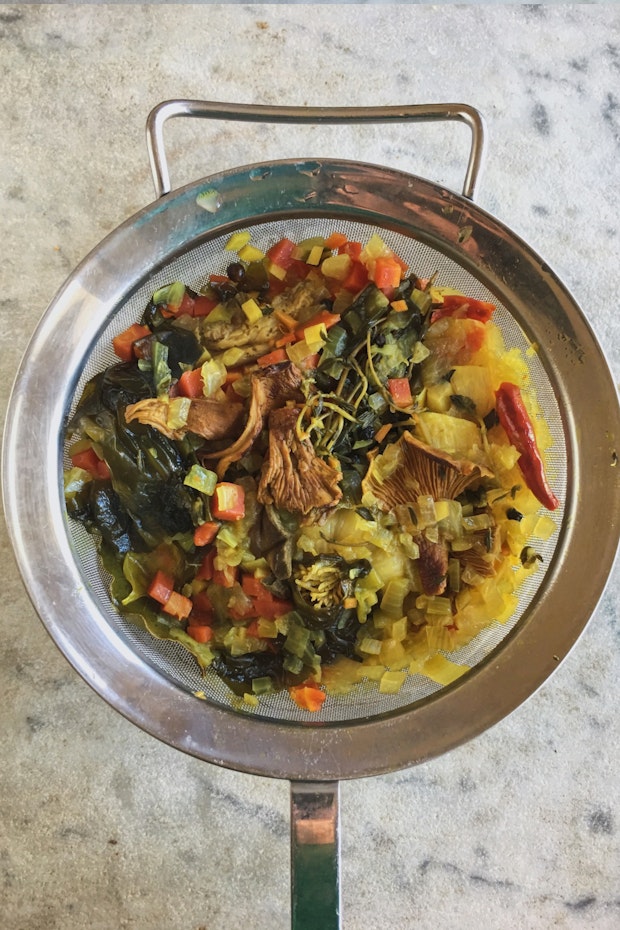 I used my broth as a base for miso soup, I also used it as the broth in my v. favorite Instant Pot congee (brown rice & turmeric!). I was also great as the base of a brothy noodle bowl topped with asparagus and broiled tofu, and crispy shallots!