Carrot Cake Roll
Easy35 mins
This delicious Carrot Cake Roll recipe is everything you love about classic carrot cake with cream cheese frosting…rolled up into this cute dessert!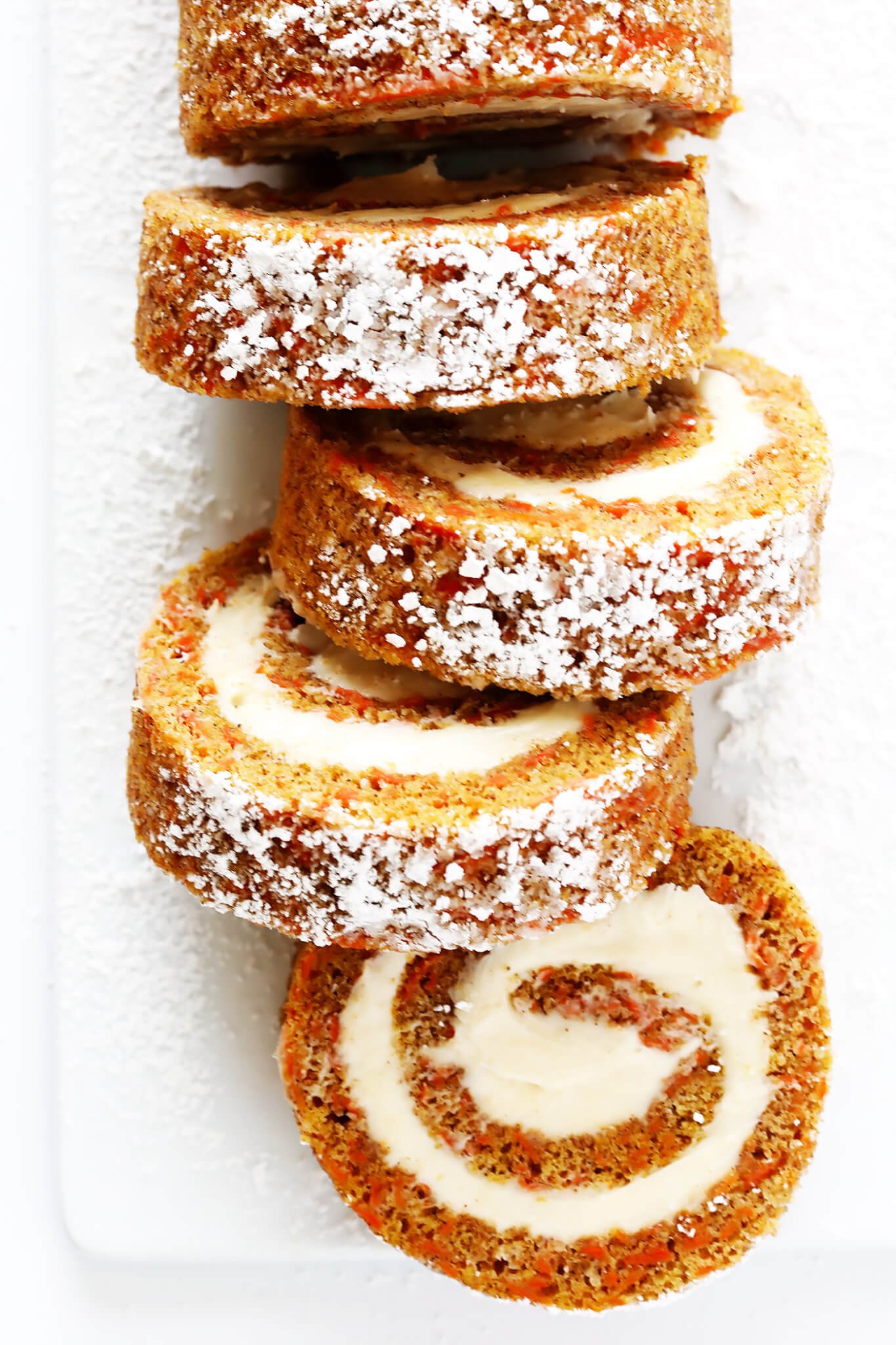 Alright, my fellow pumpkin roll lovers. (And I know you're out there, based on the fact that 10 million — yes, million — of you watched this video last Fall.) I have a new recipe that you've absolutely gotta try:
A Carrot Cake Roll! ? ? ?
You guessed it. This recipe is everything you love about a traditional pumpkin roll — the delicious spice cake, a decadent cream cheese filling, all bundled up together in one cute roll — but this one is made with a fantastic carrot cake instead of pumpkin. And when I say carrot, I mean lots of carrots. Because, believe it or not, there are two full cups of shredded fresh carrots hidden in there! Bugs Bunny would be so proud.
As I mentioned in my step-by-step tutorial for how to make a pumpkin roll, this recipe is also surprisingly easy to make. So if you love carrot cake, grab some fresh carrots, and let's rock and roll this cake!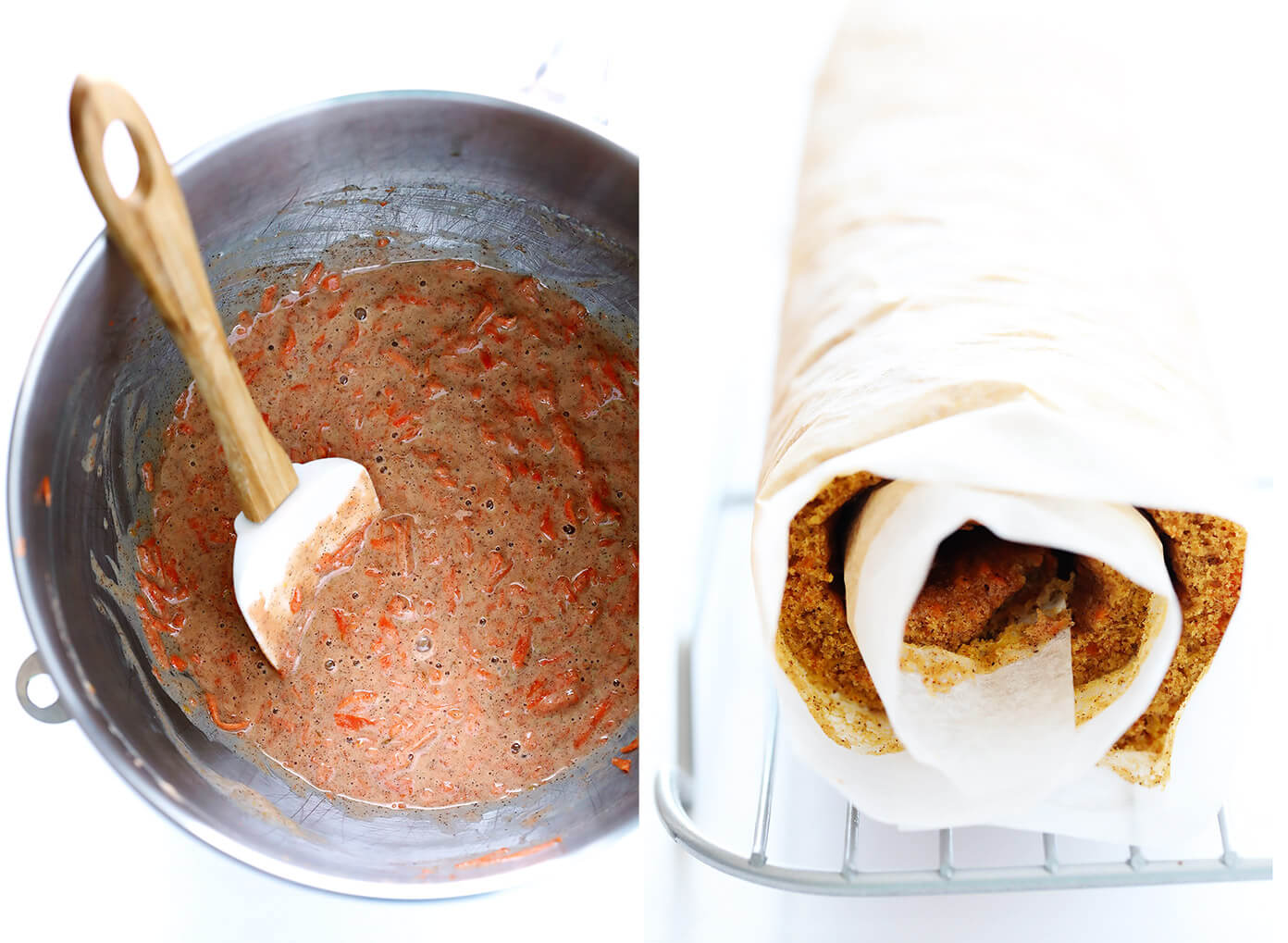 To make the carrot cake roll, begin first by making your carrot cake base. As with any cake roll, you don't need a ton of batter for the cake part. Just mix it up, and then spread it out in a parchment-covered jelly roll pan (like this one). Bake until it's cooked through.
Then once the cake is ready to go, remove it from the oven. Then immediately — and very carefully, so that you do not burn yourself — use some oven mitts to lift up the parchment paper (with the cake on top of it) and transfer it to a flat heat-proof surface. Carefully and quickly roll up the cake until it looks like the image above. Then let it cool until it reaches room temperature. While the cake is cooling, go ahead and make your cream cheese icing.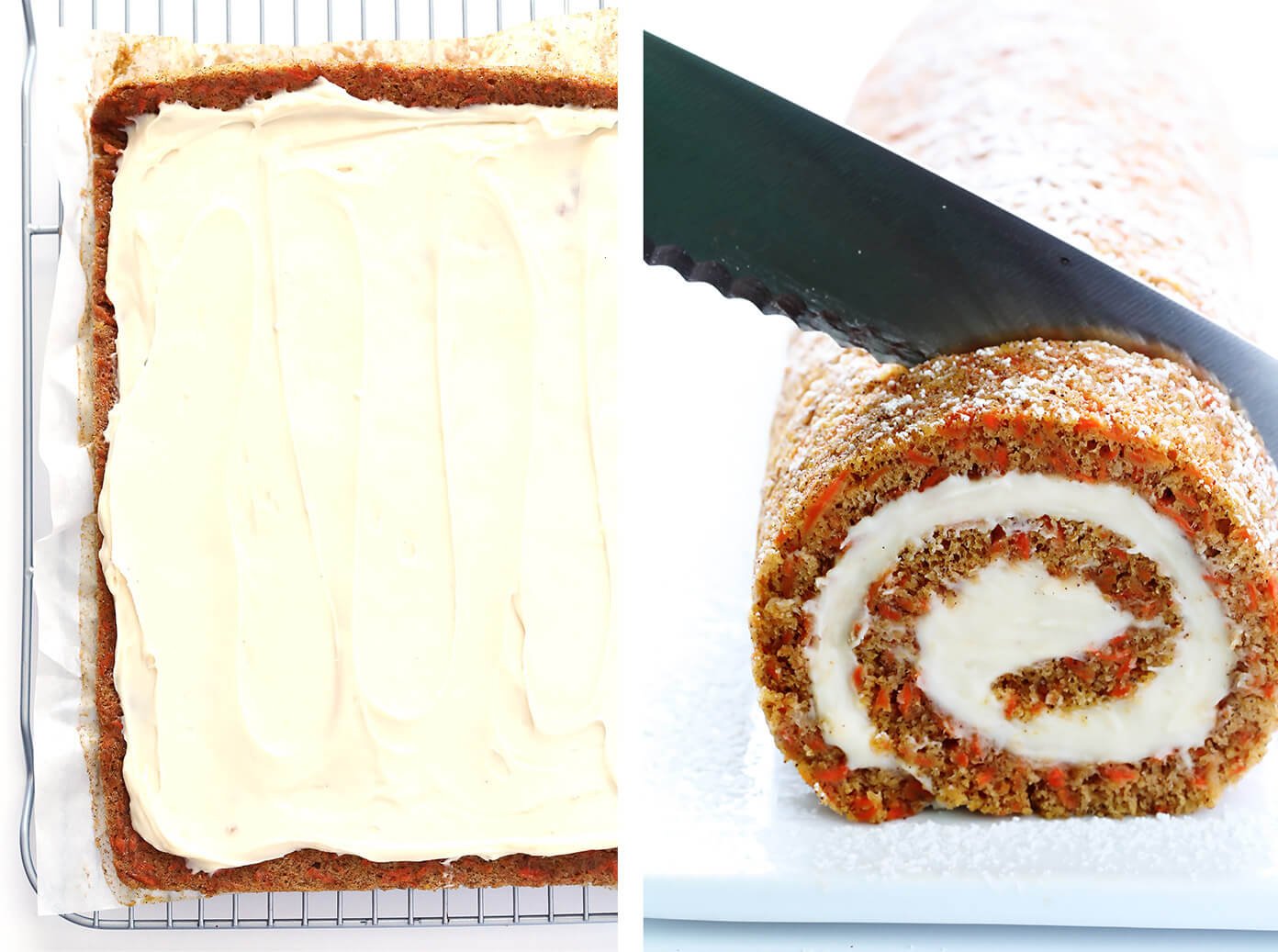 Then, once the cake has cooled, un-roll the cake so that it is mostly flat again, going very slowly and carefully so that the cake doesn't stick to the parchment and break. Then spread your cream cheese filling evenly on top of the cake, leaving a 1/2-inch border all around. Then roll the cake back up, nice and tightly, until it forms a cute roll. Cover it completely in plastic wrap, and pop it in the fridge for a few hours until it is completely chilled.
When you're ready to serve, unwrap the cake, sprinkle with powdered sugar…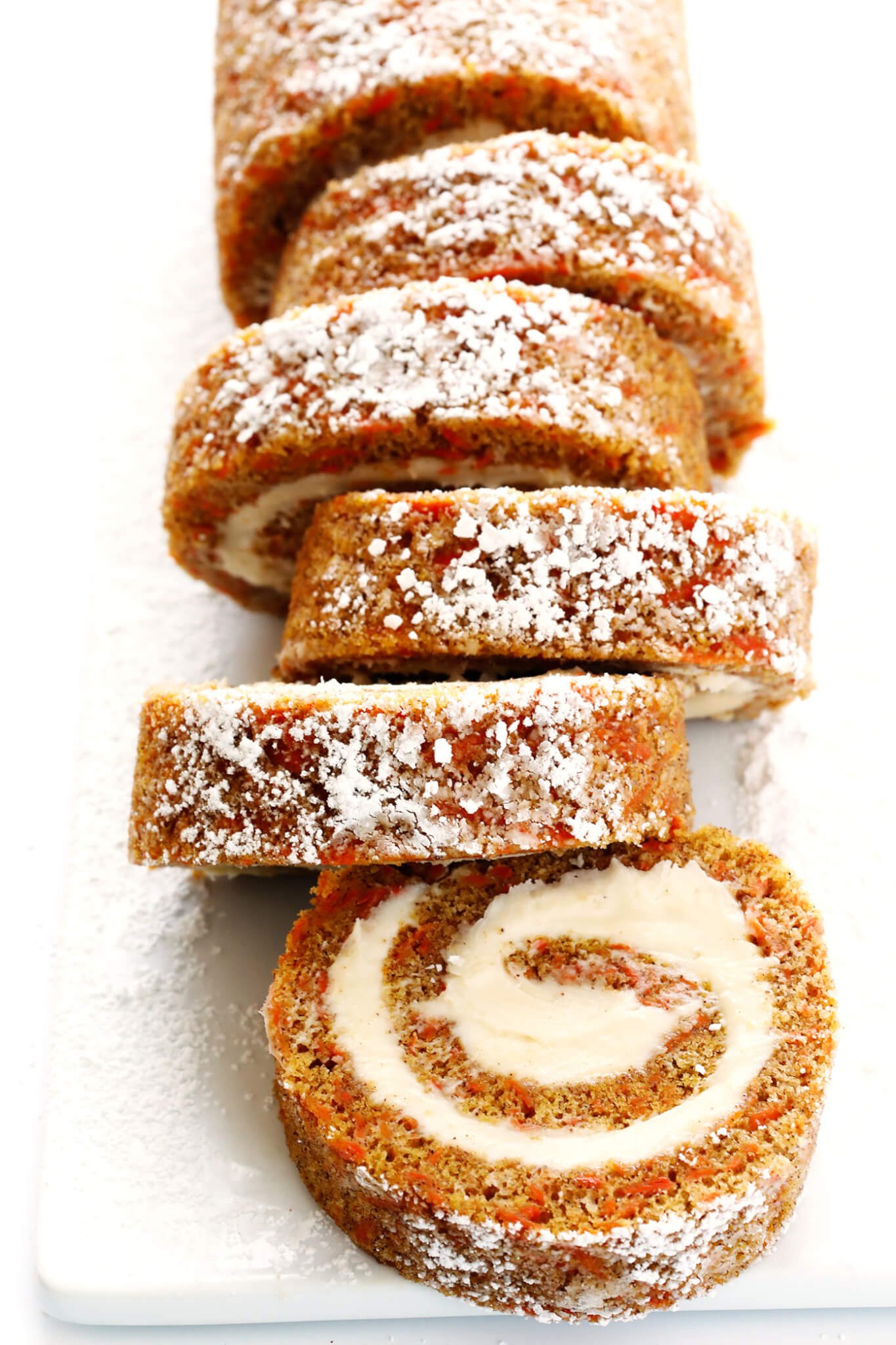 …and voila! This super-delicious, perfectly-spiced, fluffy and moist (<– yes, I said it), ultra-creamy, AMAZING carrot cake roll will be yours to share and enjoy!
Totally perfect for Easter this weekend, or anytime you're feeling like a small-batch carrot cake. Enjoy, friends!

Yield: 8-10 servings
Carrot Cake Roll
This carrot cake roll is everything you love about a delicious carrot cake, all rolled up into one delicious dessert!
Ingredients:
Carrot Cake Roll Ingredients:
3/4 cup all-purpose flour
1 1/2 teaspoons ground cinnamon
1 teaspoon baking powder
1/2 teaspoon ground ginger
1/2 teaspoon salt
1/4 teaspoon ground nutmeg
1/8 teaspoon ground cloves
3 eggs
1/2 cup cane sugar (or granulated white sugar)
2 tablespoons avocado oil (or vegetable oil)
1 teaspoon vanilla extract, homemade or store-bought
2 cups shredded carrots (about 2-3 medium carrots)
1 batch cream cheese filling (see below)
1/4 cup powdered sugar for rolling
Cream Cheese Filling Ingredients:
1 cup powdered sugar, sifted
8 ounces cream cheese, room temperature
6 tablespoons butter, softened
1 teaspoon vanilla extract
Directions:
To Make The Carrot Cake Roll:
Preheat oven to 375°F. Line a 15 x 10-inch jelly-roll pan with parchment paper, leaving an extra 1-inch of parchment sticking up on both 15-inch sides of the pan so that you can easily lift the cake out after baking. (If you'd like the parchment to stick to the bottom of the pan more easily, sprinkle a little bit of water on the pan and then press the parchment paper on top of it. You can also lightly mist the top of the parchment paper with cooking spray for easier cake release afterwards, although it's not required.)
Whisk together flour, cinnamon, baking powder, ginger, salt, nutmeg, and cloves (if using) in medium bowl until combined.
In a separate large mixing bowl, whisk together eggs and sugar for 1 minute until thick. Add in the oil, vanilla and shredded carrots, and whisk until just combined. Fold in the flour mixture with a rubber spatula, and stir together until just combined.
Spread the batter evenly into prepared pan. Bake for 10 to 13 minutes, or until top of cake springs back when touched. Carefully lift the parchment paper and cake out onto a flat (and heat-safe) surface. Then slowly, roll the cake — rolling from the short end to the short end — until it is completely rolled up. Transfer the cake roll to a wire rack, and cool until it reaches room temperature.
While the cake is cooling, make the cream cheese filling (see below).
When the cake has reached room temperature, transfer the cake roll to a flat surface, and carefully it until it is flat again (or mostly flat, it's ok if the ends curl up a bit). Spread the cream cheese mixture evenly over cake, leaving a 3/4-inch border on all sides. Then carefully re-roll the cake, gently peeling away the parchment paper as you roll until you can completely remove and discard it. Tightly wrap the pumpkin roll in plastic wrap and refrigerate at least one hour.
Remove and unwrap the pumpkin roll and transfer it to your serving dish. Lightly dust the pumpkin roll on all sides with powdered sugar, if you would like. Then slice* and serve.
If you have leftovers, just re-wrap the pumpkin roll in plastic wrap and store in the refrigerator for up to 3 days.
To Make The Cream Cheese Filling:
Whisk together cream cheese, powdered sugar, butter and vanilla extract until smooth. If the filling is too thin, add more powdered sugar. If it is too thick, add a half teaspoon or two of water. (You want a medium consistency so that the filling is easy to spread, but not too warm or thin that it will ooze out of the cake when you're rolling it up.)
*If you want the cake to be pretty on the very ends, I recommend slicing off about 1/2-inch of the cake on both ends before serving. Then you'll definitely see those pretty cream cheese swirls!
**The listed recipe time does not include the hours needed for cooling and then chilling the cake in the refrigerator.

Difficulty: Easy

If you make this recipe, be sure to snap a photo and hashtag it #gimmesomeoven. I'd love to see what you cook!
This post contains affiliate links.