This healthy, easy 20 minute skillet Catalina chicken and tomatoes is smothered in the tastiest, sweet and tangy Catalina sauce.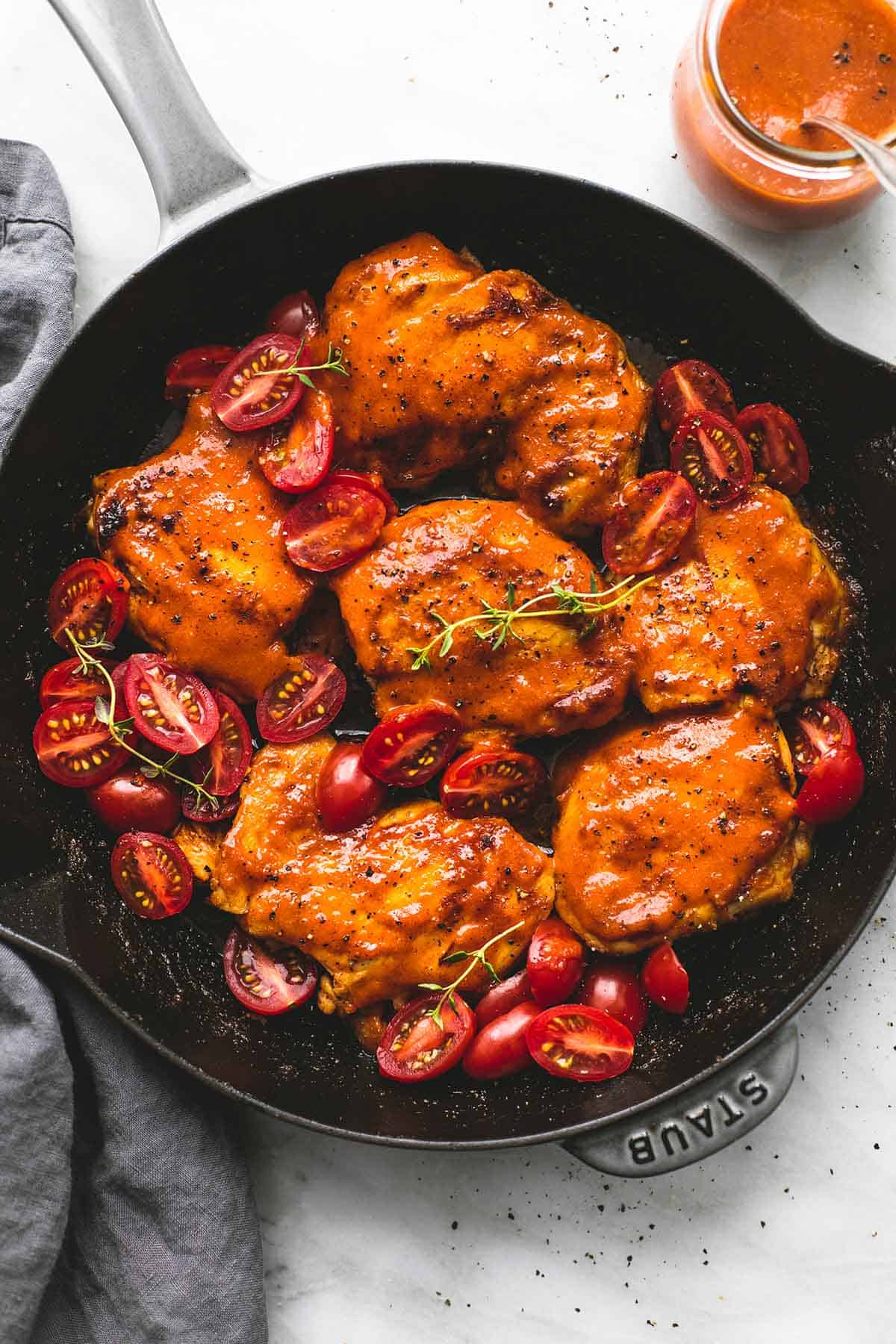 This is what a Catalina salad looks like minus the salad. It's the result of a craving plus a shortage of groceries and the desire to change out of my sweats on a rainy Tuesday. And thank heaven for days like that because this Catalina chicken thing happened and it is nothing short of completely scrumptious.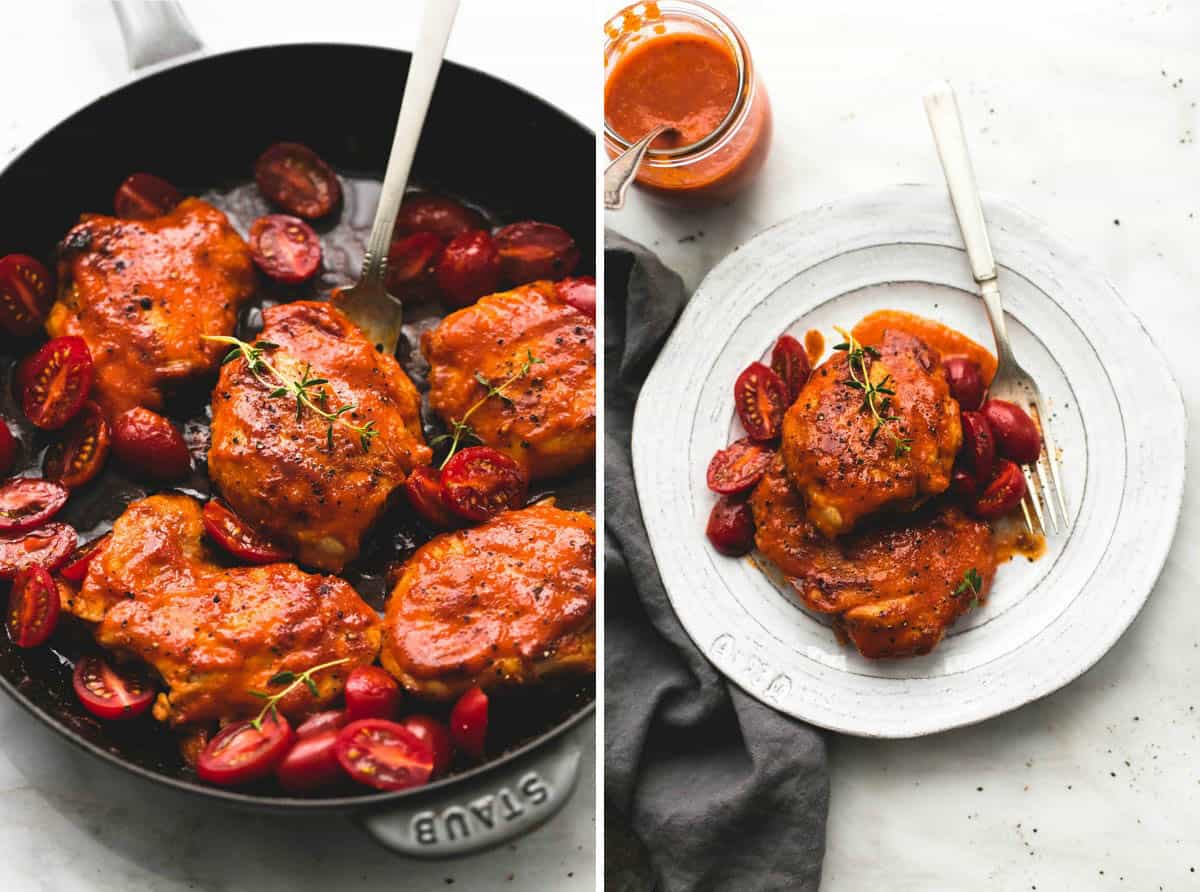 If you haven't made Catalina dressing from scratch before, it is so easy. Just a handful of basic pantry ingredients that, when thrown into a blender, create creamy sweet and tangy magic in all of two minutes. I've loved Catalina dressing since I was a kid but it had never occurred to me until about three weeks ago to skip the green salad underneath and have straight up Catalina chicken.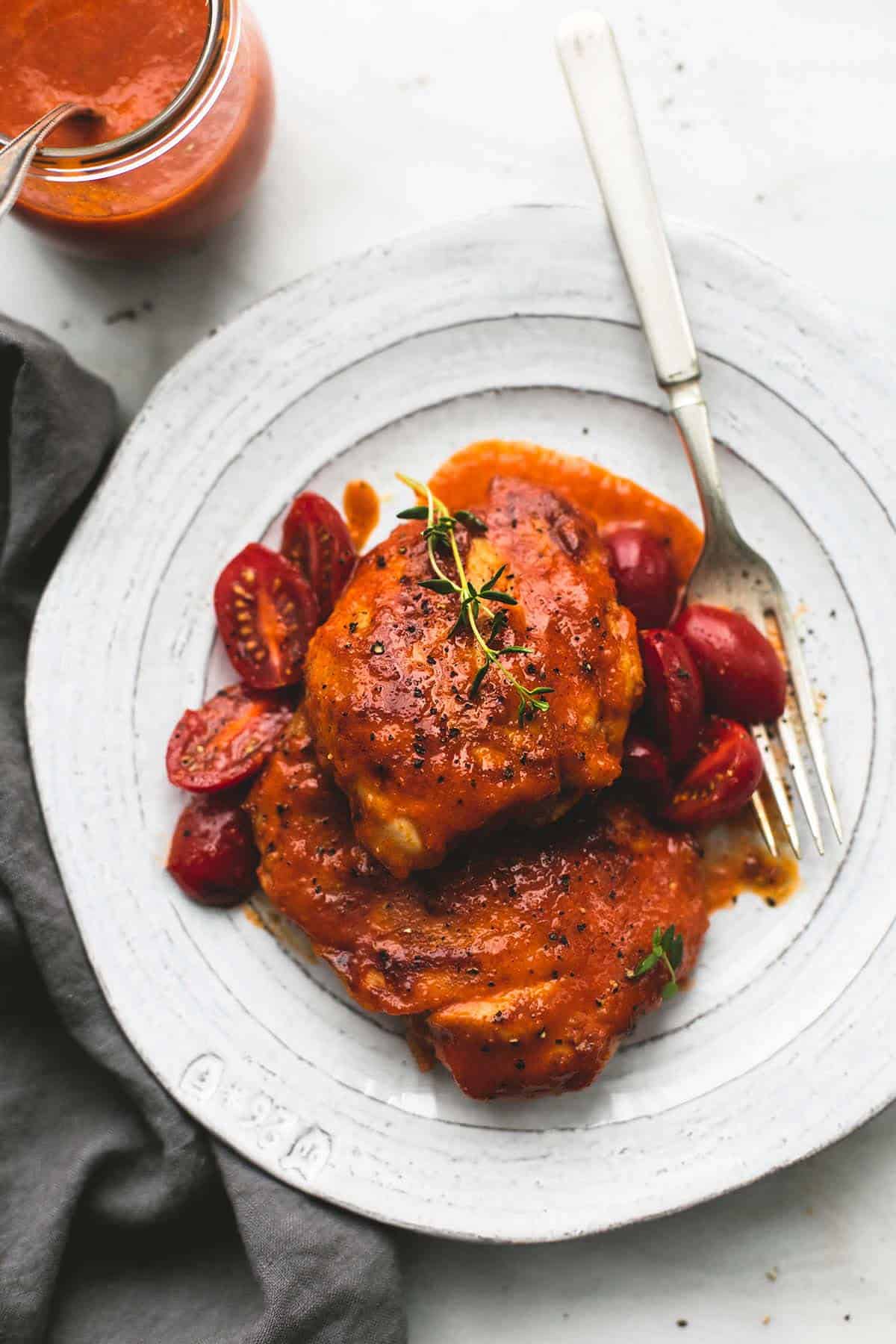 All I know is that I wish I'd thought this up a whole lot sooner because this meal is ready in 30 minutes and is so delicious I could eat it for days straight. Even my kids like this chicken and they're pretty picky with their protein! My favorite way to serve this Catalina chicken is over steamed white rice, with some cracked black pepper on top. Your whole family will love this easy, incredibly flavorful dinner.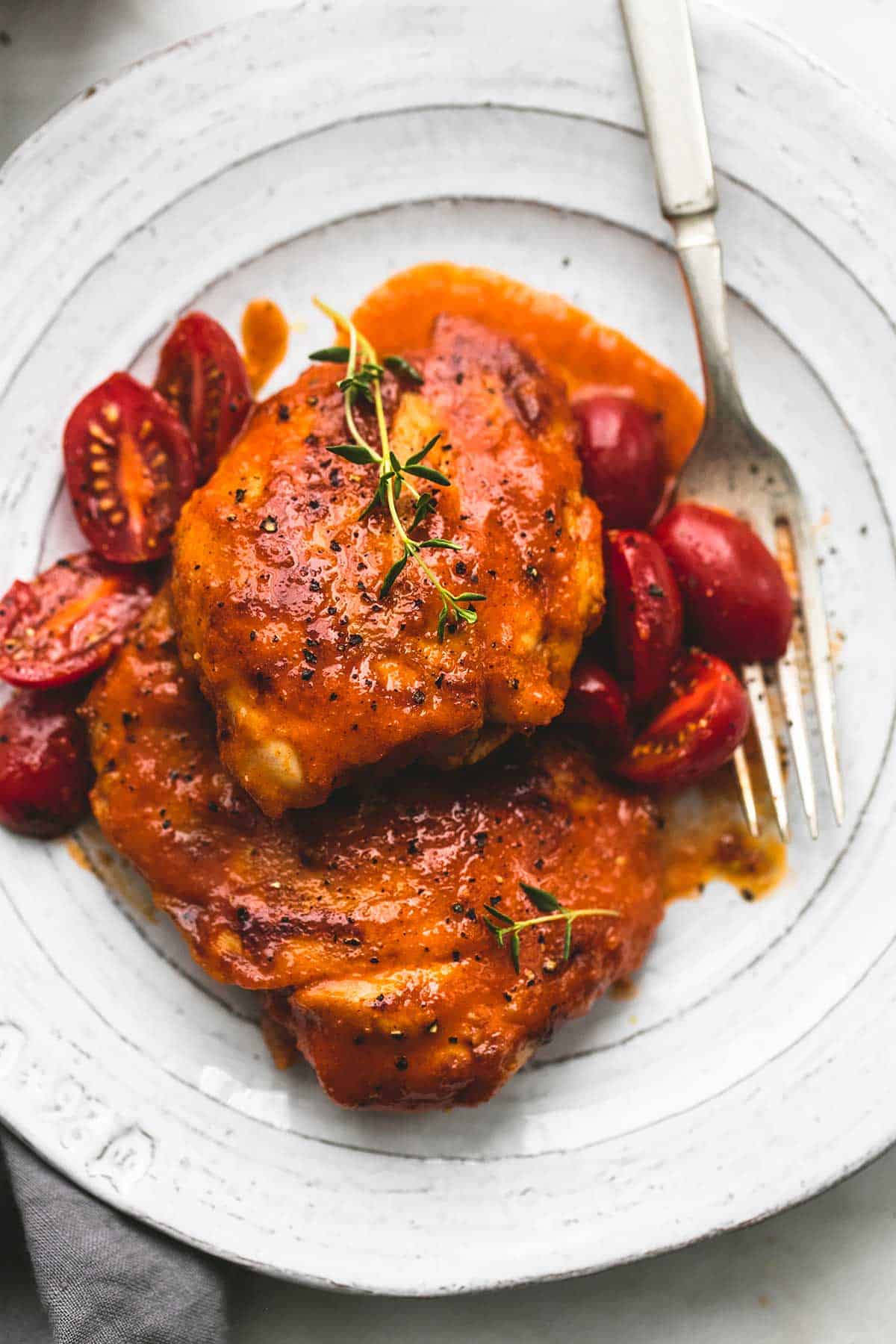 Catalina Chicken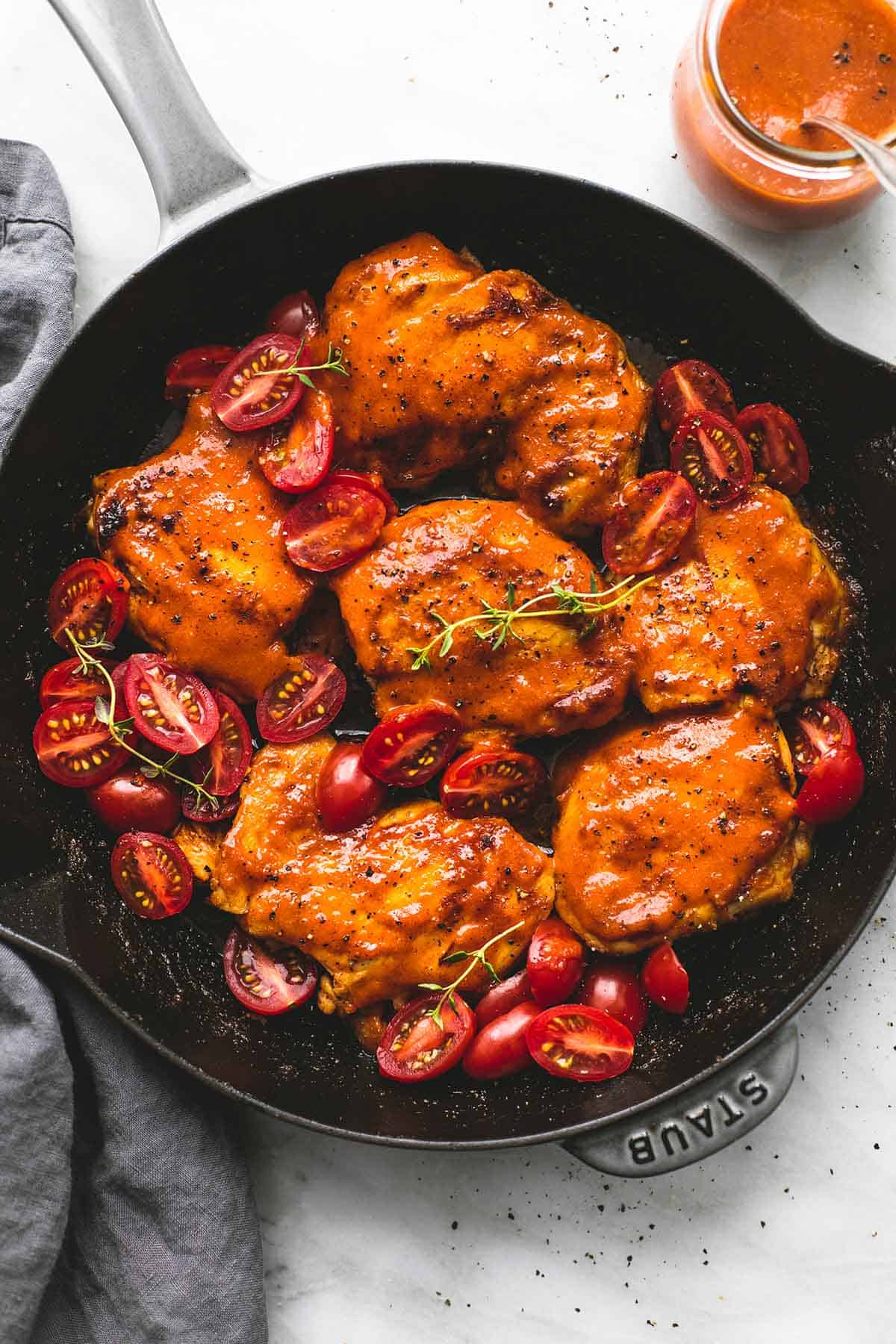 This healthy, easy 20 minute Catalina chicken and tomatoes is smothered in the tastiest sweet and tangy Catalina sauce.
Author: Tiffany
Recipe type: Main Dish
Cuisine: American
Serves: 4
Ingredients
4-6 boneless chicken thighs OR 4 boneless skinless chicken breasts pounded to even thickness
1 cup cherry tomatoes, halved
fresh thyme and cracked black pepper, for garnish (optional)
steamed white rice, for serving (optional)
sauce
1⁄2 cup ketchup
1⁄2 cup sugar
1⁄2 cup red wine vinegar
1⁄2 cup onion, diced
3 tablespoons honey
2 teaspoons paprika
2 tablespoons Worcestershire sauce
½ teaspoon Italian seasoning
1 cup olive oil
1 teaspoon salt (or to taste)
¼ teaspoon pepper
Instructions
Combine all sauce ingredients to a blender or food processor and blend until smooth. Taste, and add salt and pepper if needed. Transfer ½ of the sauce to a large ziplock bag along with the chicken, seal, and chill for 30 minutes to an hour. Cover remaining sauce and set aside while chicken marinates.
Drizzle a large pan or skillet with a bit of oil. Use tongs to transfer chicken to pan (discard bag and marinade). Cook chicken for 5-7 minutes over medium heat until browned, then flip. Add tomatoes to pan and continue to cook until chicken is cooked through completely.
Drizzle reserved sauce over chicken and tomatoes and cook 1-2 minutes longer until heated through. Garnish with black pepper and fresh thyme if desired and serve alone or over steamed white rice.
3.4.3177