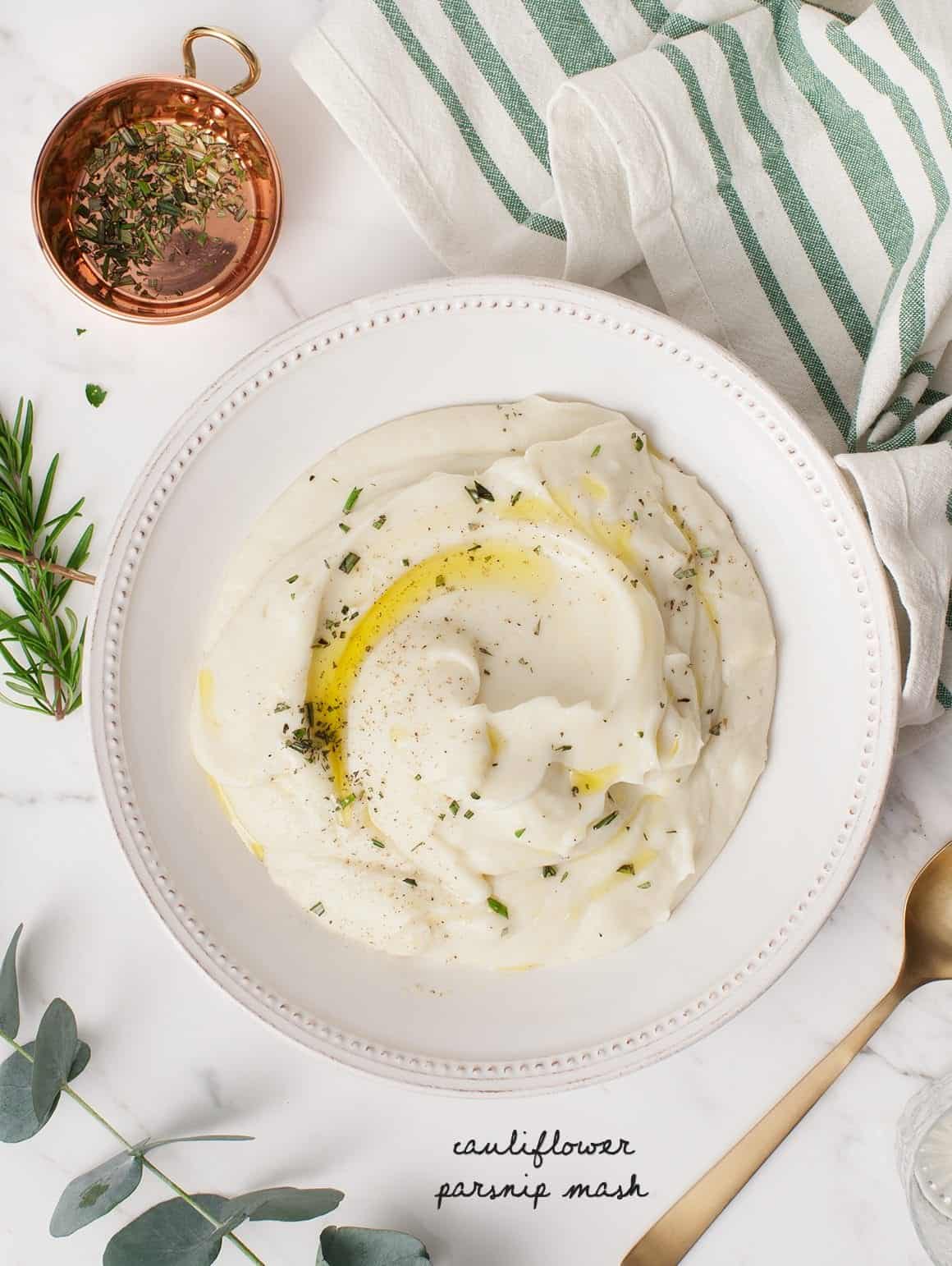 A few years ago, we made a cauliflower mashed potato recipe that was a huge hit for the holidays. Well, we're hosting Thanksgiving this year and I decided I wanted to try something even crazier and completely take the potatoes out of the mashed potatoes. Jack considers himself a mashed potato purist, and he loved this, so I'm sure you will too.
To start, it's simple! Its only has 6 main ingredients, pictured below: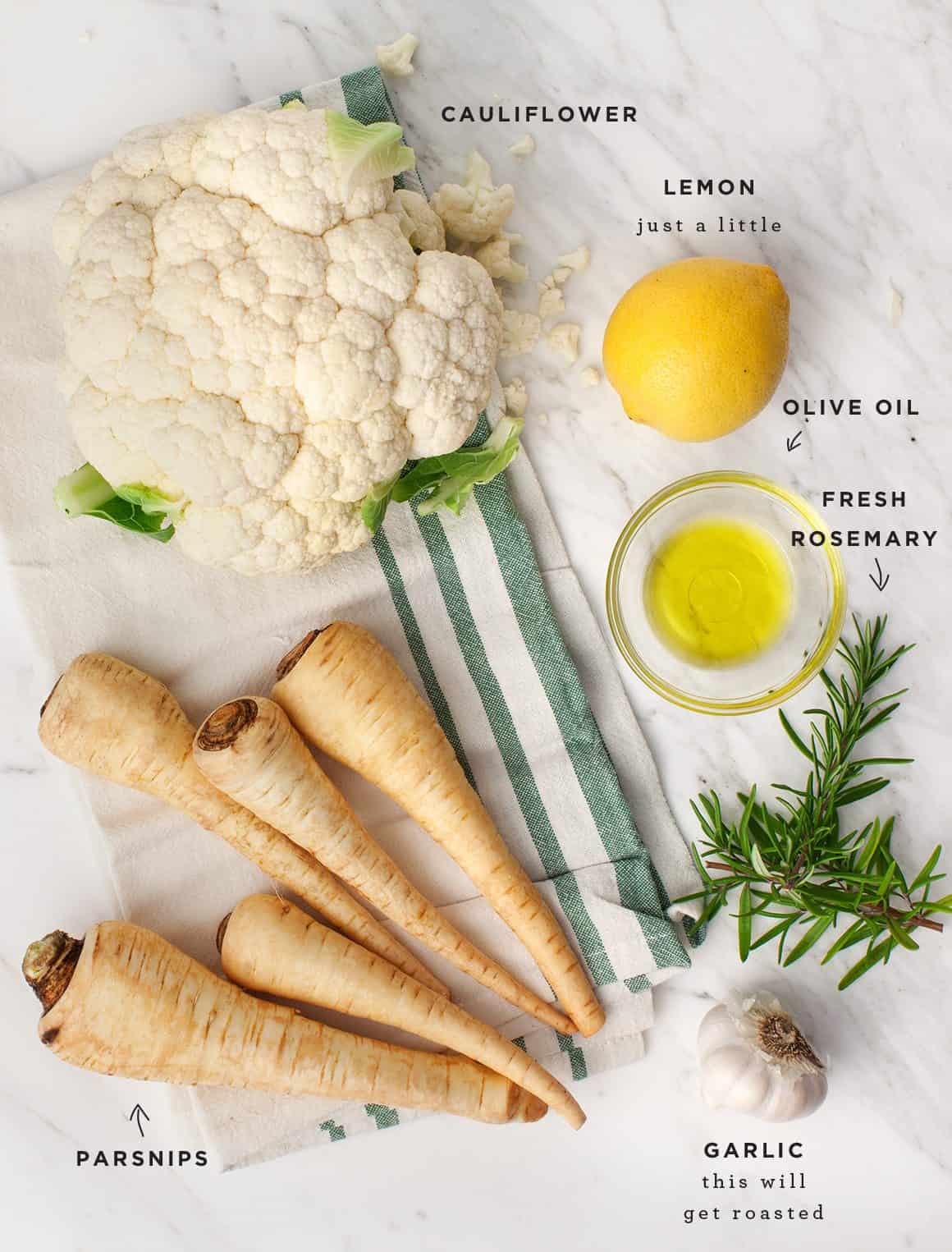 I love the nutty and complex flavors that parsnips bring. Roasted garlic and a little olive oil are all you need to give this the extra richness that will make this decidedly healthy dish taste the right amount of unhealthy. You might not fool people into thinking that they're eating potatoes, but they'll appreciate (or at least you'll appreciate) that they (you) didn't just eat a side dish with a pound of butter and a pile of sour cream.
As I made this, Jack and I couldn't stop eating by the spoonful before it made it to the table. Mashed-potato-purist approved.

I should add that there's no mashing involved – this gets made entirely in the blender, so technically it's a puree and not a mash. It's easier to make than mashed potatoes because there's no vigorous mashing (or ricing) or worrying that your potatoes will be gummy or lumpy. This is best made in a powerful blender and the texture is lighter and more airy than regular potatoes (more like whipped potatoes), which I love.

It reheats perfectly. Just blend it, store it in the fridge, (give it a stir) and reheat it when you're ready to serve! Make it up to two days in advance.

Cauliflower-Parsnip Mash with Roasted Garlic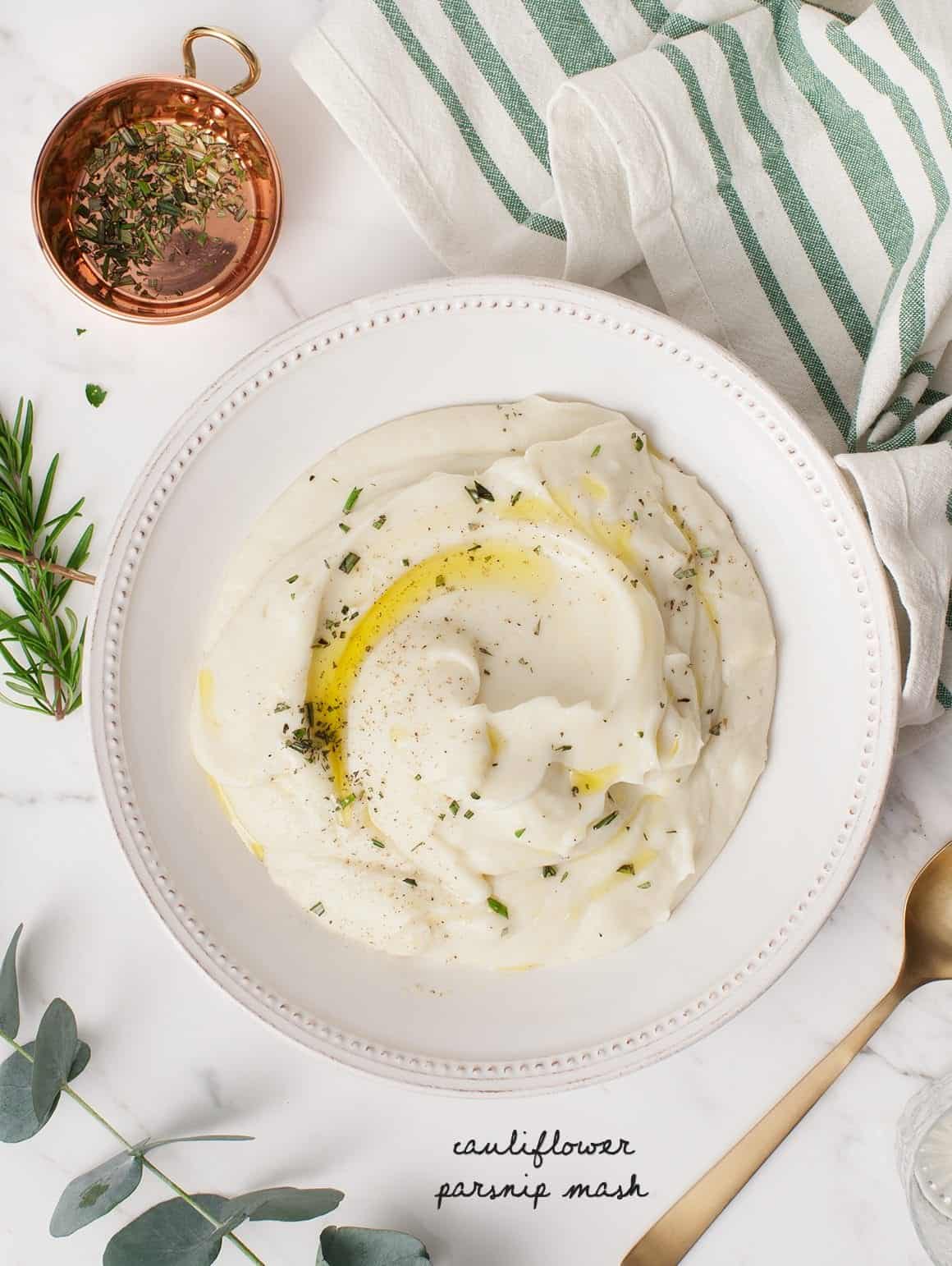 5 medium parsnips (1 lb) peeled & chopped into 1-inch chunks
1 medium head cauliflower (~2 lbs), broken into pieces (w/cores)
2 tablespoons extra-virgin olive oil, more for drizzling
½ tablespoon fresh lemon juice
½ to 1 teaspoon sea salt
1 heaping teaspoon minced rosemary
Freshly ground black pepper, to taste
1 head garlic
Extra-virgin olive oil
Sea salt, to taste
Freshly ground black pepper, to taste
Roast the garlic: Preheat the oven to 375°F. Cut a ¼ to ½-inch slice off the top of the whole head of garlic to expose the cloves and place cut-side up on a sheet of aluminum foil. Drizzle with olive oil and pinches of salt and pepper and wrap in the foil. Roast for 35 to 40 minutes or until golden and tender. Ideally, keep the garlic cut-side-up in the oven. I like this tip for using a muffin pan on Simply Recipes).
Bring a large pot of salted water to a boil and boil the parsnips for 10 to 12 minutes or until fork tender. Scoop into a blender. In the same water, boil the cauliflower for 10 to 12 minutes, or until fork tender, and scoop it into the blender.
Add 4 to 5 cloves of the roasted garlic to the blender along with the olive oil, lemon juice, ½ teaspoon of salt, and a pinch of pepper. Blend, using the blender baton to push down the contents, and blend to a smooth consistency. If necessary, add a bit of water or broth to get the blender moving, but do so sparingly so the puree doesn't become too thin. Taste and add the additional ½ teaspoon of salt, if desired (I did). Transfer to a serving bowl and stir in the rosemary while the mash is still warm. Add a drizzle of olive oil, more pepper, if desired, and serve hot.
*Once the garlic is roasted it has a sweeter, more mellow flavor than fresh raw garlic. If you use fresh raw garlic, use 2 cloves in this recipe (not 4 to 5) and let it boil in the water for a few minutes with the cauliflower to take out the raw bitter taste. I highly recommend sticking with the roasted garlic for this recipe.
3.4.3177