Cupcakes for breakfast?! Yes, please! No butter, oil or refined sugar needed to make these hearty whole wheat cupcakes that are bursting with blueberries and topped with a dreamy, creamy 3-ingredient frosting.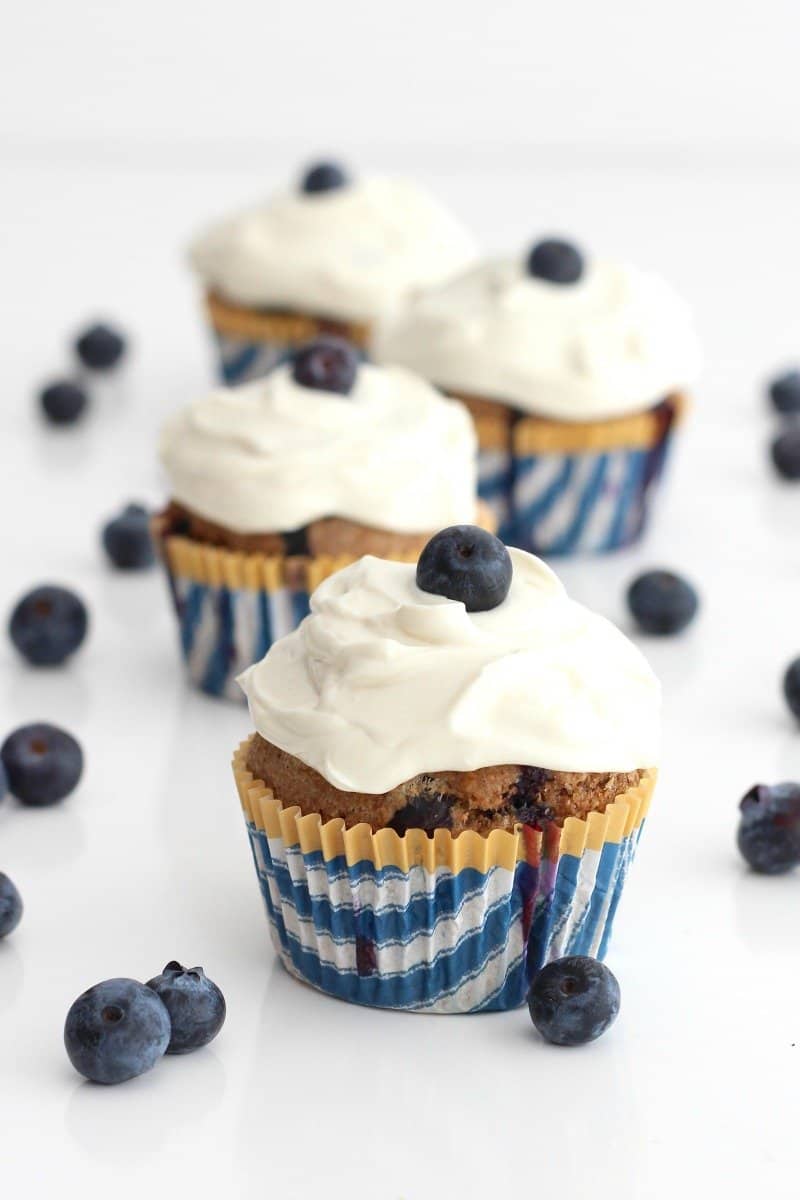 Cupcakes for breakfast just sounds more fun (and of course yum!) than frosted muffins so we're calling these cupcakes and we're eating them for breakfast or any time of the day, okay?!
One of these cupcakes for breakfast along with a cup of hot coffee or a big glass of fresh orange juice will get your day off to the greatest of starts without any guilt. They're filling and fabulous!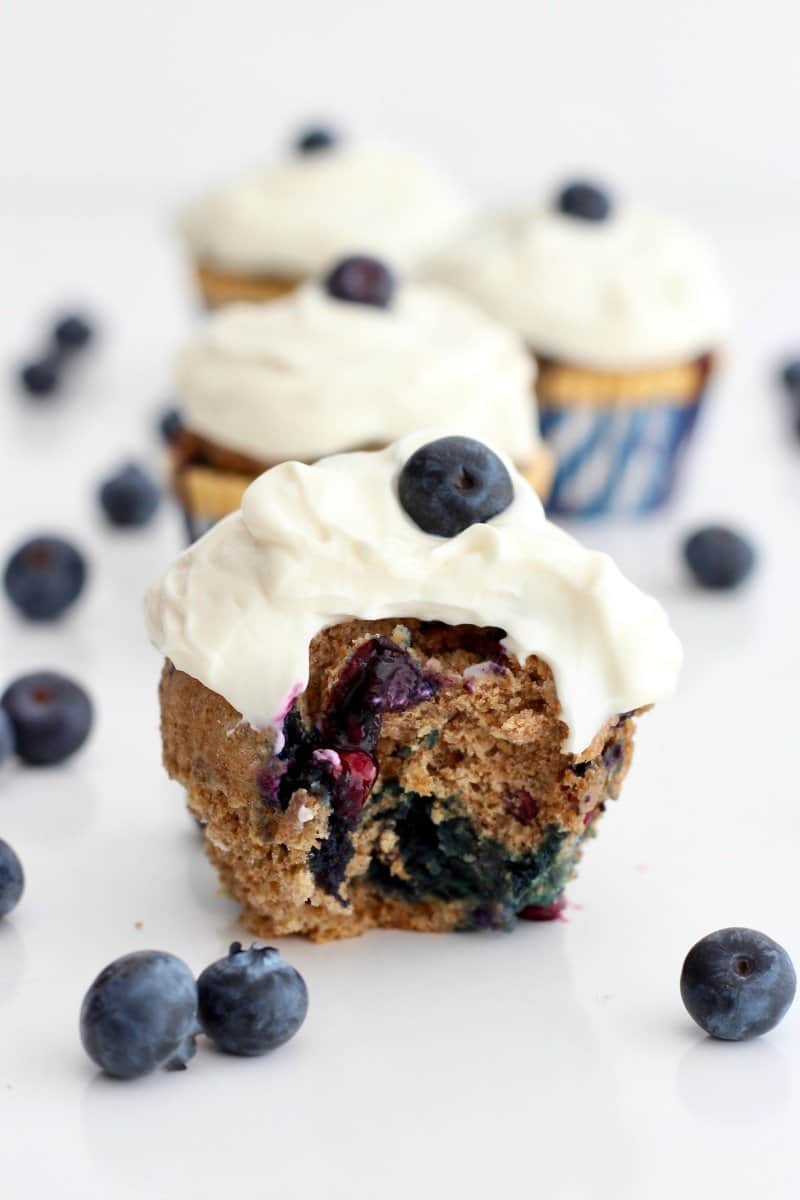 The cupcakes themselves are hearty from whole wheat flour and bursting with juicy blueberries. They're lightly sweetened with just maple syrup and are sure to satisfy when topped with the dreamy frosting that's made with cream cheese, Greek yogurt and maple syrup. You won't miss the butter, oil or refined sugar that most cupcakes are filled with.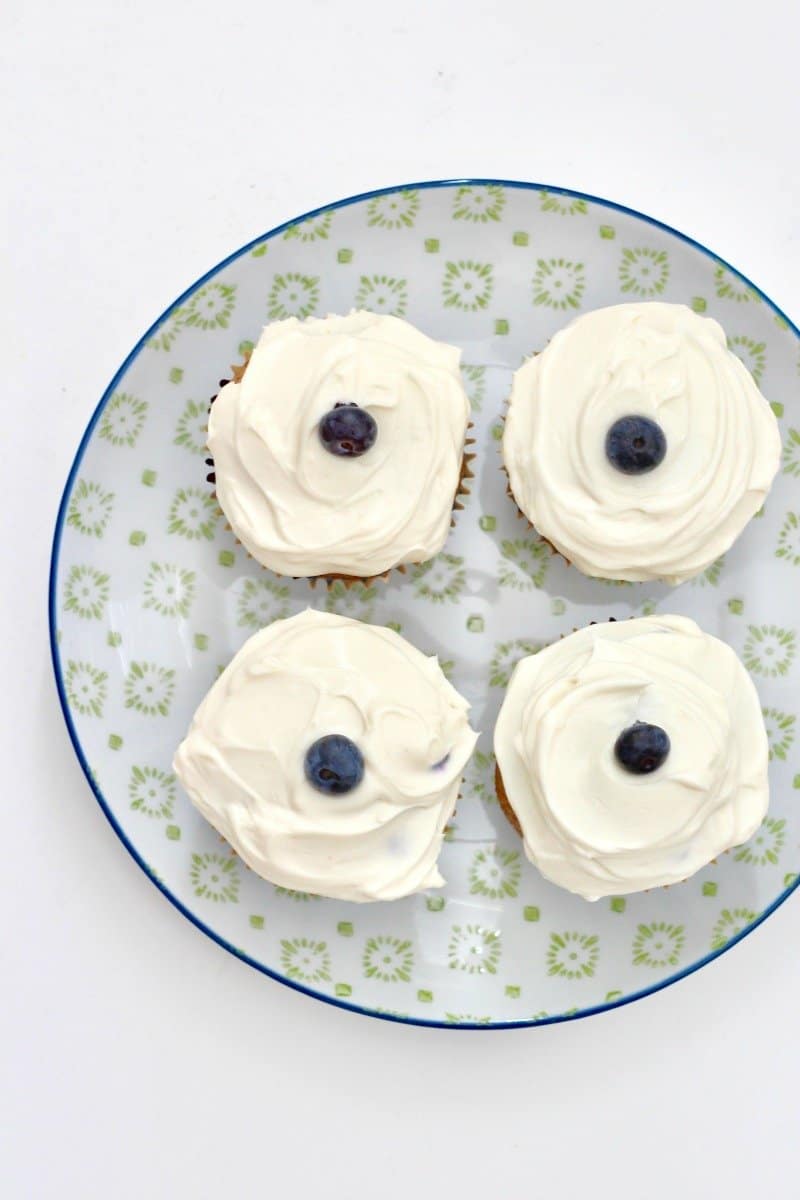 They're so easy to make and keep great in the fridge for a week full of breakfast bliss.
You'll start by mixing the batter which consists of simple ingredients that you probably always have on hand…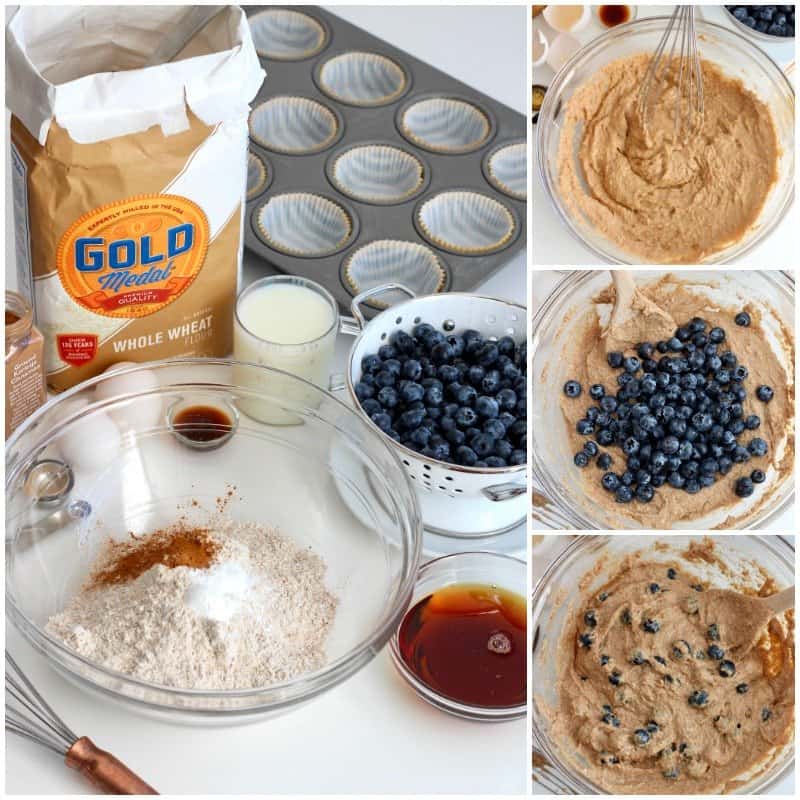 Then you'll fill cupcake liners about 2/3 of the way full with the cupcake mixture and bake for 13-15 minutes. The cupcakes will have a nice rise to them and should bounce back when you gently press into them. Oh, and the best is seeing how some of the blueberries will burst as the cupcakes bake.

While the cupcakes are cooling, you'll make the frosting which is lightly sweet and oh so simple. Just cream cheese, Greek yogurt and maple syrup. It turns out perfectly creamy and compliments these healthy cupcakes so well.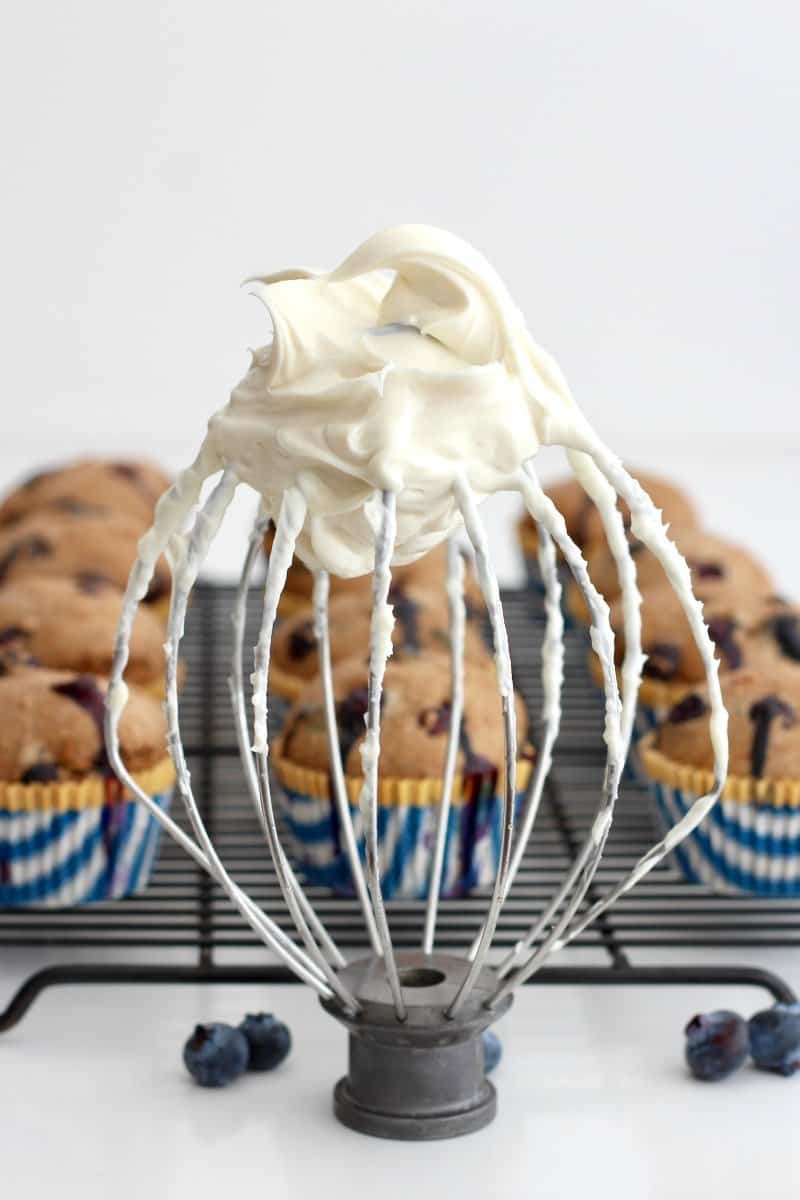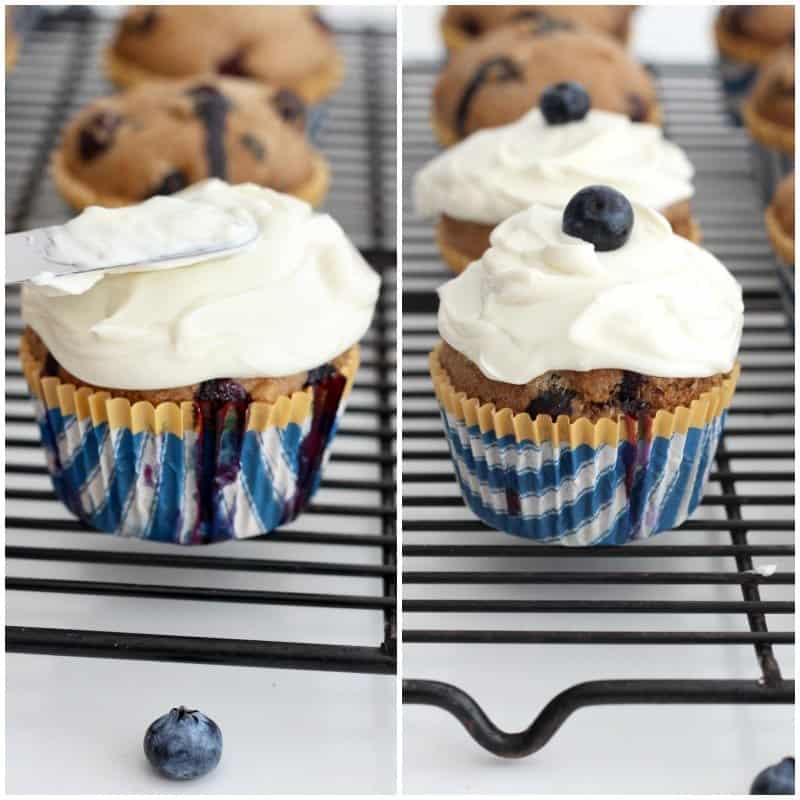 I can't get over how great these cupcakes taste for how healthy they are!
My boys totally think I'm the coolest for making them cupcakes for breakfast. Little do they know how much better these are for them than your typical cupcake so I'm just going to play the cool card and keep on baking and eating cupcakes for breakfast with them as often as I can.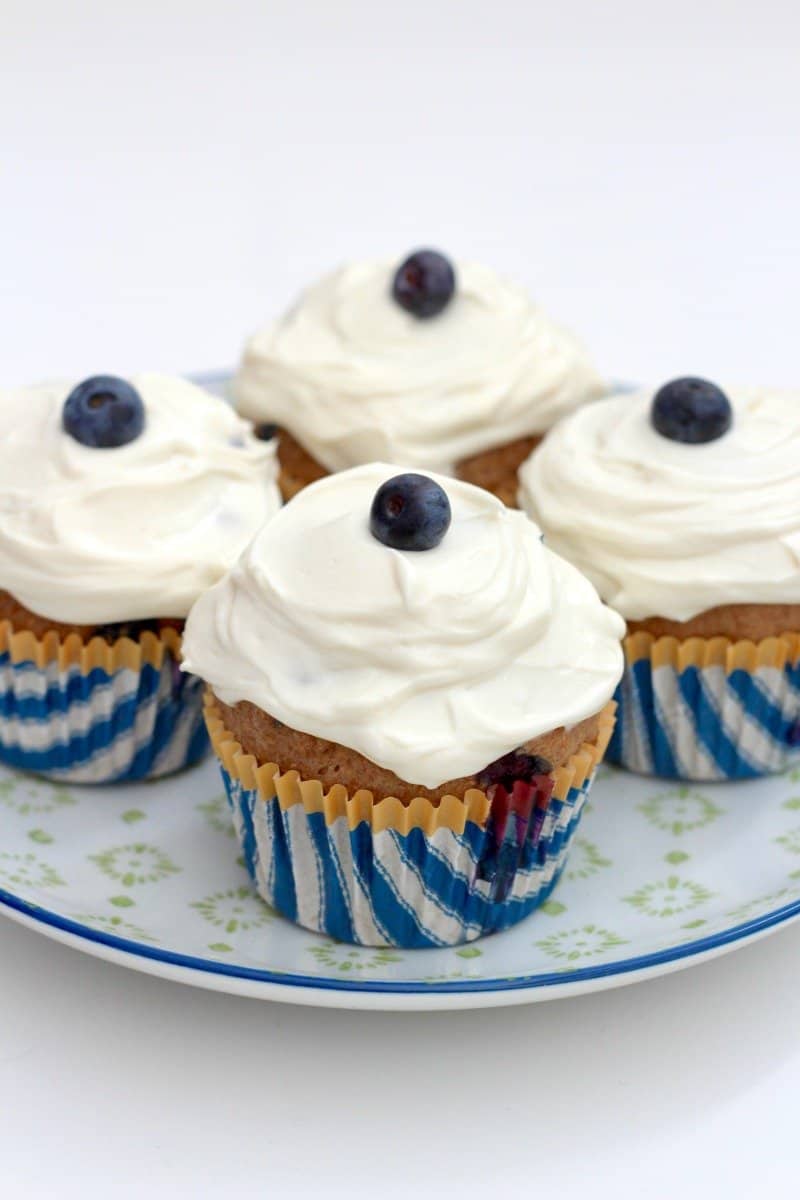 Enjoy, my friends!
xoxo,
Maegan
This recipe was created as part of my partnership with Gold Medal Flour however thoughts and opinions are certainly my own!
Healthy Whole Wheat Blueberry Breakfast Cupcakes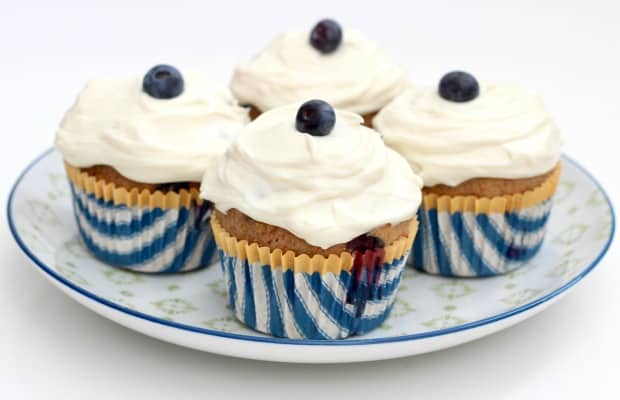 Author: Maegan – The BakerMama
Recipe type: Breakfast
Cupcakes:
2 cups Gold Medal® whole wheat flour
1 teaspoon baking powder
1 teaspoon baking soda
1 teaspoon cinnamon
¼ teaspoon kosher salt
2 large eggs, lightly beaten
1 cup milk
½ cup pure maple syrup
1 teaspoon vanilla
1-1/2 cups fresh or frozen blueberries
Maple Cream Cheese Frosting:
1 (8 ounce) package cream cheese, softened (I use ⅓ less fat cream cheese)
3 tablespoons plain or vanilla-flavored Greek yogurt
2 tablespoons pure maple syrup
Preheat oven to 350°F. Line a 12-cup cupcake pan with cupcake liners and spray with non-stick cooking spray.
In a large mixing bowl, whisk together the flour, baking powder, baking soda, cinnamon and salt. Make a well in the center of the flour mixture and add the eggs, milk, maple syrup and vanilla. Whisk until mixture is thick and well combined. Gently fold in the blueberries with a spatula or wooden spoon.
Divide mixture evenly among prepared cupcake liners, filling each one about ⅔ full. Bake for 13-15 minutes or until a toothpick inserted in the center of the cupcakes comes out with a few crumbs on it. Let cupcakes cool in pan for 10 minutes before transferring to a wire rack to cool completely.
To make the frosting, beat the cream cheese, Greek yogurt and maple syrup with a hand mixer (or in the bowl of an electric mixer fitted with the whisk attachment) on medium speed until smooth and spreadable, scraping the sides of the bowl as needed.
Once cupcakes are cool, frost each cupcake with the maple cream cheese frosting.
3.5.3226