Cheesy Broccoli Rice Casserole is the perfect easy dinner! It's a guaranteed family favorite, perfect for Meatless Monday! You can add some chicken to add a little protein, or serve it as a the perfect side dish that everyone will love!
Watching your carbs? I have a Broccoli and Cheese Casserole Recipe that you should try…no rice, just the perfect side dish!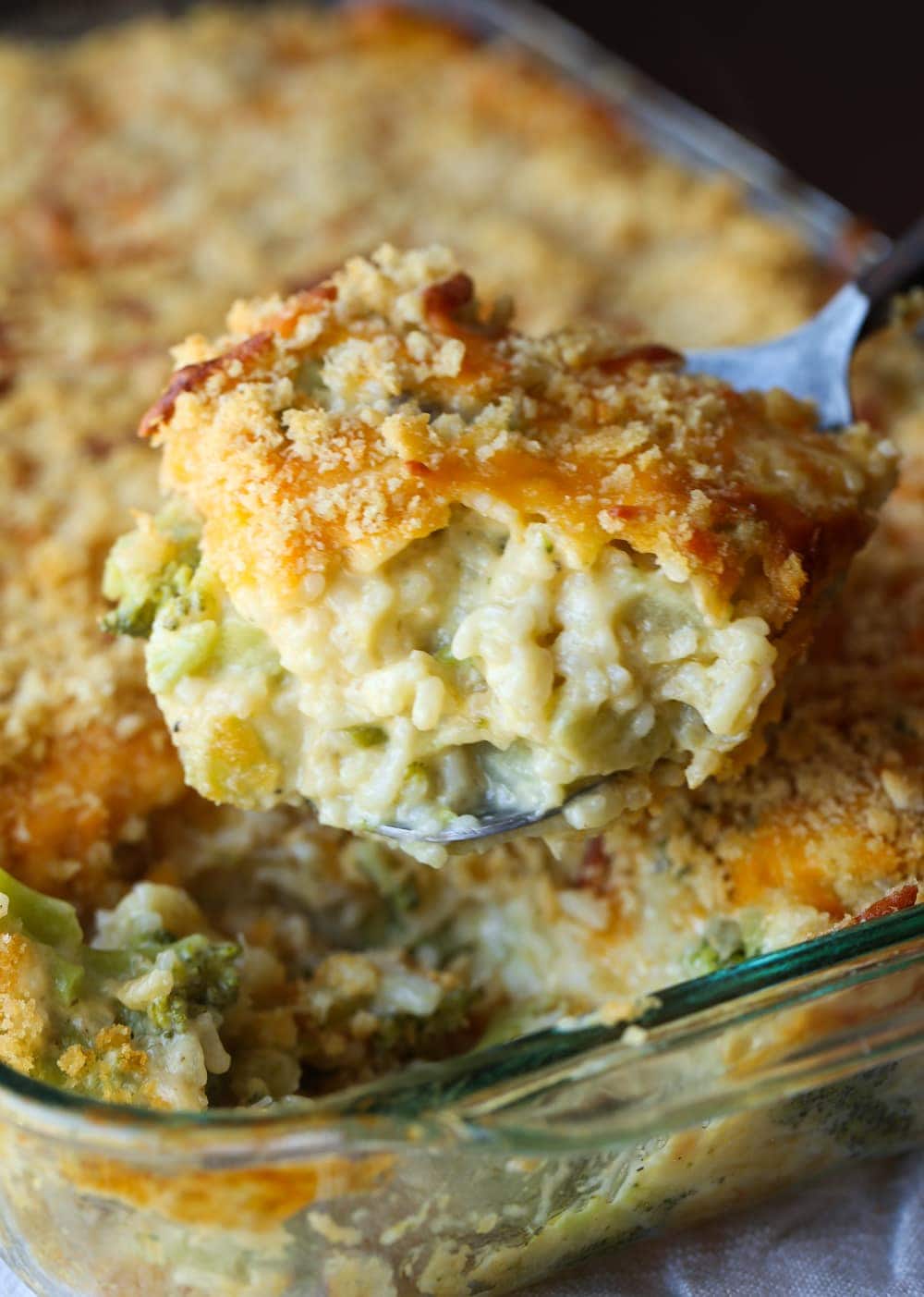 Easy and Cheesy Broccoli Rice Casserole
When it comes to side dishes, it can be tempting to just set a pot of rice boiling on the stove and call it good. There's nothing wrong with that, but you can also put together a pan of this Cheesy Broccoli Rice Casserole to pop in the oven instead! It's the perfect dish to serve alongside steak, chicken, or turkey…OR on its own for a quick dinner idea!
It's made up of fluffy rice (quick cooking, of course), chopped broccoli, and a healthy dose of creamy cheese sauce. This homemade rice casserole is also topped with crushed Ritz crackers, which adds a little texture to each yummy bite. Better make two servings, because everybody will be coming back for seconds!
Recipe Ingredients
Let's go over what you'll need to put this cheesy casserole together. Round up the following ingredients:
Frozen Chopped Broccoli: thawed and drained. You could also use fresh broccoli if you want to.
Instant Rice: any Quick Cooking brand of rice is fine. Brown rice and regular white rice work too. You use cooked rice in this recipe, so it's also a great way to use up leftover rice!
Butter: if you use unsalted butter you may want to throw in a pinch of salt to the cheese sauce.
Onion: approximately 1 small onion, diced.
Cream of Chicken Soup: I used 2 (10.75- ounce) cans.
Milk: 1% or 2% is just fine.
American Cheese: use 1 (16- ounce) package processed (like Velveeta), cubed.
Grated Cheddar Cheese: you could also use shredded cheddar cheese instead, but I love this recipe with grated cheese.
Ritz Crackers: I needed 35 crackers, or 1 sleeve, crushed. Crushed potato chips are good too.
How to Make Cheesy Broccoli Rice Casserole
Preparing this Cheesy Broccoli Rice Casserole is super easy. Once you've got the rice cooking and the cheese sauce simmering, combine them with the broccoli bits, put the whole thing in the oven, and you've got yourself a bubbly, cheesy side dish!
Grease Baking Dish: Preheat oven to 350°F. Coat a 9×13 baking dish lightly with nonstick spray. Set aside.
Dry Thawed Broccoli: Place the thawed broccoli on a paper towel lined counter or tray. Press to remove as much moisture as possible from the broccoli. Set aside.
Prepare the Rice: Cook the rice according to the package directions.
Start on the Cheesy Sauce: While the rice is cooking, melt butter in a large, skillet (at least 3- inches deep) over medium heat. Add the onions and cook until soft and translucent, 5 – 7 minutes. Reduce heat to medium-low and add in the cream of chicken soup, milk, and cubed processed cheese. Stir until the cheese is just melted and smooth. Remove from heat.
Mix Broccoli and Rice Together: Stir the broccoli and rice into the cheese mixture evenly. Pour the mixture into the prepared pan and top with grated cheddar and crushed crackers.
Bake Casserole: Bake for 40 minutes, until the crackers are golden and the mixture is bubbly.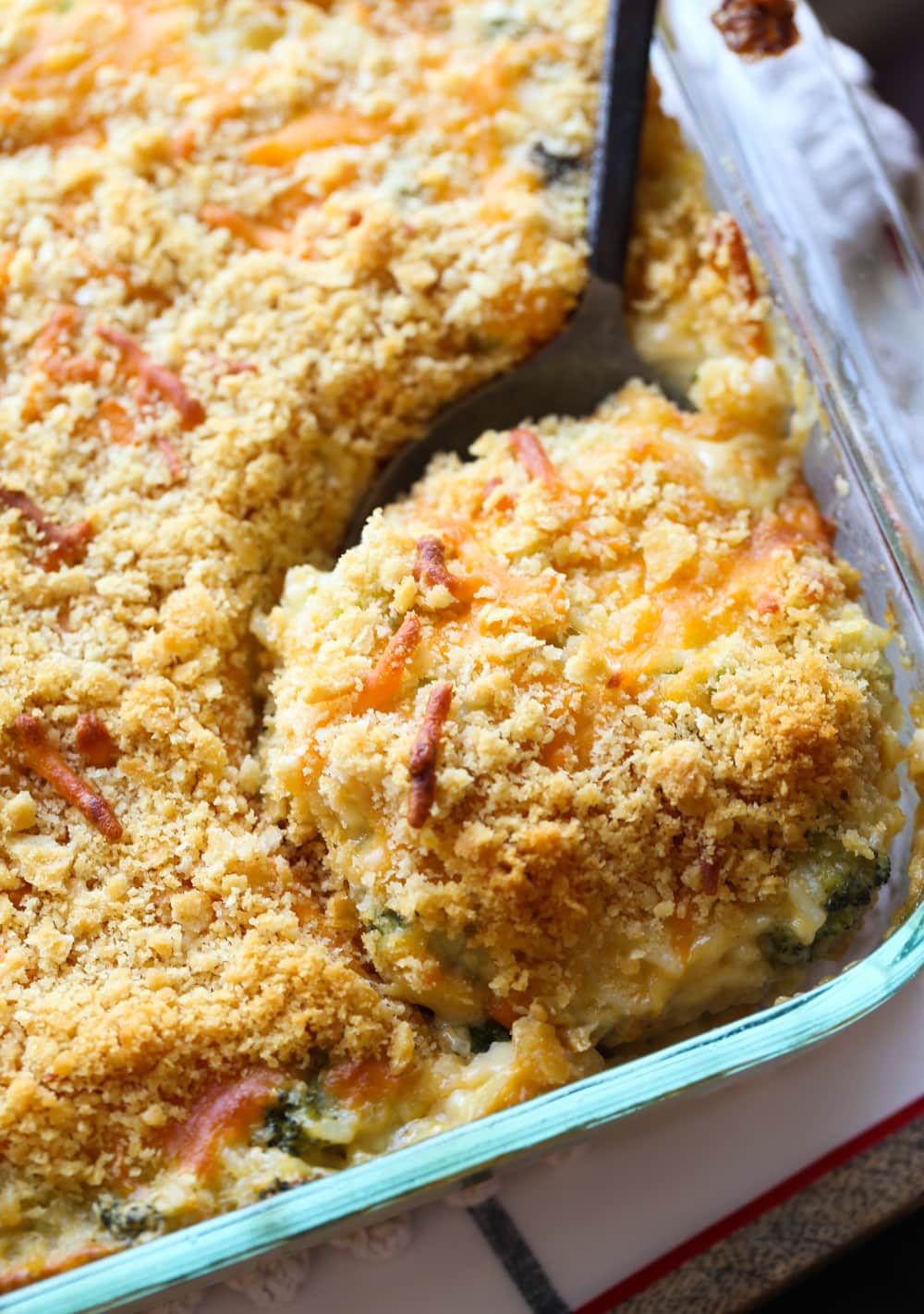 Tips for Success
Mouthwateringly good, right? Here are some tips for the best results with this rice casserole:
For a Healthier Version: use low-fat milk, reduced-fat cheddar cheese, and maybe sub out the instant rice for brown rice.
Cracker Substitutions: plain potato chips or saltines could work well too.
To Make this a Light Dinner: add in some leftover chopped chicken or turkey to the mix.
Serving Suggestions
So what should you serve with this broccoli casserole? Here are some ideas to inspire you:
Chicken: this rice casserole is the perfect complement to these Baked Chicken Legs!
Beef or Pork: serve up some delicious grilled pork chops or beef tips.
Salad: a healthy green salad is a great addition if you want to serve this casserole as a vegetarian dinner.
How to Store Leftover Broccoli Rice Casserole
You can store leftover casserole in an airtight container in the refrigerator for up to 3 days. It can also be frozen the same way for up to 3 months.
Cheesy Broccoli Rice Casserole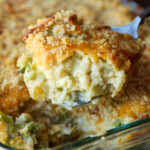 ---
Description:
Looking for a delicious yet simple side dish to serve with dinner? This Cheesy Broccoli Casserole, made with fluffy instant rice, chopped broccoli, and a creamy cheese sauce, will have everybody asking for seconds! 
---
Ingredients:
20 ounces

frozen chopped broccoli, thawed and drained

3 cups

cooked Instant Rice (Quick Cooking)*

2 tablespoons

butter

1 cup

diced onion (approximately

1

small onion)

2

(10.75- ounce) cans cream of chicken soup

1 cup

milk

1

(16- ounce) package processed American cheese (like Velveeta), cubed

1 1/2 cups

grated cheddar cheese

35

Ritz crackers (

1

sleeve), crushed
---
---
Notes:
*I use Instant Rice in this casserole for ease. If you prefer using regular cooking rice, I recommend using a Long Grain Rice. 
Store airtight in the refrigerator for up to 3 days.
Keywords:: broccoli rice casserole, cheesy broccoli rice casserole, easy cheesy broccoli rice casserole, quick and easy casserole recipes, casserole dinner recipes
Want To Save This Recipe?
More Easy Dinner Ideas
Looking for more easy dinner ideas? Try out some of these!
PIN for later: