This easy and cheesy French Bread Pizza is ready in minutes! Make pizza at home in no time with this simple recipe featuring hearty French bread topped with garlic butter, stringy mozzarella, pizza sauce, and spicy pepperoni slices.
Make sure to try my Easy Homemade Pizza Crust Recipe too! It's done faster than delivery!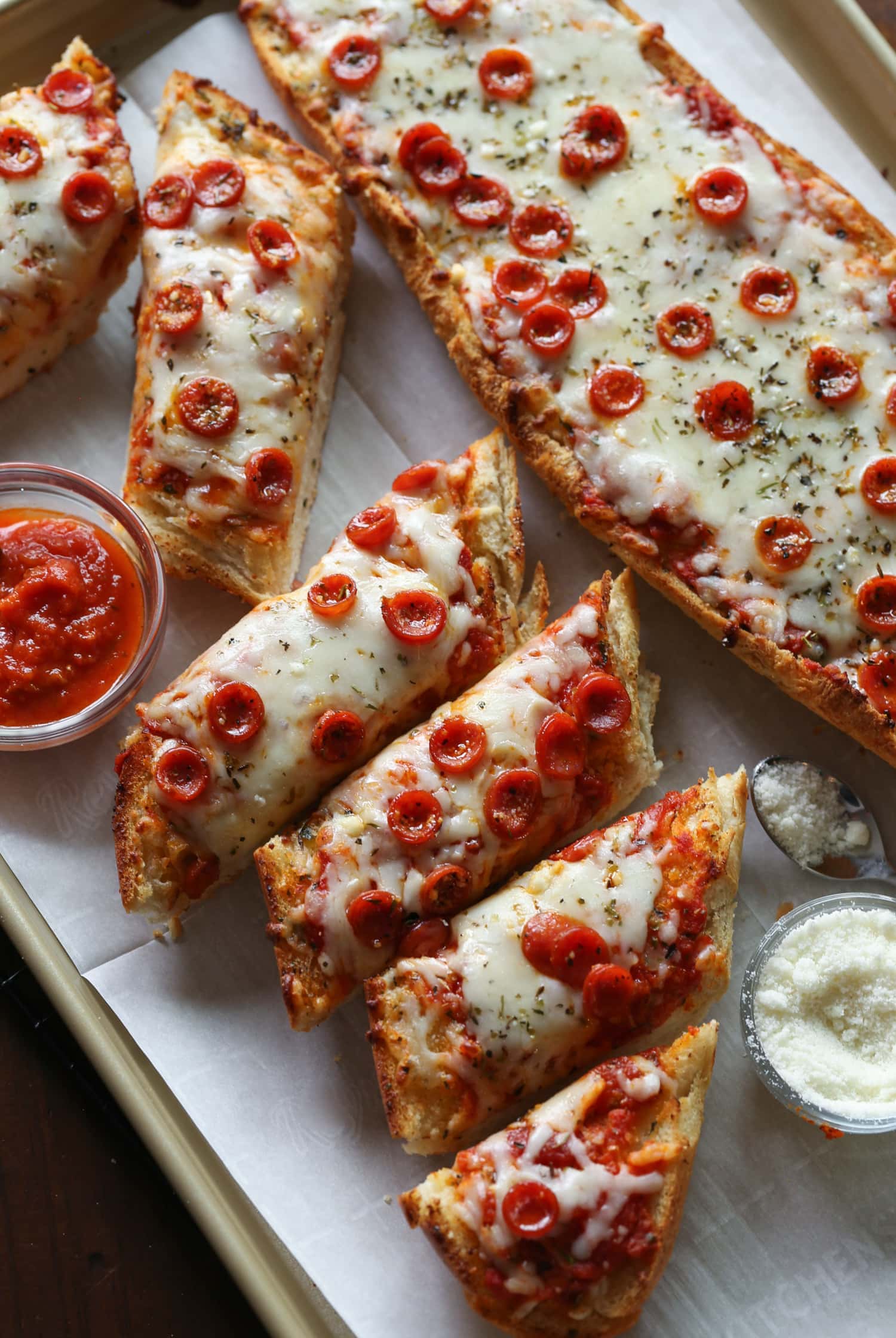 French Bread Pizza: Cheesy Bread Pizza with Pepperoni!
Whenever I'm looking for a fast and delicious dinner that I can have ready in under 30 minutes, this cheesy homemade pizza made on French bread is always top of the list. 
This recipe goes over extremely well with both kids and adults alike. It's just that tasty. I mean, what's not to love about a thick hunk of garlic bread smothered with layers of tangy tomato sauce and glorious, melty cheese? Can anyone resist? I think not.
French bread pizza uses easy-to-come-by ingredients and comes together super quick. I top mine with slices of pepperoni, but you can live out your pizza lover's dreams with any pizza variations you'd like.
What is French Bread Pizza?
A French bread pizza is basically a homemade pizza, made with French bread as the crust! The story goes that a NY pizza joint owner named Bob Petrillose invented French bread pizza in the 1960s when he got tired of selling slices. These first French bread pizzas were called PMP or "Poor Man's Pizza". 
This type of pizza eventually grew in popularity with Stouffer's French Bread Pizza of freezer aisle fame.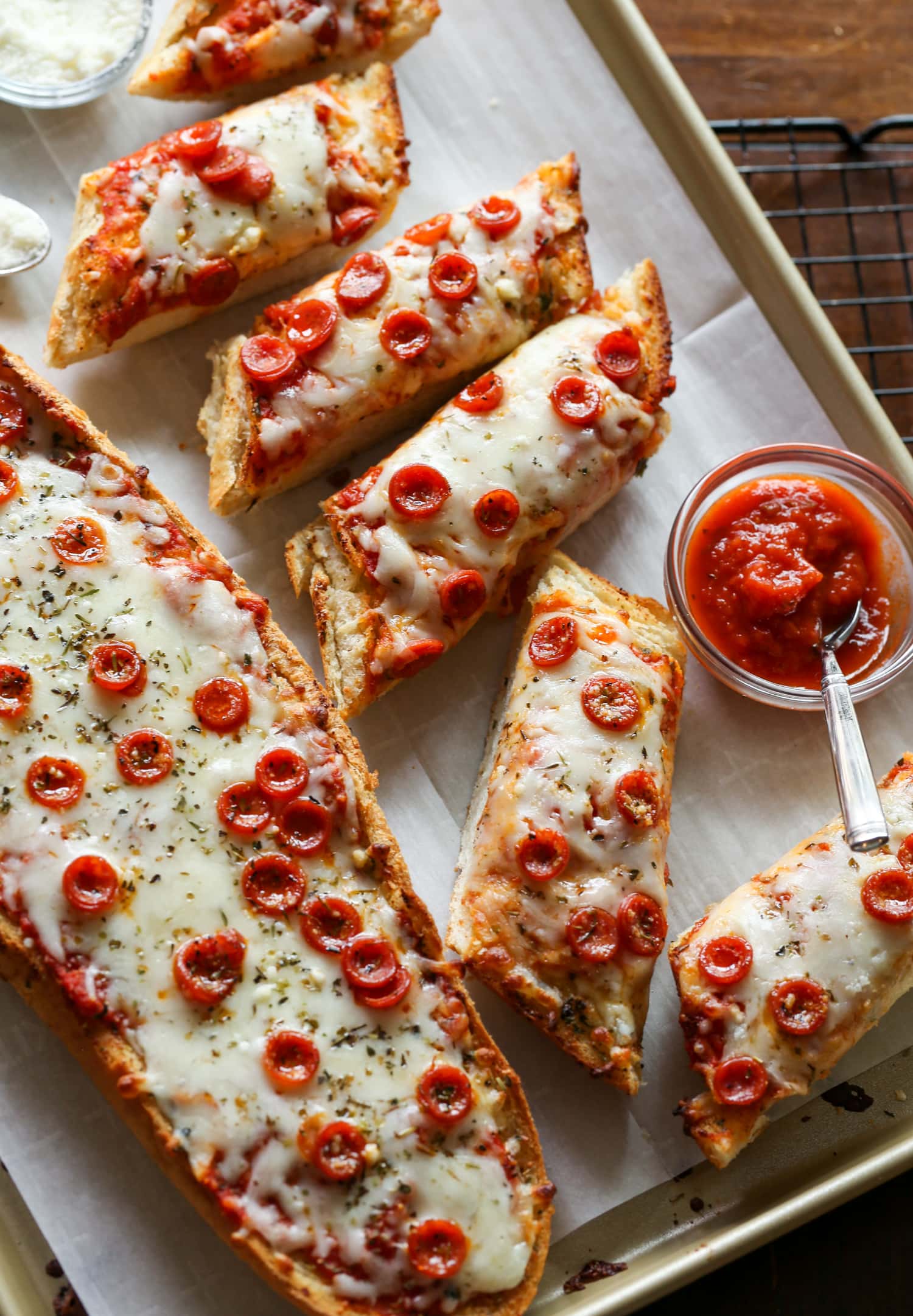 Recipe Ingredients
French Bread: Choose a wider, softer loaf of French bread for this recipe, as opposed to a crusty baguette.
Butter: I brush my bread bases with a garlic butter mixture to channel all those savory garlic bread vibes. Alternatively, you can use a nice extra virgin olive oil in place of the melted butter.
Seasonings: I season the butter with garlic powder, dried parsley, salt and pepper.
Mozzarella Cheese: Freshly grated mozzarella is always delicious, but you can also keep this recipe low-maintenance with any pre-shredded, low moisture mozzarella.
Pizza Sauce: Use a good quality store-bought pizza sauce.
Toppings: I top this French bread pizza with slices of pepperoni, a sprinkle of parmesan and a pinch or two of Italian seasoning.
What Kind of Bread Works Best? 
As mentioned above, a larger, soft-crusted French loaf works best for French bread pizza. I have a super easy recipe for Homemade French Bread that I love to use when I have the time.
When I'm buying bread from the store, I opt for day-old bread that's wrapped in plastic rather than paper. This way the crust will be softer and the bread itself will be sturdier!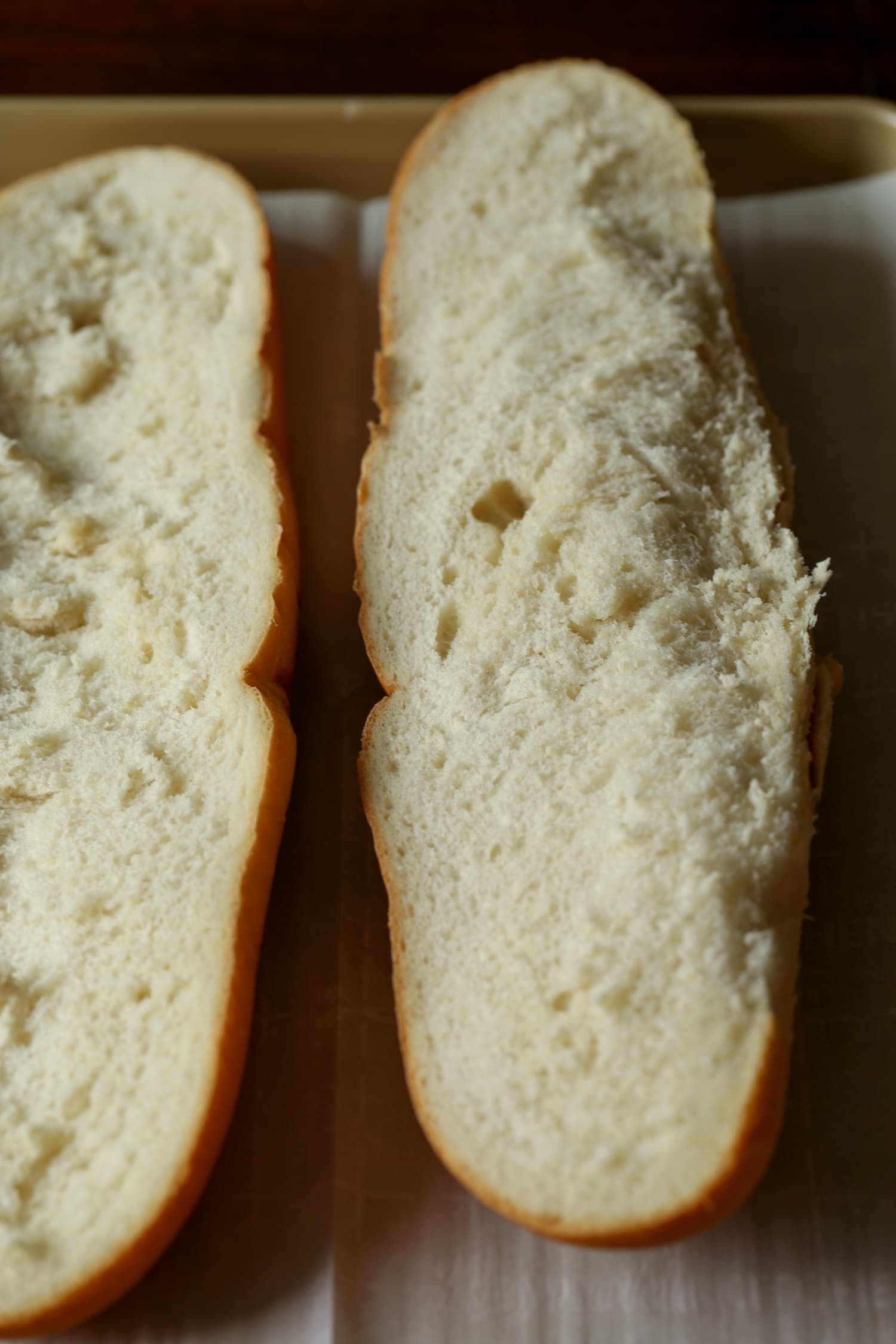 How to Make French Bread Pizza
While the oven preheats, line a baking sheet with parchment paper. Then set that aside while you prepare your French bread pizzas:
Prep the Bread: Slice the French loaf lengthwise, and then use your hands or another baking sheet to press each half down a bit. Deflating the bread a little will keep it from getting mushy while it's in the oven.
Toast with Garlic Butter: Melt the butter together with the garlic powder and seasonings in the microwave, and then gently brush the mixture over the bread. Place the bread in the oven for a few minutes to lightly toast it.
Make the Pizzas: I've found that sprinkling on a bit of cheese before the sauce helps to keep the bread from getting too soggy! Follow this up with a few spoonfuls of the tomato sauce, more cheese, the pepperoni slices and parmesan. Finish with a sprinkle of Italian seasoning for some added flavor and flair!
Bake: Pop your homemade pizzas back into the oven. In about 10 minutes, the cheese should be melted and golden and your French bread pizzas will be ready to go!
Tips for Success
Use Pre-Shredded Cheese: Of course, fresh will always have the best flavor. But I'm not one to judge – on busy weeknights, nothing beats the convenience of a bag of pre-shredded cheese!
For Pizza in a Hurry: These French bread pizzas come together quickly, but if you're pressed for time, you can melt the cheese under the broiler for a couple of minutes instead. Make sure to keep an eye on it!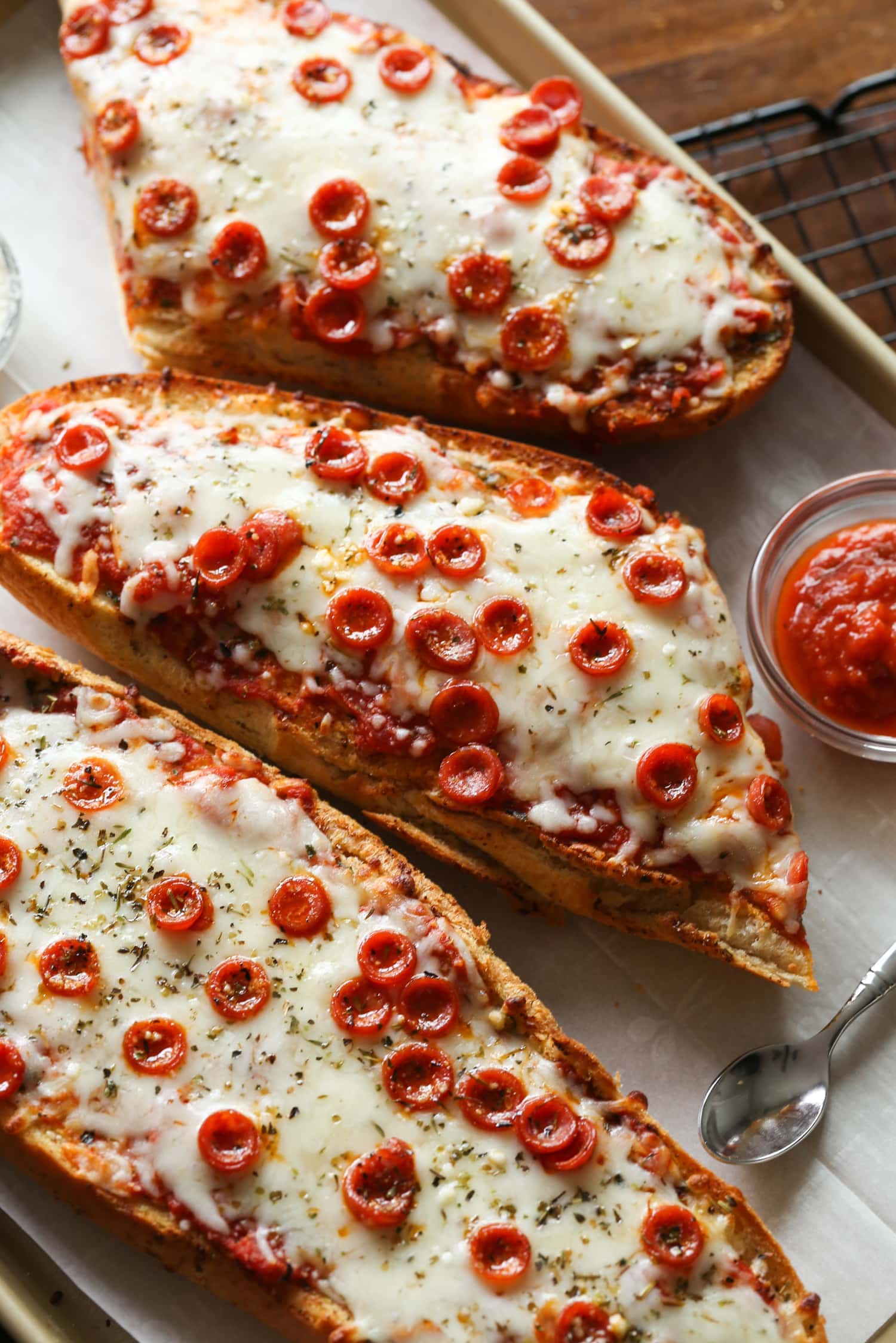 Serving Suggestions
French bread pizza is great as an after-school snack, light lunch or easy dinner. I even like to serve it when entertaining. It never gets anything but stellar reviews!
Variation Ideas
We all know that when it comes to pizza toppings, there are infinite possibilities! Switch up these homemade pepperoni pizzas with your favorite variations. Here are some ideas to try:
Different Sauces: It doesn't end with tomato sauce! Swap it out for other types of sauces such as basil pesto, white sauce, BBQ sauce, buffalo sauce, and ranch.
Margherita: Fresh mozzarella, fresh basil leaves, a drizzle of olive oil and a sprinkle of sea salt. A kid-friendly favorite!
Veggie: Mix and match veggie toppings such as peppers, spinach, kale, butternut squash, mushrooms, artichokes and onions. 
Greek: Feta cheese, sun dried tomatoes and olives. 
Hawaiian: Drained pineapple chunks, red or yellow bell pepper and smoky ham.
Regina: Ham or prosciutto and sliced mushrooms. 
Meat Lover's: Crumbled sausage or ground beef, pepperoni, and bacon. 
Buffalo Chicken: Cubed chicken, hot sauce and ranch dressing. Basically, the toppings from my homemade Buffalo Chicken Pizza recipe! 
Fig and Goat Cheese: A sweet-savory combination of chopped ripe figs, goat's cheese, and a balsamic drizzle.
Jalapeno Popper: Take inspiration from this easy Jalapeno Popper Pizza appetizer!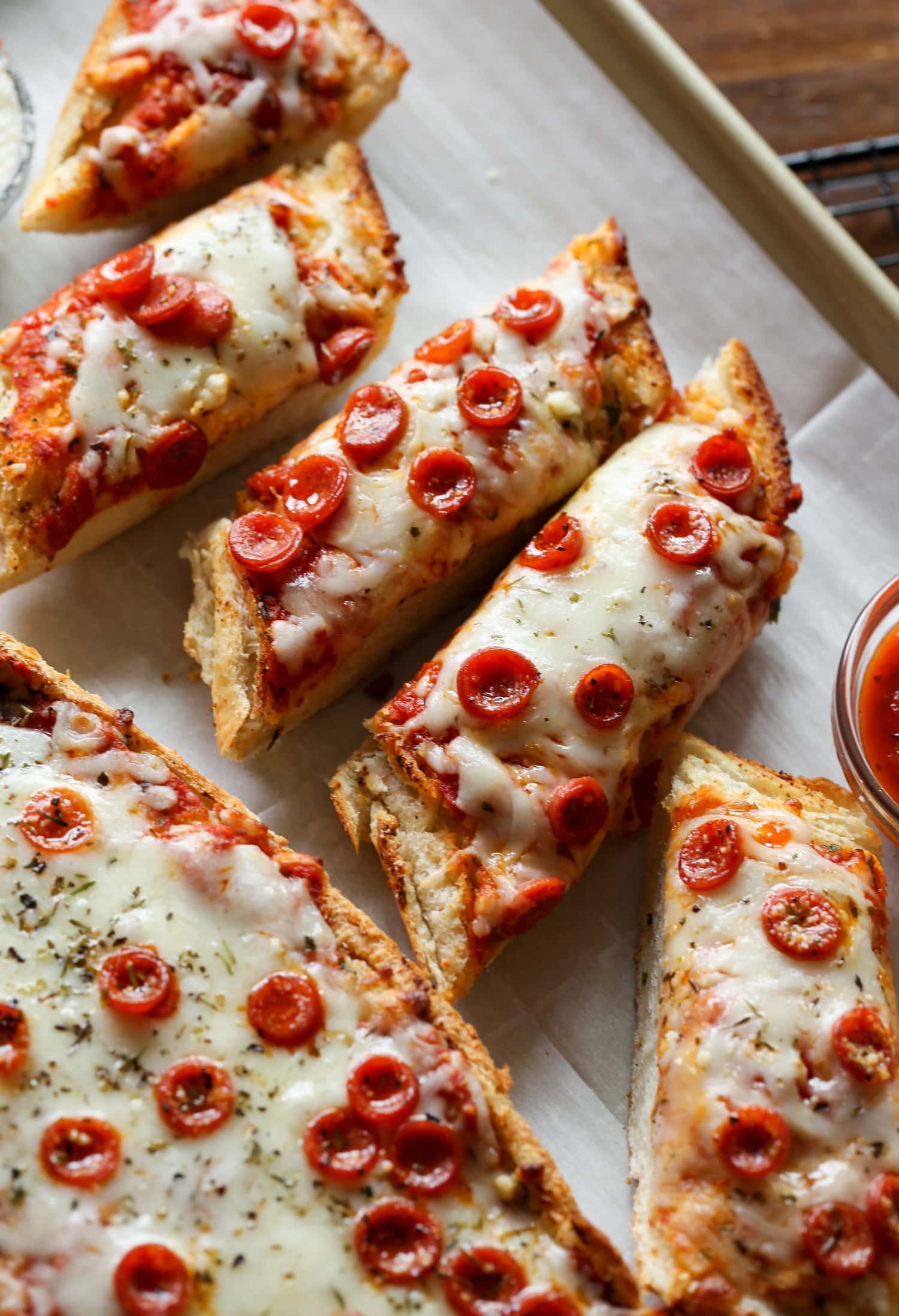 Storage and Reheating
Store the cooled pizza airtight in the fridge (either in a container or wrapped in plastic or foil). French bread pizzas make awesome leftovers, cold or reheated! Reheat the pizza on a baking sheet in the oven at 375°F for about 7 minutes.
Does This Freeze Well?
You can take a page out of Stouffer's book and freeze your finished French bread pizzas for easy baking or reheating at a later date. This pepperoni version is especially freezer friendly. When making this pizza ahead, freeze it after adding the toppings and before baking.
Store the pizzas in a freezer safe container and then bake them directly from frozen, adding a few extra minutes to the baking time.
More Mouthwatering Pizza Recipes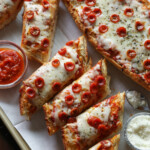 ---
Description:
This easy and cheesy French Bread Pizza is ready in minutes! A hearty homemade pizza recipe made with garlicky French bread topped with stringy mozzarella, pizza sauce, and spicy pepperoni slices.
---
Scale
Ingredients:
1

large loaf French bread (see note)

6 tablespoons

butter

1/2 teaspoon

garlic powder

1/2 teaspoon

kosher salt

1/2 teaspoon

black pepper

2 teaspoons

dried parsley

2 cups

grated (low moisture) mozzarella cheese

1 cup

pizza sauce

1 cup

sliced pepperoni

2 tablespoons

Parmesan cheese

1 teaspoon

Italian seasoning
---
Instructions
Preheat the oven to 400°F. Line a large baking sheet with parchment paper and set aside.

Slice French bread in half lengthwise. Press the bread down firmly using your hand or another baking sheet to make it less airy, and more compact. You don't need to flatten in, you just want to deflate it a little so it doesn't get as mushy when baking. 

In a medium, microwave-safe bowl melt the butter, garlic powder, salt, pepper, and parsley together. Stir to combine. Brush the melted butter evenly on top of the bread.

Place the bread on the prepared baking sheet and place in the oven for 7 minutes, or until lightly toasted. 

Remove the bread from the oven and sprinkle 1/4 cup of cheese on each half. This helps prevent the sauce from absorbing into the bread, causing it to get soggy. Top the cheese on each half with tomato sauce, spreading to coat. Then sprinkle the remaining cheese evenly on top of the sauce. Add on the pepperoni (as much or as little as you prefer), and sprinkle 1 tablespoon of Parmesan cheese and 1/2 teaspoon Italian seasoning onto each half.

Place the pizzas in the oven for 11 – 12 minutes, or until the cheese is melted, and lightly browned. 
---
Notes:
Avoid a crusty baguette style loaf, choose a larger, softer french bread. You can make my homemade

French Bread Recipe

if you want to bake it from scratch!

To reheat pizza, place on a baking sheet and bake in a preheated 375°F oven for 7 minutes.
Keywords: bread pizzas, homemade pizza, easy pizza recipe
Want To Save This Recipe?
PIN for later: