Cheesy Potato Waffles – Delicious, cheesy, and savory waffles prepared with leftover mashed potatoes and cheddar cheese. Crispy on the outside and fluffy on the inside, these potato waffles not only taste amazing, but they are a super fun meal to serve to your family.
Cheesy Potato Waffles! Yep, we are actually putting (mashed) potatoes in a waffle maker and lovin' it! These potato waffles are a wonderful brunch recipe that's sure to impress your guests. Serve them simply topped with sour cream and chives, or fully loaded with bacon and green onions.
I am known to repurpose food over and over again. I'm pretty sure I've told you this before, but I can't get myself to throw away food. For that reason, I find new ways to use up our leftovers. For instance, these Spinach and Garlic Potato Patties, or my Sweet Potato Shepherd's Pie. All so darn delicious and all made with leftover food.
If I can't think of a clever way to reuse our food, I just pop it inside a flour tortilla and call it taco-night… ?
But, that wasn't the case here. Cheesy Potato Waffles are made with just a handful of ingredients, they're also VERY quick to make and are naturally gluten free.
HOW TO MAKE POTATO WAFFLES
We are basically taking our leftover mashed potatoes and stirring in eggs, seasonings, panko crumbs, cheddar cheese, milk, and chives.
Make sure to mix those together really well, until fully incorporated. The consistency will be thicker and it won't resemble a waffle-batter. If you feel that it could use more liquid, go ahead and add a little. However, the batter should not be runny at all. Keep in mind, everybody's recipe for mashed potatoes is going to vary in texture and moisture, thus, use your best judgment.
Next, pinch off about 1/3 cup of potato mixture and make a patty. I weighed mine and used exactly 2-ounces per patty.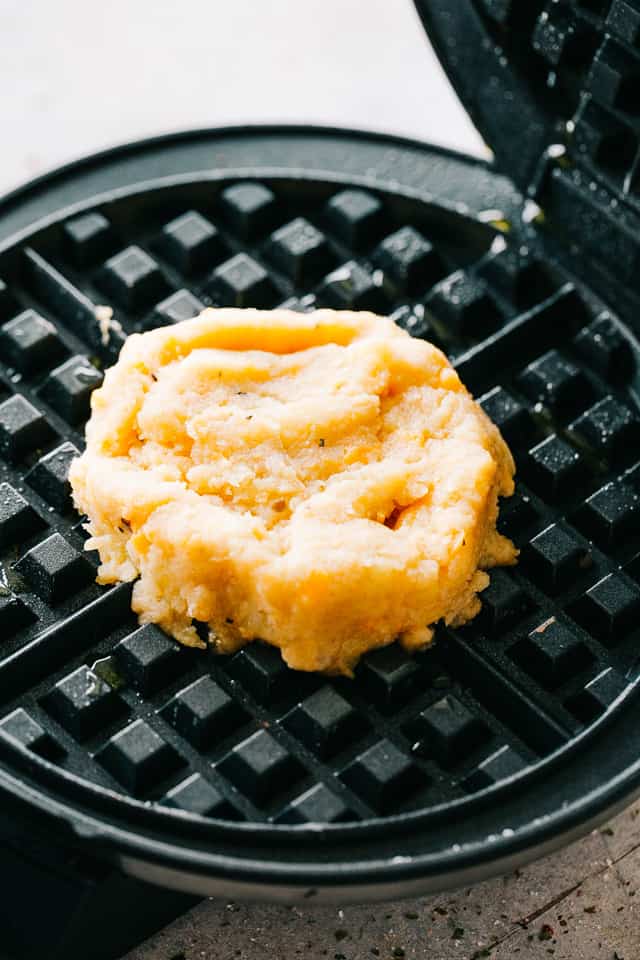 Transfer the potato patty to a greased and preheated waffle iron/maker; close and cook for 3 to 4 minutes, or until cooked through and browned on top.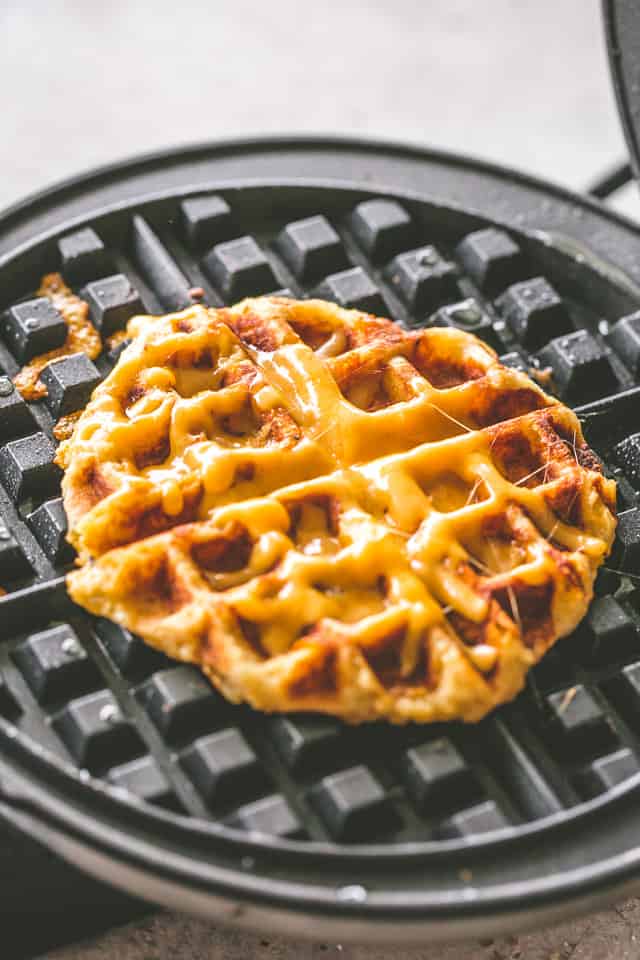 Remove from the waffle maker, add more cheese, if you like, spoon some sour cream on top, and serve.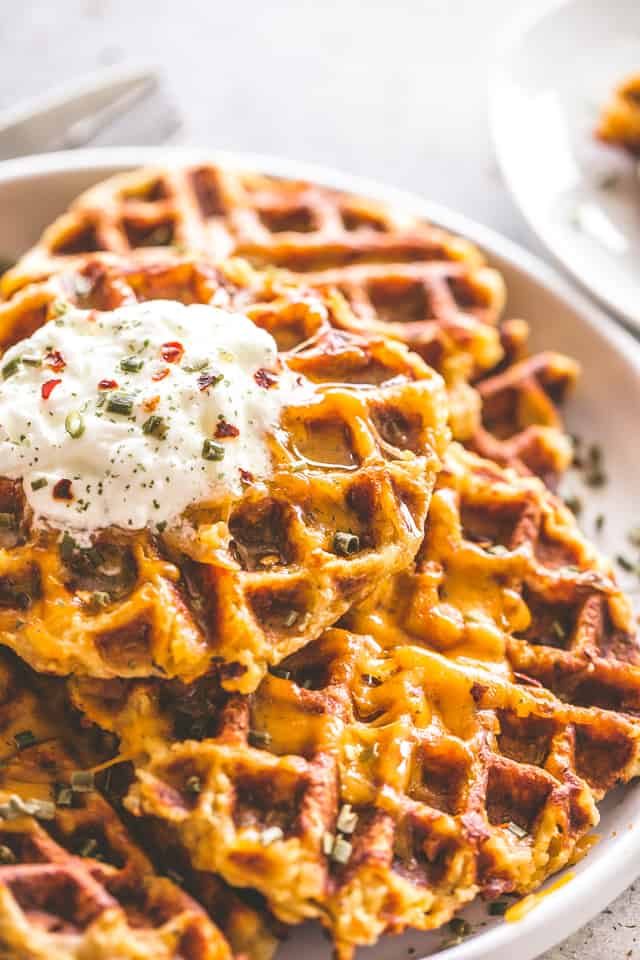 We could say these are basically potato pancakes, or latkes, but without all the greasy clean-up and calories from pan-frying.
POTATO WAFFLES VARIATIONS
You know what else? Don't be afraid to add in different ingredients. From experience, I can tell you that these are fantastic with sweet potatoes. Use my Mashed Sweet Potatoes recipe and make them – you won't regret it. My husband added a bunch of syrup and butter to his, and finished off all 10 waffles. ?
Add in some crumbled bacon, or shredded chicken, even leftover turkey meat. I think feta cheese + turkey meat would be really good. But, play them up however you want – they will be great.
I should also add that these are excellent for school lunches. Hot or cold, the potato waffles are delicious, especially when served with a side of yogurt or sour cream. Even a runny egg on top! YUM!
NEED MORE RECIPES FOR LEFTOVERS? Get my recipes for THANKSGIVING LEFTOVERS
MORE WAFFLES RECIPES
ENJOY!
Cheesy Potato Waffles
Delicious, cheesy, and savory waffles prepared with leftover mashed potatoes and cheddar cheese.
Course: Breakfast, Side Dish
Cuisine: American/Southern
Keyword: mashed potatoes, potato waffles, waffles
Servings: 10 Yields
Calories: 127 kcal
Ingredients
2

cups

leftover mashed potatoes

1/4

cup

gluten free panko crumbs

3/4

cup

shredded sharp cheddar cheese,

plus more for topping (optional)

1/4

cup

milk

2

eggs,

lightly beaten

salt and fresh ground pepper,

to taste

1/2

teaspoon

garlic powder

1/2

teaspoon

dried oregano

1

tablespoon

chopped fresh chives,

or to taste, plus more for serving

1/2

teaspoon

baking powder

1/4

teaspoon

baking soda

sour cream,

for serving (optional)
Instructions
Preheat waffle iron and grease with cooking spray.

Combine all of the ingredients, except for the sour cream, in a large mixing bowl; mix and stir until thoroughly incorporated.

If you want smaller waffles, scoop out about 1/3 cup of the batter and form into a patty. For bigger waffles, use 1/2 cup of the batter. For a perfect serving size, use 2 ounces of the batter per waffle.

Transfer to preheated waffle iron and close; cook for 3 to 4 minutes, or until cooked through and browned on top. Cooking time will depend on the size of the waffles.

Remove from waffle iron, top with a sprinkle of cheese (optional) and set aside.

Repeat with the remaining batter.

Serve the potato waffles with sour cream and fresh chives.
Recipe Notes
Everybody's recipe for mashed potatoes is going to vary in texture and moisture; if the waffle batter looks dry and is not holding together, add more liquid or one more egg. If it looks too wet, add more panko crumbs. You are looking for a mixture that is cohesive and not runny.
WW FREESTYLE POINTS: 3 (without sour cream)
Nutrition Facts
Cheesy Potato Waffles
Amount Per Serving (1 waffle (2 ounces))
Calories 127 Calories from Fat 36
% Daily Value*
Total Fat 4g 6%
Saturated Fat 2g 10%
Cholesterol 43mg 14%
Sodium 126mg 5%
Potassium 436mg 12%
Total Carbohydrates 17g 6%
Dietary Fiber 1g 4%
Sugars 1g
Protein 5g 10%
Vitamin A 3.2%
Vitamin C 9.1%
Calcium 9.2%
Iron 4.8%
* Percent Daily Values are based on a 2000 calorie diet.
SUBSCRIBE TO GET FREE UPDATES & A FREE ECOOKBOOK!
GET AN EMAIL WHEN THERE'S A NEW RECIPE