Easy40 mins
This Chicken Alfredo Baked Ziti recipe is made with a lightened-up alfredo sauce, it's easy to customize with extra veggies and seasonings, and it is always so comforting and delicious.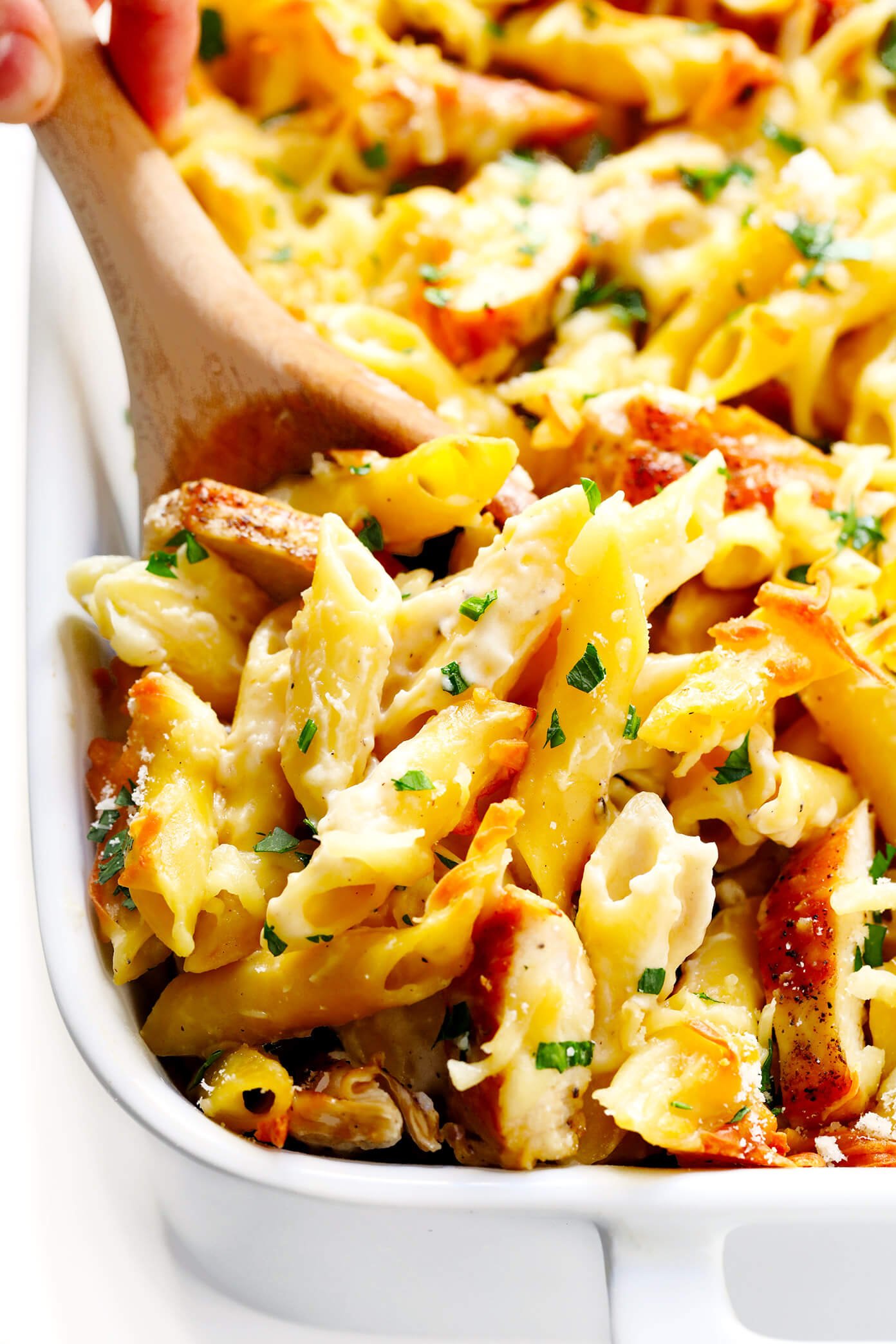 Creamy, cozy, cheesy, carb-y comfort food alert. ♡
This time of year, when everyone seems to be craving warm pasta dinners around the table on chilly winter nights, this chicken alfredo baked ziti recipe always goes viral here on the blog.  And this time of year, when I make a batch for myself, I'm always reminded how unbeatable this Italian casserole will always be.  I mean, creamy alfredo sauce, savory chicken, hearty pasta, two delicious kinds of melty cheese — what's not to love?!  There's a reason why this one will always be a classic.

MY
LATEST VIDEOS
That said, while this recipe already features my lightened-up alfredo sauce recipe, there are all sorts of other ways you can make this comfort food a bit healthier if you'd like.  From subbing in whole wheat pasta (this one is my go-to), to adding in your choice of veggies (we're quite partial to broccoli in our house), to making it all gluten-free if you'd like (easy to do with a few simple tweaks), options to customize this casserole abound.  And bonus, it can be ready to serve a big crowd in less than 45 minutes.
Who's ready for a helping?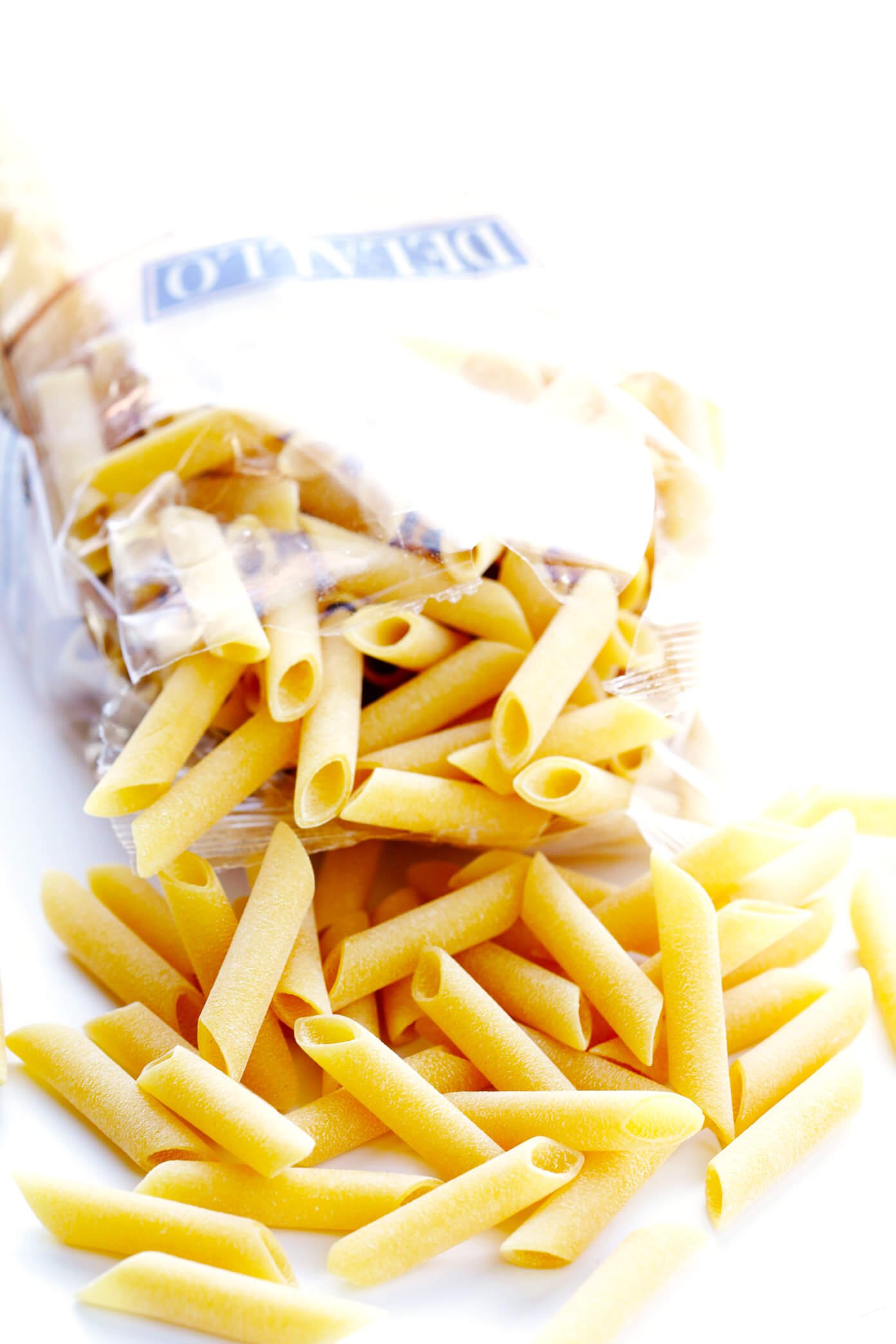 Chicken Alfredo Baked Ziti Ingredients:
To make this Chicken Alfredo Baked Ziti recipe, you will need:
Pasta: Feel free to use any shape (ziti, penne, fettuccine, etc.) and variety (classic, whole-wheat, gluten-free, etc.) of pasta that you prefer.
Shredded, cooked chicken: I either shred a rotisserie chicken, or use leftovers from this baked chicken breasts recipe.
Shredded mozzarella cheese: Feel free to use part-skim or full-fat.
Alfredo sauce: We will use my lightened-up alfredo sauce recipe, made simply with olive oil (or butter), garlic, flour, chicken stock, low-fat milk, Parmesan, salt and pepper.  Also, this recipe is not naturally very saucy.  So if you would like, many of our readers recommend

doubling the sauce

.
Toppings: Freshly-grated Parmesan is a must, in my book.  And feel free to sprinkle on some chopped parsley for extra freshness and flavor.
Also, see below for suggestions on other delicious ingredients you can add in to this easy baked ziti.  (Here's lookin' at you, broccoli and Cajun seasoning. ♡)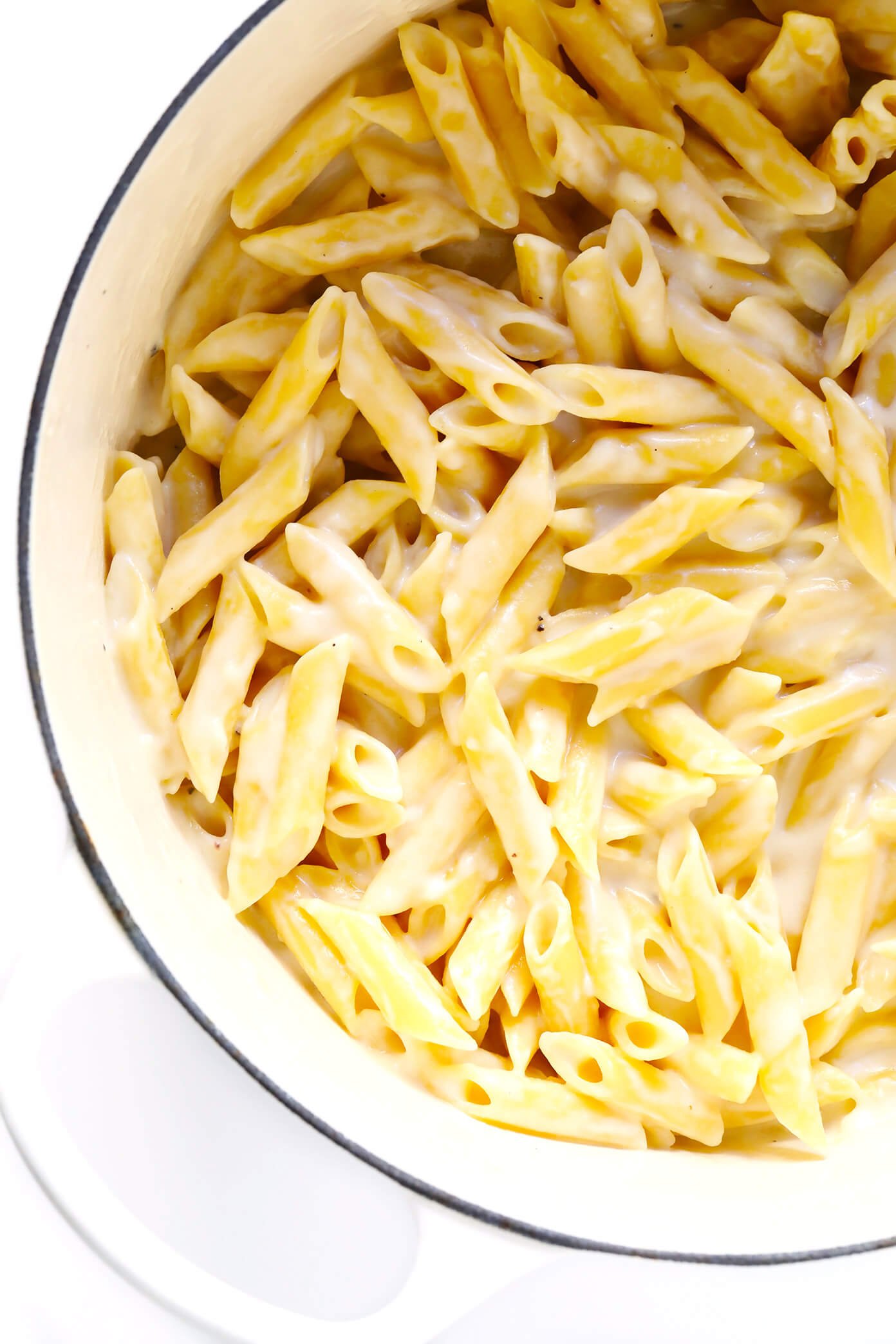 How To Make Chicken Alfredo Baked Ziti:
Alright, let's talk about how to make baked ziti!  Simply…
Prepare the alfredo sauce.  To make the alfredo recipe, just sauté some garlic in olive oil (or butter).  Stir in some flour to thicken, add stock and milk and bring to a simmer.  Then stir in the Parmesan, season with salt and pepper, and you're ready to go!
Cook the pasta (and chicken).  Meanwhile, do some multi-tasking and cook your pasta according to package instructions in a large pot of generously-salted water.  Also, if you are cooking your chicken from scratch (vs. using leftovers or shredding a rotisserie), go ahead and cook it while the pasta and sauce are being prepared.
Layer everything together. Once your pasta, sauce, and chicken are all ready to go, it's time to combine everything!  In your pasta pot, stir together the pasta, alfredo sauce and chicken until combined.  Then spread half of the pasta mixture out evenly in a 9 x 13-inch baking dish.  Sprinkle on half of the mozzarella.  And repeat with the remaining pasta mixture, and remaining half of the mozzarella.
Bake. Transfer the pan to the oven and bake (uncovered) for 20 minutes, or until the cheese is completely melted and has started to brown a bit on top.
Add toppings.  Remove and sprinkle with lots of freshly-grated Parmesan and finely-chopped fresh parsley, if desired.
Serve.  Then dish it up while it's still nice and warm, and enjoy!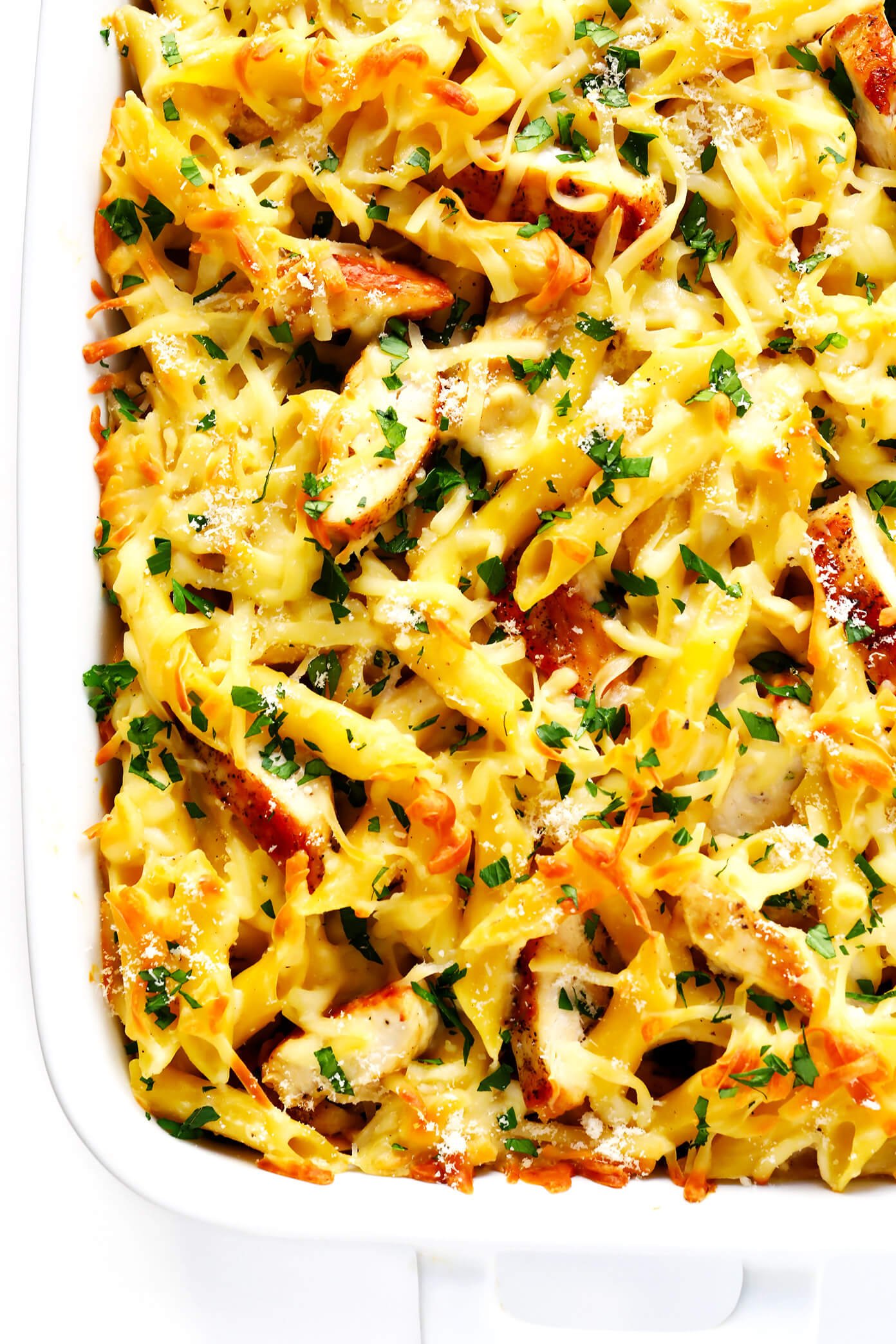 Possible Variations:
There are so many ways to customize this chicken alfredo bake!  For example, feel free to…
Add in veggies. Broccoli, asparagus, mushrooms, cauliflower, and any number of other veggies would be delicious added to this chicken alfredo recipe.  Just note that they won't get cooked much during the 20 minutes of baking time.  So if whatever veggies you add require a longer cooking time, feel free to toss them into the boiling water with the pasta for a few minutes or sauté (or roast) them for a few minutes before adding them to the casserole.
Add in extra Italian herbs. If you would like an herbier chicken alfredo pasta, feel free to add some dried Italian seasoning or chopped fresh Italian herbs into the alfredo sauce.  (Or, you can also sprinkle some chopped fresh basil on top of the pasta after baking.)
Nix the protein.  Not into chicken?  Feel free to use shrimp in this recipe instead.  (Or make it vegetarian and add in some extra veggies instead.)
Make it spicy. I really love sprinkling lots of crushed red pepper into (and on top of) this casserole to give it a bit of a kick.
Make it cajun. To give this recipe a Cajun twist, feel free to stir 1-2 tablespoons Cajun seasoning (to taste) into the alfredo sauce.
Make it gluten-free.  Just use your favorite certified gluten-free pasta, and my gluten-free alfredo sauce recipe.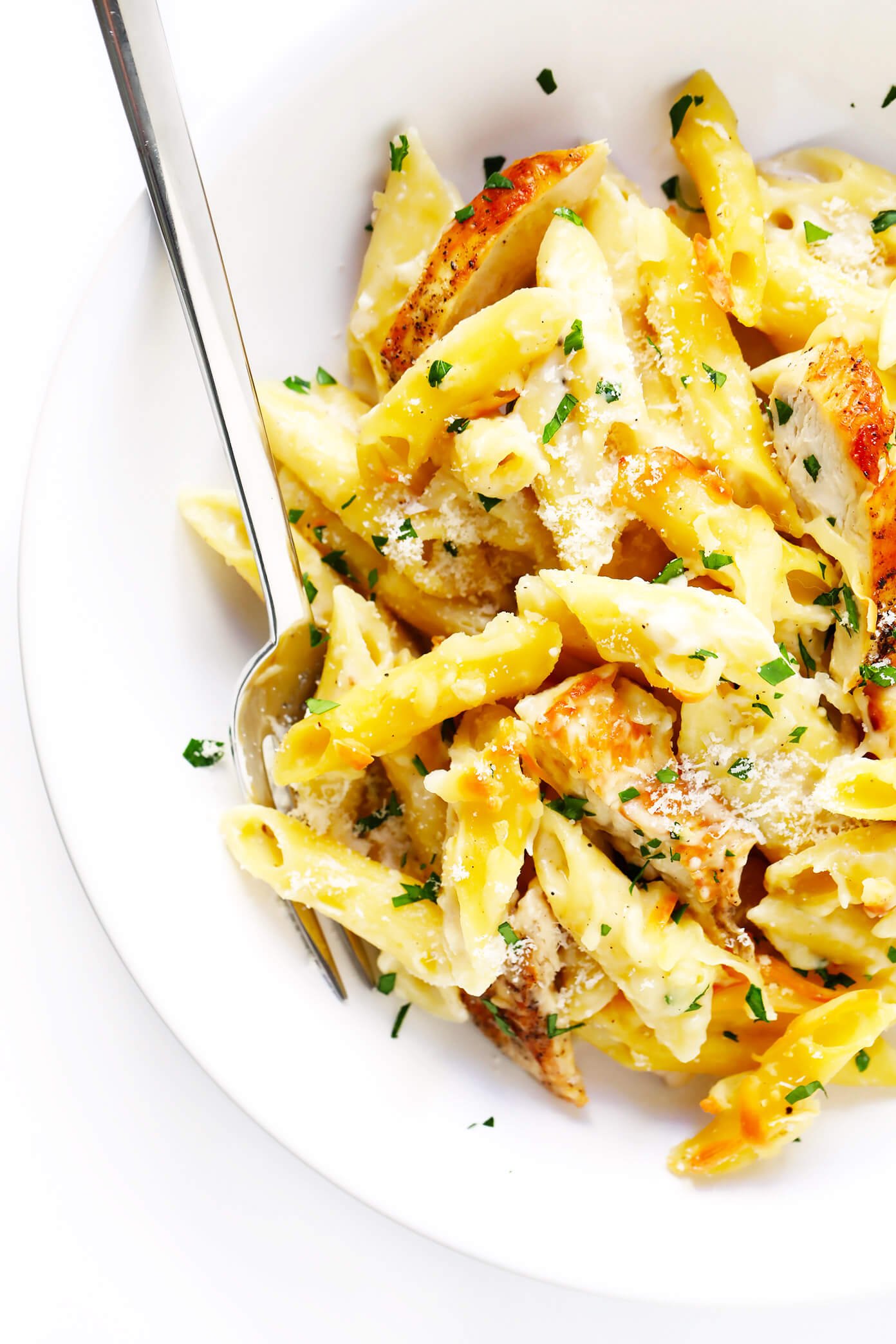 Recommended Side Dishes:
To balance out this chicken alfredo baked ziti recipe, I would recommend the following sides: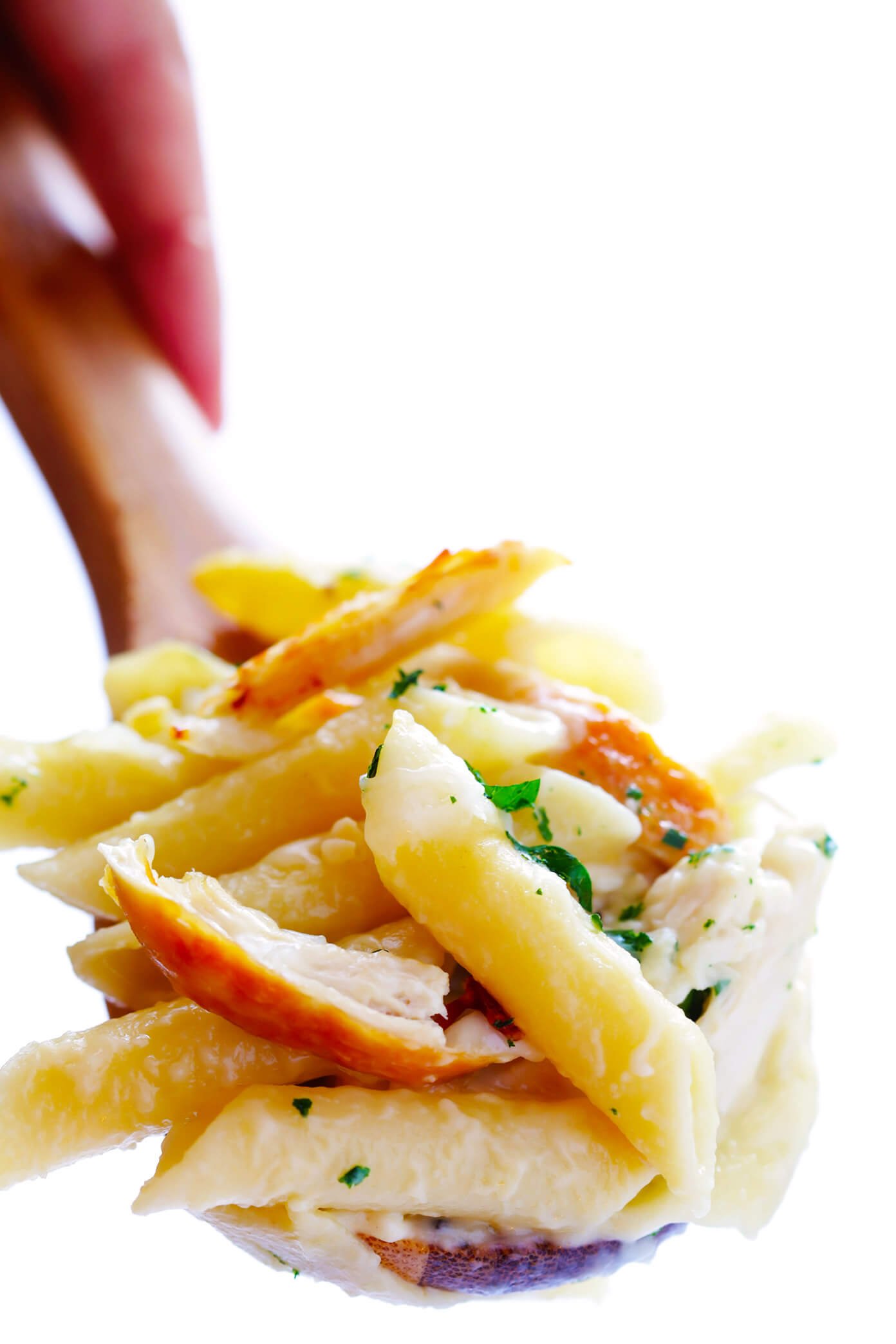 Enjoy, everyone!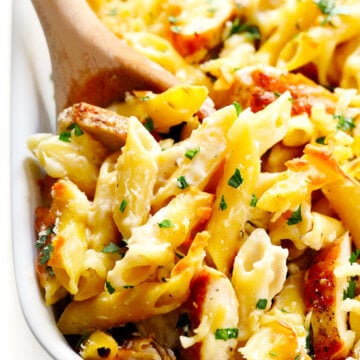 Yield: about 6-8 servings
Chicken Alfredo Baked Ziti
This Chicken Alfredo Baked Ziti recipe is made with a lightened-up alfredo sauce, and is always so comforting and delicious.  See notes above for possible ingredient variations.
Ingredients:
Chicken Baked Ziti Ingredients:
12 ounces uncooked ziti (or any pasta shape)
2 cups shredded, cooked chicken (about 2 small chicken breasts)
1 batch alfredo sauce (see below)
1 1/2 cups shredded part-skim mozzarella cheese
toppings: lots of freshly-grated Parmesan cheese, finely-chopped fresh basil or parsley
Alfredo Sauce Ingredients:
1 tablespoon olive oil or butter
4 cloves garlic, minced
3 tablespoons all-purpose flour
1 cup chicken or vegetable stock
1 cup low-fat milk
3/4 cup freshly-grated Parmesan cheese
1/2 teaspoon salt
1/4 teaspoon black pepper
Directions:
To Make The Chicken Baked Ziti:
Preheat oven to 375°F.  Mist a 9 x 13-inch baking dish with cooking spray; set aside.
Cook the pasta al dente in a large stockpot of well-salted boiling according to package instructions. Drain. Return pasta to the stockpot and add chicken and alfredo sauce. Gently toss to combine until the pasta is evenly coated.
Pour half of the pasta into the prepared baking dish. Sprinkle evenly with 1 cup of cheese. Layer the remaining half of the pasta evenly on top. Sprinkle evenly with the remaining 1/2 cup of cheese.
Bake for 20-25 minutes until the cheese is melted and just barely starts to turn golden. Remove and serve immediately, sprinkled with additional toppings if desired.
To Make The Alfredo Sauce:
Heat olive oil in a large sauce pan over medium-high heat. Add garlic and saute one minute, stirring occasionally, until fragrant. Sprinkle with flour, and stir to combine. Saute for an additional minute to cook the flour, stirring occasionally.
Slowly add chicken broth, whisking to combine until smooth. Whisk in milk, and bring the mixture to a simmer. Let cook for an additional minute until thickened, then stir in Parmesan cheese, salt and pepper until the cheese melted. Remove from heat and set aside.


All images and text ©Gimme Some Oven
If you make this recipe, be sure to snap a photo and hashtag it #gimmesomeoven. I'd love to see what you cook!
This post contains affiliate links.