Chicken and Potatoes with Dijon Cream Sauce is a flavorful one-pot wonder that's good for any night of the week. Italian seasonings and Dijon mustard blend beautifully together in a rich, buttery sauce that goes perfectly with the tender chicken and potatoes. 
For more one-pot chicken dishes, try my recipes for Instant Pot Chicken Marsala, Chicken and Broccoli Coconut Curry, and One Pot Chicken Parmesan Pasta.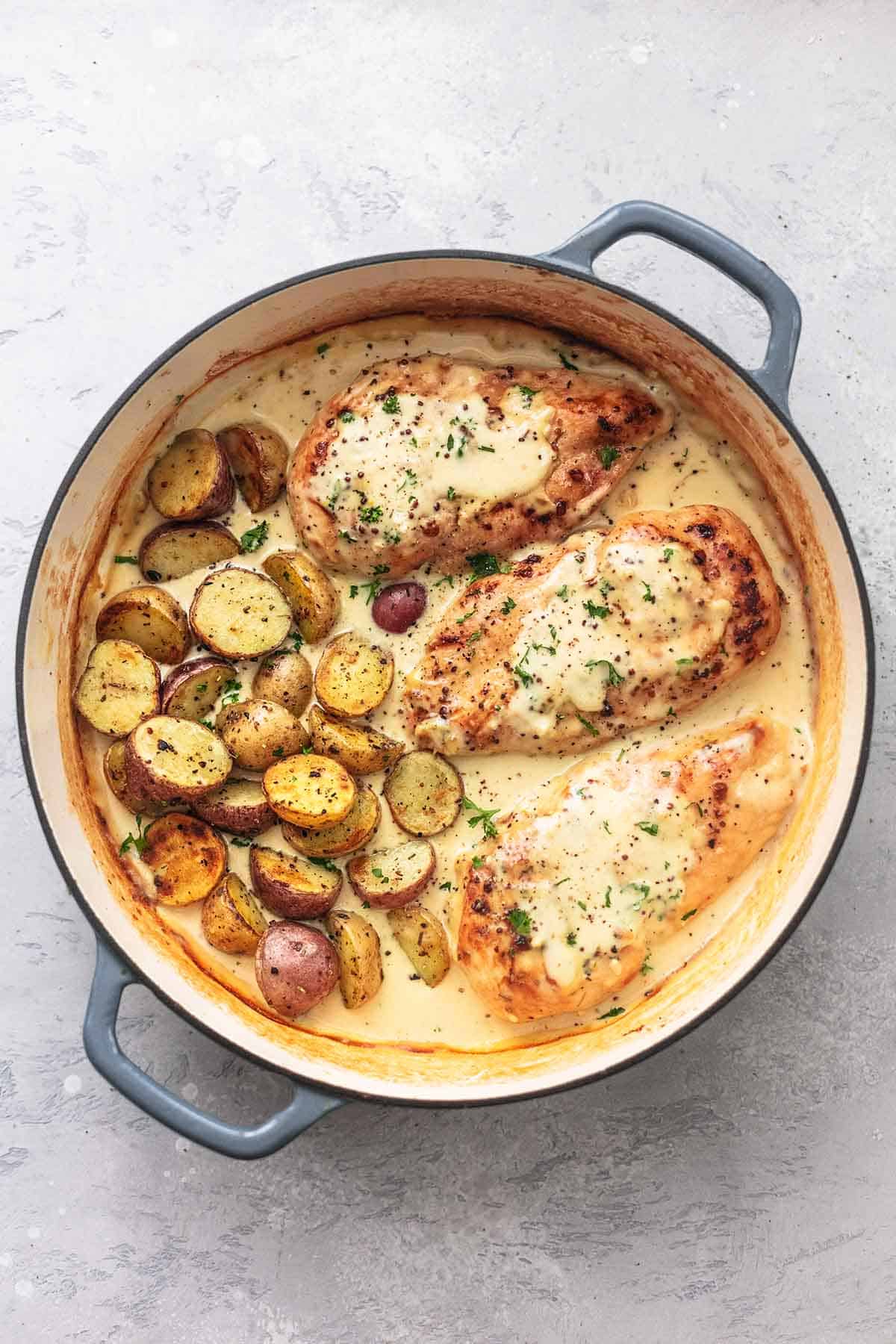 Easy chicken and potato dishes are a great way to use up pantry staples like potatoes and herbs and freezer staples, like plain old boneless, skinless chicken breasts. Putting these two together in a rich, creamy dijon sauce is a great idea, honestly. 
Why, you ask? Well, because dijon is a great flavoring. It's mustardy, but milder than using yellow mustard or whole-grain mustard. It's a little salty, a little acidic, and has a touch of heat believe it or not. But this recipe only uses two tablespoons so it's just enough flavor without being overpowering. 
My kids love to eat this dish with a side of roasted vegetables or over egg noodles (I know, I know, gimme all the carbs right?). They don't even mind that the sauce is "mixed in." Now that's a real feat! 
WHAT INGREDIENTS ARE IN CHICKEN AND POTATOES WITH DIJON CREAM SAUCE?

Boneless, skinless chicken breasts

Italian blend seasoning OR Herbs de Provence

Salt and pepper to taste

Butter

Olive oil

Baby potatoes

Minced garlic

Chicken broth (I used low sodium)

Dijon mustard

Heavy cream

Cracked black pepper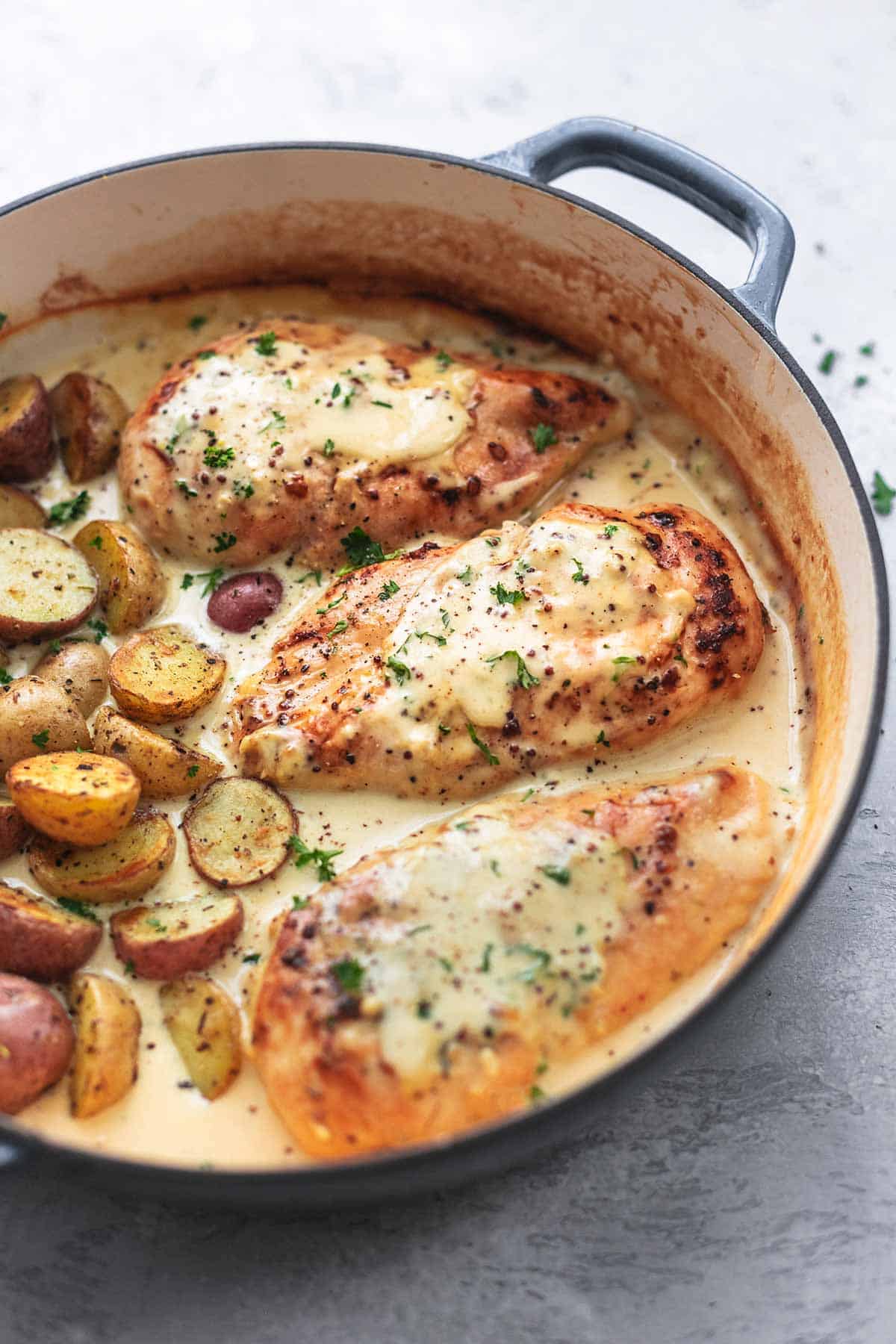 HOW DO YOU MAKE CHICKEN AND POTATOES WITH DIJON CREAM SAUCE?
Let's preheat the oven to 375 and get started making this delicious dish, shall we? 
First off, let's get to work on the chicken and potatoes — add them together in a large bowl and then drizzle them all with 1 tablespoon of olive oil. Toss everything together to coat in the oil and then add salt and pepper and Italian seasonings and mix that all together as well. 
Next, take out your large, oven-safe skillet and melt the butter over medium heat. Drizzle in another tablespoon of oil and stir.

Put the chicken on one half of the skillet and the potatoes on the other half. Let everything cook for 3-4 minutes on this first side, then flip just the chicken to let it brown on the other side another 3-4 minutes. Take both the chicken and the potatoes off the skilled and put them on a plate. Cover and keep them warm while you make the cream sauce for chicken. 
To prepare the sauce, use the same skillet you cooked the chicken and potatoes in and add more butter to melt over medium heat. Add the garlic and cook for 1 minute or until it gets nice and fragrant. Add to the butter/garlic mixture the chicken broth, dijon mustard, and heavy cream, salt, and pepper and whisk it all together. Take a second to bask in the heavenly scent of this sauce. 
Finally, add the chicken and potatoes back to the pan and give the sauce a good toss/spooning around the chicken and potatoes so that they can retain their moisture while they finish cooking in the oven. 
Put the whole pan in the oven and finish baking for 15-20 minutes or until the chicken is cooked through and the potatoes are fork-tender. Take the pan out of the oven when the chicken is done and spoon the dijon sauce over the chicken and potatoes and garnish with more black pepper and some fresh herbs if you like!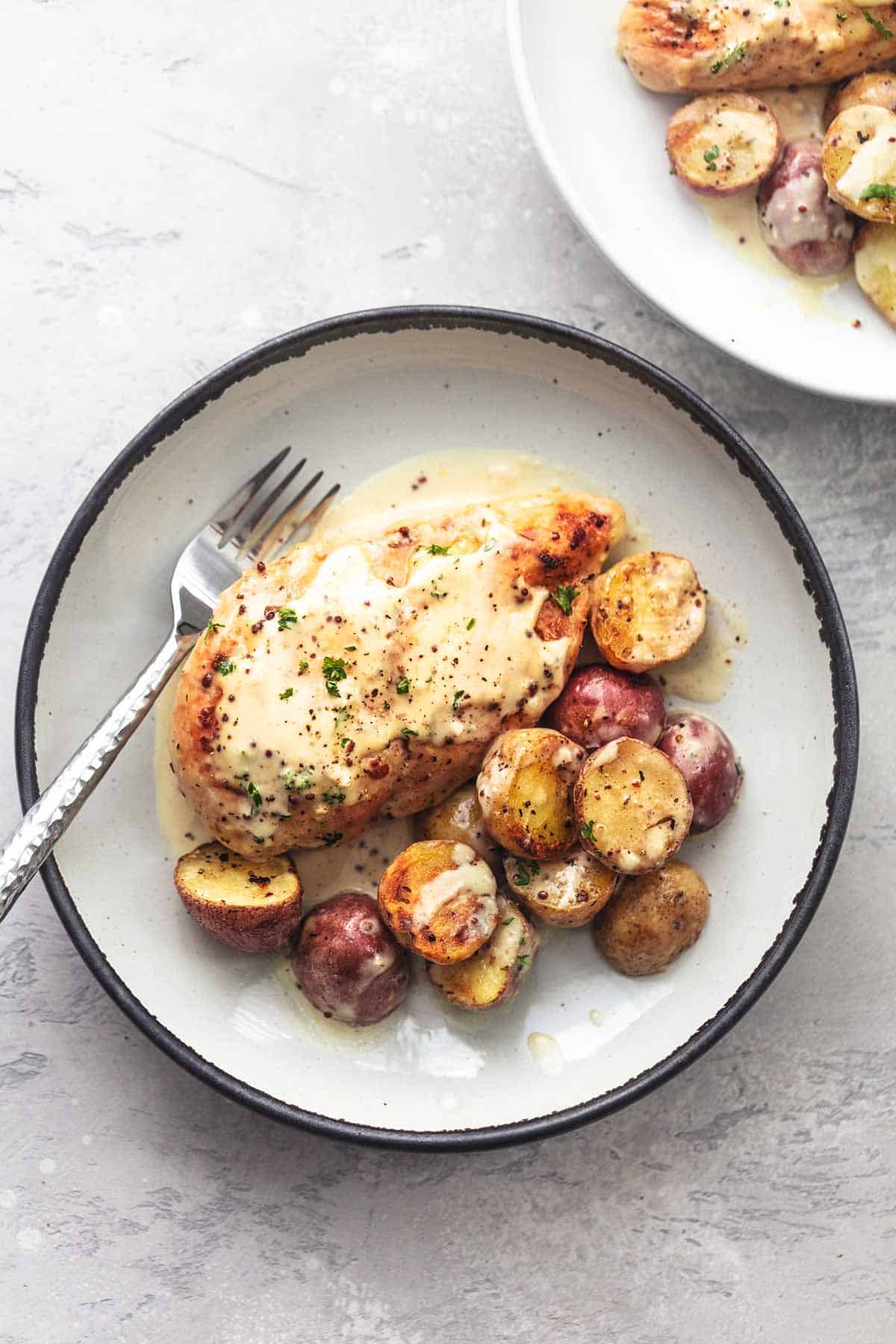 WHAT IS DIJON MUSTARD MADE OF?
What is this fabulous condiment we call dijon? Well, I'm happy to tell ya! It's a sauce made of brown mustard seeds mixed together with white wine vinegar or white wine, plus water and salt. You can find it in a bottle with the other types of mustards. You can also sometimes find it in a paste form for mixing into sauces (or for using in this healthy chicken and potatoes recipe). 
WHAT'S THE DIFFERENCE BETWEEN DIJON MUSTARD AND REGULAR MUSTARD? 
So, what sets dijon apart from the regular, yellow stuff? Well, for one, the color. The color of dijon is more of a light brown/pale yellow rather than a stark yellow. It's not made from prepared mustard like yellow mustard but is instead made from ground brown mustard seeds along with the other ingredients listed above.

Dijon is also creamier in texture than regular yellow mustard.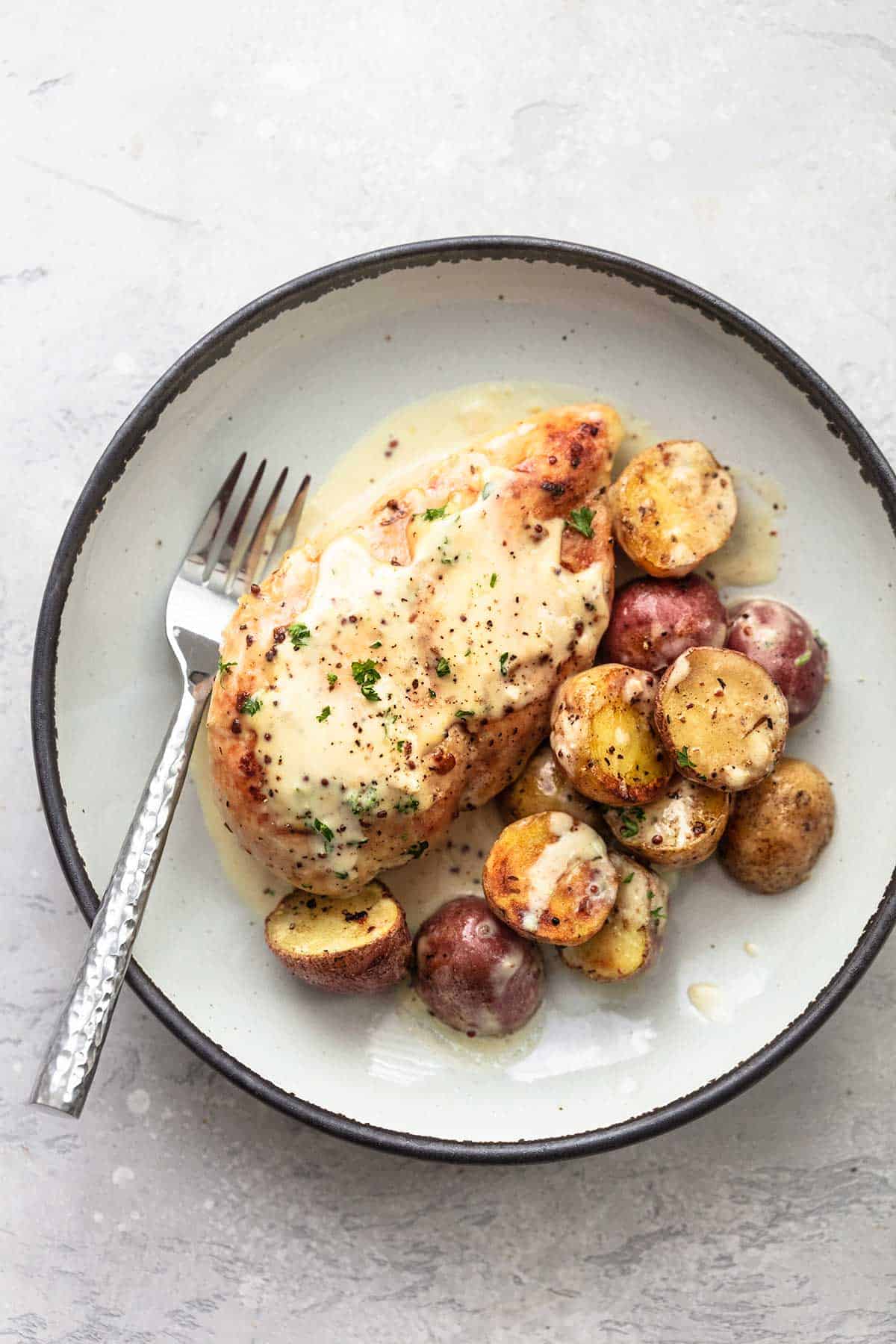 3

medium boneless skinless chicken breasts

2

teaspoons

Italian blend seasoning OR Herbs de Provence

salt and pepper to taste

2

tablespoons

butter

2

tablespoon

olive oil

1/2

pound

baby potatoes, halved or quartered as needed (they should be no large than 1 inch pieces)
for the dijon cream sauce
1

tablespoon

butter

1

teaspoon

minced garlic

1

cup

chicken broth

I used low sodium

2

tablespoons

dijon mustard

1

cup

heavy cream

1/2

teaspoon

salt, or to taste

1/4

teaspoon

cracked black pepper, or to taste
Prepare the chicken and potatoes
Combine chicken and potatoes in a large bowl. Drizzle with 1 tablespoon olive oil, toss to coat, then season generously with salt and pepper, and the Italian seasoning blend (or Herbs de Provence).

In a large skillet, melt butter over medium heat. Drizzle in 1 tablespoon olive oil and give it a good stir.

Add chicken to one half of the pan, potatoes to the other half. Cook undisturbed for 3-4 minutes, flip chicken and cook another 3-4 minutes til browned on both sides. Transfer chicken and potatoes to a plate and cover to keep warm.
Prepare the sauce
In the same skillet, melt butter over medium heat. Stir in garlic for 1 minute til fragrant.

Stir in chicken broth and dijon mustard, then whisk in heavy cream, salt and pepper.
Put it together
Return chicken and potatoes to the pan, giving them a good toss in the sauce to keep them from drying out in the oven.

Transfer to preheated oven and bake for 15-20 minutes until chicken is cooked through and potatoes are fork-tender.

Spoon dijon sauce from the pan over the chicken and potatoes, garnish with freshly cracked black pepper and fresh herbs if desired, and serve.
This recipe can easily be doubled, simply follow directions as written but arrange browned chicken and potatoes on a rimmed sheet pan and pour sauce over chicken and potatoes before baking.