4-Ingredient Instant Pot Chicken Chile Verde-you only need four ingredients and a pressure cooker to make this easy chicken chile verde. It is a weeknight dinner favorite!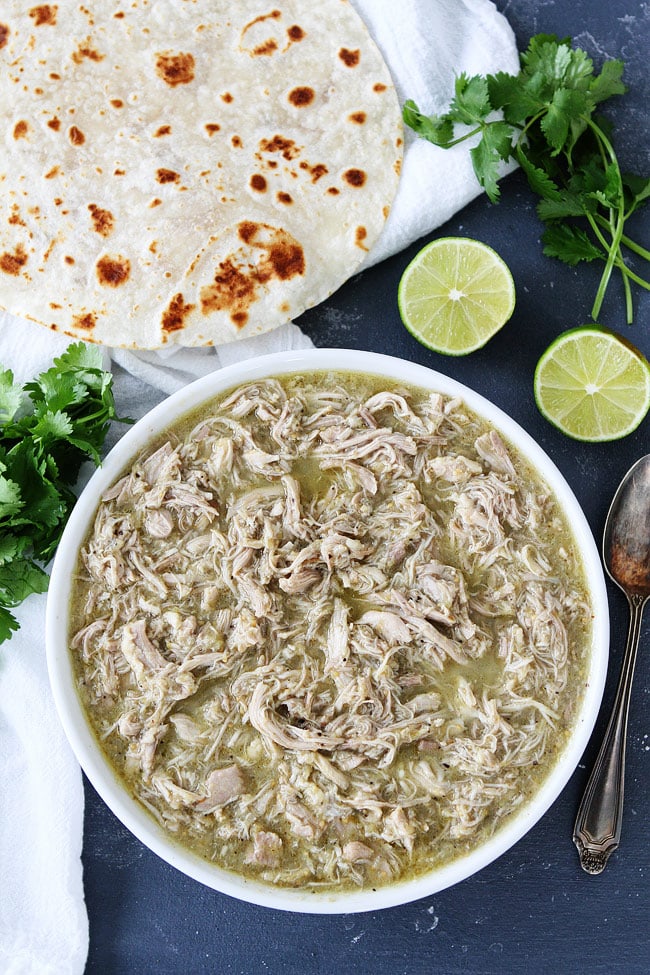 We bought an Instant Pot on Black Friday because it is all the rage. We have friends that say it is a life changing kitchen appliance. So we bought one to see what all of the fuss is about. To be honest, I haven't played around with it, but Josh has and he is liking it. Josh is kind of nerdy when it comes to figuring out new gadgets….new appliances, tools, games, putting together furniture, etc. He likes to read all of the instructions and figure things out, but I don't have the patience. So I put him in charge of mastering the Instant Pot. His favorite recipe so far is this easy 4-Ingredient Instant Pot Chicken Chile Verde.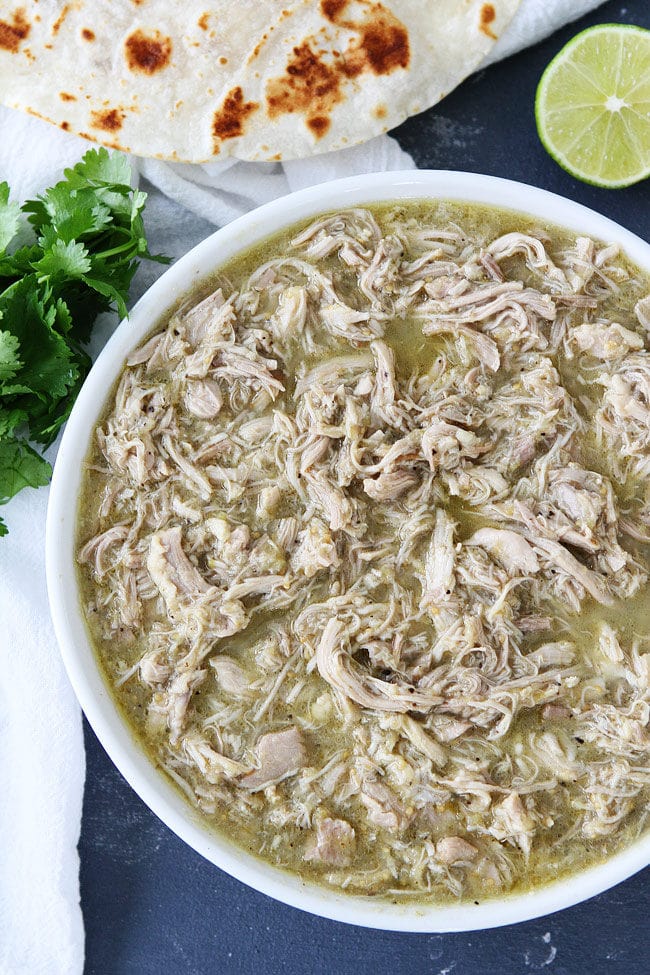 Josh likes this recipe because it is SO easy, like almost too easy. You only need four ingredients: chicken, a jar of salsa verde, cumin, and garlic powder. Oh, and you need your trusty Instant Pot.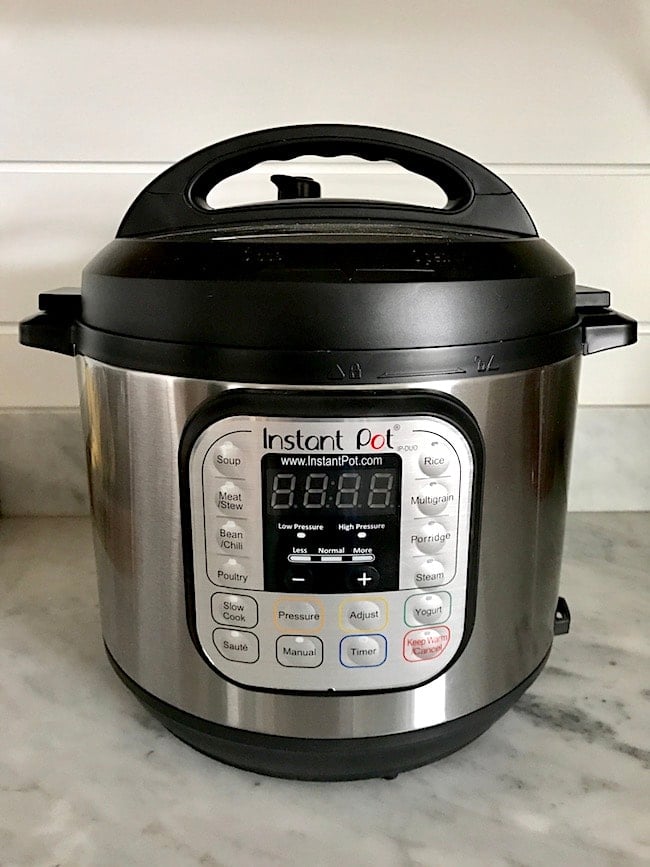 If you don't know what an Instant Pot is, where have you been hiding? Ha! Just kidding. It is a 7-in-1 Multi-Functional Cooker. It is a pressure Cooker, slow cooker, rice cooker, yogurt maker, steamer and warmer, and it sautés and browns. It pretty much does everything. I guess that is why people love it.
Josh uses the Instant Pot for this recipe to pressure cook the chicken. It cooks the chicken in 25 minutes, which is much faster than a slow cooker. Josh actually has a recipe for Slow Cooker Chicken Chile Verde that he loves, but I think the Instant Pot has won him over because it takes no time or effort to make. Four ingredients and 25 minutes? This is the perfect weeknight meal. And the chicken is tender, juicy, and full of flavor.
And the best part? You can use this Chicken Chile Verde for SO many things! You can serve it with rice, quinoa, or tortillas. Or you can make burritos, tacos, quesadillas, tostadas, salads, burrito bowls, fajita bowls, enchiladas, etc. Josh likes to use it a few different ways during the week to mix up the boys meals. They love it too!
If you are thinking about getting an Instant Pot, I guess you should do it because Josh says you have to make this easy 4-Ingredient Instant Pot Chicken Chile Verde. He said it is a weeknight dinner lifesaver. And if you have an Instant Pot, but are a little scared by it, like me, this is the recipe to start with because it is so easy and only requires four ingredients. You can't mess it up!
Ok, now tell us, what are your favorite Instant Pot recipes? We want to try more! Leave your favorites in the comments! Also, any recipes you want us to create? Let us know!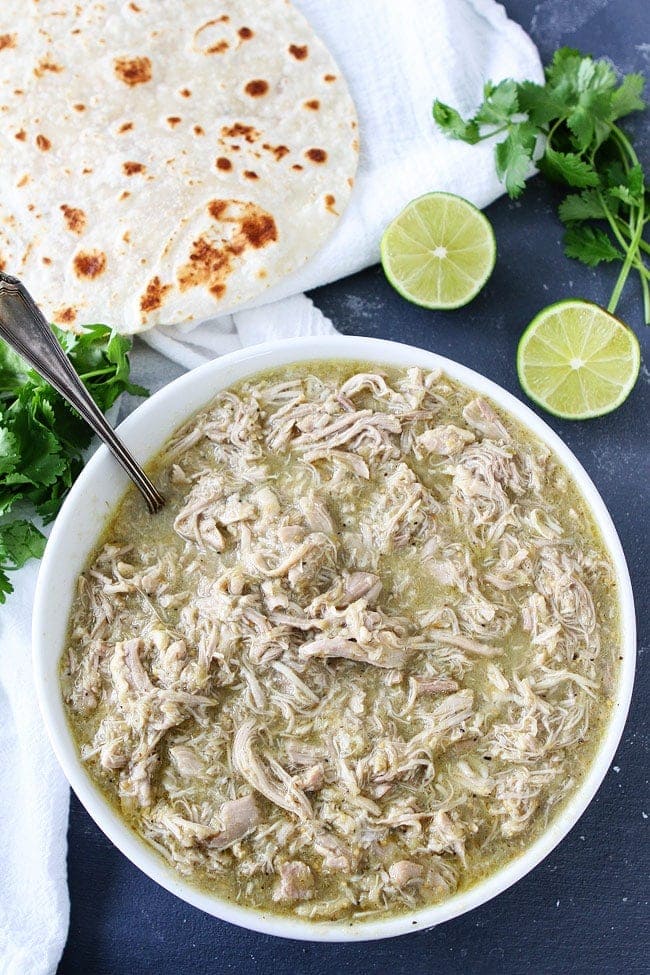 4-Ingredient Instant Pot Chicken Chile Verde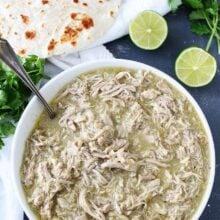 This easy 4-Ingredient Chicken Chile Verde is a weeknight dinner favorite! It is great with rice, quinoa, or served with tortillas. You can also make tacos, burritos, quesadillas, salads, etc!
Yield: Serves 6
Prep Time:5 minutes
Cook Time:25 minutes
Total Time:30 minutes
Ingredients:
2 lbs. chicken thighs or chicken breasts
1/2 teaspoon ground cumin
1/4 teaspoon garlic powder
16 ounces salsa verde
Salt and black pepper, to taste
Directions:
Place the chicken in the Instant Pot or pressure cooker. Add the cumin, garlic powder, and salsa verde.
Set cooker to high pressure for 25 minutes or on the Instant Pot press the poultry button.
When the chicken is done cooking, quick release the pressure and shred the chicken in the pot with two forks. Season with salt and black pepper, to taste. Serve with tortillas, rice, use in burritos, quesadillas, tacos, salads, etc.
Note-if you don't have an Instant Pot you can use a regular pressure cooker. The shredded chicken will keep in the fridge in an airtight container for up to 3 days. The shredded chicken can be frozen for up to 1 month.
Follow twopeasandpod on Instagram and show us what recipes you are making from our blog! Use the hashtag #twopeasandtheirpod! We want to see what you are making in your kitchen!
Products Used in this Recipe:
(may include affiliate links)