The best Chicken with Mushroom Cream Sauce! Easy, creamy mushroom sauce for chicken with rich, savory garlic and herb flavors made in just 15 minutes. You'll be tempted to lick the plate clean when you serve this savory dish!
Looking for more chicken recipes featuring a delicious, finger-licking-good sauce? Try my recipes for Chicken and Potatoes with Dijon Cream Sauce, Instant Pot Chicken Marsala, and One Pan Creamy Lemon Chicken and Asparagus.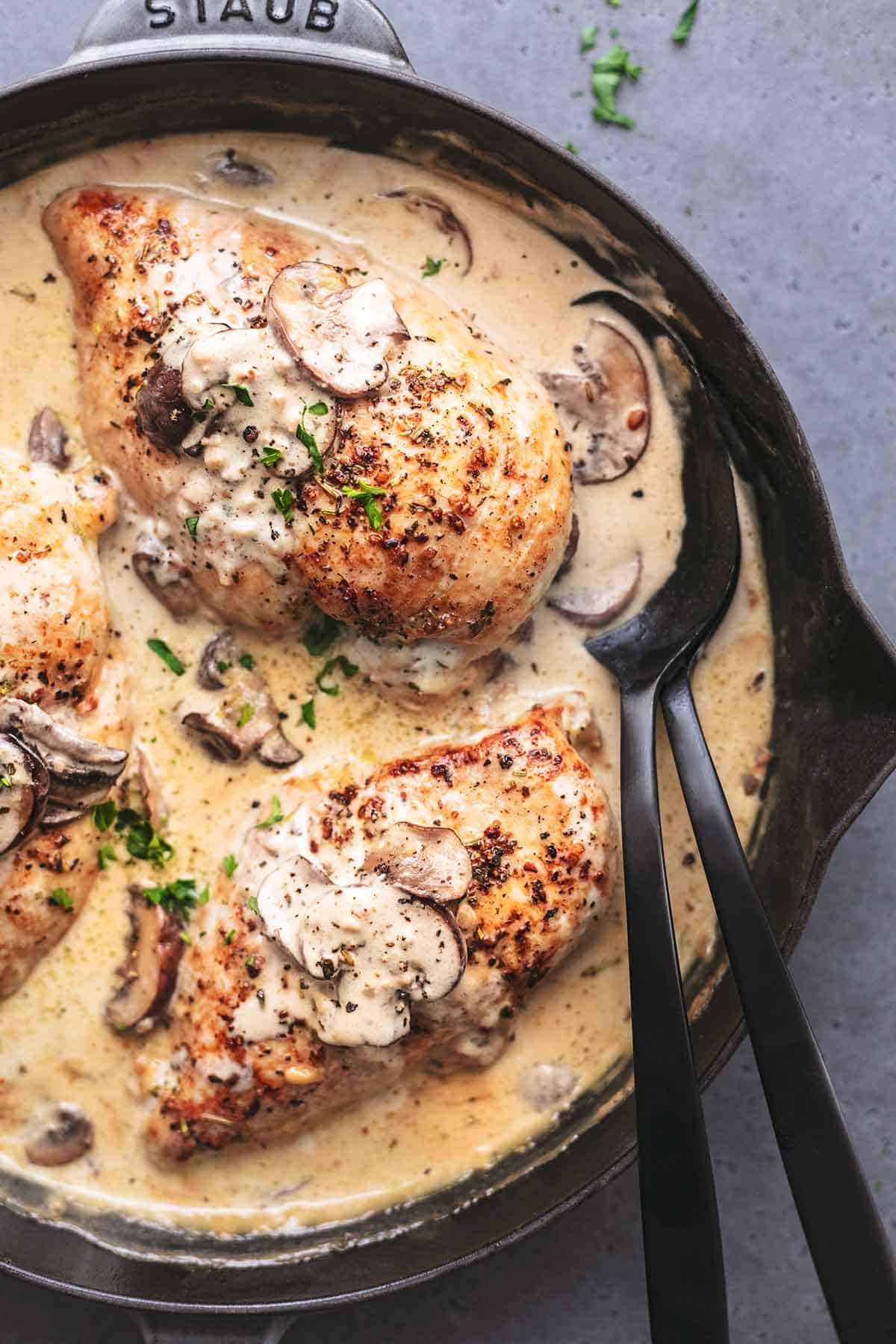 I'm always on the lookout for new ways to prepare chicken. I love a nice, boneless, skinless chicken breast that's crispy on the outside and tender and juicy on the inside covered with a delicious cream sauce. My favorite thing to do is serve the chicken and mushroom cream sauce over rice or noodles for a perfect, filling meal that everyone will devour. This recipe was a hit the first time I made it, so I figured why mess with a good thing right? Every member of my family ate every bite of this chicken with the mushroom cream sauce over rice, and they wanted to dive in so quickly I barely got time to take a photo, it looked and smelled THAT GOOD. 
Why This Recipe Works 
Simple ingredients — You probably have all of the ingredients for this creamy mushroom sauce for chicken, except perhaps the heavy cream…but even that is an ingredient you can pick up easily at any grocery store. 
Makes great leftovers — If you have any left, this chicken and creamy mushroom sauce will keep in the fridge for up to 3 days and is perfect for leftovers tomorrow or the next day or the next! 
Filling — You don't have to make a lot of sides to round out this chicken dish. Simply serve the chicken and the easy mushroom sauce for chicken over something carb-y (or all by itself is perfectly fine, too), and with a side of roasted veggies, like these roasted carrots, if you love a vegetable side. 
Versatile — Use boneless, skinless chicken breasts or thighs. Or you can serve this over rice, noodles, mashed potatoes, or with a low-carb option like spaghetti squash.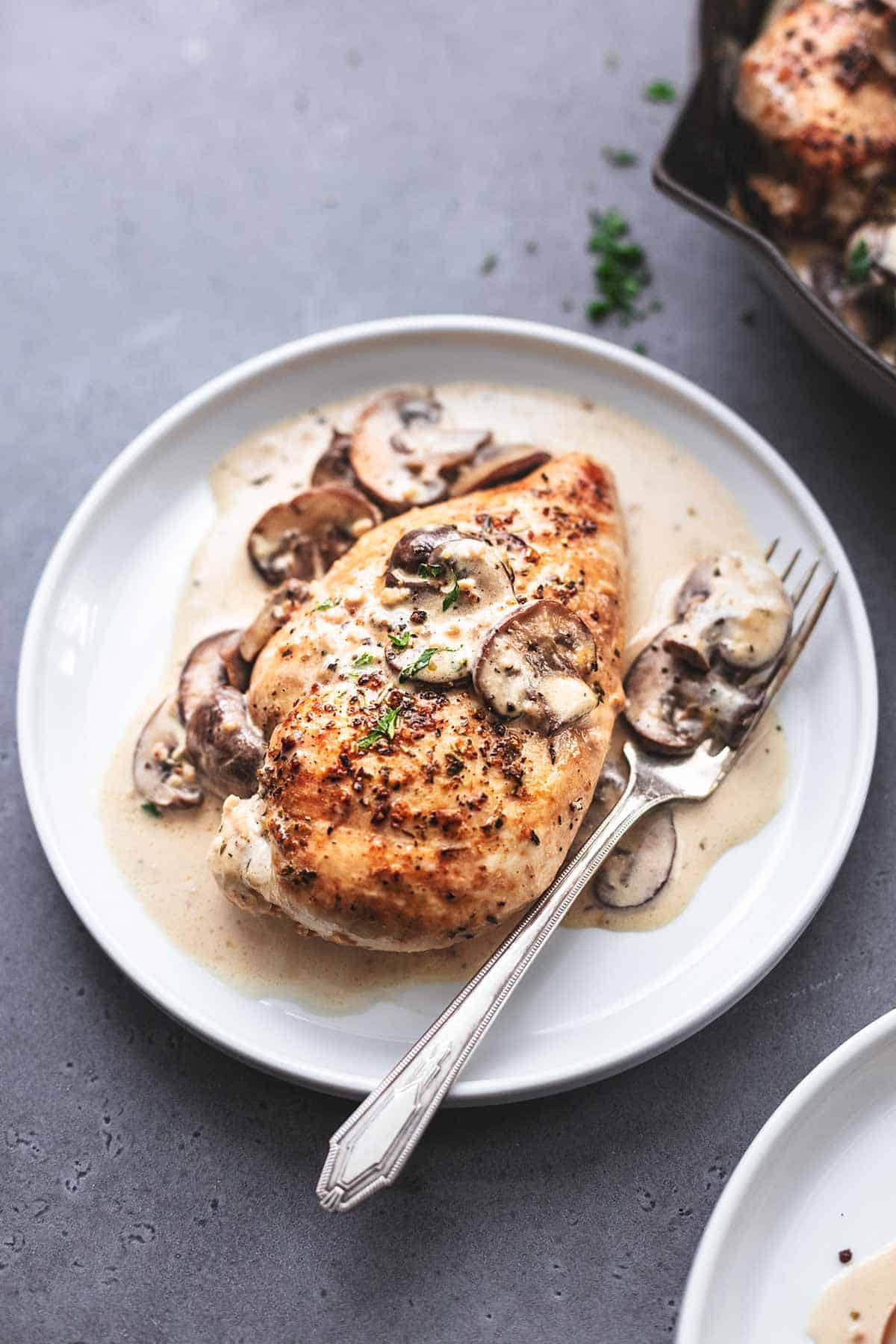 How to Make Creamy Mushroom Sauce for Chicken
Turn the oven on to 400 degrees and allow it to preheat while you work on the next steps. 
Salt and pepper the chicken breasts or thighs generously. Then sprinkle them with the Herbs de Provence or Italian seasonings. 
Now add the butter and oil in a cast iron (or other oven-safe) skillet over medium-high heat. 
When the butter has melted, you can add the chicken in a single layer and brown for about 1-2 minutes on each side. Then transfer the chicken to a plate after browning. 
Take the same skillet/pan you used for browning the chicken and add butter. When it melts, add the garlic and mushrooms, sautéing for about 3 minutes, or until the garlic is fragrant and the mushrooms are browned and softened a bit. 
Stir into the garlic and mushrooms the chicken broth, heavy cream, Dijon, salt, and pepper. Bring this sauce to a boil and cook for about two minutes at a boil. Then take it off the heat. 
Add the chicken back to the skillet with the sauce. Spoon some of the sauce over the top of the skillet, then put it in the preheated oven to finish baking for 15-20 minutes until the sauce is reduced and the chicken is cooked through. 
Now spoon the easy mushroom sauce for chicken over the chicken and serve.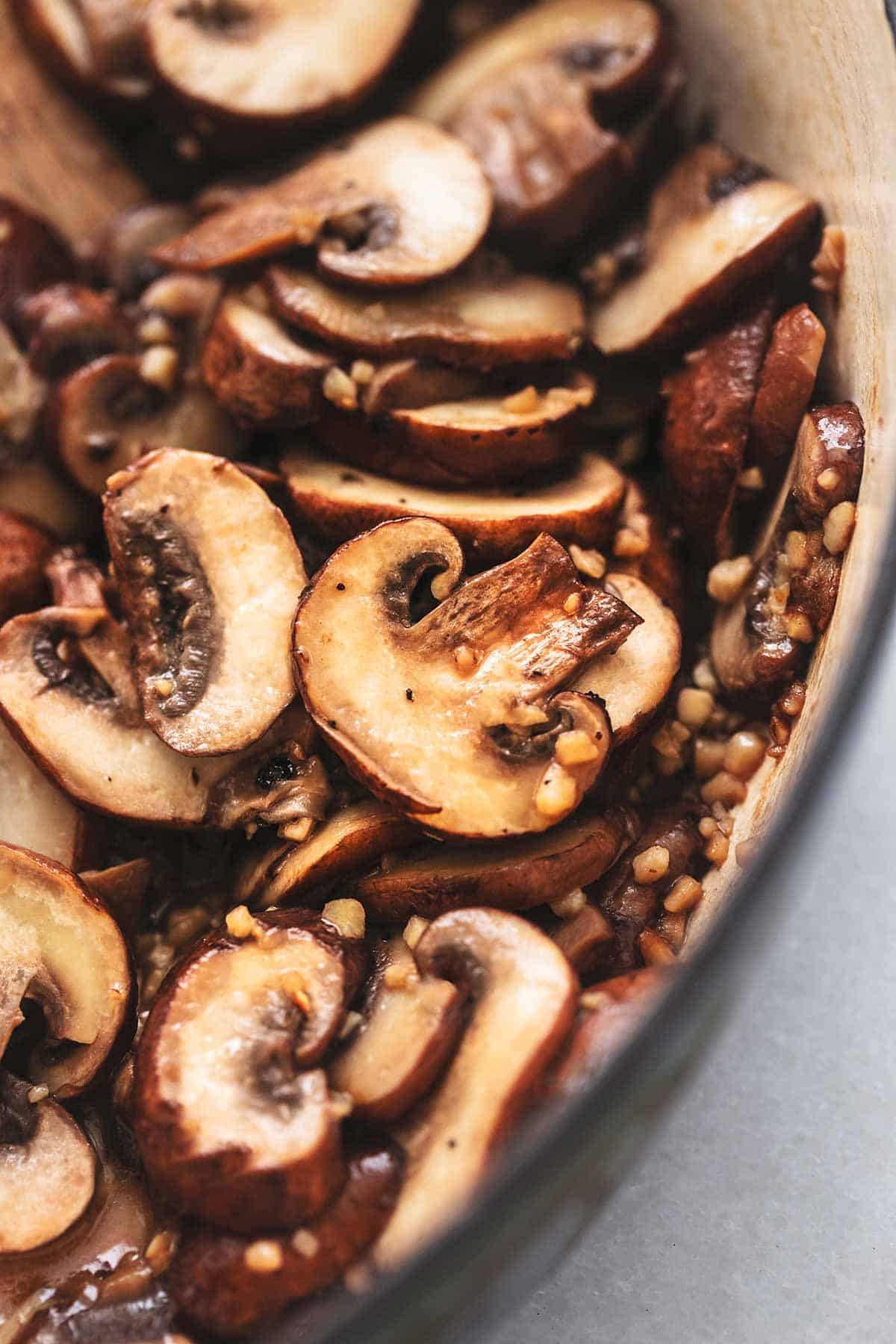 Ideas for Customizing This Recipe

Want to add a little greenery to this dish? Add a couple handfuls of fresh spinach or chopped kale to the sauce right before baking. 

Instead of adding parmesan to the sauce (see option/Expert Tips), you can try another hard cheese like Gruyere, romano, or pecorino. 

Sun dried tomatoes (rehydrated) would make a great addition to this dish as well. Add them when you're cooking together the mushrooms and garlic. About a ¼ cup of chopped sun dried tomatoes should be enough. 

Some fresh herbs like parsley, basil, and/or thyme make a nice addition to this chicken with mushroom cream sauce. You can either add them at the end as a garnish, or in the sauce before putting into the oven.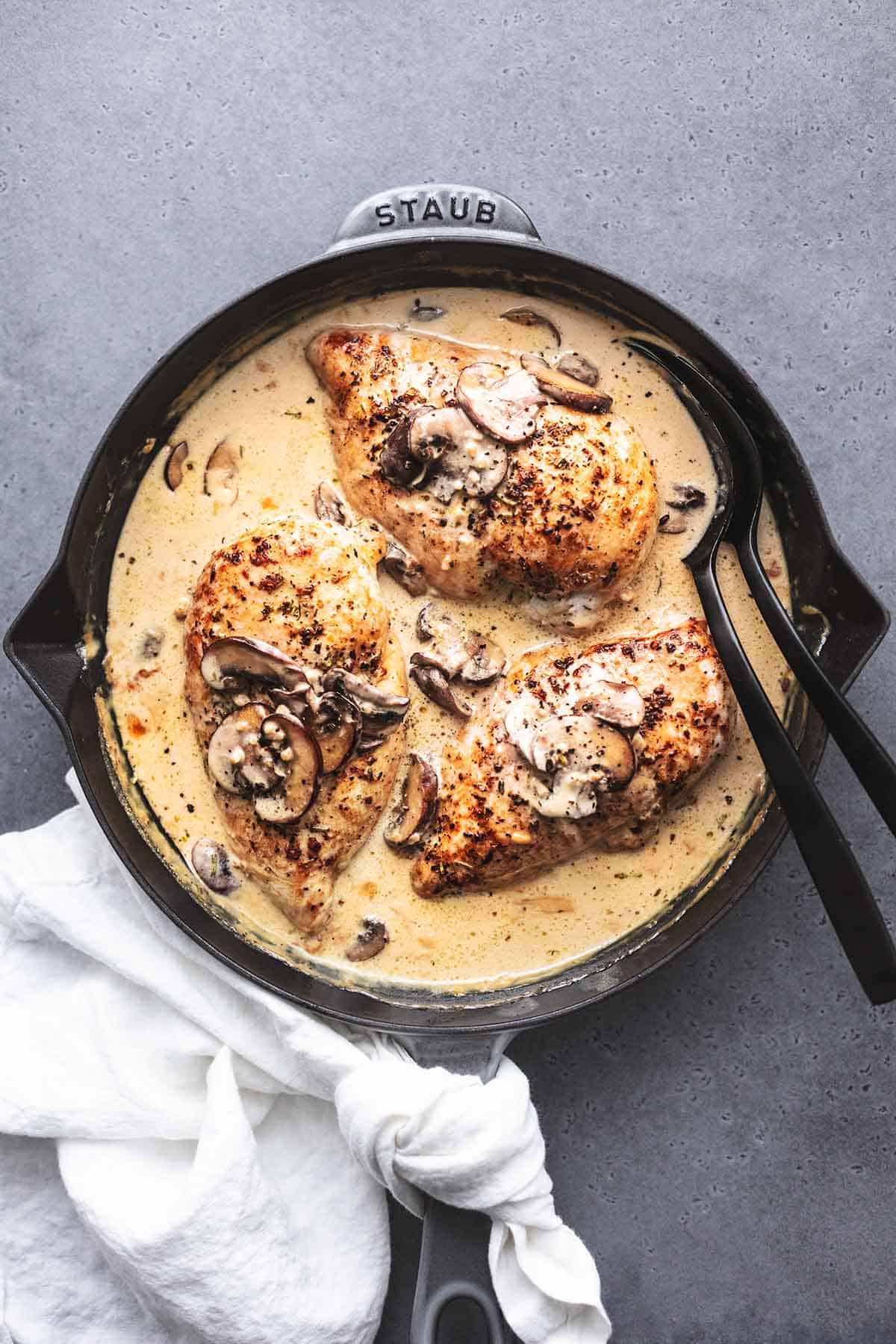 Expert Tips

While I prefer to use a cast-iron

skillet

because it gives the chicken a nice browning and crispiness on the outside, don't worry if you don't have one. You can also use a good stainless steel pan to sear the chicken and make the sauce. Just make sure it's oven proof and add an extra teaspoon or two of oil to the pan so the chicken doesn't stick. 

Now, if you

don't have an oven-safe skillet

, you can use any skillet you have for the stovetop portion, then transfer the chicken and sauce to a baking dish or casserole dish to bake in the oven.

To kick this mushroom sauce recipe up a notch, I suggest adding a tablespoon or two of parmesan cheese to the sauce after it boils and you've taken it off the heat. Use freshly ground parmesan for best results and melting.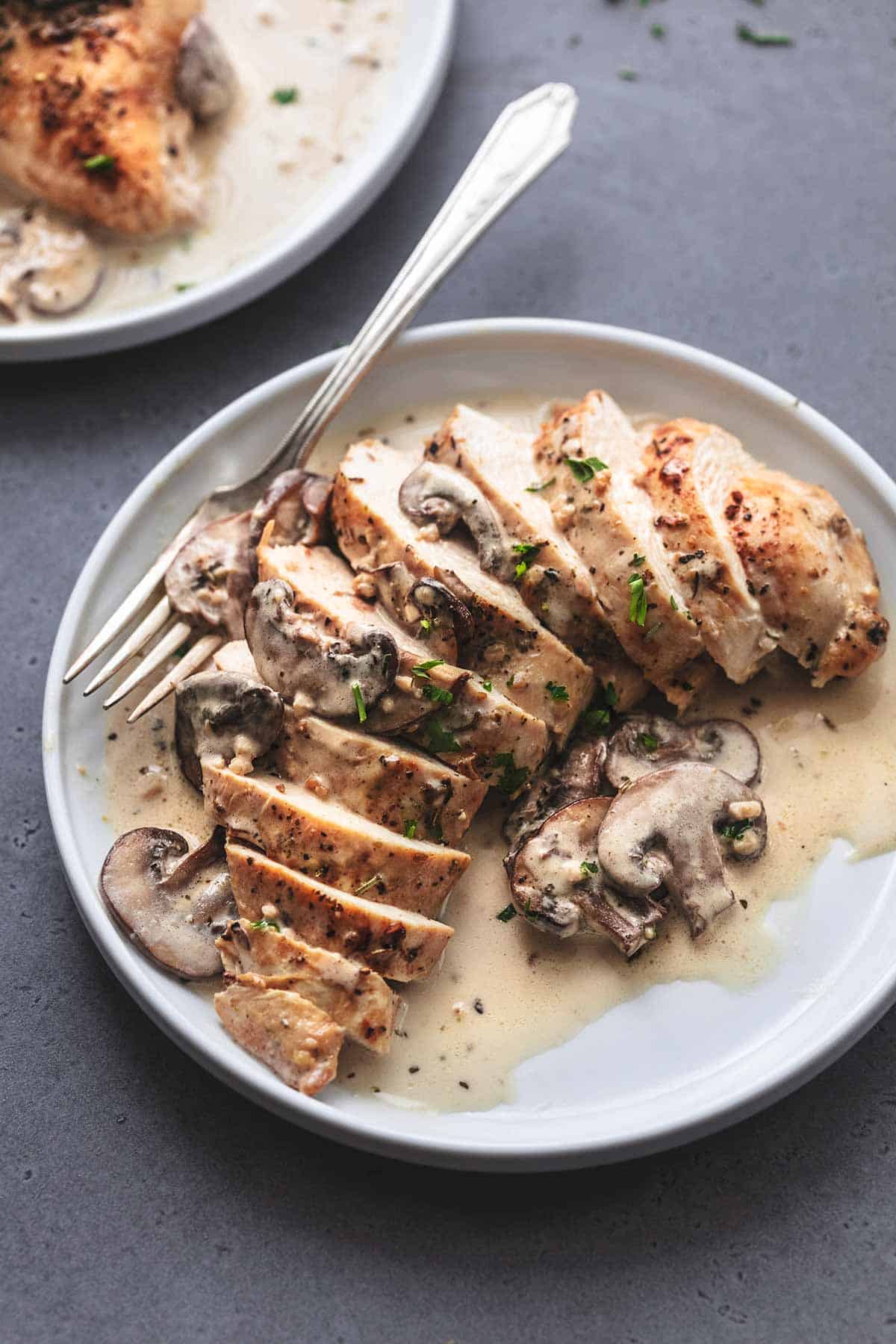 More Recipes for Mushroom Lovers
Did you try this mushroom sauce for chicken? YAY! Please rate the recipe below!
For the Mushroom Cream Sauce
Preheat oven to 400 degrees.

Season chicken generously with salt and pepper. Sprinkle all over with Herbs de Provence (or Italian seasoning).

In a large cast iron skillet (or other oven-safe skillet – see note), combine oil and butter over medium-high heat.

Once butter is melted, add the chicken and brown on each side for 1-2 minutes until you get a nice browned color. Transfer to a plate and set aside.

In the same skillet, begin preparing the sauce by adding the butter. Once melted, stir in garlic and mushrooms and sauté 2-3 minutes until mushrooms are browned and garlic is fragrant.

Stir in chicken broth, heavy cream, dijon mustard, salt, and pepper. Bring to a boil, cook for two minutes at a high boil. Remove from heat.

Return chicken to skillet. Spoon sauce over the chicken, then transfer skillet to the oven to bake for 15-20 minutes until chicken is cooked through and sauce has reduced (it should be thick enough to coat the back of a spoon).

Spoon the mushroom sauce over the chicken and serve.
Skillet: I prefer a cast-iron skillet to get a really nice browned exterior on the chicken, but a good quality stainless steel pan will work too – simply add an extra teaspoon or two of oil to the pan to keep the chicken from sticking and brown the chicken over medium-low heat. 
Baking dish option: No oven-safe skillet? No problem. Simply prepare the chicken and mushroom sauce as written in any skillet you have, then transfer to a baking dish/casserole dish before transferring to the oven.
Parmesan: Sometimes I add a few tablespoons of freshly grated parmesan cheese to the sauce, it really takes this sauce over the top! Be sure to  grate it yourself from a block – do not use pre-shredded parmesan as it does not melt and incorporate into the sauce as well as freshly-grated parmesan does and can give your sauce a gritty texture. 
Calories: 401kcal | Carbohydrates: 5g | Protein: 29g | Fat: 30g | Saturated Fat: 15g | Trans Fat: 1g | Cholesterol: 157mg | Sodium: 621mg | Potassium: 697mg | Fiber: 1g | Sugar: 2g | Vitamin A: 958IU | Vitamin C: 6mg | Calcium: 100mg | Iron: 1mg